Gadget Insurance Market Research, 2031
The global gadget insurance market was valued at $59.4 billion in 2021, and is projected to reach $193.5 billion by 2031, growing at a CAGR of 12.9% from 2022 to 2031.
The gadget insurance market has faced moderate impact of the COVID-19 pandemic, as consumers have reduced purchasing electronic products during the lockdown due to lower income level. Therefore, the demand for gadget insurance during the pandemic has depleted.
Gadget insurance is a service contract which provides component fix repair service for electronic gadgets sold by retailers, and service providers. It often provides additional coverage of gadgets such as unauthorized usage, malicious damage, e-wallet payments, or theft. Gadget insurance also covers the cost and inconvenience of mechanical and electrical failures. In addition, cover my gadget trend among customers has boosted the growth of gadget insurance market.
Factors such as increase in incidents of accidental damage, phone thefts, virus infection, & device malfunction, and surge in adoption of high-quality smartphones are some of the major factors, which drive the gadget insurance market growth. In addition, high replacement cost of various parts of gadgets drives the growth of the gadget insurance market. However, decline in sale of PCs owing to increased penetration of smartphones and tablets is a major restraint that hinders the growth of the market. On the contrary, surge in demand for innovative multiple gadget insurance services is expected to boost the market growth in the future.
The report focuses on growth prospects, restraints, and trends of the global gadget insurance market analysis. The study provides Porter's five forces analysis to understand the impact of various factors, such as bargaining power of suppliers, competitive intensity of competitors, threat of new entrants, threat of substitutes, and bargaining power of buyers, on the gadget insurance market outlook.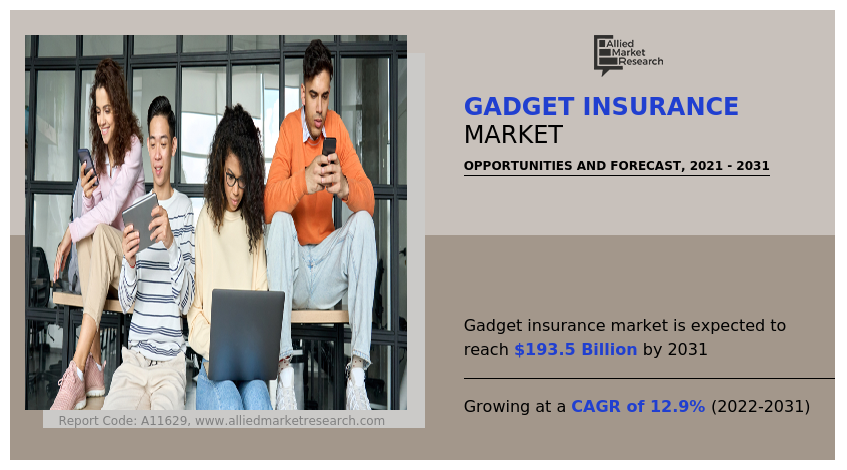 The gadget insurance market is segmented into Coverage Type, Device Type, Sales Channel and End User.
Segment review
The global gadget insurance market is segmented on the basis of coverage type, device type, sales channel, end user, and region. By coverage type, it is segmented into physical damage, internal component failure, theft & loss protection, virus & data protection, and others. On the basis of device type, it is divided into laptop & PCs, mobile phones & tablets, home entertainment devices, cameras and others. The mobile phones & tablets is further divided into android, iOS, and others. The android is further segmented into budget mobile phones & tablets and mid & high mobile phones & tablets. Based on sales channel, it is segregated into retail and online. By end user, the market is divided into business and individuals. By region, it is analysed across North America, Europe, Asia-Pacific, and LAMEA

.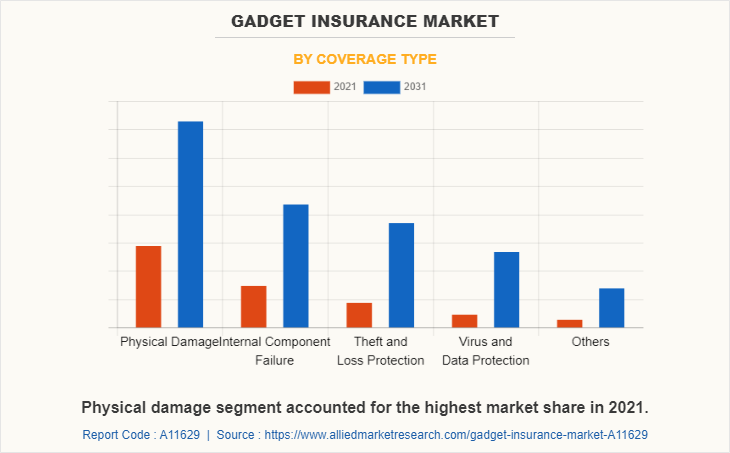 By coverage type, the physical damage segment acquired the largest market share of gadget insurance market size in 2021. This is attributed to increase in repairing and replacing cost of gadget and rise in awareness among the youth toward physical damage coverage.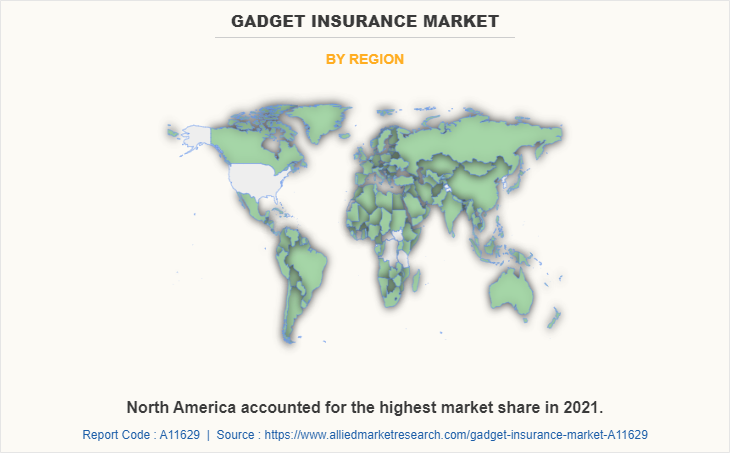 Region-wise, North America dominated the gadget insurance market share in 2021. This is attributed to increase in incidents of accidental device damage, phone thefts, virus infection, device malfunction, and other malicious activities. Furthermore, this region has nearly 10% of global smartphone users with 320 million users in 2020 and surge in number of users provide huge risk of phone thefts in crowed areas like public transport and fests.
The report analyzes the profiles of key players operating in the global gadget insurance market such as Apple Inc., Asurion, AXA, AT&T, Inc., Bajaj Allianz General Insurance Company, Bolttech, Chubb, CloudClover Insurance, Gadget Cover, Progressive Casualty Insurance Company, Samsung, Singtel, Safeware (One 80 intermediares), Tinhat, Worth Ave. Group, OneAssist Consumer Pvt. Ltd., and SquareTrade, Inc. (Allstate). These players have adopted various strategies to increase their market penetration and strengthen their position in the global gadget insurance market.   
COVID-19 Impact Analysis
The pandemic has a significant impact on the gadget insurance market as several countries have imposed travel ban; policyholders were filing claims, demanding further extension of gadget insurance coverage; and there were changes in terms of policies in the market. This has led insurers to freeze sales of new coverages for gadget insurance in the market. Although the COVID-19 outbreak negatively impacted the growth of the market, the industry has recovered quickly. This is attributed to increase in government support & initiatives toward the insurance industry and increase in purchasing power of customers to buy gadget insurance.
Top Impacting Factors
Increase in incidents of accidental damage, phone thefts, virus infection, and device malfunction
Rise in demand for gadget insurance on events such as mechanical breakdown, liquid damage, theft, and unauthorized usage is propelling the growth of gadget insurance market. In addition, the insurance companies are increasingly providing full coverage with advanced services to the customers in their gadget insurance portfolio. In recent years, there has been an increase in the number of accidents, in terms of accidental damage from handling and loss protection, which resulted in an increase in the need for gadget insurance. For instance, in U.S., a study conducted by ASSURANT, INC., a global gadget insurance provider, stated that in 2019, around 34% consumers purchased gadget insurance for more than two years for their appliances. Hence, these aforementioned factors are expected to boost the gadget insurance market growth in the future.   
Rise in sale of mobile phones and wearables  
The protection for gadgets has grown at a faster rate in the market with increase in usage of smart phones, wearables and other gadgets. Therefore, provision of gadget insurance for these items have increased attributed to stolen gadget cases and cyber-attacks. For instance, a recent study released from Kensington, a pioneer in desktop and mobile device accessories, stated that:
One laptop is stolen every 53 seconds.

70 million smartphones are lost each year, with only 7% recovered.

4.3% of company-issued smartphones are lost or stolen every year.

80% of the cost of a lost laptop is from data breach.

52% of devices are stolen from the office/workplace, and 24 percent from conferences.
Moreover, rise in prices of spare parts continue to imply pressure on profit margins of manufacturers and retailers of consumer electronic products. Furthermore, gadget insurance for these goods is continuously evolving and are expected to maintain their dominance during the forecast period. In addition, electronic item makers continue to attract customers during the festive season. For instance, in India, the festive season lasts from August to November, hence, there's a continuous rise in use and sale of smartphones, cameras, PCs and other gadgets which fuel the market growth.
Increased awareness for gadget insurance
Many consumers electronic products have a hefty price tag associated with them at the time of purchase, hence awareness for gadget insurance for those products have increased tremendously. In addition, as consumers are often worried about safety of their electronic products post expiry of seller's warranty, thus coverage for gadget insurance have surged among the consumer electronics & mobile devices segment. Further, current technological changes such as blockchain technology has led to innovations and new trends in the gadget insurance industry. Moreover, providing gadget insurance also helps in building customer loyalty. In addition, consumers purchase a gadget insurance for consumer electronics that generally comes down to whether it makes sound financial sense, and depends on a variety of factors, including the cost of the plan and the price of the purchase. Thus, increased awareness for gadget insurance propels the market growth.
Key benefits for stakeholders
This report provides a quantitative analysis of the market segments, current trends, estimations, and dynamics of the gadget insurance market forecast from 2021 to 2031 to identify the prevailing market opportunities.

The market research is offered along with information related to key drivers, restraints, and opportunities of gadget insurance market overview.

Porter's five forces analysis highlights the potency of buyers and suppliers to enable stakeholders to make profit-oriented business decisions and strengthen their supplier-buyer network.

 In-depth analysis of the gadget insurance market segmentation assists in determining the prevailing gadget insurance market opportunity.

Major countries in each region are mapped according to their revenue contribution to the global market.

Market player positioning facilitates benchmarking and provides a clear understanding of the present position of the market players.

The report includes an analysis of the regional as well as global gadget insurance market trends, key players, market segments, application areas, and market growth strategies.
 Gadget Insurance Market Report Highlights
Aspects
Details
Market Size By 2031
USD 193.5 billion
Growth Rate
CAGR of 12.9%
Forecast period
2021 - 2031
Report Pages
408
By Coverage Type

Physical Damage
Internal Component Failure
Theft and Loss Protection
Virus and Data Protection
Others

By Device Type

Laptop and PCs
Mobile Phones and Tablets

Mobile Phones and Tablets

Home Entertainment Devices
Cameras
Others

By Sales Channel
By End User
By Region

North America (U.S., Canada)
Europe (UK, Germany, France, Italy, Spain, Netherlands, Rest of Europe)
Asia-Pacific (China, Japan, India, Australia, South Korea, Singapore, Rest of Asia-Pacific)
LAMEA (Latin America, Middle East, Africa)

Key Market Players
Tinhat, Gadget Cover, Chubb, Bajaj Allianz General Insurance Company, AT&T, Inc., Bolttech, Singtel, Samsung, Cloudclover, Worth ave, Apple,Inc., AXA, Safeware (One 80 Intermediares), Square Trade, Inc. (All state), Progressive Casualty Insurance Company, One Assist, Asurion