Gaming Earbuds Market Research, 2031
The global gaming earbuds market was valued at $1.7 billion in 2021, and is projected to reach $3.6 billion by 2031, growing at a CAGR of 7.7% from 2022 to 2031.
Gaming earbuds have become increasingly popular during the pandemic and their popularity is expected to increase significantly in the future. Engaged stakeholders are increasing their innovation in the field of gaming earbuds and are attempting to create gaming earbuds at reasonable prices while also increasing the quality and durability of the earbuds and adding newer features to the gaming earbuds.
Gaming earbuds, also known as gaming earphones, are highly specialized earbuds created to decrease latency between video and audio and create a more immersive audio experience while playing video games. They are most commonly manufactured with the addition of systems such as noise isolation and surround sound to improve the gaming experience and performance. Gaming earbuds differ from gaming headsets in that they are smaller and lighter, as well as more portable, allowing gaming from any mobile or handheld gaming device, which provides a boost to the gaming earbuds industry. 
Gaming devices and gaming peripherals are specialized devices that are used to run and play games at optimal settings and performance, enhancing the gaming experience. Wireless earbuds provide consistent audio output and sound quality to ensure a smooth gaming experience. Wired earbuds are the most traditional type of gaming earbuds. They are most dependable and convenient to use in situations that do not require a lot of movement. Premium gaming earbuds include a variety of features to provide a more immersive gaming experience. Economic gaming earbuds are among the most basic gaming earbuds available. They lack a variety of features and are typically wired; however, several wireless collared earbuds are also included in the economic category of the gaming earbuds industry.  
Gaming has gained popularity among consumers all over the world in recent years. Consumers have purchased various types of software and hardware for casual as well as competitive or professional gaming because of the development of hyper-realistic and immersive games with realistic sounds, as well as the creation of hardware that can support and supplement those games and sounds. In recent years, consumer demand for high-quality audio equipment to bring out the nuances in gaming audio and increase sound accuracy while gaming has resulted in several different brands creating various types of gaming earbuds for consumers. As a result, consumers are increasingly purchasing gaming earbuds, particularly for handheld devices, mobile phones, and laptop computers. Furthermore, the inclusion of microphones in gaming earbuds in the form of multiple microphone arrays in wireless gaming earbuds and boom mics in wired gaming earbuds has resulted in an increase in the gaming earbuds market size because they facilitate easy and precise communication among team members in team-based games.  
Gaming earbuds improve gaming performance and make gaming on the go more convenient. However, the sound quality of gaming earbuds is still slightly limited, due to the smaller size of the buds and the limited space in the buds to install high-quality audio drivers and speakers. Many gamers around the world prefer gaming headphones over gaming earbuds because gaming headphones provide better audio output than earbuds. Furthermore, the use of 3D surround sound and audio virtualization is frequently superior in headphones. Many consumers who do not play video games on a regular basis use regular, non-gaming headphones and earbuds to play games. They do not pay close attention to the audio quality and audio output because they play games casually just to pass the time. This preference for gaming headphones and regular headphones and earbuds over gaming earbuds reduces gaming earbud sales and has a negative impact on the market.  
Gaming earbuds are slightly technologically limited due to the small size of the buds and the inability to incorporate very heavy audio drivers and other sound-related features. However, market participants are gradually incorporating newer features into gaming earbuds to improve quality and make gaming sessions more immersive, with advancements in technology. The use of Bluetooth 5.3 framework in gaming earbuds, which will be released in July 2021, will enable easier pairing and lower latency levels while gaming. Furthermore, the ability to install heavier audio drivers in gaming earbuds, as well as the development of earpieces that enable better ear fit and comfort while also providing noise isolation, will help improve audio performance and allow for longer gaming sessions due to the comfort of the buds. The addition of features such as haptic feedback and noise cancellation at higher decibel levels may result in an increase in gaming earbud sales in the future.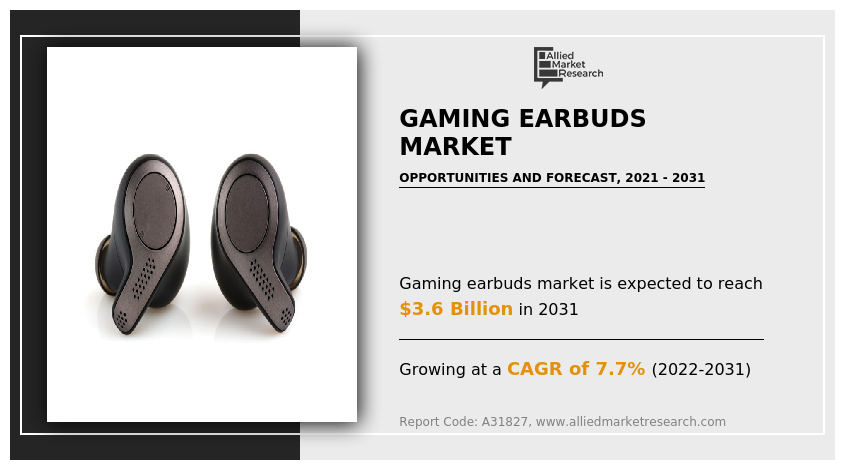 The gaming earbuds market is segmented into Type, Price Point and Distribution Channel. By type, the gaming earbuds market is classified into wireless and wired. Depending on By price point, the market is categorized into premium and economic. According to By distribution channel, the market is s used for sale of gaming earbuds, the market is segmented divided into hypermarkets and supermarkets, specialty stores, brand stores, and online channels. By region, the market is divided across North America (the U.S., Canada, and Mexico), Europe (UK, Germany, France, Italy, Spain, Netherlands, Rest of Europe), Asia-Pacific (China, Japan, India, South Korea, Australia, and rest of Asia-Pacific), and LAMEA (Brazil, Saudi Arabia, United Arab Emirates, South Africa, and the Rest of LAMEA). 
Gaming Earbuds Market

---
By Type
Wireless gaming earbuds dominated gaming earbuds in 2021 and is also expected to have the highest growth
Wireless gaming earbuds hold the highest gaming earbuds market share and wired gaming earbuds are expected to have a higher growth during the forecast period. Wireless gaming earbuds are designed to be responsive and quick. These devices support gaming console pairing and provide seamless pairing to devices, making them easier to use with the consoles. Collared and truly wireless gaming earbuds are the two main types. True wireless earbuds are becoming increasingly popular due to their portability and light weight. Wired gaming earbuds are among the most popular and affordable gaming earbuds. They produce high-quality sound and are frequently equipped with small boom mics to improve communication quality. Most wired gaming earbuds have small to medium-length wires, making them highly compatible with phones, handheld consoles, and gaming laptops, helping the gaming earbuds market size increase. 
Gaming Earbuds Market

---
By Price Point
Economic gaming earbuds were the most commonly used gaming earbuds in 2021 and Premium gaming earbuds are expected to have significant growth
Economic gaming earbuds are more popular as they are convenient to purchase, however, the popularity of premium gaming earbuds is increasing rapidly. Professional gamers and serious gaming enthusiasts primarily use premium gaming earbuds to improve their gaming sessions. Most premium gaming earbuds on the market include active noise cancellation, multiple sound modes, 3D surround sound, longer battery life, sensitive microphones, and other features, which enable the gaming earbuds market growth. These earbuds are available from gaming peripheral brands and gaming accessory stores, and are suitable for the latest Economic gaming earbuds are used by newer gamers and gamers who do not want to spend a lot of money on gaming accessories. These earbuds provide all of the basic functions required for gaming, such as low latency; however, features such as surround sound and noise isolation are either very basic or absent in the earbuds.  
Gaming Earbuds Market

---
By Distribution Channel
Specialty stores were the most popular means of purchase of gaming earbuds in 2021 and sale of gaming earbuds through online channels is expected to increase significantly
Specialty stores are the most popular means of purchase for gaming earbuds in 2021, however, the online channels of sale are predicted to have the highest growth during the gaming earbuds market forecast period. Because of the availability of a diverse range of consumer goods under one roof, as well as ample parking space and convenient operating hours, hypermarkets and supermarkets are becoming increasingly popular. Furthermore, increased urbanisation, an increase in the working-class population, and competitive pricing for products such as gaming earbuds are boosting the popularity of hypermarkets and supermarkets. Customers who shop at specialty stores receive excellent service, detailed product specifications, and expert advice on their product offerings. Most specialty stores that sell gaming accessories sell gaming earbuds from a variety of manufacturers and offer the products in a variety of sizes, price ranges, specifications, features, designs, and colour options, providing consumers with numerous options which increases the gaming earbuds market demand . 
Gaming Earbuds Market

---
By Region
Asia-Pacific accounted for the largest gaming earbuds utilization in 2021 and is also expected to have the highest growth during the forecast period
Asia-Pacific is the largest consumer of gaming earbuds and is also expected to have the highest growth during the forecast period. The United States has one of the world's largest gaming populations. Several consumers in the region play games on a daily basis as a form of entertainment or as a means of earning money by live streaming games or uploading gaming videos to social media platforms. The European gaming population is made up of PC, console, and mobile gamers. The majority of consumers in the region prefer high-quality gaming devices and peripherals because they can help provide a better gaming experience. Gaming, particularly online competitive gaming and MMORPGs (Massively Multiplayer Online Role Playing Games), is huge in the region, particularly in China, Japan, and South Korea which provides a major gaming earbuds market opportunity for growth. 
Some of the major players analyzed in this report are Ant Esports, Asustek Computer Inc., Beijing Edifier Technology Company, Ltd., boAt Lifestyle, Boult Audio, Demant A/S, EKSA, Gravastar, HP Development Company, L.P., JLab International., Logitech International SA, Raycon Inc., Razer Inc., Samsung Electronics Co., Ltd., and Turtle Beach Corporation. 
Key Benefits For Stakeholders
This report provides a quantitative analysis of the market segments, current trends, estimations, and dynamics of the gaming earbuds market analysis from 2021 to 2031 to identify the prevailing gaming earbuds market opportunities.
The market research is offered along with information related to key drivers, restraints, and opportunities.
Porter's five forces analysis highlights the potency of buyers and suppliers to enable stakeholders make profit-oriented business decisions and strengthen their supplier-buyer network.
In-depth analysis of the gaming earbuds market segmentation assists to determine the prevailing market opportunities.
Major countries in each region are mapped according to their revenue contribution to the global market.
Market player positioning facilitates benchmarking and provides a clear understanding of the present position of the market players.
The report includes the analysis of the regional as well as global gaming earbuds market trends, key players, market segments, application areas, and market growth strategies.
 Gaming Earbuds Market Report Highlights
Aspects
Details
Market Size By 2031
USD 3.6 billion
Growth Rate
CAGR of 7.7%
Forecast period
2021 - 2031
Report Pages
368
Type
Price Point
Distribution Channel

Hypermarkets and Supermarkets
Specialty stores
Brand stores
Online channels

By Region

North America (U.S., Canada, Mexico)
Europe (UK, Germany, France, Italy, Spain, Netherlands, Rest of Europe)
Asia-Pacific (China, Japan, India, South Korea, Australia, Rest of Asia-Pacific)
LAMEA (Brazil, Saudi Arabia, United Arab Emirates, South Africa, Rest of LAMEA)

Key Market Players
GravaStar, Samsung Electronics Co., Ltd., Razer Inc., EKSA Technology Private Limited, JLab International., Edifier Technology Co., Ltd., Imagine Marketing Limited, HP Inc., Turtle Beach Corporation, Exotic Mile, Raycon, Inc., Demant A/S, Logitech International S.A., AsusTek Computer Inc., Ant Esports