Gene Synthesis Market Research, 2031
The global gene synthesis market size was valued at $1,110 million in 2021, and is projected to reach $5,979 million by 2031, growing at a CAGR of 18.4% from 2022 to 2031. Gene synthesis, also referred to as DNA printing, is a synthetic biology technique used in the lab for the‐¯production of artificial genes. It varies from molecular cloning and polymerase chain reaction (PCR), which both rely on preexisting DNA sequences, in that it is based on solid-phase DNA synthesis.
The COVID-19 outbreak has had a moderate impact on the gene synthesis market. The pandemic caused a severe disruption in the supply of materials as well as hampered logistical operations during the initial phase of the pandemic. This, in turn, limited the gene synthesis market growth. However, as the demand for COVID-19 vaccines increased across the world, the use of gene synthesis methods also increased by scientists and researchers to analyze the physiology of the viral genome on human DNA.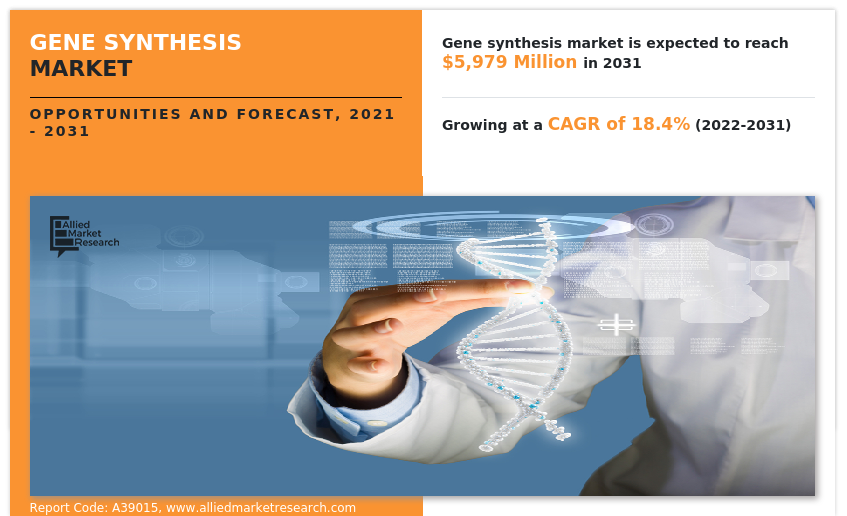 Gene synthesis technique offers many different applications owing to which the gene synthesis market trends is expected to expand in the coming years. Genetic engineering has developed into a process known as gene synthesis to synthesise double-stranded DNA from oligonucleotides using various assembly techniques into plasmids for transfection. Healthcare professionals may now forecast pathogen behaviour before it becomes a severe worry thanks to evolution.  
With changing lifestyles, many chronic‐¯disorders are spreading quickly within the population.‐¯ Some most common chronic diseases include‐¯cancer, cardiology, HIV, gastrointestinal disorders, and many others. The use of gene synthesis in treating chronic diseases requires increased research and development, advancements in gene synthesis technologies produced biologically, and innovations that improve the efficacy and safety of the produced genes. This is also accompanied by improved demands from the medical sector, which requires more advanced techniques and skill work to carry out the procedures. Increased gene synthesis, considerable gene use in developing novel vaccines, and increased investment from businesses is expected to help the market grow during the forecast period. 
The difficulties in employing gene synthesis techniques, as well as the high cost of the procedure in particular areas, may limit their development, thereby‐¯limiting the gene synthesis market share growth. High levels of competitiveness in the medical technology business, as well as extended lead times for ways to obtain, can likewise impede market progress. Gene synthesis introduces new techniques for DNA editing and synthesis, making it easier to modify biological agents and systems. These technologies enable the creation of disease or poison DNA that could be unintentionally or purposefully misapplied. All of these challenges are projected to hinder gene synthesis market revenue growth during the forecast period. 
The knowledge of how DNA acts as the blueprint for life and its capacity to manipulate DNA for research, medical treatment, and industrial applications have both been revolutionized by gene synthesis technology. Gene synthesis is likely to‐¯become a vital tool for an expanding range of scientific disciplines and commercially significant applications with further advancements in automation, error correction, and cost effectiveness. To address issues with environmental protection and food security, the energy and agricultural industries will increasingly rely on gene synthesis. Bioengineered antibodies and DNA-based vaccinations will be utilised more frequently in healthcare. Designer organisms with specialised metabolic pathways will be widespread. Such future applications of gene synthesis are expected to offer excellent gene synthesis market opportunity. 
The key players profiled in this gene synthesis market size report include Genscript Biotech Corporation, Thermo Fisher Scientific, Inc., Brooks Automation, Inc., Boster Biological Technology, Twist Bioscience Corporation, Danaher Corporation, Biomatik Corporation, ProteoGenix, ProMab Biotechnologies, Inc., and OriGene Technologies, Inc. 
The gene synthesis market is segmented on the basis of method, end user, and region. As per method, the market has been divided into solid phase synthesis, PCR based enzyme synthesis, and CHIP based DNA synthesis. By end user, the market has been classified into academic and research institutes, biotech and pharmaceutical companies, diagnostic laboratories, and other. Region wise, the market is analyzed across North America, Europe, Asia-Pacific, and LAMEA.
The gene synthesis market forecast report is segmented into method and end user.
Gene Synthesis Market

---
By Method
The solid phase synthesis sub-segment held the largest market share in 2021
By method, the PCR-based enzyme synthesis segment is expected to have the fastest gene synthesis market growth during the forecast period. There are numerous advantages of using PCR. For starters, it is a simple strategy to learn and apply, and it provides results quickly. It is a sensitive process capable of producing millions to billions of copies of a single product for sequencing, cloning, and analysis. PCR-based technologies are employed in clinical diagnostics, forensic investigations, and agricultural biotechnology on a daily basis. These applications necessitate dependable performance, exceptional sensitivity, and tight standards. 
Gene Synthesis Market

---
By End User
The academic and research institutes sub-segment is projected to grow at a fastest CAGR during the forecast period
By end user, the academic and research institutes dominated the global gene synthesis market in 2021. The segment growth can be attributed to an increase in people's preference for research environments for investigation and clinical research programs to undertake DNA synthesis activities. Furthermore, the increasing number of advances and discoveries in biotechnology and pharmaceuticals is a factor that is responsible for the increased number of new market players. These applications necessitate dependable performance, exceptional sensitivity, and tight standards. 
Gene Synthesis Market

---
By Region
The North America region held the largest market share in 2021
By region, North America gene synthesis market accounted for a dominating market share in 2021. The increased use of gene editing and synthesis-related methods by pharmacological and diagnostic companies in the U.S. is boosting gene synthesis demand. Growing commercialization of synthetic gene products, as well as increased licensing by regulatory agencies such as the U.S. Food and Drug Administration, are expected to encourage expansion.
Impact of COVID-19 on Global Gene Synthesis Industry 
The COVID-19 pandemic positively impacted the gene synthesis market as hospitalization rate for infected patients increased during COVID-19 pandemic.  

Owing to increased cases of hospitalization due to rising COVID-19 infection, the need for an effective drug or a vaccine was generated which boosted the growth of gene synthesis techniques. 
Key Benefits For Stakeholders
This report provides a quantitative analysis of the market segments, current trends, estimations, and dynamics of the gene synthesis market analysis from 2021 to 2031 to identify the prevailing gene synthesis market opportunities.
The market research is offered along with information related to key drivers, restraints, and opportunities.
Porter's five forces analysis highlights the potency of buyers and suppliers to enable stakeholders make profit-oriented business decisions and strengthen their supplier-buyer network.
In-depth analysis of the gene synthesis market segmentation assists to determine the prevailing market opportunities.
Major countries in each region are mapped according to their revenue contribution to the global market.
Market player positioning facilitates benchmarking and provides a clear understanding of the present position of the market players.
The report includes the analysis of the regional as well as global gene synthesis market trends, key players, market segments, application areas, and market growth strategies.
 Gene Synthesis Market Report Highlights
Aspects
Details
Market Size By 2031
USD 5979 million
Growth Rate
CAGR of 18.4%
Forecast period
2021 - 2031
Report Pages
280
Method

Solid Phase Synthesis
PCR Based Enzyme Synthesis
CHIP Based DNA Synthesis

End User

Biotech and Pharmaceutical Companies,
Diagnostic Laboratories
Academic and Research Institutes,
Other

By Region

North America (U.S., Canada, Mexico)
Europe (UK, Germany, France, Spain, Italy, Rest of Europe)
Asia-Pacific (China, India, Japan, South Korea, Australia, Rest of Asia-Pacific)
LAMEA (Brazil, Saudi Arabia, UAE, South Africa, Rest of LAMEA)

Key Market Players
Brooks Automation, Inc., Boster Biological Technology, Twist Bioscience, Codex DNA, Biomatik, promab biotechnologies, inc., Thermo Fisher Scientific, Inc., Genscript Technology, Integrated DNA Technologies, Inc., OriGene Technologies, Inc.