Geotextile Tubes Market Outlook - 2027
The global geotextile tubes market was valued at $3.3 billion in 2019, and is projected to reach $7.2 billion by 2027, growing at a CAGR of 10.0% from 2020 to 2027. Geotextile tubes, often referred as geotubes, geocontainers, geobags, are tubes designed from geotextile for effective containment for dewatering and desludging or protection. These tubes are composed of high-tenacity polypropylene yarns for high demands in applications like marine.
Asia-Pacific is one of the largest and fastest growing construction industries; the outbreak of COVID19 in China halted the construction activities in China and disrupted the value chain of the construction industry. This negatively impacted the geotextile tubes market.
These tubes are effective to resist ultraviolet deterioration, rotting, and biological degradation. In additional, these tubes are inert to chemicals, alkalis, and acids. Because of those motives, geotextile tubes are desired in applications like shoreline safety, aquaculture & horticulture, sludge dewatering, environmental containment, and soil remediation.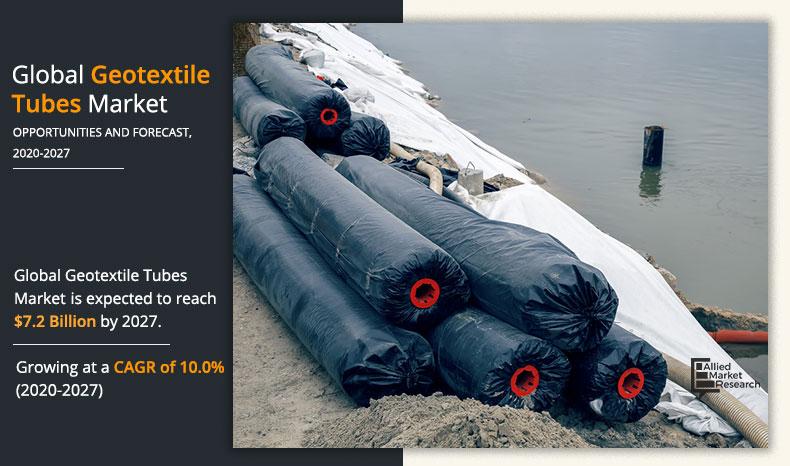 Growth in regulatory support in adoption of geotextile tubes for stopping the land and soil erosion is boosting the market. Government guidelines and rules that govern water treatment for business and domestic wastewater are anticipated to have an effect on the marketplace in an advantageous way.
By type, the market is segmented into woven and nonwoven geotextile tubes. The woven geotextiles have advanced flexibility and dimensional stability under high-strain surroundings. This is the reason they are preferred to prevent coastal erosion. These tubes are made from materials like polypropylene, polyethylene, and polyester.
Geotextile Tubes Market

---
By Type
Non-woven geotextile tubes is projected as the most lucrative segment.
Non-woven geotextiles are produced through the bonding of fibers with the chemical bonding, heat, and needle punching through weaving. These fabric are normally utilized in filters or separation packages as a result of advanced porosity. Their increased use in structural applications is expected to drive the geotextile tubes market growth.
Geotextile Tubes Market

---
By End-user Industry
Marine segment is projected as the most lucrative segment.
By end-use industry, the geotextile tubes market analysis is done into wastewater treatment, agriculture, aquaculture, pulp & paper mills, construction, marine, and others. The marine segment is expected to boost due to developing funding in the safety of coastal areas and seaside rejuvenation sports. Furthermore, increase in use of geotextile tubes in the construction of flood mitigation structures is also expected to provide the market necessary growth.
Technological advancements in manufacturing technology like pulp and paper together with using recycled and derived fibers are also predicted to have a good effect on the market. Growth in funding in the creation of the marine ports, bridges, and tunnels is further driving the demand for the product. Moreover, the stern implementation of aquaculture waste discharge guidelines is projected to boom the agricultural engineering segment.
Geotextile Tubes Market

---
By Region
Asia-Pacific would exhibit a CAGR of 10.7% during 2020-2027.
Based on region, the global geotextile market is segmented into North America, Europe, Asia-Pacific, and LAMEA. Europe is one of the significant market, as the region is at forefront of taking initiatives to reduce coastal erosion activities. Germany, Italy, the UK, and France are some of the leading countries driving the growth of the market.
Major companies contributing in the geotextile tubes market share include TechFab India Industries Ltd, Koninklijke TenCate, Flexituff Ventures International Limited, KG, Huesker, Ace Geosynthetics, Officine Maccaferri, Low & Bonar, Geofabrics Australasia Pty Ltd, NAUE GmbH & Co., and Fibertex Nonwovens. In order to stay competitive, these market players have adopted various strategies such as product launch, partnership, merger, and acquisition. 
Impact of COVID-19 on the market
The geotextile market is hampered owing to outbreak of COVID-19. The manufacturing as well as supply regions or countries witnessed economic slowdown owing to lockdown. The downstream section of the value chain, i.e., the end user has witnessed less demand, which has impacted the market growth. For instance, the construction industry was already dealing with numerous challenges from various rules and regulation, lack of capital and credit avenues to insolvencies, and others.
To contain the pandemic many nations across world has imposed lockdown, to restrict the movement of people and gatherings. Which resulted in disruption of construction activities as construction sector is worker dense sector. This correspondingly decreased the demand for construction materials and consequently for geotextile tubes. As of now, new construction is down because of economic and social lockdown. But with the ease of lockdown guidelines and marginal increase in new construction project, the demand of geotextile tubes can be increased gradually.
Key Benefits for Stakeholders:
Porter's five forces analysis helps analyze the potential of buyers & suppliers and the competitive scenario of the geotextile tubes industry for building strategies.
It outlines the current trends and future scenario of the global geotextile tubes market size from 2019 to 2027 to understand the prevailing opportunities and potential investment pockets.
The global geotextile tubes market trends such as drivers, restraints, and opportunities and their detailed impact analyses are elucidated in the study.
The profiles of key players along with their contribution in global geotextile tubes market growth are enlisted in the report.
The global geotextile tubes market forecast is studied from 2019 to 2027. 
 Geotextile Tubes Market Report Highlights
Aspects
Details
By Material

WOVEN GEOTEXTILE TUBES
NON-WOVEN GEOTEXTILE TUBES

By End Use Industry

Wastewater Treatment
Agriculture
Aquaculture
Pulp and Paper Mills
Construction
Marine
Others

By Region

North America (U.S., Canada, Mexico)
Europe (UK, Germany, France, Italy, Spain, Rest of Europe)
Asia-Pacific (China, Japan, India, South Korea, Australia, Rest of Asia-Pacific)
LAMEA (Brazil, Saudi Arabia, South Africa, Rest of LAMEA)

Key Market Players
TECHFAB INDIA INDUSTRIES LTD, KONINKLIJKE TENCATE, FLEXITUFF VENTURES INTERNATIONAL LIMITED, HUESKER, ACE GEOSYNTHETICS, OFFICINE MACCAFERRI, GEOFABRICS AUSTRALASIA PTY LTD, NAUE GMBH & CO., FIBERTEX NONWOVENS, TENSAR INTERNATIONAL