Geothermal Power Market Outlook - 2026
The global geothermal power market was valued at $4.6 billion in 2018, and is projected to reach $6.8 billion by 2026, growing at a CAGR of 5.0% from 2019 to 2026. Geothermal power is a stable and independent power generation system, which uses warm vitality of the earth's magma to produce power. Geothermal power plants utilize the steam that is produced from hot water found around a mile or more below the earth's surface to rotate turbines that start a generator, which further produces electricity. 
Three types of geothermal power plants are operating presently, which include binary cycle, dry steam, and flash steam. Government organizations are putting in efforts to reduce the dependency on oil for domestic energy use. To do so, several activities are explored and exploited to use renewable energy resources as an alternative energy source. For achieving this goal, the Government of Indonesia formulated a National Energy Policy, which involves guidelines for intensification, conservation, and diversification of energy.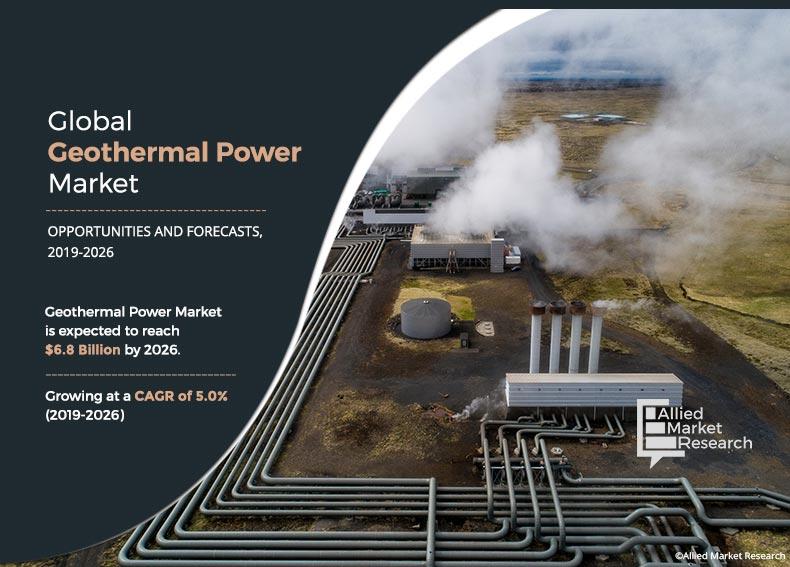 Source: AMR analysis
The global geothermal power market growth is driven by implementation of stringent government regulations related to climate change in developing and developed economies. In addition, factors such as volatile fossil fuel prices, limited presence of fossil fuels, rise in greenhouse gas emission, high capacity of geothermal power, cost-effectiveness of geothermal energy, reduction in pollution by geothermal power plants, and increase in demand for energy are driving the growth of the global geothermal power market. However, huge investment required for geothermal power plants and negative impact of geothermal energy on the environment are major growth barrier for this market. Moreover, the growing market of wind & solar energy restrains the growth of this market. On the contrary, increase in government financing and continuous developing technologies in the renewable energy sector are expected to offer lucrative opportunity for marker expansion over the next five years.
Geothermal Power Market

---
By Power Station Type
Flash Steam Power Stations is projected as the fastest growing segment.
The impact of government regulation on the global geothermal power market is positive. These regulations encourage the use of geothermal power for meeting the needs of electricity. National Renewable Energy Act 2015 was passed in India, which aims to promote the generation of energy by reducing emissions of greenhouse gases such as CO2. Law No. 4411960 was passed in Indonesia that covers mining rights, which mandate that oil and natural gas undertakings shall only be carried out by state enterprise under government registration. This is to ensure that development of every resources is carried out to full benefit of Indonesia as mentioned in Article 33 of the Constitution year of 1945. 
Geothermal Power Market

---
By End-use
Industrial segment dominate the Geothermal Power Market.
The global geothermal power market is segmented into power station type, end use, and region. By power station type, the market is divided into dry steam power stations, flash steam power stations, and binary cycle power stations. On the basis of end use, it is segregated into residential, commercial, industrial, and others.
The geothermal power market analysis is done region-wise across North America, Europe, Asia-Pacific, and LAMEA. Among these regions, the Asia-Pacific region is expected to witness boom during the forecast period, owing to factors such as electrification of low-income & rural communities. India is one of the key players in the renewable energy market. India reiterated its commitment toward clean energy and reduced carbon emissions. Moreover, India's increased focus on renewable energy is outlined in the national budget that aims on increasing share of renewable energy in the total energy production. The target is to increase production to 175 GW by 2022, which is anticipated to boost the growth of the geothermal power in the Asia-Pacific region. 
Geothermal Power Market

---
By Region
Asia-Pacific would exhibit CAGR of 5.8% during 2019-2026.
Key players operating in the global geothermal power industry are Enel Green Power S.p.A., Ormat Technologies Inc., Kenya Pertamina Geothermal Energy, Electricity Generating Company PLC, Calpine Corporation, Aboitiz Power Corporation, Energy Development Corporation, Fuji Electric Co. Ltd., Toshiba Energy Systems & Solutions Corporation, Mitsubishi Gas Chemical Company Inc., and others. 
These players have acquired various strategies such as acquisitions, partnerships, collaboration, joint ventures, agreements, expansions, and new product launches to gain strong consumer base and increase their geothermal power market share globally. In an instance, Japanese utility Electric Power Development Co., Ltd. announced the beginning of commercial operations at a 46.2-MW geothermal power plant in Japan's Akita region. J-Power, Mitsubishi Materials Corporation, and Mitsubishi Gas Chemical Company Inc. partnered to build Wasabizawa Geothermal Power Plant. 
Key Benefits for Stakeholders:
Porter's five forces analysis helps to analyze the potential of buyers & suppliers and the competitive scenario of the industry for building strategies. 
It outlines the current trends and future scenario of the geothermal power market size from 2018 to 2026 to understand the prevailing opportunities and potential investment pockets.
Major countries involved in Geothermal power market forecast are North America, Asia-Pacific, Europe, and LAMEA. These countries have been mapped according to their individual revenue contribution in the market analysis at regional and country-level.
The geothermal power market trends such as drivers, restraints, and opportunities and their detailed impact analyses are elucidated in the study.
The profiles of key players along with their contribution in market growth are enlisted in the report. 
 Geothermal Power Market Report Highlights
Aspects
Details
By Power Station Type

Dry Steam Power Stations
Flash Steam Power Stations
Binary Cycle Power Stations

By End Use

Residential
Commercial
Industrial
Others

By Region

North America (U.S., Canada)
Europe (France, Germany, Iceland, Italy, Portugal, Rest of Europe)
Asia-Pacific (Indonesia, Japan, Philippines, Rest of Asia-Pacific)
LAMEA (Chile, Turkey, Kenya, Rest of LAMEA)

Key Market Players
ABB, Siemens AG, Korea Electric Power Corporation, Mitsubishi Hitachi Power Systems Inc., GENERAL ELECTRIC, Yokogawa Electric Corporation, TOSHIBA CORPORATION, ENEL SPA, THE TATA POWER COMPANY LIMITED (TATA POWER), EDF