Geranium Oil Market Research, 2031
The global geranium oil market was valued at $73,835.10 thousand in 2020, and is projected to reach $136,595.10 thousand by 2031, growing at a CAGR of 6% from 2022 to 2031.
During the recent outbreak of COVID-19, due to mandatory closures and restrictions by relevant regulatory agencies, operations in many industries were suspended or operated with a minimum of employees. Egypt being the leading producer of geranium oil, with the presence of the largest raw material, COVID-19 led to delays and bare minimum supply of geranium oil due to lockdowns in many countries. It has a significant negative impact on the industry's revenue growth. In addition, high cost of geranium oil is expected to hinder the global revenue growth of the market.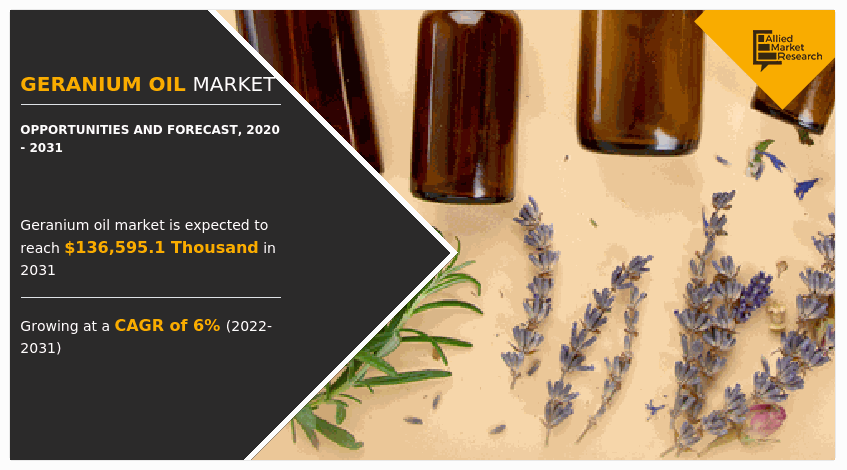 The geranium oil market is segmented into Nature, Application and Distribution Channel.
Pelargonium graveolens is the most extensively cultivated geranium species for the extraction of sweet smelling essential oil. Geranium essential oil is used in aromatherapy to relieve stress, anxiety, sadness, weariness, and tension. In addition, it promotes focus, improves cognitive function, and balances emotions & hormones. Moreover, it is used in cosmetics and personal care to effectively remove dead cells, tighten the skin, encourage the regeneration of new skin, and reduce indications of aging. Furthermore, it exhibits anti-inflammatory and antiseptic properties. It is said to improve circulation, relieve menstrual & menopausal symptoms, lower blood pressure and discomfort, and strengthen immunity. As a result, the usage of geranium oil in medicinal applications is growing exponentially which fueling the geranium oil market demand.
The global geranium oil industry has witnessed significant growth due to increase in awareness among consumers regarding health and wellness. Furthermore, key players in the market are trying to consolidate their position by introducing high-quality products and establishing partnerships with well-known flavor & fragrances, cosmetic & personal care, and aromatherapy manufacturers, which is expected to drive the market growth during the forecast period.
In addition, increase in the prevalence of cardiovascular diseases, good blood flow, and rise in the number of health-conscious people drive the need for treatments, which, in turn, is expected to fuel the demand for geranium oil. For example, geranium oils is increasingly used in aromatherapy treatment activities.
The global geranium oil market is segmented into nature, application, sales channel, and region. On the basis of nature, the market is categorized into organic and conventional. By application, it is segregated into aromatherapy, cosmetics & personal care, flavor & fragrances, and others. Depending on the sales channel, it is fragmented into B2B suppliers, hypermarkets/supermarkets, specialty stores, and online retail. Region wise, it is analyzed across North America (the U.S., Canada, and Mexico), Europe (Germany, France, the UK, Italy, Spain, the Netherlands, and the rest of Europe), Asia-Pacific (China, Japan, Australia, South Korea, India, and rest of Asia-Pacific), and LAMEA (Brazil, Argentina, Egypt, South Africa, United Arab Emirates, and rest of LAMEA).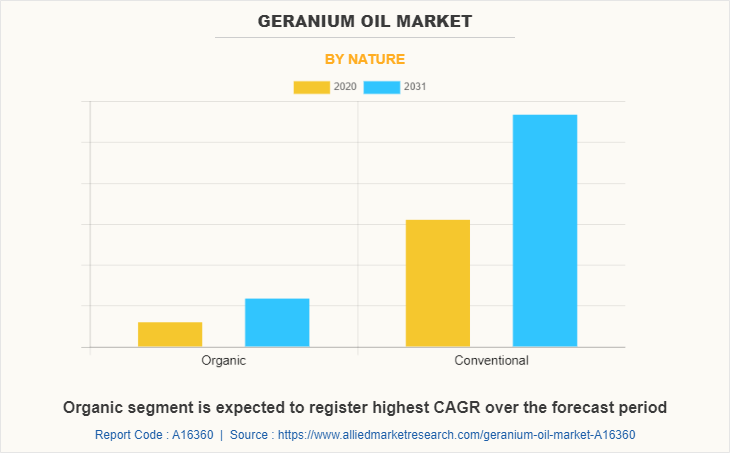 Depending on nature, the conventional geranium oil segment accounted for 83.9% of the global geranium oil market share in 2020, and is expected to maintain this trend during the forecast period. Conventional geranium oils are low in price compared to organic geranium oil, which is a major growth factor of the conventional segment.
Both conventional geranium oil and organic geranium oil are majorly extracted from the leaves of the geranium plant with steam distillation. Planting takes place during the best seasons, which is usually after the monsoon. Geranium crops must be well-maintained; for example, heavy rains can induce disease such as root rot, which reduces productivity. As a result, farmers make use of chemicals or pesticides to boost the output. Thus, conventional geranium has a high production rate, making it a prominent segment in the global geranium oil market.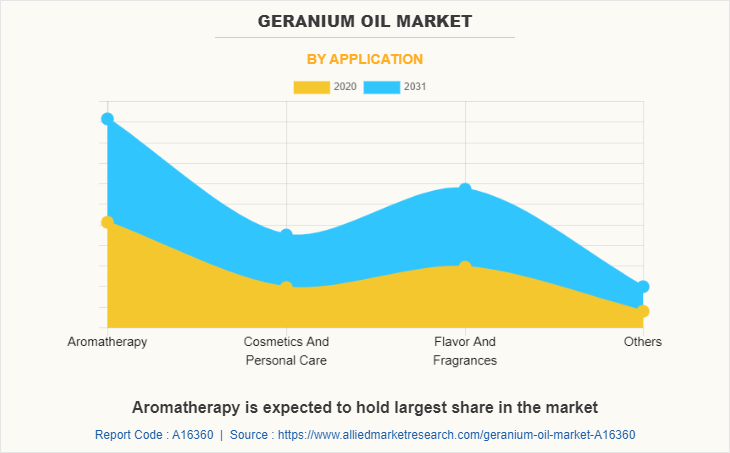 On the basis of application, the cosmetic & personal care segment was valued at $14,614.3 thousand in 2020 and is expected to reach $27,437.1 thousand by 2031 at a CAGR of 6.2%. Geranium oil has been demonstrated to enhance blood circulation just beneath the surface of the skin, it easily speeds up the healing of acne scars, skin irritations, and other lesions. It further aids in the reduction of skin tissue irritation. Moreover, it can be added to body washes, face washes, and moisturizers to help the skin repair. In addition, it is an excellent addition to any cosmetic or skincare product since its strong astringent characteristics encourage facial skin to contract, slowing the symptoms of aging and preventing drooping.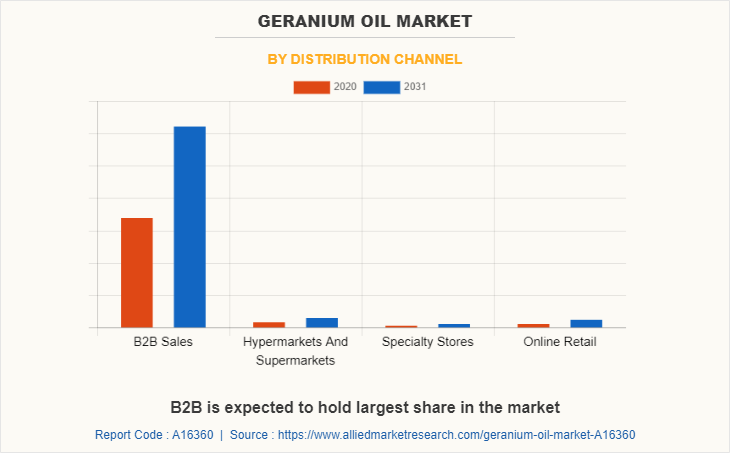 On the basis of sales channel, the online retail segment was valued at $1,988.9 thousand in 2020, and is expected to reach $4,505.2 thousand by 2031 at a CAGR of 7.9%.Increase in the adoption of e-commerce portals in developing regions and rise in the number of offers or discounts provided by these sites attract end users, including home consumers and institutions to purchase geranium oil through e-commerce platforms. Furthermore, e-commerce platforms have expanded customer reach, resulting in it becoming a major source of revenue for many businesses. Moreover, due to rapid increase of internet-enabled mobile user bases in emerging nations, the e-commerce sector is likely to expand in the future.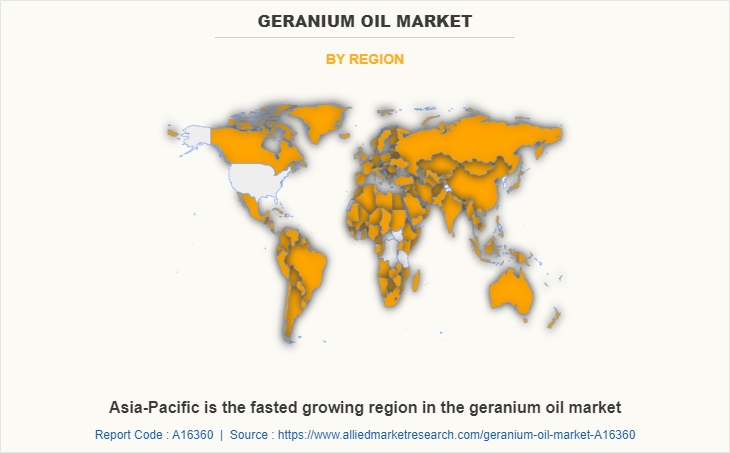 North America dominated the global geranium oil market size, and is projected to continue to this trend during the forecast period. This is majorly attributed to widespread knowledge of therapeutic treatments and aromatherapy in the region. The demand for geranium oil is increasing both online and offline, which has boosted the regional market growth. However, Asia-Pacific is predicted to have the most promising growth rate, owing to rapid development of the health & wellness as well as the aromatherapy industries in the region that is contributing the geranium oil market growth.
Key players in the global market have adopted a variety of development methods to grow their market share, boost their profitability, and stay competitive. The key players profiled in this report include Firmenich SA, A. G. Industries, Mother Herbs (P) Ltd, Ultra International B.V., Floral Essential Oil, Berjé Inc., De Monchy Aromatics, Visagenics Premium Essential Oils, SVA Organics, and NOW Foods.
Key Benefits For Stakeholders
This report provides a quantitative analysis of the market segments, current trends, estimations, and dynamics of the geranium oil market analysis from 2020 to 2031 to identify the prevailing geranium oil market opportunity.
The market research is offered along with information related to key drivers, restraints, and opportunities.
Porter's five forces analysis highlights the potency of buyers and suppliers to enable stakeholders make profit-oriented business decisions and strengthen their supplier-buyer network.
In-depth analysis of the geranium oil market segmentation assists to determine the prevailing market opportunities.
Major countries in each region are mapped according to their revenue contribution to the global market.
Market player positioning facilitates benchmarking and provides a clear understanding of the present position of the market players.
The report includes the analysis of the regional as well as global geranium oil market trends, key players, market segments, application areas, and market growth strategies.
 Geranium Oil Market Report Highlights
Aspects
Details
By Nature
By Application

Aromatherapy
Cosmetics And Personal Care
Flavor And Fragrances
Others

By Distribution Channel

Specialty Stores
Online Retail
B2B Sales
Hypermarkets And Supermarkets

By Region

North America (U.S., Canada, Mexico)
Europe (Germany, France, U.K., Italy, Spain, Netherlands, Rest of Europe)
Asia-Pacific (China, Japan, Australia, South Korea, India, Rest of Asia-Pacific)
LAMEA (Brazil, Argentina, Egypt, South Africa, United Arab Emirates, Rest of LAMEA)

Key Market Players
Floral Essential Oil, firmenich sa, Mother Herbs (P) Ltd, Visagenics Premium Essential Oils, Berjé Inc., A. G. Industries, De Monchy Aromatics, SVA Organics