The global gloves market is accounted to be at value $48,011.33 in 2017 and expected to reach $1,18,508.55 million by 2025, registering a CAGR of 8.6% during 2021-2025.
The demand for gloves from healthcare and food industry are expected to propel the further overall market growth during the COVID 19 pandemic
Gloves play a major role in controlling the cross-transmission, as gloves help in protecting microbial contamination, and from other chemicals of healthcare associated infections in patients. Further, protective gloves should be selected on the basis of the hazards involved. The gloves are categorized into medical/examination glove and industrial glove.Further, latex and nitrile gloves are commonly used when dealing with high-risk situations involving blood, bodily fluids or patients with infectious diseases in healthcare field.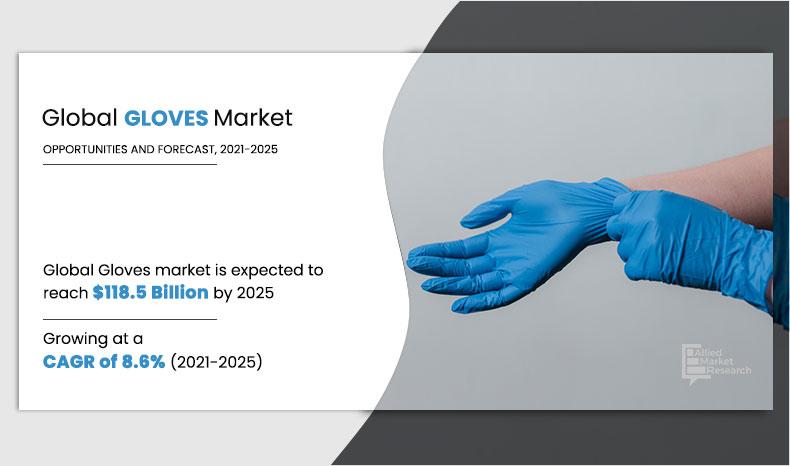 Continuous need of gloves is the emerging signs of a possible new world order post-COVID-19 crisis is a must for aspiring businesses and their astute leaders seeking to find success in the now changing gloves market landscape. Medical gloves are essential during the COVID-19 outbreak as they are a part of personal protective equipment (PPE). In addition,rise in cases of COVID-19 cases across the globe is leading to increase in manufacturing and distribution of gloves. For instance, in March 2020, Supermax Corporation Berhad donated 1 million nitrile powder-free medical gloves to COVID-19 frontliners. They are to be distributed to Malaysian government hospitals, police stations and the healthcare industry's first responders, to combat the Covid-19 outbreak in Malaysia. Therefore, this has concluded that due to the everyday rise in number of cases of corona virus across the globe has made an impact on the disposable gloves industry, by giving opportunities to the key players for expanding the manufacturing of disposable gloves to uplift the industry.
The major factors that contribute toward the growth of the gloves market include increase in concerns regarding safety and hygiene, increase in rubber production, and rise in number of end users. In addition, increase in awareness regarding hygiene among healthcare service providers and advancements in technology of gloves. However,toxic reaction to certain gloves and high price competitionare expected to restrain the market growth. On the contrary,developing economies and untapped marketsare anticipated to provide lucrative growth opportunity for the market growthduring the forecast period.

GLOBAL GLOVES MARKET SEGMENTATION 
The global gloves market is segmented on the basis of type, industry, and country. Based on the type, the market is segmented into disposable sterile gloves, disposable examination and protective gloves, and consumer gloves. In addition, disposable sterile gloves is further divided into disposable surgical sterile gloves, disposable examination sterile gloves, and other sterile gloves. Further, disposable examination and protective gloves is further divided into disposable nitrile examination and protective gloves, disposable latex examination and protective gloves, disposable vinyl examination and protective gloves, and other disposable examination and protective gloves. Based on industry, the market is segmented into medical, horeca, cleaning, beauty, food and drinks, pharmaceutical, chemical, automotive, electronics, construction, and others. Region wise, North America, Europe, Asia-Pacific, and LAMEA.
Segment Review
On the basis of type, the disposable sterile gloves segment held the dominant share in 2017, owing to the factors such as wide usage of these gloves by medical practitioners during surgical or examining procedures. Increase in surgical procedures across the globe due to increase in infectious diseases. Further, disposable gloves made using vinyl or natural rubber are generally used for low-risk general procedures, including non-invasive physical examination applications.
Disposable examination and protective gloves segment holds a dominant position in 2017.
By industries, the electronics and automotive segment occupied the largest gloves devices market share in 2017. The growth of the segment is due to factors such as precision electronic components and equipment installation handling.
By Region, the Europe is accounted for the largest growth in 2017. This is attributed due to the increase in spread of covid-19 and infectious disease within the European region are expected to drive the growth of the gloves market during the forecast period. In addition, government in the European region favors the use of medical disposable gloves, as these provide superior protection against infections during medical diagnosis or surgeries. Furthermore, rise in health awareness, increase in healthcare income have fueled the adoption of disposable gloves in Europe, which in turn has contributed to the market growth. On the other hand, Asia-Pacific is expected to be the largest growth during the forecast period. Owing to increase in compliance to the standards and presence of large population base are the major contributing factors toward the robust growth of the Asia-Pacific market. In addition, the healthcare infrastructure has witnessed a paradigm shift in this region over the last few decades, which has fueled the growth of the market. Further, due to increased compliance and sheer size of population in countries such as Australia and Korea. Key countries, such as India and China, have witnessed an increased demand for disposable gloves in medical and food sector, which in turn is expected to augment the growth of the disposable gloves market in Asia-Pacific region.
Gloves Market

---
By Industry
Medical gloves segment holds a dominant position in 2017.
The global gloves market is highly competitive, and prominent players have adopted various strategies for garnering maximum market share. These include collaboration, product launch, partnership, and acquisition. Major players operating in the market include 3M Co., Ansell Ltd., Cardinal Health, Inc., Semperit AG Holding, Hartalega Holdings Berhad, Honeywell International Inc., Kimberly-Clark Corp., Kossan Rubber Industries Bhd, rubberex corporation (m) berhad, and Top Glove Corp. Bhd.
Asia-Pacific is projected as one of the most lucrative segment.
Key Benefits For Stakeholders
 Gloves Market Report Highlights
Aspects
Details
By Type

Disposable Sterile Gloves

Disposable Surgical Sterile gloves
Disposable Examination Sterile gloves
Other Sterile gloves

Disposable examination and protective gloves

Disposable nitrile examination and protective gloves
Disposable latex examination and protective gloves
Disposable vinyl examination and protective gloves
Other Disposable examination and protective gloves

Consumer gloves

By Industry

Medical
Horeca (food)
Cleaning
Beauty
Food and Drinks
Pharmaceutical
Chemical
Automotive
Electronics
Construction
Others

By Region

North America (U.S, Canada, Mexico)
Europe (Germany, UK, France, Italy, Spain, Rest of Europe)
Asia-Pacific (India, China, Japan, Australia, South Korea, Rest of Asia-Pacific)
LAMEA (Brazil, Saudi Arabia, South Africa, Rest of LAMEA)

Key Market Players
3M COMPANY, ANSELL LIMITED, CARDINAL HEALTH, INC., HONEYWELL INTERNATIONAL INC., HARTALEGA HOLDINGS BERHAD, KIMBERLY-CLARK CORPORATION, KOSSAN RUBBER INDUSTRIES BHD, RUBBEREX CORPORATION (M) BERHAD, SEMPERIT AG HOLDING, TOP GLOVE CORPORATION BHD