Glutamic Acid Market Statistics – 2030
The glutamic acid market was valued at $9.9 billion in 2020, and is projected to reach $16.6 billion by 2030, growing at a CAGR of 5.4% from 2021 to 2030.
Statement for COVID-19 banner: The food industry witness increased sales and profit. The consumers were increasing inventories as much as possible in March 2020 i.e., the initial phase of pandemic. This increased demand for Glutamic acids from food industry.
Glutamic acid is one of the most important amino acids for the synthesis of proteins. The key raw materials used to produce glutamic acid include sugarcane molasses, coryneform bacteria and glucose. Glutamic acid is produced by fermentation process using this raw material. The fermentation process involves various stages that include fermentation, centrifugation, carbon adsorption, evaporation, crystallization, and ion exchange. The manufacturing process is very popular among manufacturers owing to the high quality and purity of glutamic acid obtained through the process. However, the fermentation process is requiring high capital investment and requires high amount of water and energy.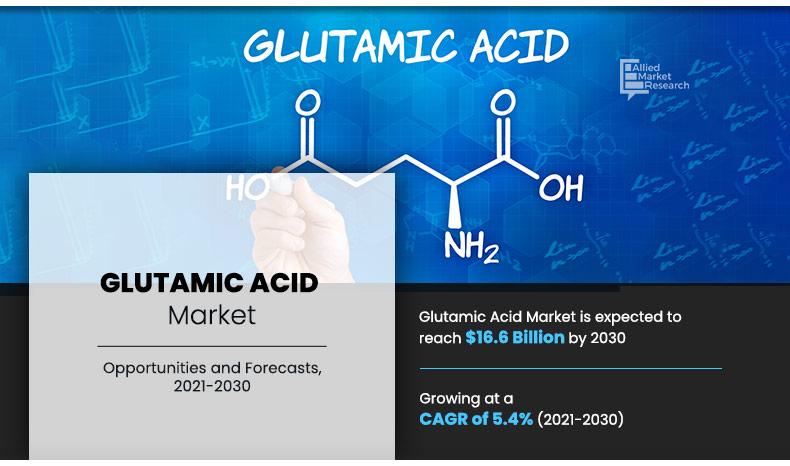 Glutamic acid is present in the highest concentrations in muscle, spinal fluid, brain and blood plasma as well as in all protein-rich foods such as meats, soy proteins, eggs, and cereals. It is essential for the digestive system, immunological system, neurological system, and the synthesis of energy in the body. In addition, glutamic acid aids muscular growth and is hence commonly found in supplements used by sportsmen and bodybuilders. Furthermore, it also helps with detoxifying and controlling acid balance. Moreover, it is necessary for skin tightening and the production of new skin cells. 
Glutamic acid is also used as a flavor enhancer in the food industry. Increased demand for packaged food as well as increased use of food additives and enhancers in the food and beverage industry, are raising glutamic acid demand. The demand for glutamic acid in the food sector has increased as people become more aware of the importance of eating healthy foods. Furthermore, glutamic acid consumption will be boosted by rising demand from the pharmaceutical industry. Glutamic acid is commonly used to treat disorders such as muscular dystrophy, epilepsy, neurotransmission abnormalities, and cognitive and behavioral issues in people. Favorable government policies to assist the pharmaceutical business, together with increased government investment in the industry, are expected to propel the pharmaceutical industry, which in turn is expected to boost the glutamic acid demand in coming years.
End-use industry demand has a significant impact on glutamic acid production and consumption; as a result, any changes in end-use industry demand are predicted to have a direct impact on glutamic acid demand.
The negative effects of glutamic acid, such as nausea and headache, will limit glutamic acid demand. Headaches and nausea are caused by excessive glutamic acid consumption.  The risk of stroke mortality associated with high consumption of glutamic acid is expected to restrict the glutamic acid demand. Furthermore, increasing preference of natural food additives over synthetic food additives and suppliers are actively tracking evolving consumer food preferences is going to provide new opportunities for the market.
The market is segmented on the basis of end use industry and region. By end use industry, the market is categorized into pharmaceutical, cosmetics & personal care, food industry and others. The report further outlines the details about revenue generated through the sale of glutamic acid across North America, Europe, Asia-Pacific, and LAMEA. North America had a significant share in the glutamic acid market in 2020. Increased awareness about natural food additives in emerging markets is expected to boost the demand for glutamic acids in Asia-Pacific. Furthermore, the glutamic acid market share is analyzed across all significant regions and countries.
The glutamic acid market analysis covers in-depth information of the major industry participants. Some of the major players in the glutamic acid market include Amino GmbH, Ajinomoto co, Evonik industries, Fufeng group, Haihang industry, Hefei TNJ chemicals, Kyowa hakko, Medinex, Sichuan Tongsheng amino acid, and Wuhan amino acid.
Other player operating in the glutamic acid market are Avenit AG, Suzhou Yuanfang Chemical Co. Ltd., Luojiang Chenming Biological Products Co., Ajinomoto Health & Nutrition North America, Inc., IRIS BIOTECH GMBH, Global Bio-chem Technology Group Company Limited, and Akzo Nobel N.V.
Glutamic acid Market, by End Use Industry
The food industry accounted for the largest share i.e., 65.4% and pharmaceutical industry is expected to be the fastest growing segment at 5.8% CAGR during the forecast period, in terms of revenue. This is attributed to increase in use of glutamic acids as food additives in food industry. In addition, the rise in pharmaceutical industry and increased demand for glutamic acid for the treatment of epilepsy, ulcers, mental retardation, and muscular dystrophy, is expected to boost the glutamic acid market growth during the forecast period.
Glutamic Acid Market

---
By End Use Industry
Food Industry holds a dominant position in 2020 and pharmaceutical industry is projected as the most lucrative segment.
Get more information on this report :
Request Sample Pages
Glutamic acid Market, by region
North America contributed 30.8% market share in 2020 and is projected to grow at a CAGR of 4.9% during the forecast period in terms of revenue. Asia-Pacific is the fastest growing region, growing at around 5.9% CAGR during the forecast period in terms of revenue. This is attributed to rise in demand from numerous end-use industries such as food & beverage, cosmetic & personal care, pharmaceutical, and others.
Glutamic Acid Market

---
By Region
Asia-Pacific holds a dominant position in 2020 and is expected to grow at fastest growth rate during the forecast period.
Get more information on this report :
Request Sample Pages
Key Benefits For Stakeholders
The report provides in-depth analysis of the market along with the current glutamic acid market trends and future estimations. 
The glutamic acid market size is provided in terms of volume and revenue.
This report highlights the key drivers, market opportunities, and restraints of the market along with the impact analysis during the forecast period.
Porter's five forces analysis helps to analyze the potential of the buyers & suppliers and the competitive scenario of the market for strategy building.
A comprehensive market analysis covers the factors that drive and restrain the market growth.
The qualitative data about market dynamics, market trends, and developments is provided in the report.
Impact Of Covid-19 On The Glutamic Acid Market
The outbreak of COVID-19 in China and its spread across numerous countries around the world halted the manufacturing activities of industrial sectors, which correspondingly hampered glutamic acid manufacturing as well.
The raw material procurement was also challenged owing to outbreak of COVID-19.
The COVID-19 pandemic is expected to have significant impacts on industrial operations, indirectly and directly with respect to customer behaviors, labor shortages or stoppages, inventory, sales, business and manufacturing operations, and others. 
As per the companies operating in the market, there are numerous uncertainties about the COVID-19 pandemic, comprising the scope of scientific and health problems, the expected period of the pandemic, and the political, and economic disturbance it might cause. 
Manufacturing as well as the supply regions witnessed economic slowdown owing to lockdown. 
However, there was increase in demand for pharmaceutical, food and beverage industry owing to the COVID-19 pandemic, resulting in increased demand for glutamic acid in these industries.
 Glutamic Acid Market Report Highlights
Aspects
Details
By END-USE INDUSTRY

Pharmaceutical
Cosmetic and Personal Care
Food Industry
Others

By Region

North America (U.S., Canada, Mexico)
Europe (Germany, France, UK, Italy, Spain, Rest of Europe)
Asia-Pacific (China, Japan, India, South Korea, Australia, Rest of Asia-Pacific)
LAMEA (Brazil, UAE, Saudi Arabia, South Africa, Rest of LAMEA)

Key Market Players
Haihang Industry, Evonik Industries AG, KYOWA HAKKO BIO CO.,LTD ., AMINO GmbH, Medinex, Sichuan Tongsheng Amino acid Co., Ltd, Wuhan Amino Acid Bio-Chemical Co., Ltd, FUFENG GROUP, Ajinomoto Co., Inc., Hefei TNJ Chemical Industry Co., Ltd