Go Kart Market Statistics 2030 -
The global go kart market was valued at $104.8 million in 2020, and is projected to reach $154.3 million by 2030, registering a CAGR of 3.9% from 2021 to 2030.    
Go kart is a type of open wheel car or a quadracycle, which is smaller in size & height and at the same time is powerful enough to gain high speed in a shorter time span. It is designed to carry out several sporting & recreational activities by youngsters. Go karts come in all shapes and forms, from motorless models to high-powered racing machines, which are equipped with high-performance engines. In addition, increase in trend to stay fit and rise in need for outdoor sporting events have boosted the demand for Go kart racing.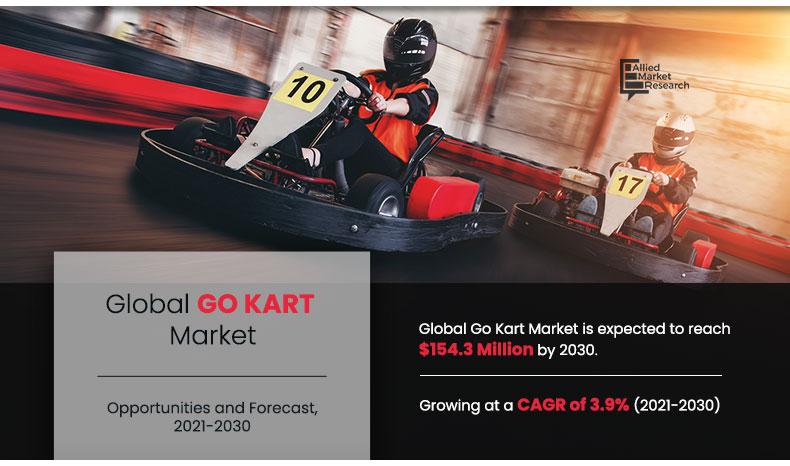 Get more information on this report : Request Sample Pages
Factors such as exponential increase in population along with rapid globalization & rise in purchasing power, increase in the number of race courses & country clubs, and inclination toward solar-powered Go karts drive the growth of the market across the globe. However, factors such as high initial maintenance & purchasing cost and low overall drive range are the factors that hamper the growth of the market across the globe. Conversely, technological advancement in Go karts and reduction in cost of fuel cells & batteries are anticipated to create lucrative opportunities for the expansion of the market across the globe in the near future.
The global Go kart market is segmented into type, application, seating capacity, and region. Depending on type, the global market is categorized into electric, gasoline, and others. On the basis of application, it is bifurcated into rental and racing. By seating capacity, it is segregated into single and double seater. Region wise, it is studied across North America, Europe, Asia-Pacific, and LAMEA. 
Get more information on this report : Request Sample Pages
The key players profiled in the global Go kart market include Anderson-CSK, Birel ART, BIZ Karts, CRG, Margay Racing, OTL Kart, Praga Kart, RiMO Germany, Sodikart, and TAL-KO Racing. 
Increase in population along with rapid globalization & rise in purchasing power
Every year, the global population grows approximately by 43 million. Presently, increase has been witnessed in the global population. For instance, the global population in 2020 crossed 7.8 billion. This boom in population creates many opportunities for the global Go kart market. This is attributed to rise in demand for compact and maneuverable vehicles that occupy small parking space and are efficient in operation.
Get more information on this report : Request Sample Pages
Globalization on the other hand helps organizations to develop international influence, and this influence has helped change outlook of different regions. Globalization has helped people to vouch for a different and better lifestyle, which has encouraged people to spend more and get best service possible. Go kart. Thus, all these factors are anticipated to contribute toward the growth of the global market.
Increase in number of race courses & country club
U.S. has the maximum number of race courses, which count around 15,332, followed by other countries such as Canada with 2,363 racing courses, Mexico with around 200, Brazil with 75, and Argentina with 319. The racing industry across the U.S. includes nearly 2 million jobs and racing game, thus contributing more to charity than any other major sports industry. According to iplayAmerica, more than 35 million U.S. individuals have participated in go karting in 2020, which is expected to foster the growth of the market. Thus, increase in number of racing courses is supported by rise in number of people who have inclined interest toward Go kart racing.
Get more information on this report : Request Sample Pages
High initial maintenance & purchasing cost
Go karts are used as sports or utility vehicles for racing by users. Initial cost varies with different types of features such as electric propulsion, strong & durable tires, safety system, and GPS. In addition, Go kart requirement of regular maintenance of Go karts such as service brakes, rear axle, and batteries incurs additional cost. Hence, high initial cost as well as maintenance cost restrict the growth of the Go kart market.
Reduction in cost of fuel cells & batteries
Decline has been witnessed in price of fuel cells with advancements in technology and better operations. Price of batteries has decreased by 80% in last six years. This is a favorable condition for increasing sales of Go karts, which are powered by electricity. Furthermore, while considering onboard storage of energy, hydrogen has an edge over lithium-ion battery, as it is stored in a high-pressure below vehicles, which offers increased mileage. In addition, 1 kg of hydrogen cell is capable of storing 236 times more energy when compared with lithium-ion battery. This is anticipated to create ample opportunities for key players operating in the Go kart market. 
Get more information on this report : Request Sample Pages
Covid-19 Impact Analysis
The COVID-19 outbreak severely impacted the automotive sector on a global level, which, in turn, led to considerable drop in automotive sales, insufficiency of raw materials.
Many small and big players in the automotive sector are witnessing issues such as halt in production activities and mandated plant closures by the government.
Various companies operating in the automotive industry are stepping up by reconfiguring their supply chain, production, and services for delivery of critical medical supplies.
In addition, amid pandemic many different players are trying to devise different approaches to keep up with the condition by using three-wheeler for medical supplies, as it provides affordable transportation with enhanced maneuverability.
Countries, especially in South Asia, are witnessing loss of vehicle production, owing to factory halt and availability of workforce. Furthermore, the loss of production is expected to witness an upsurge if the lockdown is further extended.
Key Benefits For Stakeholders
This study presents analytical depiction of the global go kart market analysis along with current trends and future estimations to depict imminent investment pockets.
The overall Go kart market opportunity is determined by understanding profitable trends to gain a stronger foothold.
The report presents information related to the key drivers, restraints, and opportunities of the global go kart market with a detailed impact analysis.
The current go kart market is quantitatively analyzed from 2021 to 2030 to benchmark the financial competency.
Porter's five forces analysis illustrates the potency of the buyers and suppliers in the industry.
Key Market Segments
By Type
By Application
By Seating Capacity
By Region
North America
Europe

UK
Germany 
France 
Italy
Rest of Europe

Asia-Pacific

China
Japan 
Australia
Rest of Asia-Pacific

LAMEA

Latin America
Middle East
Africa
Key Players
Anderson-CSK
Birel ART
BIZ Karts
CRG
Margay Racing
OTL Kart
Praga Kart
RiMO Germany
Sodikart
TAL-KO Racing