Golf Cart Market Statistics 2028 -
The golf cart market was valued at $1.34 billion in 2020, and is projected to reach $1.79 billion by 2028, registering a CAGR of 3.9% from 2021 to 2028 
The COVID-19 outbreak severely impacted the golf cart industry on a global level. The rapid spread of COVID-19 in the North America, Europe, and Asian economies resulted in nationwide lockdowns and a temporary halt of production facilities to prevent further spread. Furthermore, the golf courses were being forced to remain closed due to lockdown and social distancing measures, resulting in a sharp drop in the number of rounds played at the beginning of 2020 which resulted in the declining sales of golf carts on a global level. However, the ease of customizability and use of golf carts as slow speed vehicle is foreseen to reinforce the demand of golf carts during the forecast duration.
Golf cart is a type of low-speed vehicle driven by electric motors, which is gas-powered and is specifically envisioned for utilization in golf courses for transportation of golfers and equipment within the course premises. It is also known as non-highway or off-road vehicle with the average speed between 25 and 50 kmph.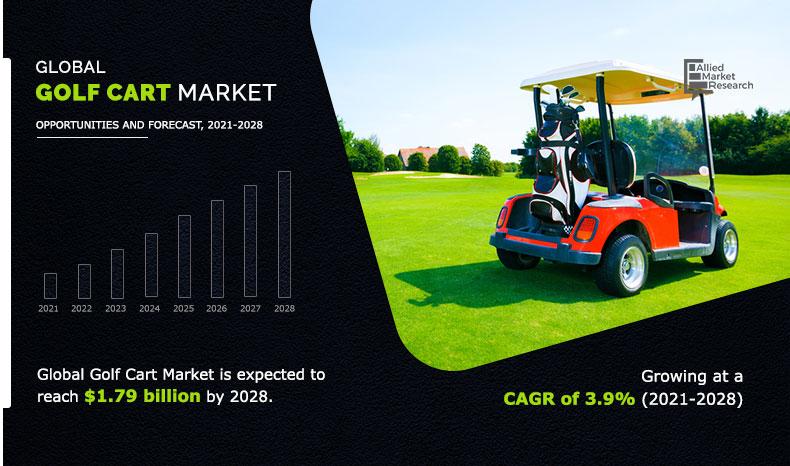 Amid COVID-19 pandemic, golf courses were being forced to remain closed due to lockdown and social distancing measures, resulting in sharp drop in number of rounds played at the beginning of 2020, which resulted in decline in sales of golf carts. Furthermore, there is considerable ambiguity surrounding the near future of the game, as there are still some chances of reemergence of COVID-19 across several nations. However, with isolation restrictions and closures easing gradually, golf courses appear as ideal socially distant space for recreation. This, in turn, is expected to lead to a notable surge in interest for the game. In addition, the COVID-19 outbreak severely impacted the automotive sector on a global level, which led to considerable decline in vehicle sales and inconsistency of raw material. 
 
Increase in urbanization & industrialization; shift toward mall culture; hi-tech & smart residential and commercial housing projects; and rise in utilization of golf cart vehicles in hotels, hospitality, tourism industries, and amusement parks are anticipated to boost growth of the golf cart market globally. Use of golf cart for short trips in educational institutions, such as colleges & universities and in airports are expected to further propel demand for golf carts between 2021 and 2028.
The global golf cart market is segmented on the basis of product type and application. By product type, the market has been categorized into electric golf cart, gasoline golf cart, and solar golf cart. On the basis of application, it is categorized into golf course, personal services, and commercial services. Region wise, it is studied across North America, Europe, Asia-Pacific, and LAMEA.
The key players analyzed in the golf cart market include Garia Inc., Platinum Equity Aadvisors, LLC (Club Car), Textron Inc. (E‑Z‑GO), Yamaha Motor Co., Ltd., Showa Denko (Hitachi Chemicals), Maini Group, Nordic Group of Companies, Ltd., Suzhou Eagle Electric Vehicle Manufacturing Co., Ltd, and Xiamen Dalle New Energy automobile Co., Ltd.
Golf Cart Market

---
By Product Type
Solar Golf Carts is projected as the most lucrative segment
Increase in number of golf courses and country clubs
In America, U.S has the maximum number of golf courses, which counts around 15,332 followed by other countries such as Canada with 2,363 golf courses, Mexico with around 200, Brazil with 75, and Argentina with 319. The golf industry across the U.S. includes nearly 2 million jobs and golf game also contributes more to charity than any other major sports industry. More than one-third that is 36% of the U.S. population, which is over 107 million, have either played, watched, or read about golf in 2018. In 2020, the U.S.NGF (National Golf Foundation) witnessed ~24.8 million golfers in the U.S., representing a rise of nearly 2% or 500,000 compared to 2019, the largest net increase recorded in 17 years. Increase in number of golf courses is supported by rise in number of people, who have inclined interest toward golf. This directly boosts growth in demand for golf carts. In addition, there is an increase, though at a slower rate of around 15, in the number of country clubs and golf courses in the U.S. Further, increase in disposable income leads to rise in expenditure of recreational time and discretionary income of the population. All these factors collectively boost growth of the golf cart market.
Golf Cart Market

---
By Application
Personal Services is projected as the most lucrative segment
Growth in population along with increase in globalization and rise in purchasing power
There has been an increase in the global population and presently, global population in 2020 crossed 7.8 billion. Every year, the global population grows approximately by 43 million. This boom in population creates many opportunities for many businesses and this is also true for the global golf cart market. This is attributed to rise in demand for compact and maneuverable vehicles that occupy small parking space. Globalization on the other hand helps organizations develop international influence and this influence has helped change outlook of different regions. Globalization has helped people to vouch for a different and better lifestyle, it has encouraged people to spend more and get best service possible. This drives growth of the global golf cart market.
Golf Cart Market

---
By Region
Asia-Pacific would exhibit the highest CAGR of 5.8% during 2021-2028.
Key Benefits For Stakeholders
This study presents analytical depiction of the golf cart market analysis along with the current trends and future estimations to depict the imminent investment pockets.
The overall market potential is determined to understand the profitable trends to gain a stronger foothold.
The report presents information related to key drivers, restraints, and opportunities of the market with a detailed impact analysis.
The current golf cart market size is quantitatively analyzed from 2020 to 2028 to benchmark the financial competency.
Porter's five forces analysis illustrates the potency of the buyers and suppliers in the golf cart industry.
Key Market Segment
By Product Type
Electric Golf Cart
Gasoline Golf Cart
Solar Golf Cart
By Application
Golf Course
Personal Services
Commercial Services
By Region
North America
Europe

UK
Germany
France
Russia
Rest of Europe

Asia-Pacific

China
India 
Japan
Australia
Rest of Asia-Pacific

LAMEA

Latin America
Middle East
Africa
KEY PLAYERS
Garia Inc.
Platinum Equity Aadvisors, LLC (Club Car)
Textron Inc. (E‑Z‑GO)
Yamaha Motor Co., Ltd.
Showa Denko (Hitachi Chemicals)
Maini Group
Nordic Group of Companies, Ltd.
Suzhou Eagle Electric Vehicle Manufacturing Co., Ltd 
Xiamen Dalle New Energy automobile Co., Ltd. 
Atul Auto Limited
 Golf Cart Market Report Highlights
Aspects
Details
By Product Type

Electric Golf Cart
Gasoline Golf Cart
Solar Golf Cart

By Application

Golf Course
Personal Services
Commercial Services

By Region

North America (U.S, Canada, Mexico)
Europe (UK, Germany, France, Russia, Rest of Europe)
Asia-Pacific (China, India, Japan, Australia, Rest of Asia-Pacific)
LAMEA (Latin America, Middle East, Africa)

Key Market Players
GARIA, JH GLOBAL SERVICES, INC, MAINI GROUP, NORDIC GROUP OF COMPANIES, LTD, PLATINUM EQUITY AADVISORS, LLC, SHOWA DENKO K.K., SUZHOU EAGLE ELECTRIC VEHICLE MANUFACTURING CO., LTD, TEXTRON INC, XIAMEN DALLE AUTOMOTIVE CO., LTD., YAMAHA MOTOR CO., LTD