The global golf equipment market size was valued at $7,041.3 million in 2020, and is projected to reach $10,150.3 million by 2030, registering a CAGR of 3.9% from 2021 to 2030.Golf equipment comprises different products that are utilized to play golf.
The impact of the COVID-19 pandemic on the growth of the global golf equipment market was quite negative. This is attributed to the travel restrictions, trade restrictions, lockdown restrictions, and supply chain disruptions
These products include golf balls, golf shoes, golf gloves, golf gear, golf wear, clubs, club head cover, wedges, putters, repair tools, and other aids. This equipment may assist golfers in multiple ways to play golf and also enhance the playing experience to some extent. An emerging trend of golf tourism due to the presence of numerous golf courses across the world, an increase in the middle-class population, and growth in the number of professional and amateur female golfers drive the market growth.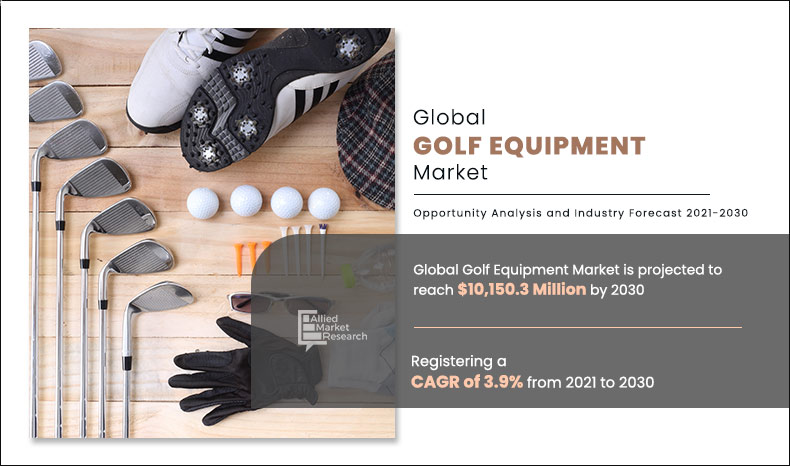 The term golf tourism describes travel done with the intention of playing golf. Moreover, the number of serious golfers has stagnated in the UK, Japan, Australia, and the U.S. due to the shift in youth interest to other sports and the aging retired population who are now taking up this sport as a leisure activity. However, the golf tourist industry is growing at the quickest rate in Asia and the Middle East. The expansion of the golf industry is fueled by an increase in the number of middle-class people and increased investments in the game's infrastructure.
Due to economic growth brought on by rising disposable incomes and a drop in poverty rates, the population of middle-income groups has increased. A rise in middle-income groups is anticipated in developing nations with sizable populations, including those in Africa, the Middle East, and Latin America as well as Asia-Pacific's China, India, and Indonesia. In contrast to developing economies like China and India, which are predicted to grow at rates of at least 6.0% year, the middle-class population in developed economies like the U.S., Japan, and European nations is forecast to increase at a pace of 0.5% annually. Consumers may have extra money to spend on goods and services and leisure pursuits that can improve their lives when the income of the middle-class population increased above fundamental needs. Therefore, it is anticipated that an increase in the middle class will result in growth in the market for golf equipment.
The global golf equipment industry grew as a result of the revolution in women's golf, which was fueled by women's increased interest in the sport during the past ten years. The popularity of golf is rising in the Asia-Pacific region. For example, ladies in China are choosing to play golf as a pastime. At the Olympic Games in Rio de Janeiro, China's Shanshan Feng earned bronze in the women's golf competition. Moreover, she is the first golfer from China to compete on the Ladies Professional Golf Association (LPGA) Tour, which is based in the U.S. The golf industry is expanding due to Yani Tseng and Na Yeon Choi, two other Asian superstars.
However, due to its pricey club memberships and expensive courses, the middle-class population does not choose golf as a first sport, which hinders the market's growth. For instance, the typical cost of an 18-hole game is between $135 and $150 every round, making it unaffordable for the majority of individuals. The high expense of building golf courses has also contributed to the high cost of newer golf courses. This results in fewer registrations, which limits market expansion.
In addition, many employees are required to work 60 hours per week, which has an impact on their work productivity and prevents them from participating in athletic activities like golf. As a result, hectic work schedules hinder golf memberships, which limits the size of the global industry. Moreover, tennis, softball, and kickball have become more well-liked as alternatives to golf as a sport.
Due to its high membership rates and active members' adoption of tennis or other games, golf is becoming less popular. Golfers typically only get to play one or two rounds, whereas tennis players tend to stick with the sport longer. In addition, the older generation chooses golf as a pastime, whereas the younger population is expanding quickly and prefers activities that help them stay physically fit without spending a lot of money.
On the other hand, customers prefer to buy from retail establishments, such as supermarkets and hypermarkets. However, for many businesses, online sales are now their main source of income. The fast use of mobile devices, the rise in e-commerce sales, the availability of a simple payment option, and the alluring discounts provided in online sales, compared to storefronts, are projected to drive significant growth in the online source industry in the future. Additionally, because there are golf clubs and courses available to dedicated golfers and other people in developed regions like North America and Europe, people from these regions choose to play golf. In addition, there is a rise in the demand for golf equipment in the Asia-Pacific region as a result of the allure of online retailers' tempting discounts on consumer products.
The Gulf Cooperation Council (GCC) and Caribbean countries have become popular golf tourism destinations, owing to the availability of modern and advanced facilities. Golf is an expensive outdoor recreation activity that is popular among business individuals and amateur players.
Due to advancements in product innovation, many consumers like hybrid clubs. A hybrid club combines iron and wood technologies, and it is a relatively new type of club. Due to their ease of use compared to long iron golf clubs, many golfers prefer hybrids. The market for golf clubs is being driven by the growing popularity of golf and the game's greater embrace as a fun sport. In addition, a number of hotels and resorts now provide leisure activities like golf as part of their hospitality packages. The development of miniature golf courses to promote and enhance golf as a healthy pastime activity increases golf club sales.
The promotion of golf tourism, the development of new golf courses, and rising consumer disposable income are some of the key market drivers. Governments all throughout the globe organize competitions, and workshops, and construct PGA golf courses to encourage tourism. This can be attributed to the demand for golf balls growing during the anticipated period. In addition, playing golf is more of a competitive sport than a leisure or enjoyment pastime. To draw local and foreign tourists, golf tournaments are staged in a number of rising nations. The demand for the product is therefore anticipated to rise as sports gain more popularity.
The investments required for the construction of golf courses are high. Thus, lack of infrastructure in most of the underdeveloped and developing economies globally restrain the growth of the golf equipment market. Moreover, the rise in popularity of alternate sports & leisure activities among end users and seasonal attributes of golf are expected to adversely impact the market growth during the forecast period.
Segmental Overview
The golf equipment market is segmented into type, distribution channel, and region. On the basis of type, the market is classified into golf balls, golf clubs, golf shoes, and others. By distribution channel, it is divided into specialty stores, sporting goods chains, on-course shops, online stores, and others. Region-wise, the market is analyzed across North America (the U.S., Canada, and Mexico), Europe (the UK, Germany, France, Spain, Italy, and the rest of Europe), Asia-Pacific (China, India, Japan, Australia, South Korea, Singapore, Thailand, Malaysia, and the rest of Asia-Pacific), and LAMEA (Latin America, Middle East, and Africa).
By Type
By type, the golf equipment market is divided into golf balls, golf clubs, golf shoes, and others. Golf clubs generated the maximum revenue in 2020, because they are the main product in this sport that has the most demand from fans. Due to its popularity for making long shots from the fairway, wooden clubs are in high demand. However, hybrid clubs comprised of iron and higher-lofted woods are also becoming more and more popular, especially among golfers who find it challenging to launch the ball with long irons. Golfers, in particular, require comfortable, lightweight, trendy shoes for use on wet, rough, and soft ground, hence this market is predicted to increase at the fastest rate. Additionally, a few of manufacturers have created shoes with innovative features. For instance, the FootJoy Pro/SL shoe offers a performance spike-less traction system and an extremely waterproof top midsole unit.
Golf Equipment Market

---
By Type
Golf shoes segment is expected to grow at highest CAGR of 5.9% during the forecast period
By Distribution Channel
By distribution channel, the golf equipment market is segmented into specialty stores, sporting goods chain, on-course shops, online stores, and others. Customers choose to buy golf equipment from specialty shops because they have a wide selection of products from various companies. However, due to the alluring discount policies provided by the vendors, department and discount stores are predicted to increase at a large rate. Additionally, online shops are becoming a more popular option for golf equipment distribution. The high rate of mobile phone adoption, rise in e-commerce sales, elevated awareness of online retailers, accessibility of simple payment methods, and alluring discounts and promotions provided by these retailers are all factors contributing to this trend. Popular websites like eBay, Amazon, and others sell goods like golf clubs, balls, and other items.
Golf Equipment Market

---
By Distribution Channel
Online stores segment is expected to grow at highest CAGR of 7.1% during the forecast period.
By Region
On the basis of region, the golf equipment market is segmented into North America, Europe, Asia-Pacific, and LAMEA. The North America golf equipment market is accounted for a major share of the golf equipment market in 2020 and is expected to grow at a significant CAGR during the forecast period. The majority of golfers are found in North America. The demand is being fueled by the region's growing urbanization and changing lifestyles. The North American market is anticipated to have a sizeable global market share because to the rise in customer desire for opulent lifestyles. The willingness to spend more money on high-quality goods and a high degree of disposable income are two additional important elements that are anticipated to boost the target market's growth. The need for recreational activities among consumers in North America is what drives the market expansion for golf equipment. The leading manufacturers and distributors of golf equipment in North America are Bailey & Izlet Inc., Wittek Golf Supply, Thomas Golf, and Matzie.
Golf Equipment Market

---
By Regions
Asia-Pacific segment is expected to grow at highest CAGR of 6.0% during the forecast period.
Competitive Analysis
The key leading players operating in this market include Acushnet Holdings Corp., Roger Cleveland Golf Company, Inc., Golfsmith International Holdings, Inc., Nike, Inc., Amer Sports Corporation, Bridgestone Sports Ltd., Sumitomo Rubber Industries Ltd., Callaway Golf Company, TaylorMade Golf Company, Inc., and PING.The key players have adopted various strategies such as agreements, partnership, and acquisition to increase their market share.
Some Examples of Agreement in the Global Golf equipment market
In December 2020, Nike, Inc. announced a six-year agreement with UCLA Athletics in that Nike and Jordan Brand had Bruins' official athletic footwear, apparel and equipment provider.
Some Examples of Partnership in the Global Golf equipment market
In March 2021, Florida A&M University Athletics announced a six-year partnership with NIKE, Inc. to make Nike its official athletic footwear, apparel and equipment provider.
Some Examples of Acquisition in the Global Golf equipment market
In February 2023, Acushnet Holdings Corp. acquired Club Glove Brand, The Performance Leader in Golf Travel to expand its product portfolio and provide exceptional services to its customers.
In February 2021, Nike Inc. acquired Datalogue to integrate data from all sources including the company's app ecosystem, supply chain and enterprise data in a fast, seamless, easily accessible and standardized platform for their products.
Key Benefits For Stakeholders
This report provides a quantitative analysis of current trends, estimations, and dynamics of the global golf equipment market from 2021 to 2030 identify the prevailing market opportunities.
Porter's five forces analysis highlights the potency of the buyers and suppliers to enable stakeholders to make profit-oriented business decisions and strengthen their supplier–buyer network.
In-depth analysis of the market segmentation assists to determine the prevailing market opportunities.
Major countries in each region are mapped according to their revenue contribution to the global industry. The market player positioning segment facilitates benchmarking while providing a clear understanding of the present position of the key market players.
The report includes analyses of the regional as well as global market, key players, market segments, application areas, and growth strategies.
 Golf Equipment Market Report Highlights
Aspects
Details
By Type

Golf Clubs
Golf Balls
Golf Shoes
Others

By Distribution Channel

Specialty Stores
Sporting Goods Chain
On-course Shops
Online Stores
Others

By Region

North America (U.S., Canada, Mexico)
Europe (Germany, France, Italy, Spain, UK, Rest of Europe)
Asia-Pacific (China, Japan, India, South Korea, Australia, Rest of Asia-Pacific)
LAMEA (Latin America, Middle East, Africa)