The global graphene battery market was valued at $48.8 million in 2019 and is projected to reach $398.6 million by 2027, to register a CAGR of 31.2% during the forecast period. Graphene batteries have emerged as the fastest energy-storing solutions available, globally. The global graphene battery market is fueled by the commercialization of graphene to enhance batteries in the recent years and deliver highly efficient energy storage solutions.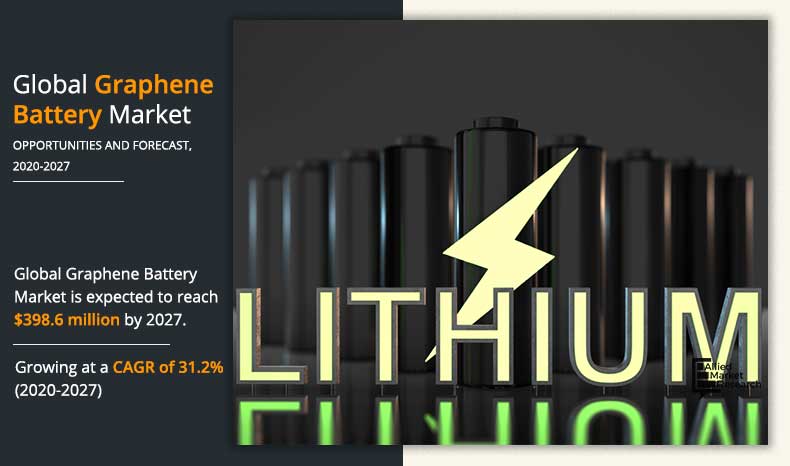 Get more information on this report : Request Sample Pages
 
Graphene is an effective conductor, which is extremely lightweight, and highly flexible with a large surface area, making it an excellent material for high capacity energy storage. Continuous R&D activities to develop innovative and improved products, such as graphene-based supercapacitors and Lithium sulfur batteries, are in progress. Adoption of graphene-based batteries is expected to increase during the forecast period due to features such as quick charging capacity, increased charge cycles, effectiveness in high temperatures, and extended duration to hold charge. The market is anticipated to witness high financial investments owing to its high returnoninvestments.
The report comprises of batteries which are using graphene as electrode material such as Li-ion batteries, lead-acid batteries, supercapacitors, and Li-Sulfur batteries. During the forecast period, it is estimated that graphene will be used as anode material as well as cathode material. Conventional graphitic anodes in Li-ion batteries cannot provide high-power densities due to slow diffusivity of lithium ions. Graphene has high electrical conductivity, large specific surface area, and mechanical robustness and is therefore, a promising material for Li-ion battery anodes. Overall conductivity of anodes can be increased due to superior electrical conductivity of graphenenano sheets. Graphene can effectively improve the electron and ion transportation of the electrode materials and can impressively enhance lithium ion battery's properties and provide better chemical stability, higher electrical conductivity, and higher capacity.
Rise in sales of electric vehicles majorly drives the graphene battery market growth, owing to extended range for long distance travelling and lesser charging time. Moreover, thriving portable electronics market is expected to boost the market growth. Furthermore, increase in government investments in R&D are expected to provide lucrative growth opportunities. However, lack of awareness of graphene technology, and incapability of market for in-commercialization process of graphene battery are expected to hinder the growth of the graphene battery market. 
Nonetheless, graphene has the potential to be widely used in the fields of physics, chemistry, information, energy, and device manufacturing. Graphene is thin, mechanically strong, transparent, and a flexible conductor. Its conductivity can be modified over a large range either by chemical doping or by an electric field. This report covers industries such as automotive, aerospace & defense, healthcare, energy storage, electronics, and industrial robotics. Automotive, electronics, and aerospace & defense are expected to consume the major share of the market during the forecast period. 
Graphene Battery Market

---
By Battery Type
Supercapacitors segment is projected as one of the most lucrative segments.
Get more information on this report : Request Sample Pages
 
The global graphene battery market is analyzed by battery type, application, and region. By battery type, it is fragmented into Li-ion batteries, Li-Sulfur batteries, supercapacitors, and lead-acid batteries segments. The Li-ion batteries segment dominated the graphene battery market share in terms of revenue in 2019 and is expected to follow the same trend during the forecast period.  The applications covered in this study include automotive, electronics, energy, aerospace & defense, industrial robotics, and healthcare. The global graphene battery market is dominated by the automotive segment in terms of value and volume. 
Graphene Battery Market

---
By Application
Automotive segment is expected to secure leading position during forecast period.
Get more information on this report : Request Sample Pages
 
By region, the global graphene battery market is analyzed across North America (U.S., Canada, and Mexico), Europe (UK, Germany, Turkey, Spain, and rest of Europe), Asia-Pacific (China, India, Japan, Australia, and rest of Asia-Pacific), and LAMEA (Latin America, Middle East, and Africa). Europe accounted for the highest share, owing to the presence of majority of graphene manufacturing companies in the region. Asia-Pacific was the second largest contributor in terms of revenue and is expected to witness significant growth during the forecast period, owing to increase in adoption of CO2 emission regulations and surge in awareness on non-conventional energy resources. For instance, the Japanese government focuses at 25% reduction of CO2 emission by 2020 and 50% by 2050, by accelerating the development of electric vehicles, eco-driving, hybrid vehicles, and hydrogen vehicles. To achieve this, the energy storage market requires ultra-large capacity and quick charge- and discharge capacity graphene-based batteries. Moreover, the developing electronics market in this region drives the market growth.
Graphene Battery Market

---
By Geography
Asia-Pacific region would exhibit the highest CAGR of 34.0% during 2020-2027
Get more information on this report : Request Sample Pages
 
Top Impacting Factors
The significant impacting factors in the graphene battery market include exponential increase in sales of electric vehicles, rise in portable electronics market, and surge in adoption of non-conventional energy resources, thereby driving the growth of the global graphene battery market. In addition, high cost of raw material, which includes high quality graphene, lack of awareness of the technology, and market being in commercialization state, functions as key constraints to the market. Each of these factors has a definite impact on the growth of the market during the forecast period.
Competition Analysis
Competitive analysis and profiles of the major graphene battery market players, such as Cabot Corporation, Cambridge Nanosystems Ltd., G6 Materials Corp., Graphenano S.L., GrapheneNanoChemplc, Graphenea S.A., NanoXplore Inc., Real Graphene USA, Vorbeck Materials Corp., and XG Sciences, Inc.areprovided in this report. 
Key Benefits For Stakeholders
This study comprises analytical depiction of the global graphene battery market size along with the current trends and future estimations to depict the imminent investment pockets.
The overall graphene battery market analysis is determined to understand the profitable trends to gain a stronger foothold.
The report presents information related to key drivers, restraints, and opportunities with a detailed impact analysis.
The current graphene battery market forecast is quantitatively analyzed from 2019 to 2027 to benchmark the financial competency.
Porter's five forces analysis illustrates the potency of the buyers and suppliers in the graphene battery industry.
The report includes the graphene battery market trends and market share of key vendors.
 Key Market Segments & Key Market Players
Segments
Sub-segments
By Battery Type

Li-ion Batteries
Li-Sulfur Batteries
Supercapacitors
Lead-acid Batteries



By Application

Automotive
Electronics
Energy
Aerospace & Defense
Industrial Robotics
Healthcare



By Region

North America
Europe

UK
Germany
Turkey
Spain
Rest of Europe

Asia-Pacific

China
India
Japan
Australia
Rest of Asia-Pacific

LAMEA

Latin America
Middle East
Africa



Key Market Players

CABOT CORPORATION
FGV CAMBRIDGE NANOSYSTEMS LTD
G6 MATERIALS CORP
GRAPHENANO S.L
GRAPHENE NANOCHEM PLC
GRAPHENEA S.A
NANOXPLORE INC
REAL GRAPHENE
VORBECK MATERIALS CORP
XG SCIENCES, INC