Graphene Market Outlook - 2020–2027
The global graphene market size valued at $87.5 million in 2019, and is projected to reach $876.8 million by 2027, growing at a CAGR% of 40.2% from 2020 to 2027.
Graphene, the first 2-D carbon material in the world, also known as the "wonder material," is well suited for many applications. Graphene is resistant to fire, an effective conductor, extremely versatile and 200 times stronger than steel and a substance of ultra-lightness. In addition, graphene is regarded in the chemical industry as an effective catalyst because of its properties such as high surface area and adsorption power. Rise in demand for chemicals worldwide is expected to increase graphene demand and thus, drive the growth of the global graphene industry.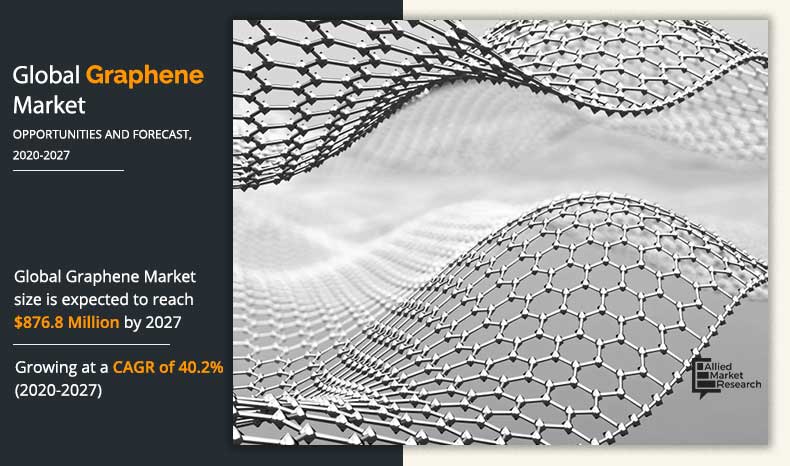 Factors that are expected to fuel the growth of the graphene market are growing purchasing power and increasing consumer electronics demand such as tablets and mobile phones. In addition, graphene oxide-based transparent conductive films are used as a raw material in automotive to make them safer and lighter. However, the toxic nature of graphene and the risk involved in the graphene production process are expected to hamper the global graphene market growth over the projected period. Furthermore, continuous R&D activities around the globe and large-scale graphene production through renewable sources, in particular the use of value-added chemicals, are expected to give the industry enormous opportunities for growth.
The global graphene market is segmented based on type, application, and region. By type, the market is classified into mono-layer & bi-layer graphene, few layer graphene (FLG), graphene oxide (GO), and graphene nano platelets (GNP). According to application, it is divided into RFID, composites, sensors, research & development, energy storage, functional ink, polymer additives, tire, coatings, and others. Based on region, the market is analyzed across North America, Europe, Asia-Pacific, and LAMEA.
Some of the key players operating in the global graphene market are ACS Material LLC, Bluestone Global Tech, CVD Equipment Corporation, Graphene Nanochem PLC, Graphenea S.A., G6 Materials, Haydale Limited, Nanotek Instruments Inc., Vorbrck Materials, and XG Sciences.
Some of the key Indian players profiled in the graphene market are KNV'S Incorporation ((KNV'S Inc.), Carborundum Universal Limited (CUMI), Hexorp, AVANSA Technology & Services (AVANSA), and Ad-Nano Technologies Pvt Ltd. (Ad-Nano). 
Global Graphene Market, by type
By function, the graphene nanoplatelets, due to their wide range of applications in various sectors including aerospace, telecommunications, medical and energy storage and generation, are expected to witness a substantial increase in demand. In addition, graphene oxide is an extremely critical product, including transparent conductive films for various supercapacitors, flexible electronic devices, tablets, optoelectronic devices and medical devices. Superior product features such as high thermal and permeability, electrical conductivity, flexibility and power play an important role in boosting demand.
Graphene Nano Platelets is projected as the most lucrative segment.
Global Graphene Market, by application
By application, composites are expected to experience the highest development in the coming years, due to their power and weight enhancement ability. These are used in a range of fields including manufacturing, automotive, and aerospace. By adding little amount of graphene to materials such as metals, polymers and ceramics, manufacturers are able to develop strong and lightweight materials with high electrical conductivity and heat resistance. The material is also used for energy generation and storage. A major source of market supply was the research institutes and multinationals. They conducted comprehensive R&D in order to use and establish the range of implementation of the product.
Graphene Market

---
By Application
Energy storage is projected as the most lucrative segment.
Global Graphene Market, by region
By region, North America accounted for second highest graphene market share in 2019, and is expected to retain its dominance over the forecast period. Asia-Pacific is also predicted to experience the fastest growth over the forecast period. Due to its excellent electrical and thermal conductivities; Graphene finds its use primarily in the electronic and automotive industry. Both the electronic and automotive industries are growing rapidly in Asia Pacific, and they are major end-users of graphene. High growth of these end-use industries is therefore expected to fuel the demand for graphene in the region.
Graphene Market

---
By Region
Asia-Pacific holds a dominant position in 2019 and would continue to maintain the lead over the forecast period.
Key Benefits For Stakeholders
The report provides an in-depth analysis of the graphene market forecast along with the current and future market trends.
This report highlights the key drivers, opportunities, and restraints of the market along with the impact analyses during the forecast period.
Porter's five forces analysis helps analyze the potential of the buyers & suppliers and the competitive scenario of the global graphene industry for strategy building.
A comprehensive graphene market analysis covers factors that drive and restrain market growth.
The qualitative data in this report aims on market dynamics, trends, and developments.
Impact of COVID-19 on the graphene market
The outbreak of COVID-19 has affected the demand as well as manufacturing in supply regions.
The outbreak of COVID-19 in China has severely affected numerous industries, from the first quarter of 2020, which further disrupted the demand for graphene.
The COVID-19 crisis has affected the chemical industry supply chain to a major extent. Therefore, this led to a major impact on raw material procurement.
The final investment decision for electric vehicles is getting delayed by the key automotive players, owing to decreased automotive sales. This has resulted in decrease in demand for graphene as graphene is used in batteries, composites, and others.
 Graphene Market Report Highlights
Aspects
Details
By Type

Mono-layer & Bi-layer Graphene
Few Layer Graphene (FLG)
Graphene Oxide (GO)
Graphene Nano Platelets (GNP)

By Application

Radio Frequency Identification (RFID)
Composites
Sensors
Research & Development
Energy storage
Functional ink
Polymer additives
Tire
Coatings
Others

By Region

North America (U.S., Canada, Mexico)
Europe (Germany, UK, France, Italy, Spain, Rest of Europe)
Asia-Pacific (China, India, South Korea, Japan, Australia, Rest of Asia Pacific)
LAMEA (Brazil, Saudi Arabia, South Africa, Rest of LAMEA)

Key Market Players
ACS MATERIAL LLC, BLUESTONE GLOBAL TECH, CVD EQUIPMENT CORPORATION, GRAPHENE NANOCHEM PLC, GRAPHENEA S.A., G6 MATERIALS, HAYDALE LIMITED, NANOTEK INSTRUMENTS, INC., VORBECK MATERIALS, XG SCIENCES