Graphite Market Outlook - 2027
The global graphite market was valued at $14.3 billion in 2019, and is expected to reach $21.6 billion by 2027, registering a CAGR of 5.3% from 2020 to 2027.
Graphite is a mineral of carbon used in various applications such as electrical vehicle, refractories, foundry, lubricating agent, construction applications, and others. The increasing use of graphite in the above-mentioned industries is owing to its several advantages such as reduces wear, easy to machine, thermal shock resistant, high metal removal rate, and others. Graphite is a non-metal but possess metallic properties such as high stiffness, strength, good conductor of electricity & heat, and others. There are two different forms of graphite, which include natural graphite and synthetic graphite.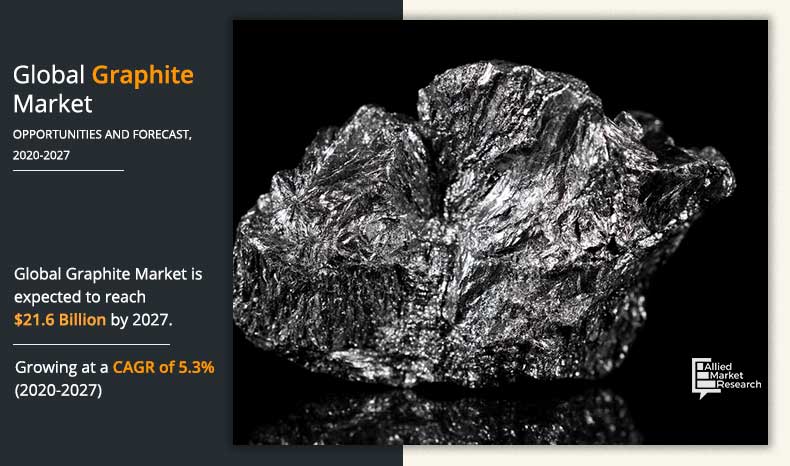 The global graphite market is driven by the high demand for lithium ion battery industry and significant steel production through graphite electrode electric arc furnace. However, increase in export duty on graphite in China and decreasing price trend of natural graphite are the key factors that restrain the growth of the graphite market during the forecast period. Moreover, growth in usage in green technologies and merger & acquisitions activities are anticipated to provid elucrative growth opportunities for the key players to maintain the position in the market in the upcoming years.
The global graphite market is segmented on the basis of type, application, and region. Depending on type, the market is bifurcated into natural graphite and synthetic graphite. The natural graphite segment is further sub-categorized into flake graphite, amorphous graphite, and vein graphite. The synthetic graphite segment is further classified into graphite electrode, graphite block, carbon fiber, graphite powder, and others. Based on application, the market is segmented into lubrication, refractories, foundry, battery production, and others. Region wise, the market is analyzed across North America, Europe, Asia-Pacific, and LAMEA.
The graphite market covers in-depth information of the major industry participants . Some of the major players in the market include Triton Minerals Limited, Showa Denko K.K., Graf tech International Holding, Nippon Graphite Industries Co., Ltd., Tokai Carbon Co., Ltd., Focus Graphite, Inc., West water Resources, Inc., Next source Materials, Inc., Northern Graphite Corporation, and Mason Graphite, Inc.
Other players in the value chain of the graphite market include Graphite India Limited, CM Carbon, Huarui Carbon New Material Co. Ltd., Beijing Great Wall Co. Ltd., Hebbel Rubang Carbon Products Co. Ltd., and others.
The key players are adopting numerous strategies such as product launch, business expansions, acquisition, agreement, and other developments to stay competitive in the market.
For instance, Trition Minerals Limited signed an agreement with Suzhou Sinoma Design and Research Institute of No-metallic Minerals Industry Co. Ltd., Suzhou is a subordinate of China National Building Material Group's. Suzhou is a graphite testing company located in China. This agreement aimed at providing technical consulting services such as graphite production technology, graphite quality, and production line equipment.
In addition, West water Resources launched a new product known as "Purified Micronized Graphite (PMG)". PMG is utilized as a conductivity enhancer for non-rechargeable, rechargeable lithium ion batteries, alkaline power cells, and other acid battery applications. This product launch had made the company the only U.S.-based graphite company that is targeting all major commercial battery types and also strengthened the product portfolio of the company.
Graphite Market, by Type
By type, the synthetic graphite segment holds the largest market share, owing to increase in demand from the steel and battery industry. This increase in demand from the steel and battery manufacturing industry is attributed to increase in use of graphite electrode. Synthetic graphite is expected to maintain its dominance during the forecast period.
Synthetic Graphite is projected as the most lucrative segment.
Graphite Market, by Application
On the basis of application, the refractories segment has garnered the highest market share. This is attributed to increase in demand from the steel industry as graphite electrode is increasingly used in the electric arc furnace steel making .Moreover, rise in demand for graphite to produce crucibles, ladles, and molds to hold molten metal boosts the growth of the market during the forecast period
Graphite Market

---
By Application
Refractories is projected as the most lucrative segment.
Graphite Market, by Region
Asia-Pacific has garnered the highest market share in 2019, in terms of volume as well as revenue ,and is anticipated to maintain its dominance throughout the forecast period. This is attributed to the presence of key players and huge consumer base in the region. In addition, more than 40% of the total market share in terms of value is from the highest graphite production countries such as China, India, and Japan.
Graphite Market

---
By Region
Asia-Pacific holds a dominant position in 2019 and would continue to maintain the lead over the forecast period.
Key Benefits For Stakeholders
The report provides an extensive qualitative and quantitative analysis of the current graphite market trends and future estimations of the global graphite market from 2020 to 2027 to determine the prevailing opportunities.

A comprehensive analysis of the factors that drive and restrict the growth of the graphite market is provided.

Estimations and forecast are based on factors impacting the graphite market growth, in terms of both value and volume.

Profiles of leading players operating in the graphite market are provided to understand the global competitive scenario.

The report provides extensive qualitative insights on the significant segments and regions exhibiting favorable market growth.
 Graphite Market Report Highlights
Aspects
Details
By Type

Natural Graphite

Amorphous Graphite
Flake Graphite
Vein Graphite

Synthetic Graphite

Graphite Electrode
Carbon Fiber
Graphite Block
Graphite Powder
Others

By Application

Lubrication
Refractories
Foundry
Battery Production
Others

By Region

North America (U.S., Canada, Mexico)
Europe (Germany, France, UK, Spain, Italy, Rest of Europe)
Asia-Pacific (China, India, Japan, Australia, South Korea, Rest of Asia-Pacific)
LAMEA (Brazil, Saudi Arabia, South Africa, Rest of LAMEA)

Key Market Players
FOCUS GRAPHITE INC., GRAF TECH INTERNATIONAL HOLDINGS INC., MASON GRAPHITE INC., NEXT SOURCE MATERIALS INC., NIPPON GRAPHITE INDUSTRIES CO. LTD., NORTHERN GRAPHITE CORPORATION, SHOWA DENKO K.K., TOKAI CARBON CO. LTD., TRITON MINERALS LIMITED, WESTWATER RESOURCES INC.