Green Energy Market Research, 2032
The global green energy market was valued at $1.0 trillion in 2022, and is projected to reach $2.4 trillion by 2032, growing at a CAGR of 8.9% from 2023 to 2032.
Report Key Highlighters:
The green energy market analysis study covers 20 countries. The research includes a segment analysis of each country in terms of value ($billion), and volume (Twh) for the projected period 2023-2032.

The study incorporated research methodology aims to present a comprehensive outlook on global markets and aid key stakeholders & players in making well-informed decisions to accomplish their ambitious growth goals.

Over 1,500 product literatures, industry statements, annual reports, and other comparable materials from major green energy industry participants were reviewed to gain a better understanding of the green energy market growth .

The green energy market scope is fragmented, with several players including Suzlon Energy Ltd., ABB Ltd., NORDEX SE, Enercon GmbH, Calpine Corporation, JA Solar Holdings, Acciona,S.A., GE Renewable Energy, EDF Energy, and Xcel Energy. Also tracked key strategies such as acquisitions, product launches, developments, partnership, mergers, expansion etc. of the players operating in the green energy industry.
"The burgeoning green energy market, driven by heightened environmental consciousness and technological innovations, promises transformative growth. With diverse sources like solar, wind, and hydro, it stands as a catalyst for sustainable global development, poised to reshape the future of energy."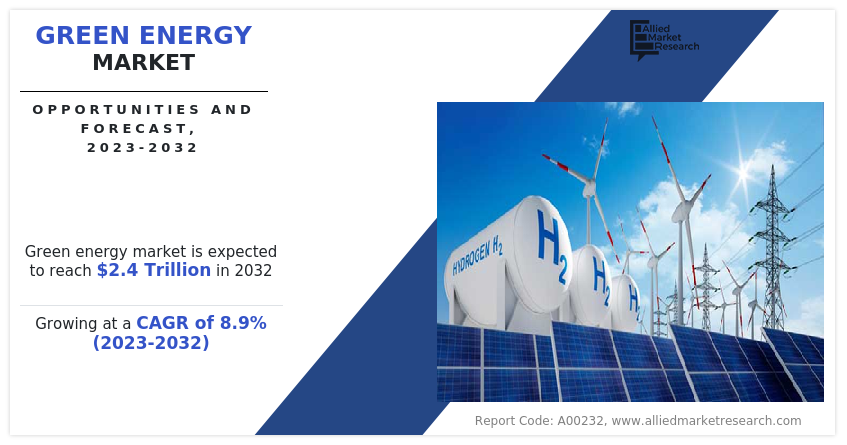 Green energy also referred to as clean energy, is usually derived from natural sources that are constantly replenished. Solar energy, wind energy, hydroelectric power, biomass energy, geothermal energy, tidal energy, and wave energy are different types of renewable energy. Solar energy is the radiant heat emitted from the sun, which is harnessed by using a wide range of technologies such as solar heating, photovoltaic cells, artificial photosynthesis, and others. In addition, it serves as an efficient renewable energy source and assists in mitigating greenhouse emissions.
The growth of the global green energy market is driven by a decrease in the price of solar modules and an increase in legislative & financial initiatives. The competition among manufacturers has increased significantly, owing to the development of photovoltaic-based power distribution systems. Moreover, the price of solar modules differs significantly in Europe and Asia-Pacific, as the market is demand-oriented. Reduction in profit of module manufacturers coupled with market acquisition stress influences the pricing policies of solar modules.
Furthermore, the fluctuating price of silver, which is a major raw material in solar modules, increases the demand for solar panel installations. Thus, a decrease in the prices of solar modules is expected to boost the demand for solar modules and photovoltaic (PV) installations which further escalates the growth of the global green energy market size. The abovementioned factors will provide ample opportunities for the development of green energy market forecast period.
However, various films and coating layers are applied during the production of solar cell technologies. The changes in atmospheric conditions such as extreme heat, cold, humidity, and ultraviolet radiations have reduced the efficiency of these technologies. This incurred more costs in production, which resulted in a decrease in the efficiency ratio. This factor acts as a major restraint of the solar energy sector which is further predicted to act as a restraint in the global green energy market.
However, the demand for solar energy has increased exponentially due to the decrease in the price of solar panels and the low cost of electricity produced using these panels. This trend is expected to indicate the necessity of market support programs in some regions, which is anticipated to hamper the market growth.
The development of photovoltaic (PV) storage systems is essential to increase the ability of PV systems to replace the existing conventional sources. The demand for storage grids is expected to increase in the coming years with an increase in demand for PV installations. The rise in the need for grid systems for residential applications further propels the demand for lithium ion-powered batteries for solar energy storage.
In addition, market-assisting programs and schemes are expected to play a significant role in boosting the demand for solar storage technologies. Development in solar energy storage technology is expected to highly impact the solar energy sector by creating lucrative avenues for investment in providing energy-efficient solar cells. Furthermore, an increase in battery applications for solar energy storage is expected to offer potential scope for green energy market expansion.
Regional Development Of Green Energy
Green energy development varies across regions due to diverse factors. In North America, the U.S. showcases significant advancements in solar and wind energy, driven by favorable geographical conditions and state-level policies. The focus of Canada on hydroelectric power harnesses its abundant water resources for clean energy production.
In Europe,  Energiewende initiative of Germany spearheads renewable energy adoption, while Scandinavian nations lead in hydroelectric and wind power. Asia-Pacific giants such as China and India prioritize solar and wind energy to address energy demands and environmental concerns. In the Middle East, the United Arab Emirates invests heavily in solar projects, whereas South Africa aims to diversify its energy mix with wind and solar.
Latin American countries such as Brazil champion biofuels and other renewables, while Chile capitalizes on its solar potential. Regional variations in natural resources, government initiatives, and technological innovations shape the trajectory of green energy, showcasing a diverse global transition toward sustainable power sources.
The green energy market is segmented on the basis of type, end-user, and region. On the basis of type, the market is divided into solar energy, wind energy, hydroelectric energy, bioenergy, and others. On the basis of end-user, it is segregated into residential, commercial, and industrial. On the basis of region, the green energy market trends are analyzed across North America, Europe, Asia-Pacific, and LAMEA.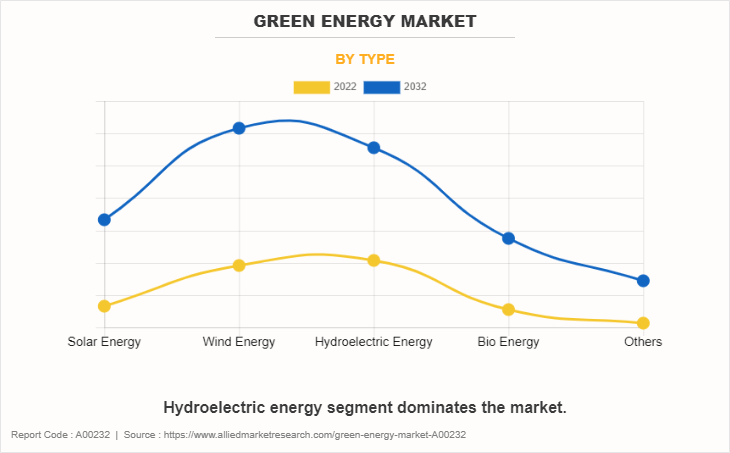 Based on type, the hydroelectric energy segment held the highest market share in 2022, accounting for more than one-fourth of the global green energy market revenue, and is estimated to maintain its leadership status throughout the forecast period. The market for solar energy in the green energy market is expected to continue its upward trajectory, driven by evolving technological advancements, rising energy demands, and the pursuit of more sustainable practices within the sector.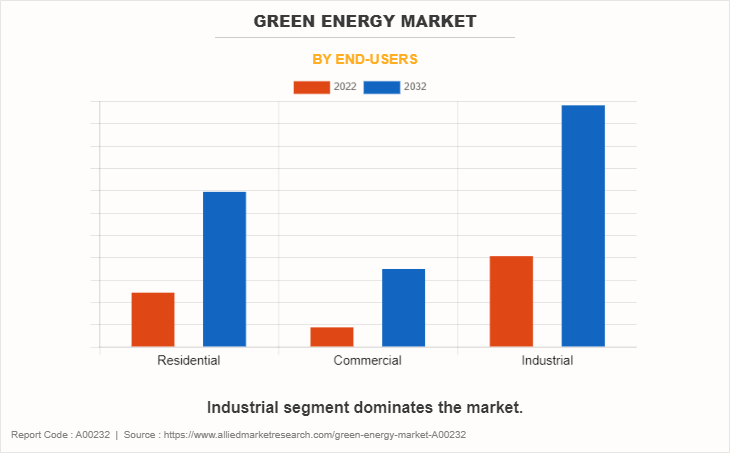 Based on end-user, industrial segment held the highest market share in 2022, accounting for nearly half of the global green energy market revenue, and is estimated to maintain its leadership status throughout the forecast period. Moreover, commercial segment is projected to manifest a CAGR of 9.2% from 2023 to 2032. Commercial sectors have used geothermal power to generate electricity. Several new geothermal plants have been established to boost market growth.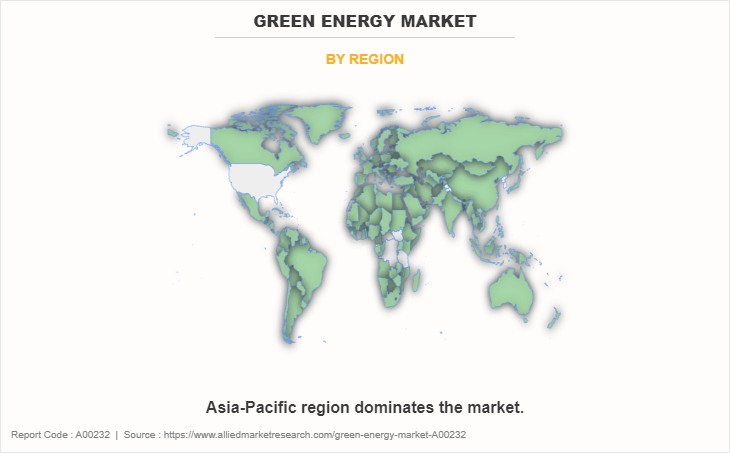 Based on region, Asia-Pacific held the highest market share in terms of revenue in 2022, accounting for more than one-third of the global green energy market revenue, and is likely to dominate the market during the forecast period. However, the Asia-Pacific region is expected to witness the fastest CAGR of 9.8% from 2023 to 2032.
The report covers the strategies adopted by key players in the market to sustain the competitive environment and increase their market share. The key players operating the global renewable energy films market include Suzlon Energy Ltd., ABB Ltd., NORDEX SE, Enercon GmbH, Calpine Corporation, JA Solar Holdings, Acciona,S.A., GE Renewable Energy, EDF Energy, and Xcel Energy. In addition, the market drivers, restraints, and opportunities are explained in the report.
Key Benefits For Stakeholders
This report provides a quantitative analysis of the market segments, current trends, estimations, and dynamics of the green energy market analysis from 2022 to 2032 to identify the prevailing green energy market opportunities.
The market research is offered along with information related to key drivers, restraints, and opportunities.
Porter's five forces analysis highlights the potency of buyers and suppliers to enable stakeholders make profit-oriented business decisions and strengthen their supplier-buyer network.
In-depth analysis of the green energy market share segmentation assists to determine the prevailing market opportunities.
Major countries in each region are mapped according to their revenue contribution to the global market.
Market player positioning facilitates benchmarking and provides a clear understanding of the present position of the market players.
The report includes the analysis of the regional as well as global green energy market trends, key players, market segments, application areas, and market growth strategies.
 Green Energy Market Report Highlights
Aspects
Details
Market Size By 2032
USD 2.4 trillion
Growth Rate
CAGR of 8.9%
Forecast period
2022 - 2032
Report Pages
450
By Type

Solar Energy
Wind Energy
Hydroelectric Energy
Bio Energy
Others

By End-Users

Residential
Commercial
Industrial

By Region

North America (U.S., Canada, Mexico)
Europe (Germany, France, Italy, Spain, UK, Rest of Europe)
Asia-Pacific (China, Japan, India, South Korea, Australia, Rest of Asia-Pacific)
LAMEA (Brazil, Saudi Arabia, South Africa, Rest of LAMEA)

Key Market Players
BP, Enel, Sunpower, JinkoSolar, Iberdrola, Tesla, Siemens Gamesa, Vestas, Invenergy, First Solar
Analyst Review
From the perspective of Chief Executive Officers (CXOs) and industry leaders in the green energy sector, the landscape has undergone a remarkable transformation, signaling substantial growth prospects in the foreseeable future. This paradigm shift is largely driven by an escalating global emphasis on sustainable energy solutions, with a growth in demand for clean and renewable alternatives.
Green energy CXOs recognize the pivotal role their industry plays in addressing the urgent need for environment-friendly power sources, contributing to climate change mitigation, and meeting renewable energy targets. The market dynamics are shaped by a diverse range of technologies, including solar, wind, and bioenergy, catering to a spectrum of applications from electricity generation to transportation. CXOs have navigated through a complex regulatory environment and capitalizing on incentives to drive innovation and investment as governments across the globe implement ambitious green energy policies.
The imperative for energy storage solutions, grid modernization, and increased efficiency in renewable technologies are focal points for CXOs, aligning with a broader commitment to sustainability and corporate social responsibility.  Visionary leaders in the green energy sector recognize these as opportunities for innovation and strategic planning while challenges such as initial capital costs and grid integration persist. The industry is positioned for robust growth, with CXOs at the helm steering the course towards a more sustainable and resilient energy future.