Green Hydrogen Market Outlook - 2028
Global green hydrogen market size was valued at $0.3 billion in 2020, and is projected to reach $9.8 billion by 2028, growing at a CAGR of 54.7% from 2021 to 2028. Green hydrogen is made from regenerative energy sources through water electrolysis. With the help of electric current, water is divided into oxygen and hydrogen in an electrolyzer and grey hydrogen derived from fossil fuels is differentiated (such as natural gas) and chemical properties of hydrogen are underappreciated. Hydrogen is safe for atmosphere and can be stored and converted into electricity or heat as required. Green hydrogen is a major component of energy equation and hydrogen is regarded as a primary potential renewable energy resource. It is one of the most important circular carbon economy (CCE) approaches as it is generated using solar energy. It is generated using renewable energy sources as compared to carbon-based energy found in natural gas and other fossil fuels.
The green hydrogen market was hampered in first and second quarter of 2020, owing to lockdown in major countries. However, the market recovered in the third and fourth quarter, majorly in North America and Europe regions.
Green hydrogen has been in high demand in recent years, owing to its ability to reduce carbon emissions. It also contributes toward meeting growing demand of energy across the globe. It is a sustainable energy source, hence its use is expected to increase in the future. Growth in awareness regarding the use of hydrogen as an energy carrier is expected to propel growth of the global market. In addition, growth in environmental issues drive the market expansion, highlighting the need for renewable/clean energy generation to reduce emission levels. Furthermore, rise in use of nuclear and green hydrogen fuels growth of the green hydrogen industry. However, initial investment requirements for setting up hydrogen infrastructure as well as prohibitive maintenance costs are the major factors that limit the green hydrogen market growth.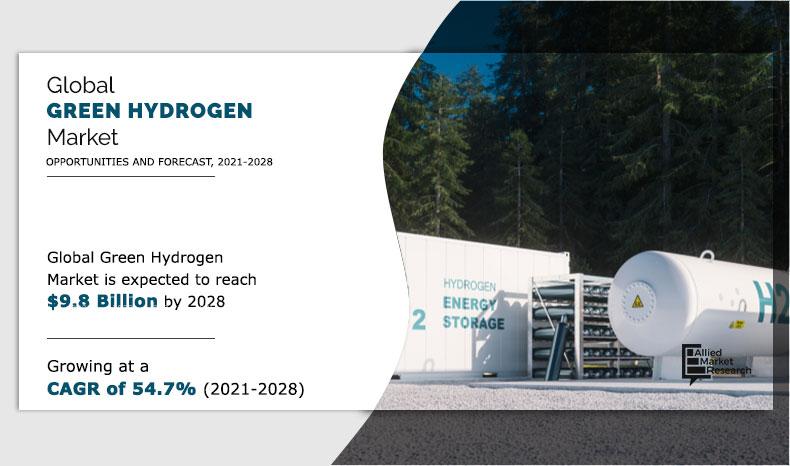 The global green hydrogen market is segmented on the basis of technology, application, end-use industry, and region. By technology, the market is classified into proton exchange membrane electrolyzer, alkaline electrolyzer, and solid oxide electrolyzer. By application, it is segmented into power generation, transport, and others. By end-use industry, it is divided into food & beverages, medical, chemical, petrochemicals, glass, and others. Region wise, the market is analyzed across North America, Europe, Asia-Pacific, and LAMEA.
Some of the key players operating in the global green hydrogen market are Ballard Power Systems, Enapter, Engie, Green Hydrogen Systems, Hydrogenics, Nikola Motors, Plug Power, SGH2 Energy Global LLC, Shell, and Siemens Gas and Power GmbH & Co. KG.
Global Green Hydrogen Market, by Technology
By technology, the alkaline electrolyzer segment has the largest market share, owing to its higher operating time capacity and low capital cost. In addition, the segment is expected to expand at a faster pace during the forecast period.
Global Green Hydrogen Market, by Application
By application, the power generation segment dominated the market share for 2019, owing to demand from the industrial sector for on-site electrolyzer setup.
Global Green Hydrogen Market, by End-Use Industry 
By end-use industry, the chemical sector is a major producer of by-product hydrogen, which is consumed within the sector as well as distributed for industrial use.
Global Green Hydrogen Market, by Region
By region, among all regions, the global market is dominated by Europe. A large number of green hydrogen projects in the area are supporting business development. The area emphasizes renewable energy generation and has a large supply of hydrogen.
Impact Of Covid-19 On The Global Green Hydrogen Market
The green hydrogen industry was unaffected by COVID-19 disruption. However, coronavirus-related lockdowns posed a number of problems for industry participants, including disrupted supply chains, logistical difficulties in shipping end goods, and recruiting staff from quarantines.
In addition, the pandemic ensured a strong rise in renewable energy market, resulting in constant increase in energy demand. The renewable energy market grew steadily during 2020, owing to increase in energy demand from industrial sectors. Following relaxation of lockdown mandates in many countries, the green hydrogen market is quickly returning to normal and is expected to pick up even further. 
Key Benefits For Stakeholders
The report provides an in-depth analysis of the green hydrogen market forecast along with the current trends and future estimations.
This report highlights the key drivers, opportunities, and restraints of the market along with the impact analyses during the forecast period.
Porter's five forces analysis helps analyze the potential of the buyers & suppliers and the competitive scenario of the global market for strategy building.
A comprehensive green hydrogen market analysis covers factors that drive and restrain market growth.
The qualitative data in this report aims on market dynamics, trends, and developments.
Key Market Segments
By Technology
Proton exchange membrane electrolyzer
Alkaline electrolyzer
Solid oxide electrolyzer 
By Application 
Power generation
Transport
Others 
By End-use industry
Food & beverages
Medical
Chemical
Petrochemicals
Glass
Others 
By Region
North America
Europe

Germany
France
Italy
Spain
UK
Rest of Europe

Asia-Pacific

China
Japan
India
South Korea
Rest of Asia-Pacific

LAMEA

Brazil
Saudi Arabia
South Africa
Rest of LAMEA