The global green tire market size was valued at $35.4 billion in 2021, and is projected to reach $80.6 billion by 2031, growing at a CAGR of 8.7% from 2022 to 2031.
Green tires are produced from renewable materials such as nylon rubber through a process that does not require an excessive amount of energy. These tires have low rolling resistance, which helps in decreasing fuel consumption. The major factors responsible for the growth of the market are increase in sales of commercial vehicles and passenger cars, as well as the demand for environment friendly and fuel-efficient tires. The manufacturing process and materials utilized in developing traditional tires cause high levels of pollution and are sourced from unsustainable resources. Some of these materials include rubber and petroleum-based substances that are added to traditional tires. With crude oil prices always in a constant state of flux, this makes material costs inconsistent, which increases the price. Energy conservation helps in improving fuel efficiency. Rolling resistance consists 10-15% of fuel consumption in passenger cars but can account for up to 30% of fuel consumption in heavy trucks. Low rolling resistance tires may only cut this by 2 to 3%, fuel savings still support the environment.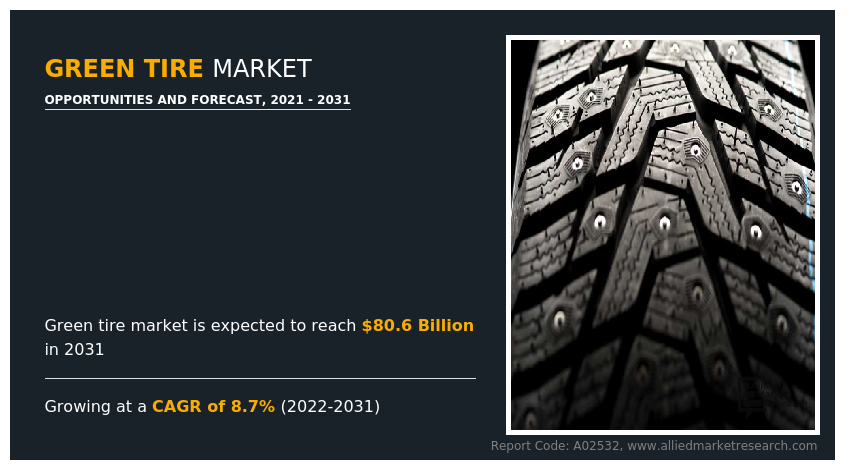 Green tires are manufactured in additional energy efficient ways and are planned for lower rolling resistance, which leads to lower fuel consumption over the life of the tire. Green tire also uses highly dispersible silica, developed carbon blacks or nanotechnology to attain the smallest possible rolling resistance. Silica helps in the reduction of rolling resistance or the energy lost as the tire deforms against the road. In addition, green tires are made from more sustainable and recycled materials. Carbon dioxide emission levels are directly affected by vehicles fuel consumption. Fuel consumption can be improved by the production of streamlined low rolling resistance tires. These tires cause less friction between the tire and the road allowing the vehicle to use less energy (fuel) to propel the vehicle forward). Modifications in the key design of tires have taken years of research and development. Many leading manufacturers have implemented these changes to their green tires.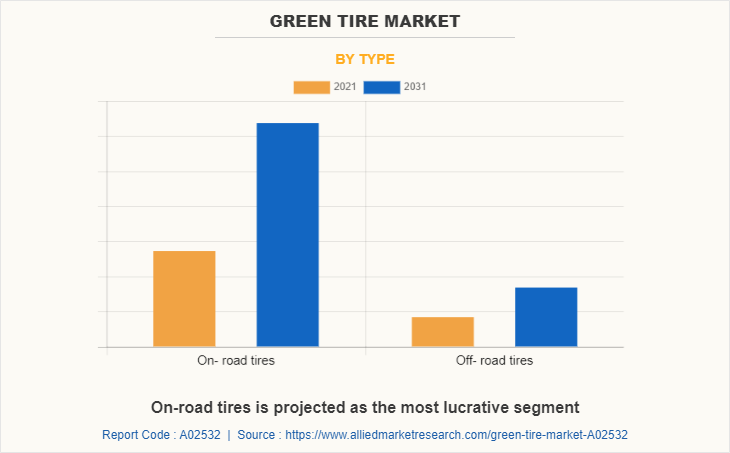 The factors such as government regulation & economic drivers, increase fuel efficiency, and reducing rolling resistance supplement the growth of the green tire market. However, lack of awareness about green tire and structural limitation is projected to impede future adoption.. In addition, adoption of eco-friendly tire across the automotive industry and technological advancements in automotive sector create market opportunities for the key players operating in the green tire market
The  green tire market is segmented into type, application, end-user, and region. By type, the market is divided into on-road tires and off-road tires. By application, it is fragmented into passenger car and commercial vehicles. By size, it is categorized into 15 inch, 16 inch, 17 inch, and 18 inches. By sales channel, it is classified into OEM and aftermarket. By region, it is analyzed across North America, Europe, Asia-Pacific, and LAMEA.
The leading players operating in the green tire market are MICHELIN, Continental AG, Bridgestone Corporation, Pirelli & C. S.p.A, The Goodyear Tire & Rubber Company, Hankook Tire & Technology, The Yokohama Rubber Co. Ltd., Petlas, Kumho Tire, and MRF.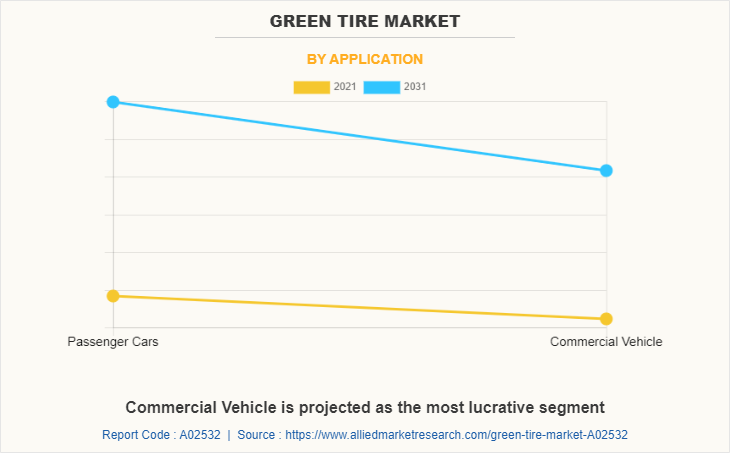 Green tires are made from more sustainable and recycled materials
The adoption of green tires is largely due to the rise in pressure on vehicle makers to reduce vehicle emissions and meet rise in fuel-economy targets. This pressure is driving the demand for green tires and growing market penetration. Growth of alternative powertrains (hybrid and electric), as well as the evolution to shared/fleet vehicle use, and autonomous vehicles adding additional impetus to green tire adoption and continued gains in rolling resistance reduction are demanded. The replacement market for green tires has also grown through better consumer education and awareness provided by the European Union's consumer tire labelling plan that rates tire rolling resistance and other performance variables. For instance, the Tire Labelling Regulation provides consumers across Europe with essential information on fuel efficiency, safety, and noise by detailing the tires' rolling resistance, wet grip, and external rolling noise. This labelling system provides consumers with transparent and objective information about the quality of the tires they buy. Regulatory and labelling plans promoting green tires and replacement of tires, further help in driving the growth of the green tire market.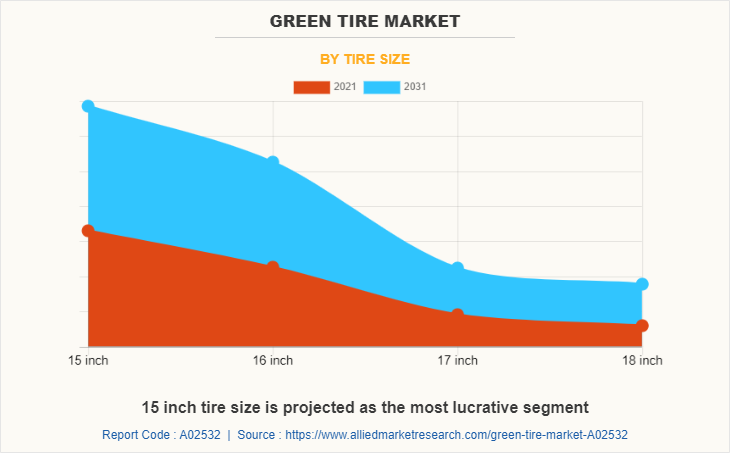 Increase in fuel efficiency
With the increased price of fuels used in vehicles, the demand for low rolling resistance technology to be used in vehicles has increased. This has created an increased demand for technology efficient tire to be used among vehicles which has supplemented the growth of the green tire market across the globe. Moreover, vehicle & fleet owners  can be benefited from innovations in the automotive & supplier industries in making vehicles more fuel-efficient through low rolling resistance tires. Changing to quality tires with low rolling resistance, also called green tires, can effectively and, above all, easily reduce fuel consumption. This is because around 20-30% of a passenger car's total fuel utilization is caused by the tires rolling resistance alone. For heavy good vehicles it is as much as 40 per cent. Green tires have a considerably lower rolling resistance than conventional tires. Utility vehicles can make fuel savings of up to 10 per cent by employing green tires. Thus, these factors are projected to further drive the growth of the green tire market.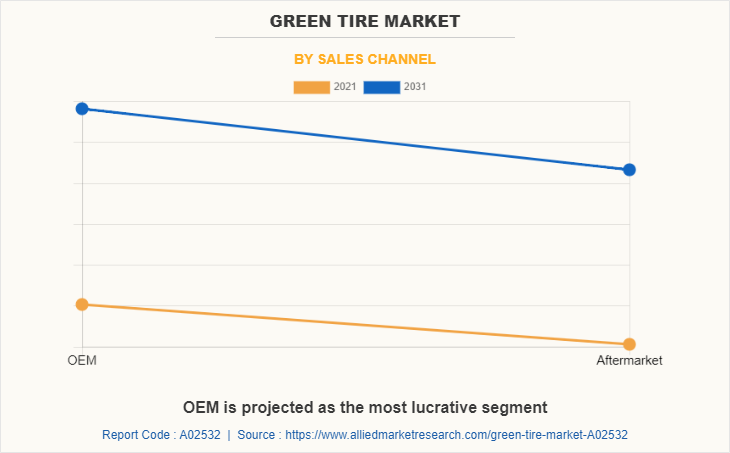 Structural limitation may impede future adoption
Green tires are considered as a revolutionary development in the automotive industry, but there are certain structural limitations which may hinder the market. Due to the presence of less rubber, these tires may have lesser grip, which affect braking, especially on wet roads. This may increase chances of skidding and eventually fatalities due to accidents. A good tread pattern is a vital feature of lessen rolling resistance. If the vehicle/fleet owner want fast tires to be used in the vehicle fleet, there are fewer treads inscribed in the tires as compared to other type of tires. Compromising on the best tread design offers more swift driving, and offers less grip while driving the vehicle. Thus, to the vehicle driver needs to carefully maintain the balance between the tread pattern while selecting a tire. Furthermore, as technologies keep evolving, manufacturers have to continuously upgrade their product offerings, which often increases operational costs, rendering small and medium sized enterprises unable to afford them, limiting sales outreach.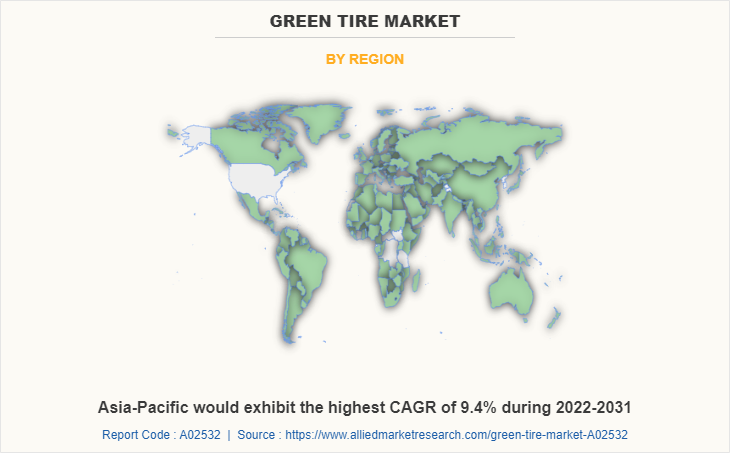 Adoption of eco-friendly tire industry
With the adoption of the Paris Agreement in 2016, the international community jointly agreed to reduce greenhouse gas emissions to limit global warming. Through this accord, the world is accelerating toward a carbon-neutral society and economy, and a new international economic order is on its way. This global decarbonization movement is expected to be driven not because of market demand, but through enforcement of government laws or regulations led by developed countries such as those in the European Union and North America.
However, the automotive industry is already under pressure to become carbon neutral, and as a result component suppliers are developing technologies to reduce their environmental impact. The tire industry in particular is driving the establishment of sustainability strategies based on environmental, social and governance (ESG) management. The companies will release their current situation and drive implementation plans to further stimulate demand in the green tire market. For instance, Hankook Tire will develop and secure technology that will make 55% of its materials sustainable by 2025 and 100% of its materials by 2045, reducing its carbon footprint and making it more sustainable. It announced that it is striving for a future with mobility options.
The lockdowns imposed by governments in most countries during the first three months of 2020 have severely impacted the global economy. carmakers have reduced production and some have stopped their vehicle production. Consumers have also postponed new car purchases, all this collectively has negatively impacted tire-makers OEM business. For instance, in March 2020, Hankook Tire announced that it will begin a temporary shutdown of its U.S. manufacturing facility, located in Clarksville, Tenn., in order to protect the health and safety of its employees in response to market demand that is being impacted by the coronavirus (COVID-19). Also, Kumho Tire announced that its Macon, Georgia manufacturing plant will be shut down from in response to the rapidly evolving COVID-19 situation.
Key Benefits For Stakeholders
This report provides a quantitative analysis of the market segments, current trends, estimations, and dynamics of the green tire market analysis from 2021 to 2031 to identify the prevailing green tire market opportunities.
The market research is offered along with information related to key drivers, restraints, and opportunities.
Porter's five forces analysis highlights the potency of buyers and suppliers to enable stakeholders make profit-oriented business decisions and strengthen their supplier-buyer network.
In-depth analysis of the green tire market segmentation assists to determine the prevailing market opportunities.
Major countries in each region are mapped according to their revenue contribution to the global market.
Market player positioning facilitates benchmarking and provides a clear understanding of the present position of the market players.
The report includes the analysis of the regional as well as global green tire market trends, key players, market segments, application areas, and market growth strategies.
 Green Tire Market Report Highlights
Aspects
Details
Market Size By 2031
USD 80.6 billion
Growth Rate
CAGR of 8.7%
Forecast period
2021 - 2031
Report Pages
433
By Type

On- road tires
Off- road tires

By Application

Passenger Cars
Commercial Vehicle

By Tire Size

15 inch
16 inch
17 inch
18 inch

By Sales Channel
By Region

North America (U.S., Canada, Mexico)
Europe (Germany, UK, France, Italy, Rest of Europe)
Asia-Pacific (China, Japan, India, South Korea, Rest of Asia-Pacific)
LAMEA (Latin America, Middle East, Africa)

Key Market Players
PETLAS, MRF, MICHELIN, THE GOODYEAR TIRE & RUBBER COMPANY, KUMHO TIRE, Pirelli & C. S.p.A, THE YOKOHAMA RUBBER CO., LTD., HANKOOK TIRE & TECHNOLOGY, Continental AG, BRIDGESTONE CORPORATION