Ground Defense System Market Statistics 2030 -
The global ground defense system market was valued at $48,565.15 million in 2020, and is projected to reach $79,168.14 million in 2030, registering a CAGR of 5.2%.    
The rapid spread of COVID-19 had a significant impact on the global ground defense system market in 2020, owing to the implementation of strict lockdown measures, and its consequent after effects across the world. COVID-19 pandemic led to several challenges for the ground defense system industry such as disruption in the supply chain of essential raw materials, logistics challenges, reduction in defense spending across various countries, and others. On the other hand, the defense systems manufacturers and service providers had to reduce R&D investments and business expansion to withstand the decline in revenue and operating performance of the defense industry. The slow production rate and significant delays in purchase orders were some of the major challenges witnessed in the ground defense system market throughout the year, and are expected to continue for a few years.
Ground defense systems include land-based weapons, vehicles, surveillance & reconnaissance, and other systems used by the ground forces. Amid rise in conflicts and war-like situations across different parts of the world, the demand for missile-launch systems, armored fighting vehicles, soldier equipment, and communication devices have grown at a significant rate. Ground defense systems ensures the safety of ground forces against threats and maximizes the survivability, connectivity, lethality, and maneuverability.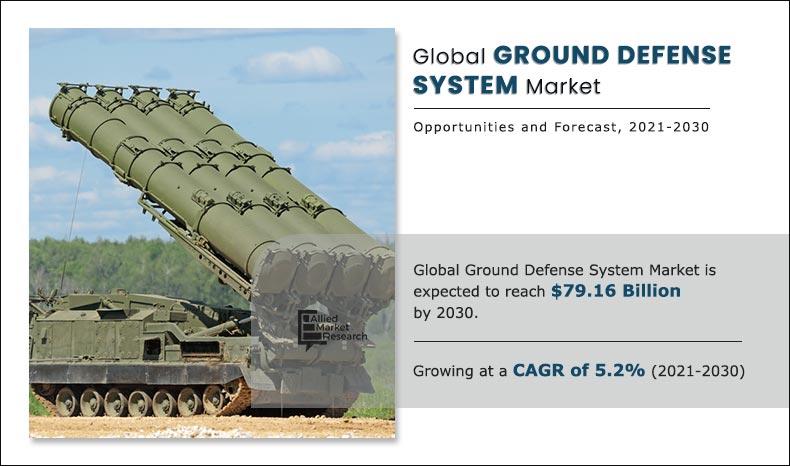 Get more information on this report : Request Sample Pages
Technological advancements are being made to enhance the lethality, accuracy, and the range of weapons. Weapons, vehicles, and support systems are being upgraded to make them more robust, reliable, and efficient in case of combat situations. The defense spending on cutting-edge ground defense weapons and the incorporation of artificial intelligence in different weapon systems are anticipated to promote the development of next-generation ground defense systems during the forecast timeframe. 
The market segmentation is based on application, operation, end user, and region. Depending on application, the market is categorized into combat, logistics & transportation, surveillance & reconnaissance, intelligence & data warfare, training, and others. On the basis of operation, the market is segregated into manned and unmanned. By end user, it is fragmented into defense intelligence, military, and law enforcement. Region wise, the market is analyzed across North America, Europe, Asia-Pacific, and LAMEA.
Infographic for ground defense system market
The key players operating in the global ground defense system market include BAE Systems plc, Israel Aerospace Industries Ltd., Kongsberg Gruppen ASA, Lockheed Martin Corporation, MBDA, Northrop Grumman Corporation, Rafael Advanced Defense Systems Ltd., Raytheon Technologies Corporation, Rheinmetall AG, and Thales Group. 
Increase in investments to develop autonomous weapons 
Although autonomous weapons technology is still in its early stages, several militaries and private companies are developing and testing weapons that could be deployed to fight on their own. For instance, Russia is performing tests on autonomous tanks on Syrian battlefields, the U.S. has successfully tested the swarms of drones, the UK plans to induct drone squadrons in combat roles as soon as possible, and China is developing unmanned submarines capable of carrying out kamikaze attacks (Japanese suicide bombing tactic) on enemy vessels.
Furthermore, armed forces across the world have been working on autonomous weapons for several decades. At least 30 countries today use them majorly to defend airbases, ground vehicles, or ships against missile attacks. Various countries are competing with each other intensely to manufacture or procure leading-edge autonomous weapons, for instance, China and Russia aim to pursue the development of autonomous weapons and are heavily investing in R&D activities. In addition, the UK's new defense strategy is aimed at boosting the defense capabilities leveraging artificial intelligence, as does Israel.
Get more information on this report : Request Sample Pages
According to the Brookings Institution (a Washington, DC-based non-profit public policy organization), the Chinese military and defense sector has been investing heavily in robots, swarming, and other artificial intelligence and machine learning applications. Moreover, Russia is developing an array of autonomous weapons platforms utilizing artificial intelligence as part of an ambitious push supported by high-tech cooperation with China. Such developments boost the demand for autonomous weapons, which are anticipated to bolster the growth of the global autonomous weapons market during the forecast timeframe.  
Increase in demand of multi-role armored vehicles
Multi-role armored vehicles are a class of next-generation, extremely survivable vehicles used by ground defense units in combat operations. The vehicles provide major advances in soldier survivability, mobility, and force protection, allowing for greater capabilities required to operate efficiently within the defense force's present and future armored vehicle combat forces. These factors are expected to push the demand for multi-role armored vehicles during the forecast period. Owing to rise in conflicts and war-like situations, various nations in recent years are procuring more multi-role armored vehicles. For instance, according to Defense News (website and newspaper about politics, business, and technology of defense. Defense News serves), in September 2020, the French Ministry of the Armed Forces placed a second order for the second tranche of Jaguar and Griffon armored vehicles. The Jaguar combat and reconnaissance armored vehicles and the Griffon multirole armored vehicles are part of the second order. The first batch of 319 Griffons and 20 Jaguars was ordered in 2017. In March 2021, the U.S. army scheduled the primary operational test for its newest armored multi-purpose vehicle (AMPV) to begin the second quarter of 2022.
Get more information on this report : Request Sample Pages
Furthermore, the demand for advanced armored vehicles is growing across the developing nations such as India. For instance, in April 2021, the TATA Group announced that it was set to bag a contract from the Indian Army for heavily armored protection vehicles for the Indian soldiers deployed in key locations. In addition, Tata, Bharat Forge, and Mahindra have been awarded contracts for the supply of armored vehicles. Such developments are expected to drive the growth of the global ground defense system market during the forecast timeframe.
High cost of ground defense systems
The presence of highly reliable ground defense systems is a must for land-based forces globally. However, these systems are costly to purchase and maintain. For instance, the Joint Mine Resistant Ambush Protected Vehicle costs approximately $1 million per unit. Not only it is a bullet-proof vehicle but also offers protection against roadside bombs. Another armored personnel carrier, the Inkas Huron APC costs between $630,000 and goes up to more than $1 million. These factors limit the procurement or development of advanced ground defense systems, thus negatively impacting the growth of the global ground defense systems market, especially across the low defense budget nations.
Get more information on this report : Request Sample Pages
Rise in investment for robotics technologies in unmanned ground vehicles
Robotics technology is not new for military applications, and has long been used by armed forces all over the world. Robots in the military can undertake a variety of combat functions, including explosive disarmament, lethal combat operations, fire support, rescue, logistics support, and reconnaissance. These robots can further be considered as a replacement for human soldiers, as they can handle a broader range of combat responsibilities, such as effectively targeting enemy locations. During intense artillery fire, military robots can give backup and reduce the number of casualties. They can further map a potentially vast hostile environment with high accuracy by identifying a variety of hazards. These factors are expected to result in the high adoption rate of robotics technologies in the near future. 
In August 2021, Milanion Group, based in the United Arab Emirates, signed a memorandum of understanding with the Ukrainian Armor (a design and manufacturing company), granting the latter distribution rights for the Agema unmanned ground vehicle. Agema is designed to support a wide array of missions, including fire support, surveillance and reconnaissance, national & civil defense & security, anti-tank support, intelligence, fire & rescue, logistical support, and route inspection & clearance. The Amega platform can provide encoded communications. Furthermore, in May 2021, the U.S. Armed Forces publicized its plans to acquire 600 additional Centaur unmanned ground vehicles (UGV) worth more than $70 million from technology company FLIR Systems. During military operations, the advanced ground robots will be utilized to dismantle landmines and improvised explosive devices as well as to execute other perilous jobs. These developments augment the demand for ground military robots, which is expected to contribute toward the growth of the global ground defense system market.
Get more information on this report : Request Sample Pages
COVID-19 Impact Analysis 
The COVID-19 impact on the ground defense system market is unpredictable, and is expected to remain in force till the second quarter of 2021. 
The COVID-19 outbreak forced governments across the globe to implement stringent lockdown and ban import–export of raw materials items for most of 2020. This led to sudden fall in the availability of important raw materials for manufacturing ground defense equipment. 
Moreover, nationwide lockdown forced parts manufacturing facilities to partially or completely shut their operations.
Adverse impacts of the COVID-19 pandemic have resulted in delays in activities and initiatives regarding development of modern ground defense systems globally.
Key Benefits For Stakeholders
This study presents analytical depiction of the global ground defense system market analysis along with the current trends and future estimations to depict imminent investment pockets.
The overall ground defense system market opportunity is determined by understanding profitable trends to gain a stronger foothold.
The report presents information related to key drivers, restraints, and opportunities of the global ground defense system market with a detailed impact analysis.
The current ground defense system market is quantitatively analyzed from 2020 to 2030 to benchmark the financial competency.
Porter's five forces analysis illustrates the potency of the buyers and suppliers in the industry.
​Key Market Segments
By Application
Combat
Logistics & Transportation
Surveillance & Reconnaissance
Intelligence & Data Warfare
Training
Others
By Operation
By End-User
Defense Intelligence
Military
Law Enforcement    
By Region
North America
Europe

Germany
UK
France
Russia
Rest of Europe

Asia-Pacific

China
Japan
India
South Korea
Rest of Asia Pacific

LAMEA

Latin America
Middle East
Africa
Key Players
BAE Systems plc.
Israel Aerospace Industries Ltd.
Kongsberg Gruppen ASA
Lockheed Martin Corporation
MBDA
Northrop Grumman Corporation
Rafael Advanced Defense Systems Ltd.
Raytheon Technologies Corporation
Rheinmetall AG
Thales Group