Ground Penetrating Radar Market Research, 2030
The global ground penetrating radar market size was valued at $0.5 billion in 2020, and is projected to reach $1.1 billion by 2030, growing at a CAGR of 8.2% from 2021 to 2030. Ground penetrating radar (GPR) is a geophysical technology for imaging below the surface of ground by using radar pulses. It is a nonintrusive approach of surveying the subsurface to look for metals, concrete, asphalt, pipes, and cables. This nondestructive method detects reflected signals from subsurface structures using electromagnetic (EM) radiation in the microwave frequency band (VHF/UHF frequencies) of the radio spectrum.
The concrete investigation segment has been negatively impacted by the COVID-19 pandemic outbreak.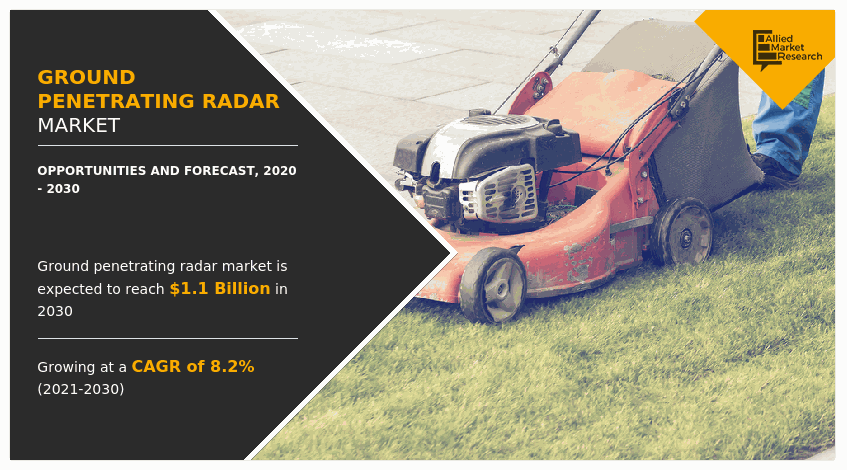 Growth of the global GPR market is anticipated to be driven by factors such as benefit of GPR systems over other traditional technologies such as radiography and increase in concerns related to safety & protection of underground utilities. Moreover, surge in demand for GPR for a wide range of applications such as concrete investigation, transportation infrastructure, municipal inspection, disaster inspection, geology & environment, and archaeology fuels the market growth. However, lack of skilled workforce to operate GPR equipment acts as a major restraint of the market. On the contrary, modernization of existing infrastructure is expected to create lucrative opportunities for the ground penetrating radar industry.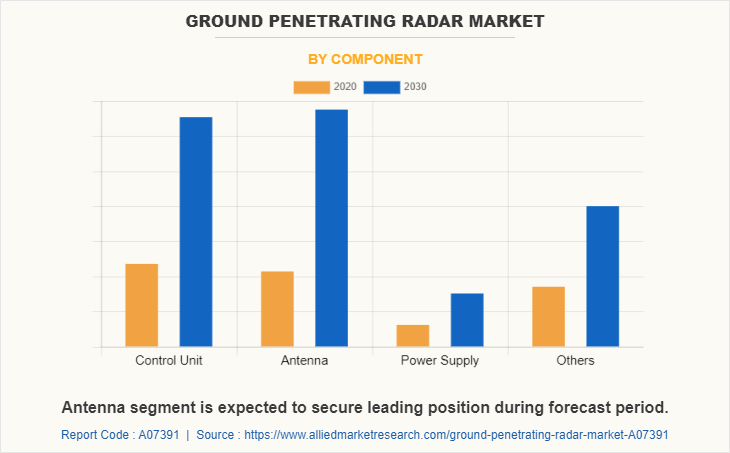 The ground penetrating radar market is segmented into Component, Offering, Type and Application. By type, the market is classified into handheld systems, cart based systems, and vehicle mounted systems. On the basis of component, it is differentiated into control unit, antenna, power supply, and others. Depending on offering, it is divided into equipment and services. The applications covered in the study include utility detection, concrete investigation, transportation infrastructure, archaeology, and others.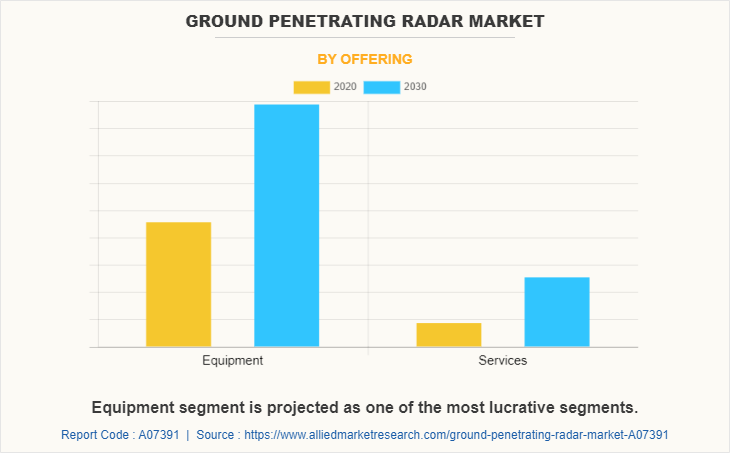 Region wise, the ground penetrating radar market trends are analyzed across North America (U.S., Canada, and Mexico), Europe (UK, Germany, France, Italy, and rest of Europe), Asia-Pacific (China, Japan, India, South Korea, and rest of Asia-Pacific), and LAMEA (Latin America, the Middle East, and Africa). North America dominated the ground penetrating radar market in 2020, and is projected to register significant growth rate during the forecast period, owing to growth in the transportation infrastructure segment. However, Asia-Pacific is expected to witnesses significant growth by the end of the forecast period, followed by LAMEA.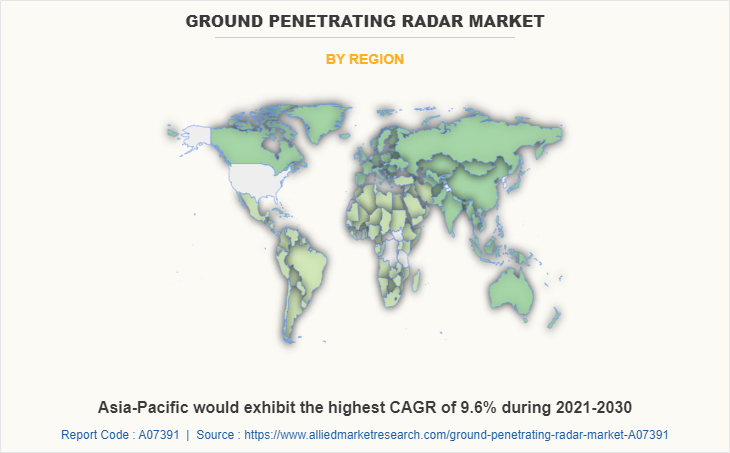 The leading GPR market manufacturers such as Geophysical Survey Systems Inc., IDS Georadar, and Leica Geosystems AG are focusing on their investments on technologically advanced, cost-effective, and more secure products and solutions for various applications.
TOP IMPACTING FACTORS
The prominent factors that impact the ground penetrating radar market growth include increase in  government support for deployment of GPRs and rise in concerns related to safety & protection of underground utilities. In addition, rise in demand for real-time GPR services fuels the market growth. However, high initial cost of ground penetrating radar products restricts the market growth. Conversely, high demand from Asia-Pacific is expected to create lucrative opportunities for the market.
COMPETITION ANALYSIS
Competitive analysis and profiles of the major ground penetrating radar market players such as Chemring Group, Geophysical Survey Systems Inc., Guideline Geo, Hilti, IDS Georadar, Leica Geosystems AG, Penetradar Corp., Radiodetection, Geoscanners, and Utsi Electronics Ltd. have been covered in the report.
COVID-19 IMPACT ANALYSIS
The outbreak of COVID-19 has significantly affected the electronics and semiconductor sector. Business and manufacturing units across various countries were closed, owing to increase in number of COVID-19 cases, and are expected to remain closed in first quarter of 2022. Furthermore, partial or complete lockdown has disrupted global supply chain posing challenges for manufactures to reach customers.
The COVID-19 pandemic is impacting the society and overall economy across the globe. The impact of this outbreak is growing day-by-day as well as affecting the overall business globally. The crisis is creating uncertainty in the stock market and is resulting in falling business confidence, massive slowing of supply chain, and increasing panic among customers.
Asian and European countries under lockdowns have suffered major loss of business and revenue, owing to shutdown of manufacturing units. Operations of the production and manufacturing industries have been heavily impacted by the outbreak of the COVID-19 disease, which further impacted the growth of the ground penetrating radar market outlook.
In addition, the COVID-19 pandemic has impacted the electronics sector as production facilities have stalled, which, in turn, boosts the demand for electronics and semiconductor products. Its major impact includes a large manufacturing interruption across Europe and interruption in Chinese parts exports, which hinder the Ground Penetrating Radar Market Opportunity . It is expected that the demand for new and innovative products could surge once the economy begins to recover.
KEY BENEFITS FOR STAKEHOLDERS
This study comprises analytical depiction of the global GPR market size along with current trends and future estimations to depict imminent investment pockets.

The overall ground penetrating radar market analysis

is determined to understand the profitable trends to gain a stronger foothold.

The report presents information related to key drivers, restraints, and opportunities with a detailed impact analysis.

The market ground penetrating radar market

forecast is quantitatively analyzed from 2020 to 2030 to benchmark the financial competency.

The Porter's five forces analysis illustrates the potency of the buyers and the ground penetrating radar market share of key vendors.

The report includes the market trends and the market share of key vendors.
 Ground Penetrating Radar Market Report Highlights
Aspects
Details
By Component

Antenna
Power Supply
Others
Control Unit

By Offering
By Type

Handheld Systems
Cart Based Systems
Vehicle Mounted Systems

By Application

Utility Detection
Concrete Investigation
Transportation Infrastructure
Archaeology
Others

By Region

North America (U.S., Canada, Mexico)
Europe (Rest of Europe, U.K., Germany, France, Italy)
Asia-Pacific (China, Japan, India, South Korea, Rest Of Asia Pacific)
LAMEA (Latin America, Middle East, Africa)

Key Market Players
Sensors and Software Inc., Guideline Geo, Utsi Electronics Ltd., Leica Geosystems AG, Penetradar Corp., ids georadar, Geophysical Survey Systems Inc., Chemring Group plc, Radiodetection, Hilti