Guaranteed Auto Protection (GAP) Insurance Market Research, 2031
The global guaranteed auto protection (gap) insurance market was valued at $3.2 billion in 2021, and is projected to reach $8 billion by 2031, growing at a CAGR of 9.9% from 2022 to 2031.
With the availability of quick and hassle-free settlement of claims and value-added online services, Guaranteed Auto Protection (GAP) insurance delivers convenient experience to the consumers and is expected to grow in upcoming years.
Guaranteed Auto Protection (GAP) insurance shields the borrower in the event that the vehicle is written off by paying the gap between the true cash worth of the vehicle and the outstanding loan balance. Compact cars, lorries, and heavy trucks are the most common vehicles for which GAP coverage is employed.
An increasing need for protection against borrowers' unforeseen losses among self-financing companies and vehicle leasing companies is compelling owners and buyers to purchase GAP insurance add-on plans. In addition, a rise in the seriousness of theft claims for motor merchants and fleet owners supports the market for GAP insurance's expansion. However, lack of awareness of the advantages of guaranteed GAP insurance, a decline in new policy sales volumes, and fierce competition all restrain the expansion of GAP insurance market. Conversely, increasing focus on working with current vehicle insurance companies and adopting comprehensive insurance with the addition of GAP insurance is anticipated to drive the GAP insurance market growth in upcoming years.
The report focuses on growth prospects, restraints, and trends of the data analytics in banking market analysis. The study provides Porter's five forces analysis to understand the impact of various factors such as bargaining power of suppliers, competitive intensity of competitors, threat of new entrants, threat of substitutes, and bargaining power of buyers on the data analytics in banking market outlook.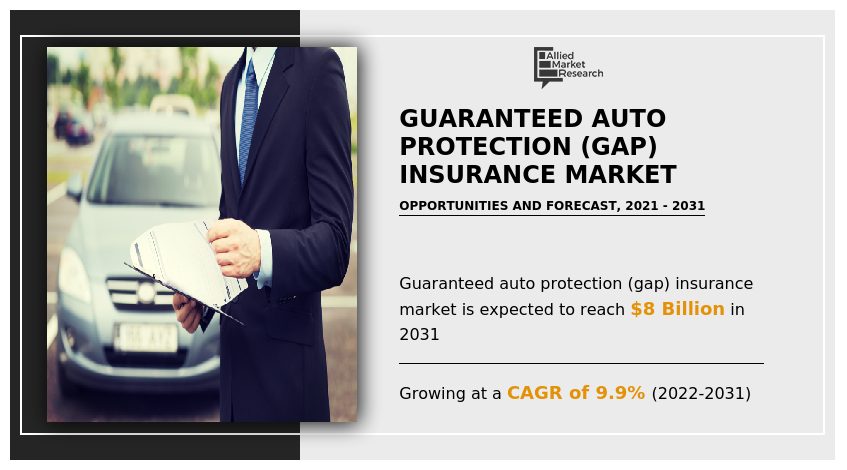 The guaranteed auto protection (gap) insurance market is segmented into Type, Application and Distribution Channel.
Segment review
The
Guaranteed Auto Protection (GAP)
insurance market is segmented into type, application, distribution channel, and region. By type, the market is differentiated into return-to-invoice GAP insurance, finance GAP insurance, vehicle replacement GAP insurance, return-to-value GAP insurance and others. The application segment is segregated into passenger vehicle and commercial vehicle. The commercial vehicle is further segmented into light goods vehicle and heavy goods vehicle. The light goods vehicle is further segregated into new vehicle and used vehicle. Depending on distribution channel, it is fragmented into insurance agents/brokers, direct response and others. Region wise, the market is analyzed across North America, Europe, Asia-Pacific, and LAMEA.
Guaranteed Auto Protection (GAP) Insurance Market

---

By Type
Finance GAP insurance segment accounted for the highest market share in 2021.
Get more information on this report :
Request Sample Pages
By type, finance gap insurance attained the highest share in GAP insurance market size in 2021. This is attributed to the fact that finance GAP insurance is frequently purchased in advance, and if the car is sold or refinanced before the conclusion of the loan term, the buyer is typically entitled to a return of the unused portion of the cost.
Guaranteed Auto Protection (GAP) Insurance Market

---
By Region
Asia-Pacific would exhibit the highest CAGR of 13.2% during 2022-2031.
Get more information on this report :
Request Sample Pages
By region, Asia-Pacific is expected to exhibit fastest growth in GAP insurance market forecast. This is attributed to the fact that the greatest number of vehicles used for commercial purpose strictly require a commercial auto insurance in the Asia-Pacific region, which also results in purchase of GAP insurance to avoid loss of value, therefore this is a major driving factor for the market.
The key players operating in the guaranteed auto protection insurance market include as Admiral Group Plc, Allianz, Allstate Insurance Company, American Family Insurance, Aviva, AXA, Berkshire Hathaway Inc., Chubb, Direct Gap, Kemper Corporation, Liberty Mutual Insurance Company, Majesco, Nationwide Mutual Insurance Company, Progressive Casualty Insurance Company, State Farm Mutual Automobile Insurance Company, The Travelers Idemnity Company, and Zurich. These players have adopted various strategies to increase their market penetration and strengthen their position in the data analytics in banking industry.
COVID-19 Impact Analysis
The COVID-19 pandemic has a negative impact on the GAP insurance market, owing to economic slowdown, unpredictability in global financial sectors, and highly volatile market. In addition, slump in automobile industry has affected the sales of GAP insurance reducing the revenue. Moreover, many gap insurance firm stated to adopt digitalization in their business for maintain smooth communication with their client. This factor has helped in the growth of GAP insurance market during the global health crisis.
Top Impacting Factors
High security and reduced risk on motor vehicles
Purchasing of a brand-new automobile is a convenient experience for people, however, once a car is driven off, it is no longer considered brand new and starts to depreciate. Occasionally, this depreciation can be as severe as 20 to 30% of the total worth. Depreciation has no effect on amount of loan. It remains unchanged and has to be paid regardless of conditions of the vehicles or drivers. For instance, if a vehicle is stolen, lost, or destroyed, the remaining balance of the loan remains due. Hence, this insurance bridges the gap between depreciated value of vehicles and the remaining sum. Moreover, in conjunction with repayments for replacement vehicles, GAP insurance has the ability to save money of people in case of a crisis. Thus, these factors propel growth of the GAP insurance market.
Quick claim settlements
The third-party protection is limitless in cases of accidents that result in bodily harm or fatalities, and the insurance provider is responsible for paying the full amount of damages. Typically, third parties file claims with the Motor Accident Claims Tribunal when there has been a death or injury (MACT). Additionally, the time it takes for a court to rule on a motor insurance claim is significantly greater. However, GAP insurance provides faster claim settlement following the receipt of required documents and full settlement of motor insurance claim. Moreover, gap insurance is intended to be used in addition to collision or comprehensive insurance. If the client files a claim that is covered, the collision coverage or comprehensive coverage will contribute to the cost of replacing the totaled or stolen car up to the depreciated worth of the vehicle. Thus, quick settlement of claim by GAP insurance is driving the growth of the market.  
Increase in use of AI
Insurance business could find innovative methods to work and respond to customer needs while ensuring safety of both clients and employees. The pandemic has led to growth in transformation of the sector for a number of businesses, which have invested in IT infrastructure, improved data capabilities, preferred digital assessment, and complaints systems. New data sources and decision models can help to improve the underwriting process. Expansion of social networks, mobile technologies, and cloud services to facilitate smart functioning required by the pandemic spread, as well as legal limits, have all contributed to increase in cyber risk. Many firms are starting to see cyber security as an important business risk, demanding insurance coverage to ensure the continuity of financial operations in the event of a cyber-attack. As insurers expand to meet the demands of a digitized world, use of artificial intelligence, intelligent systems, telematics, and other advanced technologies to build tightly connected digital ecosystems has become usual. Thus, use of artificial intelligence, cloud services, innovative mobile technologies, and cyber securities are some opportunities for the GAP insurance industry.
KEY BENEFITS FOR STAKEHOLDERS
This report provides a quantitative analysis of the market segments, current trends, estimations, and dynamics of the GAP insurance market analysis from 2021 to 2031 to identify the prevailing GAP insurance market opportunity.

    The market research is offered along with information related to key drivers, restraints, and opportunities in GAP insurance market overview.

    Porter's five forces analysis highlights the potency of buyers and suppliers to enable stakeholders make profit-oriented business decisions and strengthen their supplier-buyer network.

    In-depth analysis of the GAP insurance market segmentation assists to determine the prevailing market opportunities and GAP insurance market share.

    Major countries in each region are mapped according to their revenue contribution to the global market.

    Market player positioning facilitates benchmarking and provides a clear understanding of the present position of the market players.

    The report includes the analysis of the regional as well as GAP insurance market trends, key players, market segments, application areas, and market growth strategies.
 Guaranteed Auto Protection (GAP) Insurance Market Report Highlights
Aspects
Details
Type

Return-to-Invoice GAP Insurance
Finance GAP Insurance
Vehicle Replacement GAP Insurance
Return-to-Value GAP Insurance
Others

Application

Passenger Vehicle
Commercial Vehicle

Distribution Channel

Agents & Brokers
Direct Response
Others

By Region

North America (U.S., Canada)
Europe (Germany, France, U.K., Italy, Spain, Netherlands, Belgium, Rest of Europe)
Asia-Pacific (China, Japan, India, Australia, South Korea, Indonesia, Thailand, Rest of Asia-Pacific)
LAMEA (Latin America, Middle East, Africa)

Key Market Players
Admiral Group PLC, Allianz, Allstate Insurance Company, American Family Insurance, Aviva, AXA, Berkshire Hathaway Inc., Chubb, Direct Gap, Kemper Corporation, Liberty Mutual Insurance Company, Majesco, Nationwide Mutual Insurance Company, Progressive Casualty Insurance Company, State Farm Mutual Automobile Insurance Company, The Travelers Idemnity Company, Zurich