The global gunshot detection market was valued at $0.58 billion in 2021, and is projected to reach $1.2 billion by 2031, growing at a CAGR of 7.9% from 2022 to 2031.
The gunshot detection system market is a major market associated with the defense and civil sector. A typical gunshot detection system uses a series of acoustic sensors to detect and transmit the firing position of gunshots. These systems can be used by internal security agencies, law enforcement agencies, and the military to detect the shooting. The system can be installed in high-security buildings, strategic facilities, and other areas to accurately warn about potential enemy fires. In addition, the gunshot detection system uses acoustic detection technology to identify and report gunshots to the police within seconds of being fired. A gunshot detection system consists of a sensor that detects gunshots, a transmitter that sends a message to a police control center, and a computer that receives & displays the message.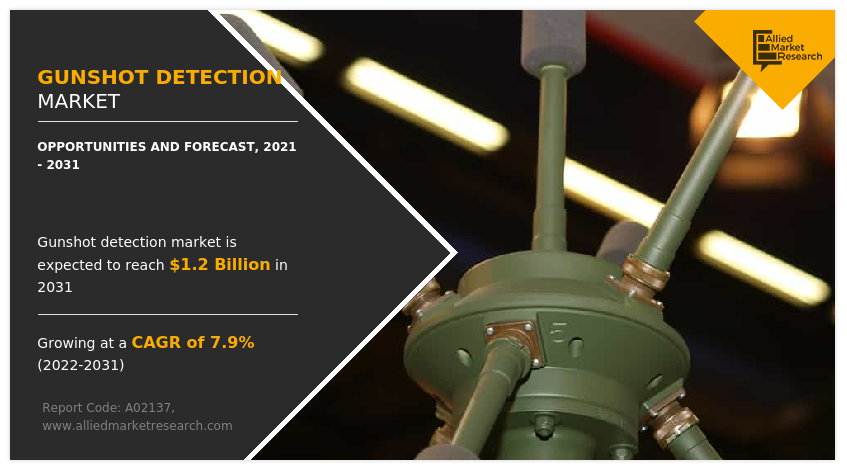 Growth of gunshot detection system is driven by factors such as surge in adoption of IoT, rise in incidences of shooting, and increase in utilization of gunshot detection systems are expected to propel the gunshot detection market growth. However, high costs associated with gunshot detection and incorporating sensors in devices incur extra value and reduce the life of the device. Moreover, security in new smart cities and rise in adoption of wearable gunshot detection devices in North America are anticipated to provide growth opportunities for the gunshot detection system market during the forecast period.
The gunshot detection system market is segmented on the basis of product, application, installation, system, and region. By product, it is bifurcated into indoor and outdoor. By application, it is fragmented into defense, homeland security, and commercial. The commercial segment is further fragmented into corporate enterprise, school & colleges, hospitals, retail stores & venues, and others. By installation, it is classified into fixed system, portable system, and vehicle mounted system. By system, the market is segregated into standalone system and integrated system. By region, the market is categorized by North America, Europe, Asia-Pacific, and LAMEA.
Gunshot Detection Market

---

By Product
Outdoor is projected as the most lucrative segment.
Companies have adopted product development and product launch as their key development strategies in the gunshot detection industry. Moreover, collaborations and acquisitions are expected to enable leading players to enhance their product portfolios and expand into different regions. The key players operating in this gunshot detection market are 3xLOGIC, Alarm Systems, Inc., AmberBox, Inc., Databuoy Corporation, Information System Technologies Inc., QinetiQ Inc. US, Raytheon Technologies Corporation, Safe Zone Technologies, Inc., Shooter Detection Systems, and ShotSpotter Inc.
Surge in adoption of IoT
People are moving toward automation-based solutions and services in the current IT-dominant world. This has led to increased focus on IoT-based devices due to their innovative and advanced applications. IoT is a technology for providing internet or internetworking for almost all applications such as smartphones, microwaves, wearable devices, and buildings. IoT uses electronic software, sensors, and actuators to connect all these things to a shared network. IoT incorporates several sensors such as touch sensor, proximity sensor, and temperature sensor. IoT-based devices help in machine-to-machine (M2M) communication and person-to-computer communication.
Gunshot Detection Market

---

By Application
Defense is projected as the most lucrative segment.
Rise in incidences of shooting
Gunshot incidents have increased in North American in the past several years, leading to increased demand for gunshot detection systems in the North American area. For instance, in June 2021, according to the Everytown Research organization's report, between 2009 and 2020, a total of 1,363 people in the U.S. were killed and 97 others injured in 20 mass shootings, an average of 20 shootings per year. These numbers are staggering, as they represent only a fraction of the lives permanently changed after a mass shooting has shaken communities with fear and grief. Moreover, in 2021, the Centers for Disease Control and Prevention organization reported that in 2020, 24,292 individuals committed suicide and gunshots murdered 19,384 individuals. Thus, the increase in number of incidents by gunshot is expected to drive the growth of the gunshot detection market during the forecast period.
Rise in utilization of gunshot detection systems
In the current scenario, the surge in demand for gunshot detection systems is due to their applications in law enforcement, security agencies, and defense forces. The system detects and analyses the data in real-time and provides it to the police agency. For instance, in June 2020, ShotSpotter, Inc. won a $2.5 million contract from the Sacramento City Council for gun detection technology. This will allow the Sacramento Police Department to continue detecting shootings in three undisclosed locations through 2025. In addition, in February 2022, the California city of Pasadena approved the use of the ShotSpotter system at various locations around the city to analyze sounds and pinpoint the exact location of gunshots. Hence, the increase in usage of these systems is expected to drive the growth of the gunshot detection market during the forecast period.
Gunshot Detection Market

---
By Installation
Portable System is projected as the most lucrative segment.
High cost associated to gunshot detection system
Gunshot detection systems have high installation and integration cost. The system consists of multiple hardware components such as sensors, power sources, cameras, ethernet data cables, and each detector with power over ethernet (PoE) switches connecting the on-site server. Thus, the installation process demands high labor and material costs. Furthermore, configuration and connectivity issues are significant complications within the existing corporate networks. For instance, in January 2022, Houston City Council adopted gunshot detection technology in the city. The council said it can cost up to $95.000 per square mile. As a result, most cities are hindered by gunshot detection technology due to the requirement of huge investment. Therefore, these factors are projected to hamper the growth of the gunshot detection market during the forecast period.
Security in new smart cities
To improve security, future smart cities should use advanced technology. Gun detection is one of the technologies that has improved emergency preparedness services in the towns across the U.S. These systems provide forensic evidence to law enforcement and security companies to investigate shootings.
Gunshot Detection Market

---

By System
Integrated System is projected as the most lucrative segment.
Lockdowns in major countries in North America such as the United States have had a major impact on the defence industry, halting production and delaying product shipments. For example, ShotSpotter, Inc., an acoustic gunshot detection company in California, USA, implemented a mandatory blanket travel ban during the pandemic. The travel ban halted all installation and project management activities. As a result, the installation project scheduled for March and April 2020 were delayed. In addition, due to these travel restrictions, planned assignments at the request of its customers were postponed in response to the pandemic.
Key Benefits For Stakeholders
This report provides a quantitative analysis of the market segments, current trends, estimations, and dynamics of the gunshot detection market analysis from 2021 to 2031 to identify the prevailing gunshot detection market opportunities.
The market research is offered along with information related to key drivers, restraints, and opportunities.
Porter's five forces analysis highlights the potency of buyers and suppliers to enable stakeholders make profit-oriented business decisions and strengthen their supplier-buyer network.
In-depth analysis of the gunshot detection market segmentation assists to determine the prevailing market opportunities.
Major countries in each region are mapped according to their revenue contribution to the global market.
Market player positioning facilitates benchmarking and provides a clear understanding of the present position of the market players.
The report includes the analysis of the regional as well as global gunshot detection market trends, key players, market segments, application areas, and market growth strategies.
 Gunshot Detection Market Report Highlights
Aspects
Details
Market Size By 2031
USD 1.2 billion
Growth Rate
CAGR of 7.9%
Forecast period
2021 - 2031
Report Pages
313
Product
Application

Defense
Homeland
Commercial

Commercial

Corporate Enterprise
School and Colleges
Hospitals
Retail Stores and Venues
Others

Installation

Vehicle Mounted System
Fixed System
Portable System

System

Standalone System
Integrated System

By Region

North America (Mexico, U.S., Canada)
Europe (UK, Germany, France, Russia, Italy, Spain, Rest Of Europe)
Asia-Pacific (China, India, Japan, Australia, South Korea, Rest Of Asia-Pacific)
LAMEA (Latin America, Middle East, Africa)

Key Market Players
3xLOGIC, ALARM SYSTEMS, INC., AMBERBOX, INC., DATABUOY CORPORATION, INFORMATION SYSTEM TECHNOLOGIES INC, QINETIQ GROUP PLC, RAYTHEON TECHNOLOGIES CORPORATION, SAFE ZONE TECHNOLOGIES, INC, SHOOTER DETECTION SYSTEMS, SHOTSPOTTER INC., V5 SYSTEMS INC., AmberBox, Inc., LOUROE ELECTRONICS, TRACER TECHNOLOGY SYSTEMS, INC., VESPER