Hair Restoration Services Market Outlook - 2026
The hair restoration services market was valued at $8,452.5 million in 2018, and is expected to reach $12,119.4 million by 2026, registering a CAGR of 4.6% from 2019 to 2026. Hair restoration is a surgical procedure used to treat baldness or hair loss (alopecia). It is a cosmetic procedure performed on men and women who endure significant hair loss, thinning hair, or bald spots. Hair loss and baldness are prevalent in men, majorly due to genetic factors and age. In the U.S., an estimated 50 million men and 30 million women suffer from hair loss. Rise in number of people suffering from alopecia is one of the key reasons that has been driving the demand for hair restoration service market. According to the International Society of Hair Restoration Surgery, in 2014, more than one million hair transplant surgeries were performed globally. The study states that out of the total surgeries performed, 89% were targeted at the scalp area and 11% were targeted in the non-scalp areas. Moreover, 87.3% of surgical patients were men, whereas 13.4% of them were women.
Over the years, the hair restoration services industry has been witnessing new trends and innovations, which have resulted in service being more lucrative and efficient. For instance, ARTAS robotic procedure is a new technology that is being developed with leading hair transplant physicians and researchers. The system utilizes state-of-the-art robotic technology to assist physicians with difficult, manual methods that require repetitive and precise movements, which can increase the risk of human error. Hair cloning is another new procedure that has been gaining popularity in the hair restoration services market. Hair cloning is a cell therapy that creates an effective, minimally invasive hair growth method, which does not require maintenance post-surgery.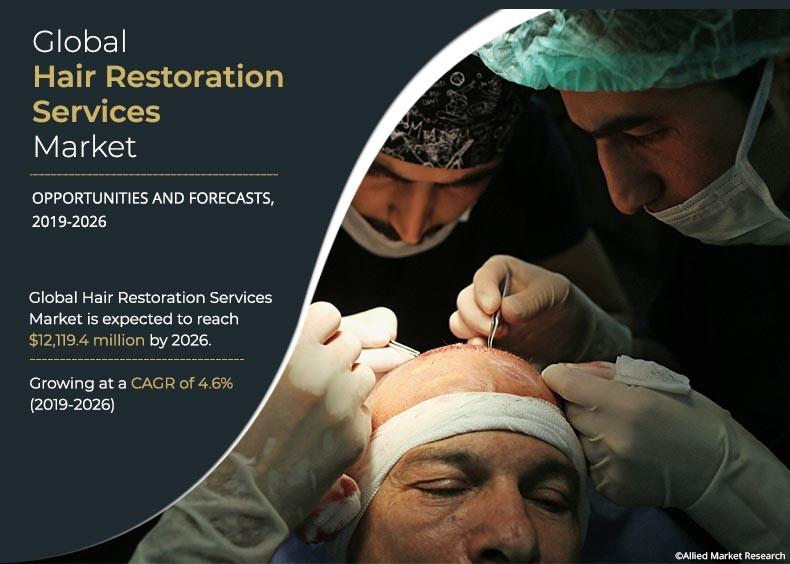 Furthermore, increase in celebrity influence and persistent self-consciousness about facial appearance, and societal influence to grow thicker hair are some the key factors that have led to increase in adoption of hair restoration services. In addition, rise in need to maintain hair condition has become one of the major concerns among beauty-conscious customers, which fuel the need for hair restoration services, thus driving the global hair restoration services market growth.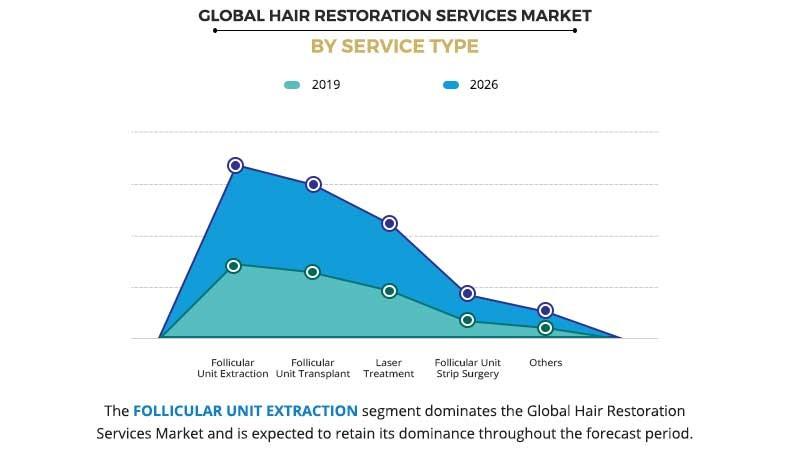 Based on service type, the global hair restoration services market size is segmented into follicular unit extraction, follicular unit transplantation, laser treatment, follicular unit strip surgery, and others. Among these, the follicular unit extraction segment garnered. 34.3% share of the market in 2018. This is attributed to the fact that follicular unit extraction is an advanced minimally invasive hair transplant method, which allows the harvesting of individual follicles from the back of the head, i.e., the donor area, ensuring no linear scar is left. The ideal candidates for FUE hair restoration surgery is someone who has high hair density in the donor area (back and side of the head). However, some of the key FUE service providers are strategizing on executing FUE without shaving off one's head. For instance, North Atlanta Hair Restoration promotes its FUE services that does not require shaving off the head. In its most recent development, the International Society of Hair Restoration Surgery (ISHRS) announced that follicular unit extraction (FUE) would now officially be known as follicular unit excision. Follicular unit excision refers to an actual surgery in which hundreds of incisions are made and hair follicles are physically removed from the donor area of the scalp and inserted into the balding area. Thus, evolution in technology for FUE play a key role in hair restoration services market size.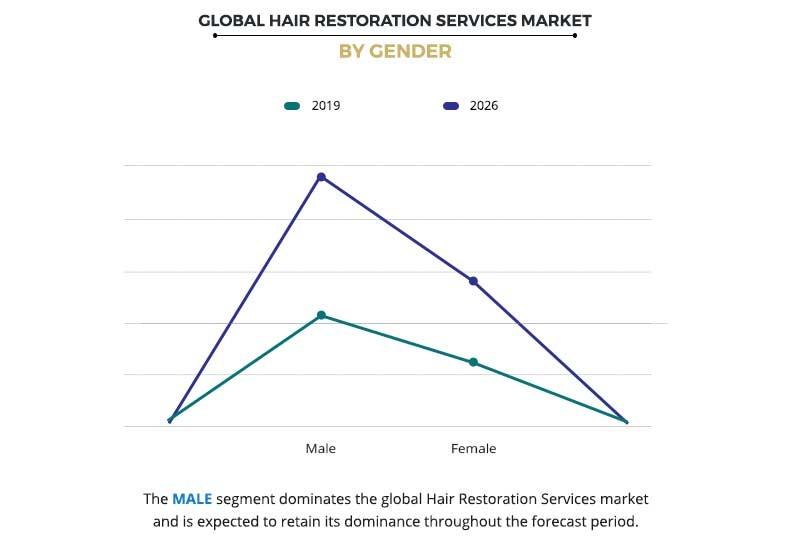 Depending on end user, the hair restoration services market is bifurcated into men and women. The men segment accounts to comparatively higher value hair restoration services market share in global hair restoration services market. Male-pattern baldness is also known as androgenetic alopecia, which is a common condition, where excess male hormones in hair follicles stop hair growth on the scalp. As per the AMR sources, Europe has largest number of bald men in the world. Baldness is most common in Czech Republic, with almost half of these men going bald at 42.79%. Spain has the second highest number of bald men population, followed by Germany and France.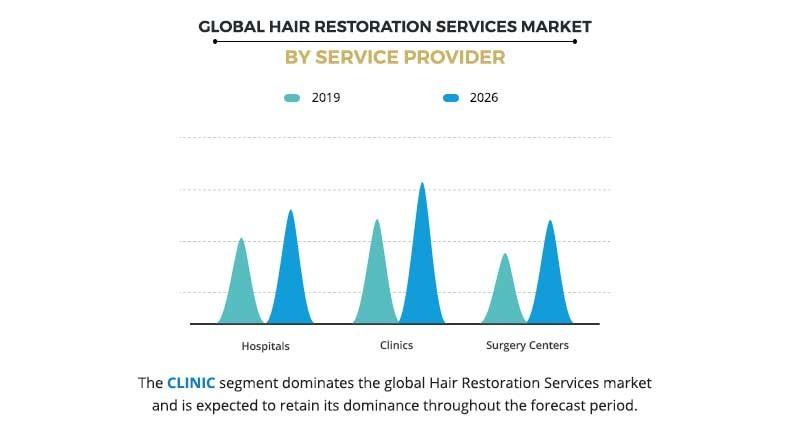 On the basis of service provider, the hair restoration services market is categorized into hospitals, clinics, and surgery centers. The clinics segment accounts to highest value hair restoration services market share, since most of the branded hair restoration service providers own their private clinics. These clinics are well-equipped with necessary amenities to carry out different types of hair restoration surgeries, which includes follicular unit extraction (FUE), follicular unit transplantation (FUT), and laser treatments. Apart from the services provided, these clinics provide hair loss treatment products such as shampoos, conditioners, hair oils, and medications under their own brand names. Though clinics accounts to higher value share, hospital is expected to witness higher growth in hair restoration services market forecast.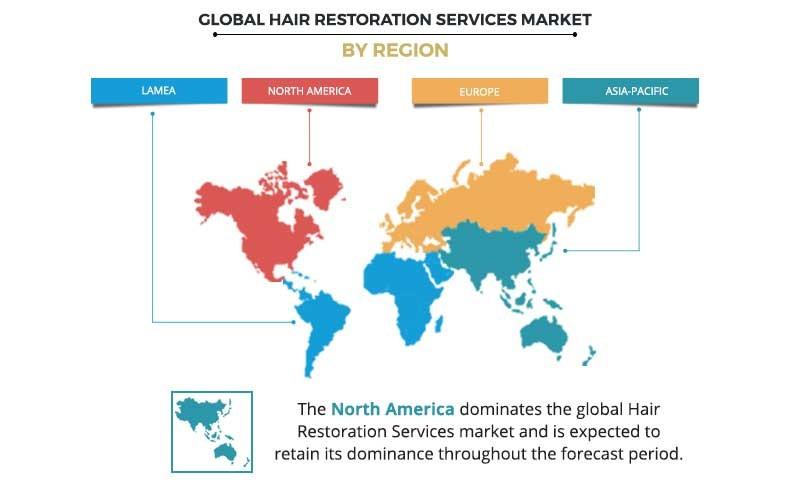 Region wise, the hair restoration services industry is analyzed across North America, Europe, Asia-Pacific, and LAMEA. According to the National Alopecia Areata Foundation, in 2018, nearly 6.8 million people in the U.S. were affected by alopecia areata with a calculated lifetime risk of 2.1%. In the same year, around 2.4 million people visited clinics and hospitals for their treatment. Thus, North America is considered as one of the dominant regions in hair restoration services market, with presence of large target population. People ageing between 30 and 60 years witness such hair loss problems.
Key players profiled in the report include Direct Hair Implantation International, iGrow Laser, Bosley Inc., Elite Hair Restoration, National Hair Centers, NeoGraft, Lexington Intl., LLC, Bernstein Medical, and Cole Hair Transplant Group.
Key Benefits for Hair Restoration Services Market:
The report provides an extensive hair restoration services market analysis of the current & emerging hair restoration services market trends and opportunities.
The report provides detailed qualitative and quantitative analysis of the current trends and future estimations that help evaluate the prevailing hair restoration services market opportunity.
A comprehensive analysis of the factors that drive and restrict the hair restoration services market growth.
An extensive analysis of the market is conducted by following key product positioning and monitoring the top competitors within the market framework.
The report provides extensive qualitative insights on the potential segments or regions exhibiting favorable growth.
 Hair Restoration Services Market Report Highlights
Aspects
Details
By Service Type

Follicular Unit Extraction
Follicular Unit Transplantation
Laser Treatment
Follicular Unit Strip Surgery
Others

By Gender
By Service Provider

Hospitals
Clinics
Surgery Centers

By Region

North America (U.S., Canada, Mexico)
Europe (UK, Germany, France, Italy, Spain, Russia, Rest of Europe)
Asia-Pacific (China, India, Japan, Australia, New Zealand, Rest of Asia-Pacific)
LAMEA (Latin America, Middle East, Africa)

Key Market Players
Direct Hair Implantation International, iGrow Laser, Bosley Inc, Elite Hair Restoration, National Hair Centers, NeoGraft, Lexington Intl., LLC, Bernstein Medical, Cole Hair Transplant Group