The global hair shampoo market was valued at $29,700.7 million in 2020, and is projected to reach $44,378.8 million by 2030, registering a CAGR of 4.3% from 2021 to 2030. 
Hair shampoo is a hair care product that is used to enhance the appearance and feel of hair. It also aids in the replacement of materials lost during washing, such as natural oils. The safety of hair shampoos is established through the use of safe and appropriate ingredients. Furthermore, hair shampoo products are evaluated for their ability to cause scalp and eye irritation. Product safety is also ensured through strict adherence to quality assurance and good manufacturing practices principles. This includes testing the product's compatibility with packaging as well as shelf life. Hair shampoos should be examined by the FDA to determine the type and degree of eye irritation that may occur, as well as to ensure that products are not contaminated or will not be contaminated during normal use.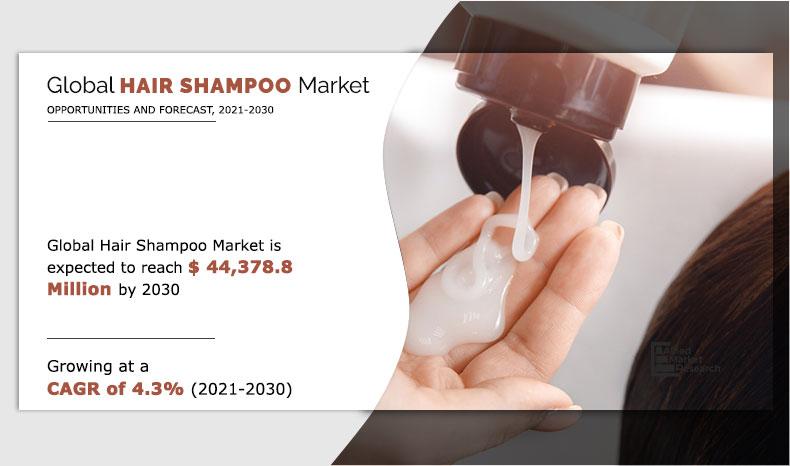 Growth in consumer perceptions of a healthy scalp as the key to shiny, lustrous hair is driving the consumer interest toward scalp care products, which in turn increase the demand for scalp care products among consumers who want to restore the health of their hair while also increasing its strength and elasticity. Therefore, the hair shampoo market size is largest with growing popularity of leave-in treatments and masks for hair protection and nourishment. The adoption of hair shampoos is significantly higher among women aged 20 to 30 years, owing to a strong emphasis on self-grooming is one of the current trends. Furthermore, the fast-paced lifestyle of consumers has led increase in the demand for new products that facilitate easy and quick hair and hygiene management. This, in turn, is creating long-term opportunities for brands to profit lucratively.
The majority of consumer groups prefer hair care products that are in line with their concerns, which provides ample opportunities for brands to capitalize on. For example, consumers who are concerned about split ends, frizzy hair, and rough hair prefer hair shampoo products that provide deep moisturization. Hair shampoo brands understand the ever-changing needs of various consumer segments and offer novelty products developed along similar lines. Manufacturers can seamlessly address the appearance-oriented requirements of various consumer groups by introducing new and distinguishable products, keeping consumers engaged with the brand on a regular basis. 
Chemical treatments have become popular for altering the style, texture, and color of one's hair. Several skin and hair care products, such as dyes and bleaching solutions, are made up of a combination of chemicals in varying concentrations. While these chemical-based products can help achieve the desired results, they can also have unintended side effects, such as dry, frizzy, and unmanageable hair. As a result, consumers continue to seek effective products that can potentially repair chemically damaged hair while also stimulating the growth of new and healthy hair. Hair shampoos that make strong claims about repairing hair damage are emerging as valuable additions to consumers' hair care regimens. Hair shampoo adds the right amount of hydration and moisture to hair, increasing its credibility among consumers in terms of repairing chemical damage.
Hair Shampoo Market

---
By Product Type
Medicated segment is expected to grow at highest CAGR of 4.7% during the forecast period
COVID-19 significantly influenced consumer purchasing habits for hair care and other personal care products. The pandemic will increase consumer interest in natural ingredient-based hair shampoo products. The increased need to maintain hygiene and sanitation at manufacturing plants, as well as the increased need to source clean ingredients for hair care products, is expected to play a significant role in product purchases during the pandemic. Consumers avoided purchasing artificial ingredient and preservative-based hair shampoo products prior to the pandemic's outbreak due to the risk of infection on the scalp and hair.
Hair Shampoo Market

---
By Price Point
High segment is expected to grow at highest CAGR of 5.1% during the forecast period.
According to hair shampoo market analysis, the market is segmented on the basis of product type, price-point, end user, distribution channel, and region. On the basis of product type, the market is categorized into medicated and non-medicated. Based on price-point, the market is fragmented into low, medium, and high. As per end user, the market is divided into men, women, and kids. According to distribution channel, it is fragmented into supermarkets/hypermarkets, drug stores or pharmacy, mass merchandiser, departmental stores, mono-brand stores, specialty stores, and online sales channel. Region wise, the hair shampoo market is analyzed across North America, Europe, Asia-Pacific, and LAMEA.
Hair Shampoo Market

---
By End User
Women segment is expected to grow at highest CAGR of 4.6% during the forecast period.
By product type, the non-medicated segment garnered the highest hair shampoo market share in 2020, as this kind of shampoos are used on the daily basis by consumers. Based on price-point, the medium segment was the highest revenue contributor in 2020, as medium-priced hair shampoo products is preferred by most of the consumers. On the basis of end user, the women segment is anticipated to dominate the hair shampoo market with the highest share during the hair shampoo market forecast period. This is attributed to increase in emphasis on personal care and grooming. Depending on distribution channel, the drug stores or pharmacy segment led the market in 2020. This is attributed to the fact that these stores offer options such as discounts as well as the benefit of immediate gratification. 
Hair Shampoo Market

---
By Distribution Channel
Mono-brand stores segment is expected to grow at highest CAGR of 5.3% during the forecast period.
The prominent hair shampoo industry participants include Estee Lauder Companies, Henkel AG &Co. KGaA, Hindustan Unilever Limited, Johnson & Johnson, Kao Group, L'Oreal S.A., Marico Limited, Natura & Co., Oriflame Holding AG and Procter & Gamble (P&G).
Hair Shampoo Market

---
By Regions
Asia-Pacific dominates the market and is expected to grow at highest CAGR of 5.0% during the forecast period.
Key Benefits For Stakeholders
This report provides a quantitative analysis of the current hair shampoo market trends, estimations, and dynamics of the global hair shampoo market from 2021 to 2030 to identify the prevailing hair shampoo market opportunities.
Porter's five forces analysis highlights the potency of buyers and suppliers to enable stakeholders to make profit-oriented business decisions and strengthen their supplier–buyer network.
In-depth analysis of the market segmentation assists to determine the prevailing market opportunities.
Major countries in each region are mapped according to their revenue contribution to the global industry. 
The market player positioning segment facilitates benchmarking while providing a clear understanding of the present position of the key market players.
The report includes analyses of the regional as well as global market, key players, market segments, application areas, and hair shampoo market growth strategies.
 Hair Shampoo Market Report Highlights
Aspects
Details
By Product Type
By Price-Point
By End User
By Distribution Channel

Hypermarkets & Supermarkets
Drug Stores or Pharmacy
Mass Merchandiser
Departmental Stores
Mono-brand Stores
Specialty Stores
Online Sales Channel

By Region

North America (U.S, Canada, Mexico)
Europe (UK, France, Netherlands, Germany, Turkey, Rest of Europe)
Asia-Pacific (China, Japan, India, South Korea, Australia, Rest of Asia-Pacific)
LAMEA (Brazil, South Africa, United Arab Emirates, Rest of LAMEA)

Key Market Players
Estee Lauder Companies Inc, HENKEL AG & CO. KGAA, Hindustan Unilever Ltd, Johnson & Johnson, Kao Group, L'Oreal S.A., Marico Ltd, NATURA & CO., ORIFLAME HOLDING AG, PROCTER & GAMBLE (P&G)