The hair straightener market size was valued at $591.2 million in 2018 and is expected to reach $861.1 million by 2026, registering a CAGR of 4.9% from 2019 to 2026. 
The global hair styling market was being valued at US$18.4 billion in 2018 and expected to grow at a significant rate during the forecast period. The rise in concern over maintaining the quality of hair and at the same time desire for proper hair style, is one of the key factors responsible in growth of the market. As a result, customers have a holistic approach while considering hair styling products in their daily routine. This has led to demand for various hair styling products such as shampoos, conditioners and other such. Hair Straightener is one such hair styling product that has been enduring higher level of demand from its target customers. Hair straighteners are typically used to straighten curly or wavy hair and at the same time provide shiny texture for a longer period of time.  The key functionality and features of the product helps drive the growth of hair straightener market.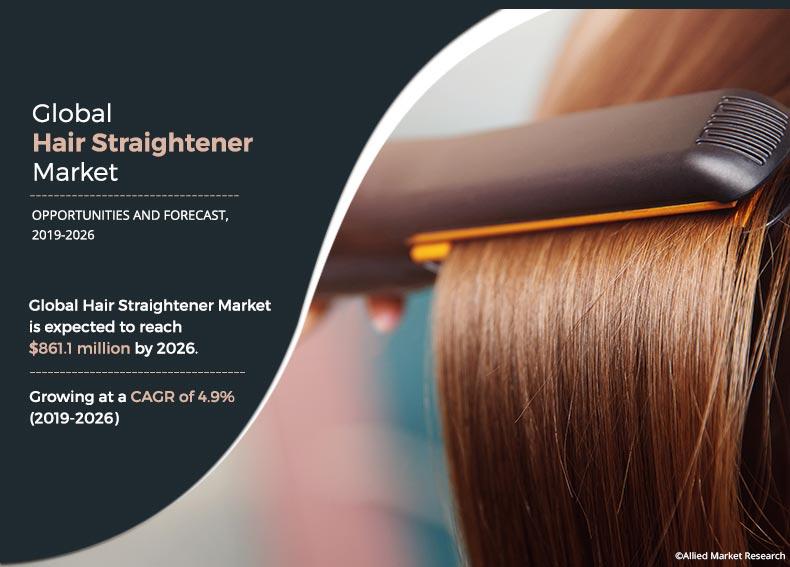 In today's world, customers specifically the millennials have been taking corrective steps and measures to look good aesthetically. According to them, hairstyle provides an identity to their overall facial look. Long and straight hair is an ideal hairstyle customer desire for. Customers with curly or shabby hairstyle opt for such looks and appearance. Such customer perception, has all together triggered the demand different types of hair straightener products. The global hair straightener market is mainly driven by demand incurring for several main types of straighteners such as ceramic, titanium, tourmaline and such others.
Male population are turning out to be the one of the new end users in global market. Traditionally men were never associated with hair styling appliances, however, in the recent past, the global hair market has witnessed rise in number of male customers. The rise in concern among the men to maintain proper hairstyle for longer duration has led to demand for such hair straightener products. Thus, rise in number of men population is an influential factor in global hair straightener market forecast.
Hair Straightener Market

---
By Product Type
Tourmaline segment would exhibit the highest CAGR of 7.2% during 2019-2026.
The global market is segmented on the basis of plate type, end use, distribution channel and region. Based on plate type, the market is classified into ceramics, titanium, tourmaline and others. By end use, the market is segmented into household and commercial. By distribution channel the market is divided into online and offline. Based on region, the market is analyzed across North America (U.S., Canada, and Mexico), Europe (Germany, Spain, UK, Italy, France, and rest of Europe), Asia-Pacific (China, India, Japan, Australia, South Korea, and rest of Asia-Pacific), and LAMEA (Brazil, South Africa, Saudi Arabia, UAE, and rest of LAMEA).
Based on plate type, Hair Straightener market is segmented into ceramics, titanium, tourmaline and others. Among all other product types, ceramic hair straighteners are the most preferred straighteners among the target customers. As the name suggest, ceramic hair straightener consist of ceramic plates. These ceramic plates promises higher efficiency since they heat up quickly that are evenly distributed and allow one's hair to glide through the iron smoothly, without snags or damage.  Majority of the target customer's desire for shiny hair that looks straight at the same time healthy too. Ceramic irons use infrared technology that actually locks in moisture directly in the hair cuticle resulting in beautiful shiny hair and eventually catering to customers' requirements. HIS Professional, Cloud Nine, Babyliss, Chi are some of the popular brands operating in this segment.   
Hair Straightener Market

---
By End Use
Commercial segment would exhibit the highest CAGR of 5.5% during 2019-2026.
Based on end user segment, the Hair Straightener market is further sub-segmented into household and commercial. Among the end users, the personal segment accounts to higher hair straightener market share since the most of the key hair straightener manufacturers have been facilitating its product offerings targeting the household sectors. For household segment, the hair mask straightener are available in distribution channels such as hypermarket, supermarket, franchisee stores and specialty stores. Among the household segment, the millennials population accounts to major market share as target customers since they are very conscious about their looks and appearance even when it comes to hairstyling.
Based on distribution channel, the Hair Straightener market is segmented into offline and online. Some of the key brick-and-mortar stores such as hypermarket/supermarket, specialty stores and franchisee store are being considered in the offline store segment. These stores facilitate variety of option in hair styling products promoting both branded and private-labelled segments. Moreover, these kind of store initiates several key promotional and marketing events such as customer loyalty programs, discounts, seasonal offers and other such in the view of generating higher revenue sales.
Hair Straightener Market

---
By Distribution Channel
Online segment would exhibit the highest CAGR of 5.5% during 2019-2026.
Based on region, the market is analyzed across North America, Europe, Asia-Pacific, and LAMEA. Europe is one of the dominant players in the global cosmetics market with Germany, France and the UK as the top three countries in the region. With the rising influence of fashion industry through apparels, make up products and cosmetics, customers specifically the women population have been very particular about their hair style that goes with the trend. This has led to increase in number of commercial or salon establishments in the region where the target customers frequent at regular intervals. Marisol, Josh Wood Atelier, La Biosthetique, Area Numero Sei are some of popular salons operating in the region. Hair straightening has been one of those most preferred services asked by the target customers. Thus, the hair straightener designed for commercial segments has incurred higher level of demand in the region. With the continuous evolution experienced in product offerings of hair straighteners (Tourmaline hair straightener, Teflon hair straighteners) coupled with the rise in rate of disposable income of target customers, has resulted in burgeon hair straightener market demand among the household sector as well. 
Key players profiled in hair straightener industry includes Koninklijke Philips N.V., Panasonic, Spectrum Brands, Inc., Conair Group Ltd., Cortex USA Inc., Bio Ionic, Helen of Troy limited, IZUTECH, Turbo Ion, Inc., Carmen and other such.
Hair Straightener Market

---
By Region
Asia-Pacific would exhibit the highest CAGR of 6.3% during 2019-2026.
Key Benefits For Stakeholders
The report provides an extensive Hair Straightener market analysis of the current and emerging market trends and opportunities.
The report provides detailed qualitative and quantitative analysis of the current Hair Straightener market trends and future estimations that help evaluate the prevailing Hair Straightener market opportunity.
A comprehensive analysis of the factors that drive and restrict the Hair Straightener market growth.
An extensive analysis of the market is conducted by following key product positioning and monitoring the top competitors within the market framework.
The report provides extensive qualitative insights on the potential segments or regions exhibiting favorable growth.
 Hair Straightener Market Report Highlights
Aspects
Details
By PLATE TYPE

Ceramic
Titanium
Tourmaline
Others

By END USER
By DISTRIBUTION CHANNEL

OFFLINE STORE
ONLINE STORE

By Region

NORTH AMERICA (US, CANADA, MEXICO)
EUROPE (GERMANY, UK, FRANCE, ITALY, SPAIN, REST OF EUROPE)
ASIA-PACIFIC (CHINA, INDIA, AUSTRALIA, NEW ZEALAND, REST OF ASIA-PACIFIC)
LAMEA (LATIN AMERICA, MIDDLE EAST, AFRICA)

Key Market Players
CORTEX USA INC, TURBO ION, INC, IZUTECH, PANASONIC, Bio Ionic, HELEN OF TROY LIMITED, KONINKLIJKE PHILIPS N.V, CARMEN, CONAIR GROUP LTD, SPECTRUM BRANDS, INC