Halal Cosmetics Market Research, 2031
The global halal cosmetics market was valued at $30,685.40 million in 2020, and is projected to reach $144,816.10 million by 2031, growing at a CAGR of 15.2% from 2022 to 2031.
Despite the unfavorable situation, there are some positive scenarios that occurred during the pandemic. The development of vaccines and their approval in few countries has provided some relief. The global halal cosmetics market is expected to witness a V-shaped recovery post-pandemic. However, an upward trend has been noticed in the revenue of the key market players in the fourth quarter of 2020-2021.
Halal cosmetics have witnessed significant adoption among the Muslim consumers owing to the increased demand for personal grooming and trending beauty products that adhere to religious loyalties. The product range includes fragrances; personal care products applicable for personal hygiene; color cosmetics such as lipsticks, foundation, lip balms; and skin care products, including rejuvenating creams, moisturizers, and lotions.   
The halal cosmetics market has expanded its product base to prominently tap into the cosmetics market owing to increase in demand for halal cosmetic products worldwide, particularly regions dominated by Muslim population such as UAE, Saudi Arabia, Indonesia, Malaysia, Turkey, and others. Such factors are raising demand for halal cosmetics, thereby resulting in increased halal cosmetics market size by 2031.
The growth of the global halal cosmetics market is driven by rise in Muslim population, development of the halal market, and increase in compliance of halal certification. In addition, multinational players tapping the halal cosmetics market creates lucrative growth opportunity for the for the global halal cosmetics industry. With growth in the Muslim population, the multinational players such LOreal, Unilever, P&G, and others have potential opportunities to penetrate into the halal cosmetics industry with an aim to cater to the increasing demands for halal cosmetic products. However, high costs associated with these cosmetics and lack of standard guidelines for halal certification are expected to hamper the halal cosmetics market growth.
The demand for halal color cosmetics is expected to witness the highest growth rate during the forecast period, owing to rise in purchasing power of the growing Muslim population and desire of young Muslim women to associate their interest in fashion & makeup with Islamic loyalties. These factors create lucrative opportunities for the multinational players operating in the global halal cosmetics market. Increase in young population in countries such as Saudi Arabia, Iran, UAE, Malaysia, and Indonesia and consumers equally interested in fashion & makeup trends have fueled the demand for halal cosmetics, which will spur the global halal cosmetics industry.
The upsurge in halal fragrance market is expected to be driven by increase in desire for Muslim consumers for personal grooming. Since Muslim consumers prefer halal products, fragrances being one of them, it can be major growth opportunity for international cosmetics companies to tap the fragrance market.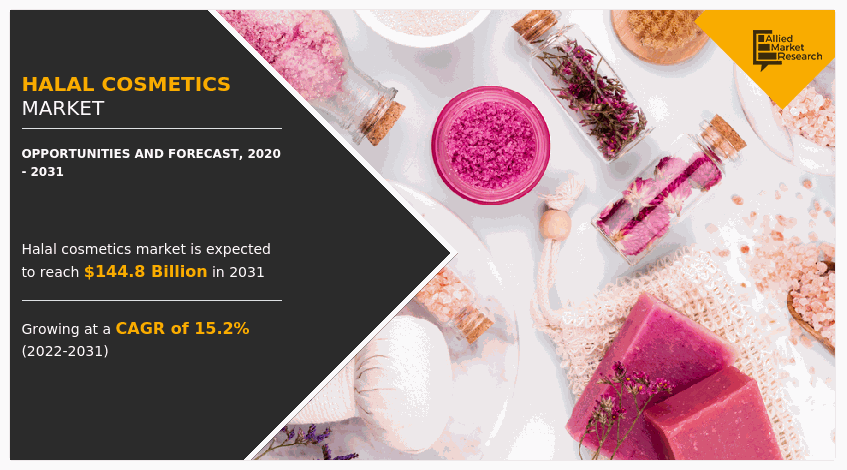 The global halal cosmetics market is segmented on the basis of product type, application, distribution channel, and geography. Based on product type, the market is segmented into personal care products, color cosmetics, and fragrances. Based on application, the market is segmented into hair care, skin care, face care, and beauty care. Regionally, North America, Europe, Asia-Pacific, and LAMEA region are studied in the report. 
By product type, personal care products held the major halal cosmetics market share. Halal cosmetics market demand is driven by the growing number of Muslims willingness to combine personal hygiene with religious observances. Halal personal care products include a vast range of product portfolio that have a substantial application in the daily lives of Muslim consumers owing to the religious adherences. The companies have a potential opportunity to shift their focus from merely hygiene products to solution- oriented personal care products. This trend is significantly noticeable in products such as body wash, hair care products, traditional soap cakes and skin care products.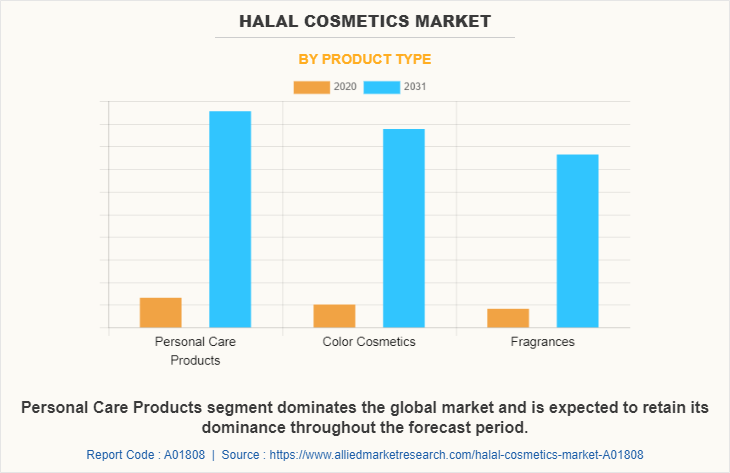 Based on application, hair care segment gain a major share in the market and is likely to remain same throughout the forecast period. Halal hair care products include hair shampoo, hair oil, conditioner, hair gel, hair massage creams and others. Hair care application has been witnessing a dominant position in the halal cosmetics application over the years owing to specific interest and desire for healthy hair and hair styling especially among Muslim women.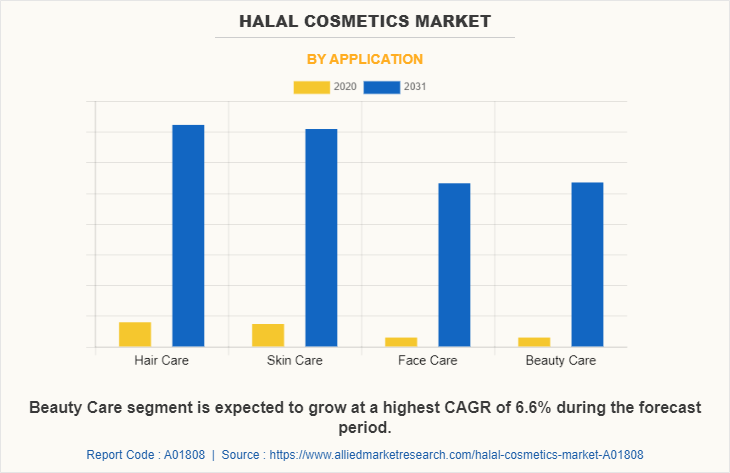 LAMEA dominates the global halal cosmetics market due to growth in Muslim population in Middle East countries such as Saudi Arabia, UAE, Qatar, Kuwait, and others. Asia-Pacific is expected to witness a significant growth during the forecast period owing to the rise in Muslim population in Muslim dominant countries such as Indonesia, Malaysia, and Singapore.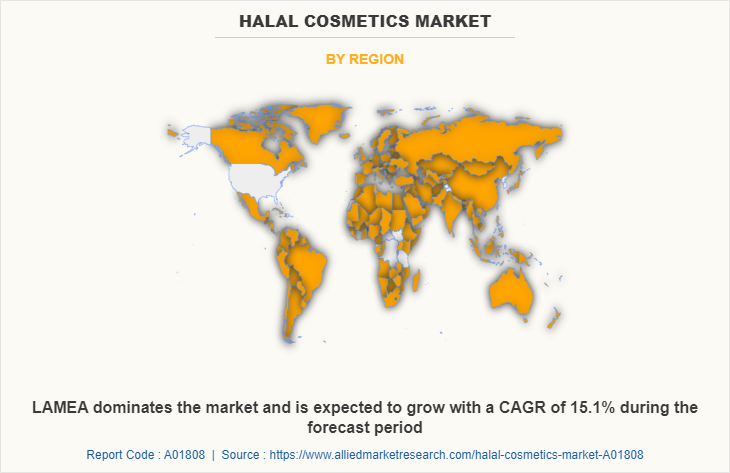 The report includes comprehensive analysis of the key players in the operating in the market such as Amara Cosmetics, Iba Halal Care, Halal Cosmetics Company, Clara International, Inika, Wardah Cosmetics, PHB Ethical Beauty, Sampure Minerals, One Pure, Mena Cosmetics, and SaafSkinCare.
Key Benefits For Stakeholders
This report provides a quantitative analysis of the market segments, current trends, estimations, and dynamics of the halal cosmetics market analysis from 2020 to 2031 to identify the prevailing halal cosmetics market opportunities.
The market research is offered along with information related to key drivers, restraints, and opportunities.
Porter's five forces analysis highlights the potency of buyers and suppliers to enable stakeholders make profit-oriented business decisions and strengthen their supplier-buyer network.
In-depth analysis of the halal cosmetics market segmentation assists to determine the prevailing halal cosmetics market opportunity.
Major countries in each region are mapped according to their revenue contribution to the global market.
Market player positioning facilitates benchmarking and provides a clear understanding of the present position of the market players.
The report includes the analysis of the regional as well as global halal cosmetics market trends, key players, market segments, application areas, and market growth strategies.
 Halal Cosmetics Market Report Highlights
Aspects
Details
By Product Type

Personal Care Products
Color Cosmetics
Fragrances

By Application

Hair Care
Skin Care
Face Care
Beauty Care

By Distribution Channel
By Region

North America (U.S., Canada, Mexico)
Europe (Germany, France, U.K., Italy, Spain, Russia, Rest of Europe)
Asia-Pacific (China, Japan, India, Indonesia, Malaysia, Rest of Asia-Pacific)
LAMEA (Latin America, Middle East, Africa)

Key Market Players
WARDAH COSMETICS, HALAL COSMETICS COMPANY, BRATACO GROUP OF COMPANIES, PHB ETHICAL BEAUTY, IBA HALAL CARE, AMARA COSMETICS, MENA COSMETICS, INIKA, SAMPURE MINERALS, clara international beauty group