Hazmat Suits Market Statistics 2030 -
The global hazmat suits market was valued at $6,727.4 million in 2020 and is projected to reach $11,606.3 million in 2030, registering a CAGR of 5.8%.
The COVID-19 outbreak forced governments across the globe to implement strict lockdowns and made social distancing mandatory to contain the spread of the virus. Factories were shut down, and only a fraction of the total workforce was allowed to work. As a result, the supply and demand for industrial-grade hazmat suits were disrupted significantly. Hazmat suits market experienced a moderate decline. Major factors for the decline in the hazmat suits market last year were disruptions in manufacturing and supply chains across the globe. However, over the year, the demand for hazmat suits has increased steeply, especially from the healthcare sector. These suits are required by healthcare professionals to take care of infected patients in the isolation wards. Such a scenario has resulted in a sudden rise in hazmat suits particularly for the healthcare sector globally.
The global hazmat suits market is witnessing growth alongside advancements in the domain of workforce safety across multiple industries. The need for hazmat suits across multiple industries is a vital cue to gauge the growth dynamics of this market. Furthermore, the presence of an ever-expanding chemical industry has also generated huge-scale revenues within the global hazmat suits market. Industrial decision makers are taking premium care in ensuring a safe and congenial environment for workers and laborers. The unstable nature of operations within the chemical and mining industry has created huge possibilities for growth within the market. Hence, revenue index of the global hazmat suits market is slated to improve in the years to follow.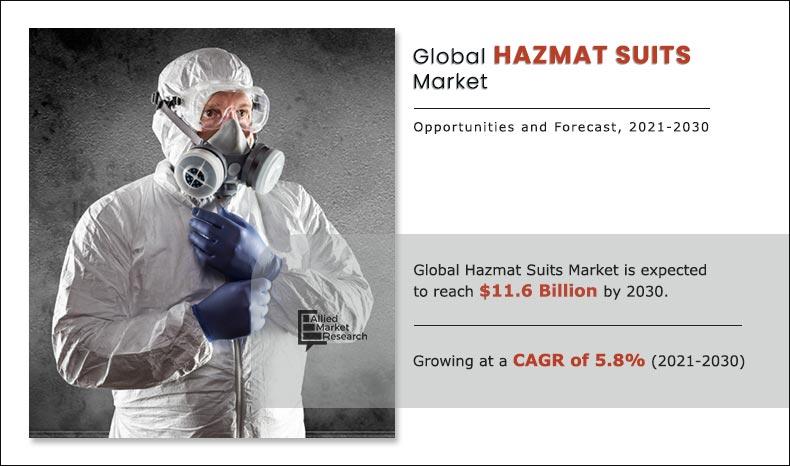 The market segmentation is based on application, safety standard, end-use, and region. The application segment is further divided into chemical waste, infection control & biohazard, hazardous materials, and others. Based on safety standard, the market is segmented into Level A, Level B, Level C, and others. Based on end-use, the market is segmented into oil & gas, mining & metallurgy, construction, manufacturing, healthcare, others. Region wise, the market is analyzed across North America, Europe, Asia-Pacific, and LAMEA.
Key players operating in the global hazmat suits market include 3M Company, Alpha Pro Tech, Ltd., Drägerwerk AG & Co. KGaA, Dupont DE Nemours, Inc., Honeywell International Inc., Kappler, Inc., Kimberly-Clark Corporation, Lakeland Industries Inc., MATISEC, and MSA Safety Incorporated.
Stringent laws & regulations regarding work environment safety
Personal protective equipment (PPE) are crucial for every work that involves employees working in hazardous surroundings or alongside risks. Personal protective equipment, also known as protective gear or safety gear, is any kind of wearable or equipment worn by an individual to keep themselves safe from workroom-specific dangers. Usually, protective gear provides safety against any physical, chemical, radiological, biological, mechanical, electrical, or any other threat in the workshop. A hazmat suit is a type of personal protective equipment that consists of an impermeable whole-body garment worn as protection against hazardous materials. Hazmat suits are used by emergency medical technicians and personnel responding to toxic spills, firefighters, specialists cleaning up contaminated facilities, researchers, and workers in contaminated settings.
Section 1910.132(h)(1) in Occupational Safety and Health Administration's (OSHA's) general requirements about PPE, specifically states that the protecting equipment, including PPE shall be provided by the company free of cost to its workers. There are various kinds of personal protective equipment available today that are used to enhance workplace safety for workers. Some of those types comprise skin and body protection, respiratory protection, hearing protection, and eye protection.
Similarly, OSHA has set guidelines regarding the mandatory usage of hazmat suits for workers who work on the job that may lead to exposure to deadly contaminants. Such regulations have resulted in a significant rise in demand for hazmat suits. The implementation of strict safety rules across different sectors is expected to fuel the growth of the global hazmat suits market during the forecast timeframe. 
Hazmat Suits Market

---
By Application
Infection Control and Biohazard is projected as the most lucrative segments
Increase in the number of nuclear power plants across the globe
Nuclear power plants generate low-cost energy, are a reliable source of power, and produce no carbon emissions. These advantages have resulted in the upward trend for the setting up of nuclear power plants throughout the world. With the first commercial nuclear power stations that started operation in the 1950s, today, nuclear energy caters to around 10% of the world's electricity demand that is generated by about 445 power reactors, which makes it the world's second largest source of low-carbon power (29% of the total in 2018). According to the World Nuclear Association, in 2020, nuclear plants supplied 2,553 TWh of electricity, down from 2,657 TWh in 2019. Prior to 2020, the electricity generation from nuclear energy increased for seven consecutive years. Top three countries that produce the highest electricity from nuclear power plants are the U.S., China, and France.
Like all power plants, nuclear power plants involve several disadvantages such as high environmental impact, are water intensive along with the risks of nuclear accidents. The exposure to nuclear radiation is quite dangerous to human health and only a high quality, rigorously tested hazmat suit can ensure a significant shield against the radiations. Hazmat suits are designed to minimize the penetration of radioactive alpha or beta particles. The suits can provide about 30 minutes of protection against more than 124 chemical challenges, including hydrazine and potassium chromate. These features make hazmat suits necessary for application in nuclear power plants.
According to World Nuclear Association, worldwide, the nuclear power capacity is increasing steadily worldwide with about 50 reactors under construction in 19 countries including China, India, Russia and the United Arab Emirates. Hence, rise in nuclear power capacity worldwide, is expected to promote the growth of the global hazmat suits market during the forecast timeframe.
Hazmat Suits Market

---
By Safety Standard
Level A is projected as the most lucrative segments
Oxygen depletion issue in Level A hazmat suits
Today, the teams that deal with hazardous materials (hazmat) are well equipped with state-of-the-art tools and technologies to handle several adverse situations, which greatly reduces the risk posed to hazmat technicians. The Level A hazmat suit has long been considered as the standard for the best protection against various risk-prone agents.
Level A hazmat suits provide full, vapor-tight, encapsulating protection. Typically, in emergency hazmat situations, the wearer of the suit uses a self-contained breathing apparatus (SCBA) to provide a regular fresh supply of air. When a person uses SCBA inside a vapor-tight Level A hazmat suit, the environment within the suit changes considerably. Compressed atmospheric air is inhaled from the SCBA air tank. Within the individual's lungs, oxygen is exchanged for carbon dioxide. When the person exhales, the carbon dioxide is exhaled into the suit. On average, the gases humans exhale are roughly 4-5% carbon dioxide. As exhaled air accumulates in the suit, the quantity of oxygen within the suit decreases while the concentration of carbon dioxide increases. This accumulation of exhaled air in the suit leads to an extremely hot and humid environment, which only allows hazmat personnel to work in a Level A suit for around 20 minutes continuously. After 20 minutes, the individual has to leave the site and proceed to sanitization or decontamination facilities before removing the suit. Hence, this limitation with Level A hazmat suits is expected to hinder the growth of the hazmat suits market during the forecast timeframe.
Hazmat Suits Market

---
By End Use
Mining and Metallurgy is projected as the most lucrative segments
Technological advancements in hazmat suits
Complete safety of workers operating in hazardous environments is one of the main concerns that has been effectively fueling the demand for protective clothing over the years. Protective gears (protective clothing, helmets, self-contained breathing apparatus, or other equipment) have been quite successful in ensuring worker's safety and have also been acting as the last line of defense against exposure to high heat, strong chemicals, radiations, and others. The advent of superior products that are easy and comfortable to wear is expected to boost the market growth, and the rise in demand for better protective gears is being propelled by numerous factors, for example, increasing concerns regarding workers' safety together with strict government protocols, sturdy rise in demand for protective wear from many end-user industries, and huge investments in R&D activities.
Advances in technology for single-use hazmat suits have seen significant improvements in recent years; fabrics used for making hazmat suits are stronger, lighter, and more resistant to an extremely broad range of hazardous chemicals and other substances. The latest disposable suits are quite lighter in weight than their reusable counterparts, resulting in significantly lower physical stress for the wearer. Moreover, the thinner fabrics also improve sound transmission through the suit, improving communication and situational awareness. Such advancements are expected to boost the growth of the global hazmat suits market during the forecast period.
Hazmat Suits Market

---
By Region
Asia-Pacific would exhibit the highest CAGR of 9.5% during 2021-2030.
COVID-19 Impact Analysis
The COVID-19 impact on the hazmat suits market is unpredictable and is expected to remain in force till the fourth quarter of 2021.
The COVID-19 outbreak forced governments across the globe to implement strict lockdowns and banned/restricted the number of personnel in the factories for most of 2020. This led to sudden fall in demand for protective equipment and hampered the development of advanced hazmat suits.
Moreover, nationwide lockdowns forced protective equipment manufacturing facilities to partially or completely shut their operations.
Adverse impacts of the COVID-19 pandemic have resulted in delays in activities and initiatives regarding development of advanced safety suits globally.
Key Benefits For Stakeholders
This study presents analytical depiction of the global hazmat suits market analysis along with current trends and future estimations to depict imminent investment pockets.
The overall hazmat suits market opportunity is determined by understanding profitable trends to gain a stronger foothold.
The report presents information related to key drivers, restraints, and opportunities of the global hazmat suits market with a detailed impact analysis.
The current hazmat suits market is quantitatively analyzed from 2020 to 2030 to benchmark the financial competency.
Porter's five forces analysis illustrates the potency of the buyers and suppliers in the industry.
Key Market Segments
By Application
Chemical Waste
Infection Control & Biohazard
Hazardous Materials
Others
By Safety Standard
Level A
Level B
Level C
Others
By End-Use
Oil & Gas
Mining & Metallurgy
Construction
Manufacturing
Healthcare
Others
By Region
North America
Europe

Germany
UK
France
Russia
Rest of Europe

Asia-Pacific

China
Japan
India
South Korea
Rest of Asia Pacific

LAMEA

Latin America
Middle East
Africa
KEY PLAYERS
3M Company
Alpha Pro Tech, Ltd.
Drägerwerk AG & Co. KGaA
Dupont DE Nemours, Inc.
Honeywell International Inc.
Kappler, Inc.
Kimberly-Clark Corporation
Lakeland Industries Inc.
MATISEC
MSA Safety Incorporated
 Hazmat Suits Market Report Highlights
Aspects
Details
By Application

Chemical Waste
Infection Control & Biohazard
Hazardous Materials
Others

By Safety Standard

Level A
Level B
Level C
Others

By End-Use

Oil & Gas
Mining & Metallurgy
Construction
Manufacturing
Healthcare
Others

By Region

North America (U.S., Canada, Mexico)
Europe (France, Germany, Italy, Spain, UK, Russia, Rest of Europe)
Asia-Pacific (China, Japan, India, South Korea, Australia, Thailand, Malaysia, Indonesia, Rest of Asia-Pacific)
LAMEA (Brazil, South Africa, Saudi Arabia, UAE, Argentina, Rest of LAMEA)

Key Market Players
DUPONT DE NEMOURS, INC., LAKELAND INDUSTRIES, INC., MATISEC, MSA SAFETY INCORPORATED, DRÄGERWERK AG & CO. KGAA, 3M Company, HONEYWELL INTERATIONAL INC., ALPHA PRO TECH, LTD., Kappler, Inc., KIMBERLY-CLARK CORPORATION