HDMI Cable Market Outlook - 2026
The global HDMI cable market was valued at $2.47 billion in 2018, and is projected to reach $3.87 billion by 2026, registering a CAGR of 4.5% from 2019 to 2026. The growth of the HDMI cable market is driven by factors such as surge in usage of audio/video devices and increase in demand for 4K UHD televisions. However, high installation cost and limited physical availability for devices limit the HDMI cable market growth. 
Furthermore, advancement in HDMI cable for higher bandwidth application coupled with display technology and enhancement of multimedia and entertainment industry in emerging economies offers lucrative opportunities leading to HDMI cable market growth.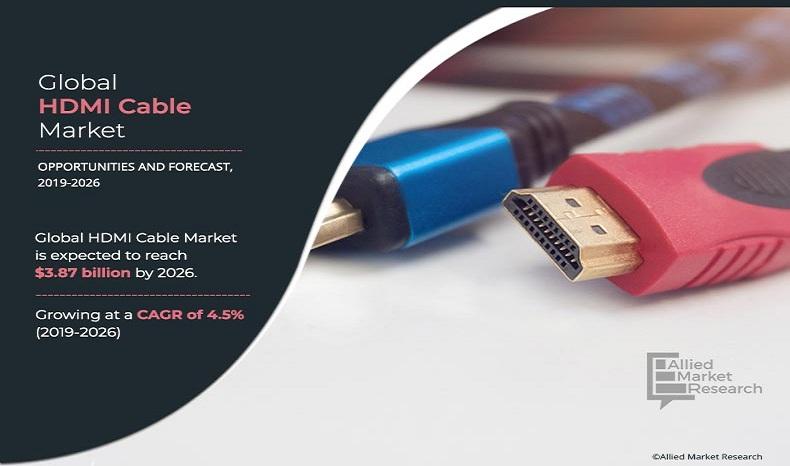 High Definition Multimedia Interface (HDMI) are used in display controllers, computer monitor, digital television, and others. HDMI cable is used to establish transmission lines with copper cables for transmitting data and compressed or uncompressed digital audio data from an HDMI-compliant source device. 
HDMI combines video and audio interfaces into one connection, which simplifies the installation process of a home-entertainment systems. HDMI cables are used for gaming purpose for their higher bandwidth and data transfer rate. Further, the increased adoption of multimedia equipment in household is expected to boost the demand for HDMI cables.
Currently, HDMI cable industry version 2.0a and version 2.0b are majorly used in the market and hold significant market share. HDMI cable version 2.1 is expected to witness considerable growth during the forecast period. This is attributed to the advancement of HDMI cable, which is version 2.1 that provides better bandwidth up to 48Gbps and can carry resolutions up to 10K. 
Therefore, the advancement of HDMI cables with the innovation of multimedia technology is expected to increase its demand in the global market. In addition, the emergence of multimedia and entertainment industry across the globe, providing regional languages, promotes higher cable network subscription in the HDMI cable market. This ultimately drives the market, as network cable connection requires the use of HDMI cables.
The HDMI cables are widely used in various residential and commercial applications, where reliability of the connection is of pivotal importance. In the commercial sector, HDMI cables are used for better viewing application on large displays. The emergence of wireless technology did not impact the sale of HDMI cables in the commercial sector due to its higher reliability.
HDMI Cable Market

---
By Type
High Speed HDMI Cable segment is projected to be the most lucrative segment
Segmentation
The HDMI cable market is segmented on the basis of type, grade, application and region. On the basis of type, the market is bifurcated into standard HDMI cable and high speed HDMI cable. These cable types are sub-segmented into standard HDMI cable with ethernet and standard HDMI cable without ethernet; and high speed HDMI cable with ethernet and high speed HDMI cable without ethernet. Grade covered in the study include HDMI 1.4, HDMI 2.0, and HDMI 2.1. 
HDMI Cable Market

---
By Application
Gaming Console segment holds a dominat position in 2018 and would grow at a highest CAGR of 6.0% during 2019 - 2026
Application includes gaming Console, TV, mobile phone, automotive system, personal computer & tablet. By region, the market is analyzed across North America, Europe, Asia-Pacific, and LAMEA. 
HDMI Cable Market

---
By Geography
Asia-Pacific region secured a leading position throughout the forecast period with a highest CAGR of 6.1%
Top Impacting Factors
Surge in usage of audio/video devices, increase in demand for UKUHD televisions, advancement in HDMI cable for higher bandwidth applications coupled with display technology, enhancement of multimedia and entertainment industry in emerging economies and high installation cost and limited physical availability for devices either fuel or hamper the market growth.
Surge in Usage of Audio/Video Devices    
There has been a rise in adoption of audio video multimedia electronics, which have ports for HDMI for connections. The latest technologies such as IoT and AI has catalyzed the demand for audio video devices such as home theater system, which offers HDMI ports. 
For instance, home theater systems integrated with artificial intelligence software such as Alexa, Google Assistant, and others provides in-built intelligence and offers convenience to consumers. This is expected to drive the demand for HDMI cables in residential sector during forecast period. 
Furthermore, the multimedia devices such as DVD players and music system provide ports for connection to the video panels and vice versa, which increases the demand for HDMI cables. For instance, lifetime 650 Home Entertainment System by Bose that uses speaker cables, and HDMI cables for AV I/O support.
High Installation Cost and Limited Physical Availability for Devices
Copper cables require proper installation and various connectors and switches for connecting several devices. This process increases the overall installation cost of the system. In addition, the copper cable connection facilities are dependent on the length of cable and do not support all sorts of portable devices. These factors limit the market growth. However, various technological advancements are expected to minimize the effect of these factors. 
Advancement in HDMI Cable for Higher Bandwidth Applications Coupled with Display Technology
The most commonly used HDMI version is HDMI 2.0a and HDMI 2.0b. The ports are a higher variant of HDMI 2.0, which offers advanced display technology called High Dynamic Range. Further, the announcement of HDMI 2.1 version is expected to foster the market growth of HDMI cables due to their high capability of data transfer rate and providence of improved bandwidth in comparison to the currently used versions. HDMI 2.1 provides refresh rates that supports resolutions up to 10K and improved bandwidth up to 48Gbps. 
Competitive Analysis
The key players in the HDMI cable industry ecosystem include Amphenol Corporation, Panasonic Corporation, Koninklijke Philips N.V., Foxconn Technology Group, Sony Corporation, Hitachi Ltd., Molex, LLC,Nordost, Ce-Link, and Kramer Electronics Ltd. These key players have adopted strategies, such as product portfolio expansion, mergers & acquisitions, agreements, geographical expansion, and collaborations, to enhance their market penetration.
Key Benefits for Stakeholders:
This study includes the analytical depiction of the global HDMI Cable market share along with the current trends and future estimations to determine the imminent investment pockets.
The HDMI Cable market size is determined to understand the profitable trends to gain a stronger foothold.
The report presents information related to key drivers, restraints, and opportunities with a detailed impact on the HDMI cable market analysis.
The current HDMI Cable market forecast is quantitatively analyzed from 2018 to 2026 to benchmark the financial competency.
Porter's five forces analysis illustrates the potency of the buyers and suppliers in the market.
The report includes the share of key vendors and HDMI Cable market trends.
 HDMI Cable Market Report Highlights
Aspects
Details
By Type

Standard HDMI Cable
High Speed HDMI Cable

By Grade

HDMI 1.4
HDMI 2.0
HDMI 2.1

By Application

Gaming Consoles
TVs
Mobile Phones
Automotive Systems
Personal computers & Tablets

By Region

North America (U.S., Canada, Mexico)
Europe (Germany, France, Italy, UK, Rest of Europe)
Asia-Pacific (Japan, China, South Korea, India, Rest of Asia-Pacific)
LAMEA (Latin America, Middle East, Africa)

Key Market Players
Amphenol Corporation, Ce-Link, FOXCONN TECHNOLOGY GROUP (Belkin), HITACHI, LTD., Koninklijke Philips N.V., Kramer Electronics LTD, Molex, LLC, Nordost, PANASONIC CORPORATION, SONY CORPORATION