Healthcare decision makers all over often face the situation wherein they need to select therapeutic interventions from multiple treatment options, including biopharmaceuticals, medical devices and healthcare services considering the benefits and costs of these products, which can range dramatically depending on type of treatment and the benefits can be economic, clinical or both and may also include hard to measure benefits, the patient experiences directly. It is the application of principles of economics, in healthcare to prioritize the needs of the public based on cost effectiveness of treatment. Health economics and outcomes research (HEOR) aids healthcare decision makers including clinicians, governments, payers, health ministries, patients to adequately compare and choose among the best possible option for treatment. HEOR can be any function within pharmaceutical, biologics, healthcare and life science companies, to whom the responsibility of assessing the value of new drugs for reimbursement agencies and local health care payers is assigned. Health economics (HOER) uses clinical and economic evidence to determine the value of drugs, and looks at the factors that can affect this value, which are majorly the current healthcare climate and the patient.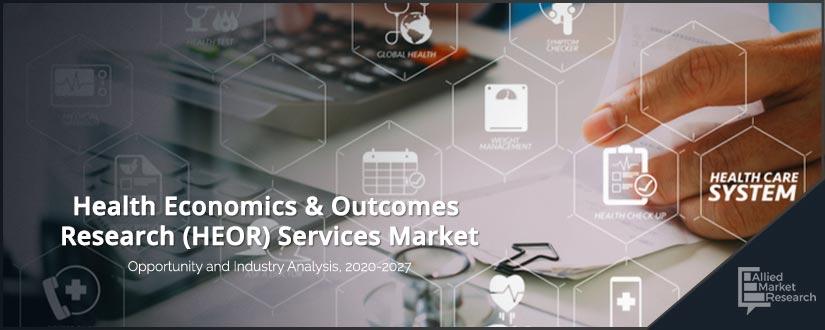 COVID – 19 scenario analysis:  
Economies across the globe are struggling amidst COVID – 19 pandemic, as the governments have imposed travel restrictions and lockdowns
Many of the industrial sectors are struggling as they're closed
However, Health Economics & Outcomes Research (HEOR) can be of a great help in times like COVID – 19 
Pharmaceutical  and biotech majors, across the globe are investing, pouring funds for R&D activities and are engaged in search for innovating a vaccine or a therapeutic treatment in order to prevent, resist or cure the people suffering from novel coronavirus
HEOR can play a big role in this scenario, as it can help the pharmaceutical and biologics firms to evaluate their spending on the upcoming product or treatment
It would also play a lead role in helping the government officials is decision making related to which treatment to go for, considering effectiveness and affordability the prime factors 
Top impacting factors: Market Scenario Analysis, Trends, Drivers and Impact Analysis
Burdened by limited resources, the decision makers face the dilemma of balancing the healthcare needs of a few patients with the healthcare needs of the larger society. At a higher level, a similar dilemma is faced by a hospital, government or pharma company, when an introduction of a new drug. The doctors, government is interested in knowing significance of the drug to the patient also considering affordability. HEOR comes into picture here and helps the decision makers optimize the resources in health and make a better decision. Factors like increasing prevalence of chronic diseases, growing burden on the healthcare, pharma and biotech industries are heavily funding R&D activities for development of new drugs, therapeutic procedures and clinical trials for the better health, increasing spending on drugs on payer's healthcare budget are major hurdle in several regions. Henceforth, focus of health economics and outcomes research service providers on providing optimal health outcomes for patients from an affordable perspective will increase its demand over the period of time, thereby facilitating the overall industry growth. However, lack of trained professionals in developing and underdeveloped countries to carry on such type of research is the major factor limiting the health economics and outcomes research (HOER) services market growth.
Booming pharmaceutical industry, upsurge of new drugs and increasing clinical trials to fuel the market growth
The global pharmaceutical market from $ 100 billion in 2017, is expected to reach $ 1.5trillion by 2023. Tremendous growth in the pharma industry has led to immense competition among pharma companies and as a result many drugs belonging to the same class have been made available to the prescriber. Different brands of the same drug are often at the offering end of the prescriber. This brings in confusion as to which brand should be chosen. According to the National Institute of Health, in 2018, the U.S. government invested $ 13,870 million in clinical research and $ 5,207 million in clinical trials and related activities. Along with new drugs development, number of clinical trials is also conducted is also increasing drastically which is essential to support the drug developments. 
HEOR plays a vital role for the pharmaceutical industry by providing inputs for fixing the price of a new drug, and for re-fixing the price of an existing drug in the context of another similar drug of a rival pharmaceutical industry entering the market. Hence the market growth of health economics and outcome research would take place with growing pharma sector.
Pharmaceutical companies preferring CROs for performing HEOR on their behalf
Contract research organizations involved in healthcare sector, generally hold expertise in a wide range of topics related to the industry and provide assistance to biotechnology, medical device and pharmaceutical companies in the form of research services outsourced on a contract basis. Several companies including IQVIA, ICON and Covance among others are involved in offering contract-based research services in healthcare. Rising demand for secured services including clinical and preclinical testing as well as expertise in regulatory affairs will enhance the overall market growth.  Use of healthcare IT and analytic tools allow these CROs to align across diverse platforms which will further increase the need for HEOR services in payer decision making, thus proving beneficial for the health economics and outcomes research (HOER) services market growth. Recently, ICON introduced advanced virtual patient engagement platform to support enrollment in clinical trials and get reviews. It provides patients with connectivity and study specific data.
Key benefits of the report:
This study presents the analytical depiction of the global health economics and outcomes research (HOER) services industry along with the current trends and future estimations to determine the imminent investment pockets.
The report presents information related to key drivers, restraints, and opportunities along with detailed analysis of the global health economics and outcomes research (HOER) services market share.
The current market is quantitatively analysed to highlight the global health economics and outcomes research (HOER) services market growth scenario.
Porter's five forces analysis illustrates the potency of buyers & suppliers in the health economics and outcomes research (HOER) services market.
The report provides a detailed global health economics and outcomes research (HOER) services market analysis based on competitive intensity and how the competition will take shape in coming years.
Questions answered in the Health Economics and Outcomes Research (HOER) Services Market research report:
Who are the leading market players active in the health economics and outcomes research (HOER) services market?
What are the current trends that will influence the market in the next few years?
What are the driving factors, restraints, and opportunities in the market?
What are the projections for the future that will help in taking further strategic steps?
 Health Economics And Outcomes Research (Heor) Services Market Report Highlights
Aspects
Details
By Service Type

Real World Data Analysis and Information Systems
Market Access Solutions and Reimbursement
Others

By Service Provider

Contract research organizations (CROs)
Consultancies

By End User

Healthcare payers
Pharma and Biotech companies
Others

By Region

North America (US, Canada, Mexico)
Europe (France, Germany, UK, Italy, Spain, rest of Europe)
Asia-Pacific (Japan, China, India, Australia, South Korea, rest of Asia-Pacific)
LAMEA (Brazil, South Arabia, South Africa, rest of LAMEA)