Healthcare Biometrics Market Research, 2031
The global healthcare biometrics market size was valued at $5.2 billion in 2021, and is projected to reach $24.9 billion by 2031, growing at a CAGR of 17.4% from 2022 to 2031. Biometrics are used in doctors' offices, hospitals, and other healthcare settings to ensure accurate patient identification and patient monitoring. Access control and patient record storage are two examples of applications. Biometrics can be used for patient monitoring outside of traditional healthcare settings, and biometrics are also being used to develop applications such as electronic prescriptions and remote diagnosis.
Covid-19 will have a long-term and significant impact on biometrics companies, developers, investors, and customers. According to the study "Impact of Covid-19 on Biometrics," published in April 2020, the most immediate effect of Covid-19 is that contactless technologies like face and iris recognition are now being compelled to respond to the emerging threat. Biometric artificial intelligence (AI) and machine learning (ML) algorithms are being developed to unprecedented levels in order to improve government protection, monitoring, and screening capabilities. Companies must avoid using palm print, fingerprint, and hand-key scanners to avoid physical contact and virus transmission. These actions lay the groundwork for facial recognition technology and user-friendly iris scanning, which could be used in a variety of settings.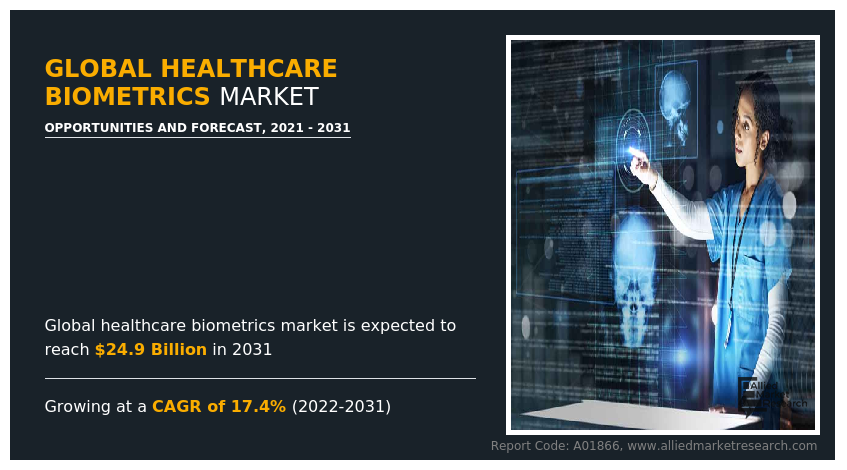 Rising healthcare IT application combined with increasing awareness and demand for cyber security and biometric development catering to healthcare facilities are the major driving factors contributing to the healthcare biometrics market growth. In addition, the government takes steps to enact a number of laws to ensure hospital security. Today, any health industry must meet stringent security requirements. Another market motivator is government support. The use of biometrics is required in critical hospital rooms. Government support to improve security is causing positive market changes. Fraud and data threats are significantly reduced as a result of these initiatives. These critical drivers will boost the revenue rates of the healthcare biometrics market size.
The cost of the healthcare biometric system is significant, requiring additional investment on the part of hospital and clinic management. As a result, patients face higher treatment costs, increasing the overall cost of the healthcare system. This proves to be a stifling factor in the market's growth. When using a biometric scanner, a number of issues arise that are difficult to resolve by a human operator. Errors in presenting the individual information to the system result in an error in the final result, causing the user discomfort.
The healthcare biometrics industry players are investing a lot of effort on the research and development of smart and unique strategies to sustain their growth in the market. These strategies include product launches, mergers & acquisitions, collaborations, partnerships, and refurbishing of existing technology. In March 2022, BioIntelliSense had announced the release of its medical-grade BioButton Rechargeable wearable device. The new BioButton Rechargeable device can monitor a wide range of 20+ vital signs and physiologic biometrics continuously for up to 30 days on a single charge, depending on configuration. In August 2021, RAIsonance, Inc., an artificial intelligence/machine learning (AI/ML)-based technology company, announced the launch of a new product, SoundPass. SoundPass is a non-medical, biometric tool using multi-factor authentication (MFA) for establishing and maintaining a bubble of perimeter security around the premises or a group of people.
The key players profiled in this report include Zotero, NEC CORPORATION, Crossmatch Technologies, Fujitsu Limited, Bio-Key International, 3M Cogent, Inc., Suprema Inc., IDEMIA (Morpho), Imprivata, Inc., and Integrated Biometrics.
The global healthcare biometrics market is segmented on the basis of technology, application, end-user, and region. According to technology, the market is sub-segmented into fingerprint recognition, face recognition, voice recognition, vein recognition, iris recognition, hand recognition, and others. By application, the market is sub-segmented into medical record and data center security, patient identification and tracking, care provider authentication, home/remote patient monitoring, and others. As per end-user, the market is classified into hospitals, clinics, clinical laboratories, and healthcare institutions. Region wise, the market is analyzed across North America, Europe, Asia-Pacific, and LAMEA.
The global healthcare biometrics market is segmented into Technology, Application and End-User.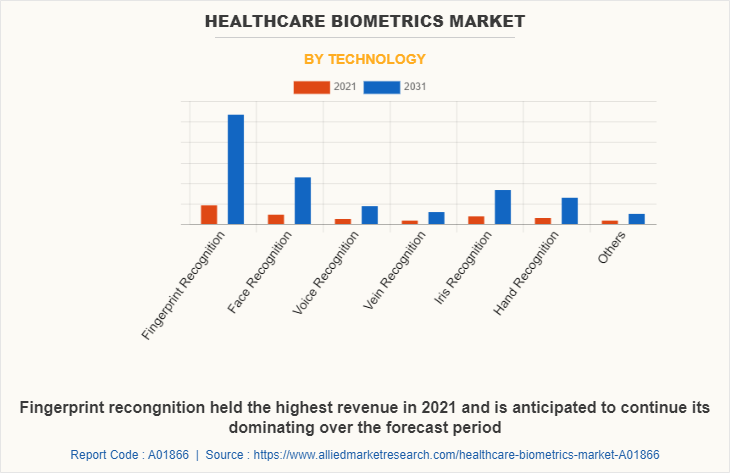 By technology, the fingerprint recognition sub-segment dominated the market in 2021. Due to higher reliability and ease of access, the fingerprint identification market has the largest share. The system is more secure thanks to DNA recognition, which is expected to increase demand for biometrics systems in the healthcare sector. The fingerprint recognition pattern is the most widely used biometric system in the world, and it is gaining traction in the small-scale industry as well. These are predicted to be the major factors affecting the healthcare biometrics market size during the forecast period too.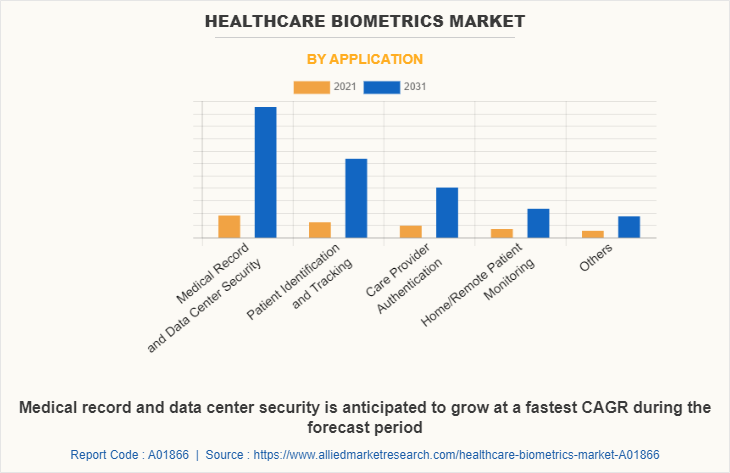 By application, the medical record and data center security sub-segment dominated the global healthcare biometrics market share in 2021 owing to stringent government regulations such as Health Information Technology for Economic and Clinical Health (HITECH), which work to keep patient information private. Furthermore, rising adoption of Electronic Health Record (EHR) by medical centers is expected to drive market growth. The importance of data security in healthcare extends to any location where data may be used or accessed, including the endpoint. Any device that can access, process, or store PHI is considered an endpoint, and this includes mobile devices, tablets, laptops, desktop devices, and connected devices such as printers.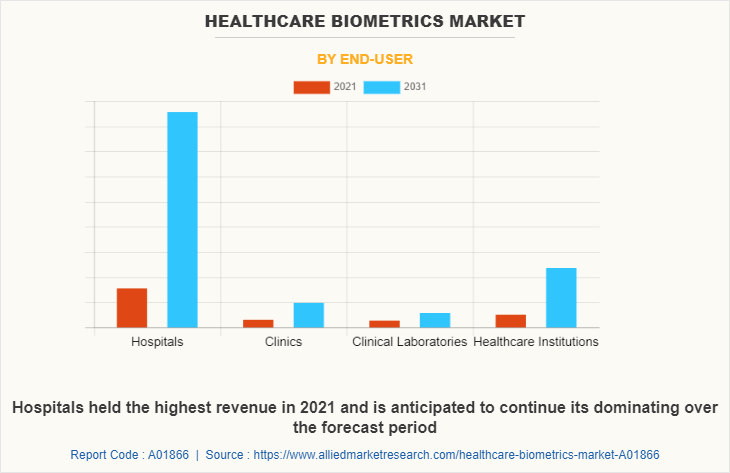 By end user, the hospitals sub-segment dominated the global healthcare biometrics market share in 2021. Hospitals use advanced technology on a large scale to eliminate the large crowds that tend to visit this setup while accompanying the patients. Because it is extremely difficult for medical staff to operate when there is too much chaos, the healthcare biometric system assists in authenticating people's entry by allowing only eligible people into the main premises of hospitals.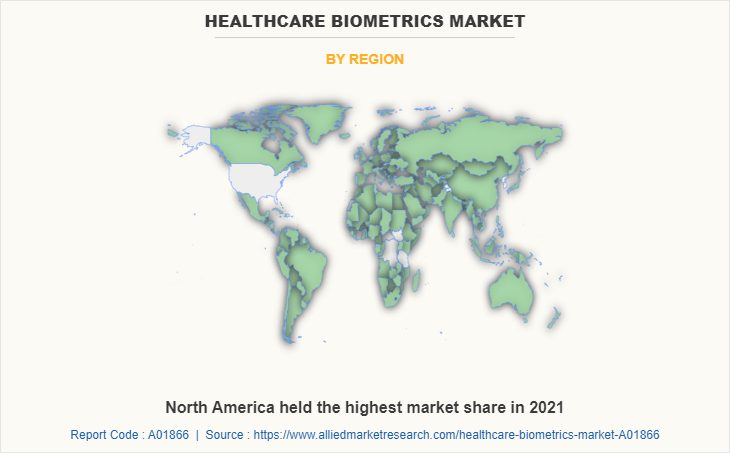 By region, North America dominated the global market in 2021 and is projected to remain the fastest-growing sub-segment during the healthcare biometrics market forecast period because of the high number of frauds and crimes in the healthcare sector. The prevalence of fraudulent activities is expected to accelerate the adoption of these technologically advanced biometric systems for collecting patient and registration data. Furthermore, the establishment of new healthcare facilities such as hospitals and clinics may serve as a primary driving force for the region's growth in this market.
Impact of COVID-19 on the Global Healthcare Biometric Industry
COVID-19 had a positive market impact. Biometrics, artificial intelligence (AI), and machine learning were critical in responding to the pandemic. Biometric systems have been integrated and adopted as critical tools for COVID-19 early detection, medical screening, and public safety monitoring around the world.
In key areas such as law enforcement, surveillance, healthcare, border control, and biotechnologies, biometrics have been integrated into infectious disease prevention and control procedures.
According to healthcare biometrics industry analysts, touchless biometric identification technologies such as face recognition and iris recognition will gain traction during the COVID-19 pandemic. To combat the spread of COVID-19, law enforcement, government agencies, and other organisations switched from touch-based biometric authentication to touchless biometric authentication solutions.
Key Benefits For Stakeholders
This report provides a quantitative analysis of the market segments, current trends, estimations, and dynamics of the global healthcare biometrics market analysis from 2021 to 2031 to identify the prevailing global healthcare biometrics market opportunity.
The market research is offered along with information related to key drivers, restraints, and opportunities.
Porter's five forces analysis highlights the potency of buyers and suppliers to enable stakeholders make profit-oriented business decisions and strengthen their supplier-buyer network.
In-depth analysis of the global healthcare biometrics market segmentation assists to determine the prevailing market opportunities.
Major countries in each region are mapped according to their revenue contribution to the global market.
Market player positioning facilitates benchmarking and provides a clear understanding of the present position of the market players.
The report includes the analysis of the regional as well as global global healthcare biometrics market trends, key players, market segments, application areas, and market growth strategies.
 Healthcare Biometrics Market Report Highlights
Aspects
Details
Market Size By 2031
USD 24.9 billion
Growth Rate
CAGR of 17.4%
Forecast period
2021 - 2031
Report Pages
280
By Technology

Fingerprint Recognition
Face Recognition
Voice Recognition
Vein Recognition
Iris Recognition
Hand Recognition
Others

By Application

Patient Identification and Tracking
Care Provider Authentication
Home/Remote Patient Monitoring
Others
Medical Record and Data Center Security

By End-User

Hospitals
Clinics
Clinical Laboratories
Healthcare Institutions

By Region

North America (U.S., Canada, Mexico)
Europe (Germany, UK, France, Spain, Italy, Rest of Europe)
Asia-Pacific (China, Japan, India, South Korea, Australia, Rest of Asia-Pacific)
LAMEA (Brazil, South Arabia, UAE, South Africa, Rest of LAMEA)

Key Market Players
Bio-Key International, Zotero, Imprivata, Inc., 3M Cogent, Inc, Suprema Inc, IDEMIA (Morpho), NEC CORPORATION, Crossmatch Technologies, Integrated Biometrics, Fujitsu Limited