Healthcare CRM Market Outlook – 2030
The global healthcare CRM market size was $9,715.2 Million in 2020, and is expected to reach $37,624.0 Million by 2030, registering a CAGR of 14.1% from 2021 to 2030. Healthcare customer relationship management provides a variety of services and tools that can improve and optimize communication between healthcare providers and patients. These tools include text messages, messaging services, online forms, comment forms, and emails. These tools and services are becoming more and more popular everywhere.
The COVID-19 outbreak had a positive impact on the growth of the global healthcare CRM industry owing to increased the awareness about healthcare systems, and efficient healthcare systems for patients.
Different healthcare organizations utilize these channels. These tools help to minimize manpower to achieve profitability, minimize risk of errors, and optimize overall communication channels. Sales force automation, marketing automation, and service automation are the features of healthcare customer relationship management system. Healthcare CRM software is used in hospitals, public clinic, private clinic, and research laboratories.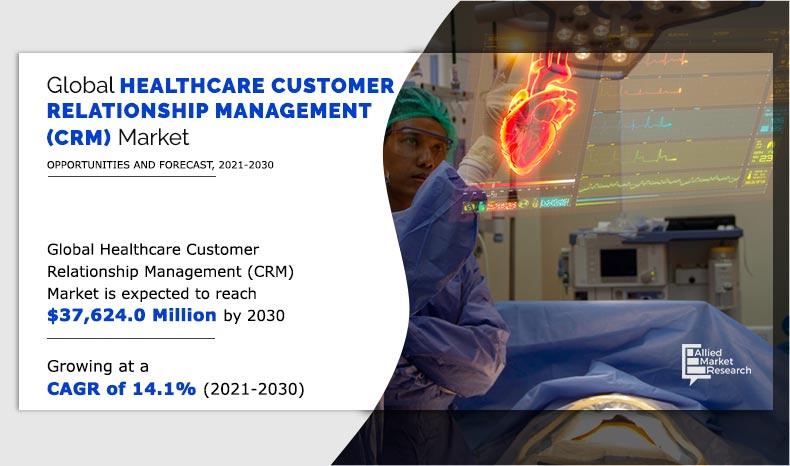 Rise in shift toward online product ordering, increase in demand for customer relationship management software among pharmaceutical companies, rapid digital transformation in developing countries such as the U.S., Germany, and France drives growth of the healthcare CRM market. In addition, rise in use of social media marketing of products drives growth of the healthcare CRM market.
Rise in demand from patients to get easy approach to treatments by mode of virtual patient care and rise in technological developments in reconstructing healthcare database, which is expected to drive growth of the healthcare CRM market. In addition, patients growing requirement for premature therapy with home care, digital care, portable surveillance, and disease monitoring systems drives growth of the healthcare CRM market. Growth in number of chronic diseases such as diabetes and cancer, which required immediate medicinal support and treatment, which is expected to rise in demand for healthcare products drives growth of the healthcare CRM market. For instance, in addition, according to the International TRADE organization, healthcare spending in both public and private hospital expenditure is expected to account for 5.9% of GDP in 2021 and 9.0% of GDP by 2029.
Major players such as Zoho Corporation Pvt Ltd., Cerner Corporation, and SAP SE are adopting acquisition and partnership as a key developmental strategy to improve product portfolio of healthcare CRM products. For instance, in April 2021, SAP SE and Siemens Digital Industries Software have announced an extension of their relationship, allowing both companies to provide new services and asset lifecycle solutions.
SAP Asset Intelligence Network, SAP Asset Strategy and Performance Management, and SAP Enterprise Portfolio and Project Management would all be available from Siemens. SAP is anticipated to offer an ecosystem that is equipped with integrated service engineering and asset operations to the Siemens Teamcenter software lifecycle service management (SLM) portfolio. Rise in spending on healthcare expenditure, which, in turn, rises adoption of healthcare CRM software for effective hospital management and services, drives the growth of the healthcare CRM market. For instance, according to the U.S. Government statistics, the healthcare expenditure in the U.S. grew by 4.6% from 2018 to 2019.
However, lack of security about privacy of customer information and high initial installation cost of this software restraints growth of the market globally. Furthermore, increase in adoption of bring your own device (BYOD) ecosystem, owing to surge in use of smartphone as well as high operational efficiency and less operational cost of healthcare CRM software is expected to create lucrative opportunity in the healthcare CRM market during the forecast period.
The healthcare customer relationship management market is segmented into component, deployment model, application, and region. By component, it is bifurcated into software and service. The software segment dominated the market. Depending on deployment mode, it is categorized into on-premise, cloud, and hybrid. The cloud segment dominated the market in 2020. On the basis application, it is divided into customer service & support, marketing, CRM analytics, and others. Customer service & support segment dominated the market in 2020. Based on end user, it is segmented into healthcare providers and healthcare payers. The healthcare providers segment generated the highest revenue in 2020.
 Region wise, the market is analyzed across North America, Europe, Asia-Pacific, and LAMEA. North America region dominates the market in 2020.
Competition Analysis
The key players profiled in the market report include Salesforce.Com Inc, Microsoft Corporation, Oracle Corporation, Pegasystems Inc, Sage Group Plc, SAP SE, SugarCRM, Zoho Corporation Pvt Ltd, Cerner Corporation, and Keona Health.
Major players are adopting product launch, acquisition, and collaboration to improve the product portfolio of healthcare CRM products. For instance, in 2020, Zoho Corporation Pvt. Ltd., announced launch of customer relationship management software for small and medium sized businesses. This software can be used in creation of multiple customer pipeline and receive customer calls remotely.
Key Benefits for Stakeholders:
The report provides an extensive analysis of the current and emerging global healthcare CRM market trends and dynamics. 
In-depth market analysis is conducted by the healthcare CRM market estimations for the key market segments between 2020 and 2030.
Extensive analysis of the healthcare CRM market is conducted by following key product positioning and monitoring of the top competitors within the market framework.
A comprehensive analysis of all the regions is provided to determine the prevailing opportunities.
The global healthcare CRM market forecast analysis from 2021 to 2030 is included in the report.
The key market players within market are profiled in this report and their strategies are analyzed thoroughly, which help understand the competitive outlook of the global healthcare CRM market.
Global Healthcare CRM Market Segments
By Component
By Application
Customer Service & Support
Marketing
CRM Analytics
Others
By Deployment Model
By End User
Healthcare Providers

Hospitals
Ambulatory Care Centers
Diagnostics & Imaging Centers
Pharmacies
Others

Healthcare Payers

Private Payers
Public Payers
By Region
North America
Europe

Germany
Spain
UK
France
Rest of Europe

Asia-Pacific

China
Japan
India
South Korea
Rest of Asia-Pacific

LAMEA

Latin America
Middle East
 Africa
Key Players
Salesforce.Com Inc
 Microsoft Corporation
Oracle Corporation
Pegasystems Inc
Sage Group Plc
SAP SE
SugarCRM
Zoho Corporation Pvt Ltd
Cerner Corporation
Keona Health.