Global hearing amplifiers market was valued at $80.66 million in 2020, and is projected to reach $123.81 million by 2030, registering a CAGR of 4.5% from 2021 to 2030. Hearing loss is a common ailment often observed in older adults and has shown increasing rate, with onset of symptoms reported even in patients from age 40 and above. Hearing loss can occur owing to numerous pathological conditions. Ongoing researches also show a resemblance regarding age-related hearing loss and its contribution to development of risk of cognitive declines, physical dysfunctioning, rising incidences of hospitalization, poor quality of life and even mortality.
The pandemic creating barriers for hospital patients who are facing hearing disorders. Use of mask during the pandemic has increased, which thereafter made it harder for people who rely on lip-reading and facial expressions to communicate. Therefore, the
Hearing amplifier also called as Personal Sound Amplification Devices (PSAP) are helpful in such situations as these devices aid are a part of hearing aid which amplifies the sound for better hearing purpose in patients with hearing ailments. Hearing amplifiers increase the strength of incoming signals and deliver them to the ear with the help of speakers. These devices are over-the-counter (OTC) products, however professional expertise is required for fittings. PSAPs come in various customizations and variations in cost, output values, computerized algorithms, weight, microphones and customizable audio according to client's needs.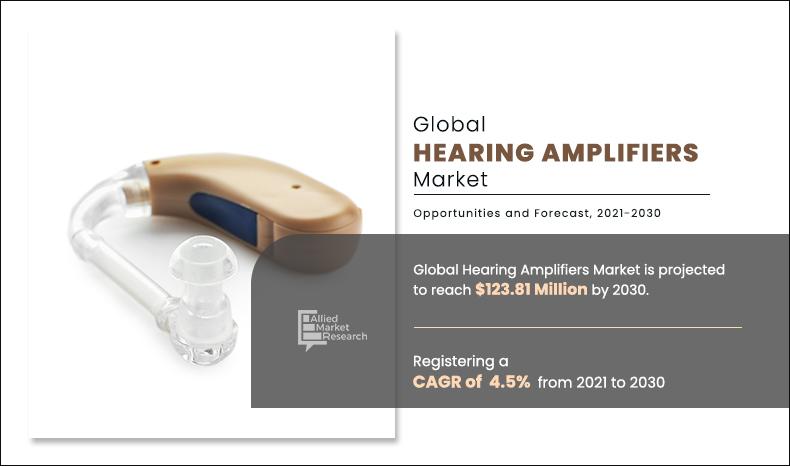 Growing incidences of hearing ailments along with high costs related to hearing aids devices and lack of insurance coverage for hearing ailment treatments by medical insurance companies are the key drivers for hearing amplifiers market growth. Patients suffering from hearing impairments prefer hearing amplifiers or PSAPs over hearing aids devices owing to cost difference as hearing aids cost a hefty monetary value.
Hearing amplifiers or PSAPs are direct-to-consumer products sold as electronic devices designed to increase the incoming sound intensity in various recreational environment The National Institute on Deafness and other Communication Disorders (NIDCD) highlighted around 324,200 cochlear implants have been reported globally. Further studies also showcased approximately 15% of the U.S. citizens that is 26 million people between the age group of 20 and 69 years have reported hearing impairments owing to exposure to high intensity sounds and loud noise at workplace or during recreational activities. Rise in geriatric population, correlation between rising age and higher prevalence in hearing impairments, heavy funding to research and development activities are the prime factors propelling the growth for hearing amplifiers market.
As per studies published by a freelance research group, 28.6 million Americans were reportedly suffering from an auditory disorder in the year 2000. Innovative solutions to address hearing impairments would also play a pivotal role in the development of the hearing amplifiers market. Thus growing hearing impairments would surge the demand for hearing amplifiers in the market.
Rising geriatric population, increasing incidences of hearing impairments creating a patient pool, availability of affordable hearing amplifiers are the factors contributing to the market growth. The advancements in the medical field and reduction in the cost of treatments along with use of various customizable hearing amplifier devices as per consumer needs would further surge the demand for these devices in the market.
Adults in age group of 70 years and above that is 30 million Americans have reported for significant hearing loss. Recent customizations in hearing amplifiers owing to elder population consumer base improve hearing and makes sound louder and more audible by reducing disturbing external voices. WHO stated that globally approximately 466 million people in 2018, had hearing loss and majority of these people fall in the age group of 50 years and above. Therefore, increasing geriatric population would contribute to rise in the market for hearing amplifiers.
Recent developments in hearing amplifiers have enabled several user friendly features providing innovative solutions and better applicability. For example, recent advents have enabled smart phone connectivity that permits user to have better conversations over phone calls and also keeps a track of cognitive hearing and mental health. Furthermore, this technology also provides sound isolation by eliminating unwanted sounds and provides a better experience to the consumer.
Sound World Solutions launched CS10, a hearing solution integrated with Bluetooth and iPhone platform, designed to enhance and increase the sound intensity for hearing impaired consumers via its customization mobile app. It aims to offer better listening experience in various situations such as during business meetings, family gatherings, phone calls and watching entertainment. Thus, technological advancements in the hearing amplifiers industry will escalate the growth in the near future.
However, social stigma associated with the use of hearing amplifiers can potentially impede the growth for this market over the coming years.
Hearing Amplifiers Market

---
By Product
Behind-the-ear segment dominated the market in 2020 and would continue to maintain the lead over the forecast period.
This pandemic of coronavirus has negatively impacted the global hearing amplifiers market. In the emergency of COVID-19, people are defending themselves by social distancing, wearing masks and washing their hands regularly. According to a new study conducted by Hearing Health Foundation, more than 87% of the people who have hearing disorders are facing difficulty in communication. These factors are creating more difficulties for people with hearing loss, which is predicted to restrain the demand for hearing amplifiers during the pandemic period. Moreover, due to the COVID-19 outbreak, the elective procedures outside the U.S. were also postponed in several countries. Covid-19 negatively impacted the hearing amplifiers market as well. The pandemic creating barriers for hospital patients who are facing hearing disorders. Use of mask during the pandemic has increased, which thereafter made it harder for people who rely on lip-reading and facial expressions to communicate. Due to social distancing, many hospitals have restricted interpreters and visitors, and they are instead offering patients' video conferencing with hearing aids to overcome the limitations of the market growth.
Hearing Amplifiers Market Segmentation
The hearing amplifiers market is segmented on the basis of product, type, distribution channel and region. By product, the market is classified into behind-the-ear, and in-the-ear. The type segment is further classified based on analog hearing aids and digital hearing aids. The distribution channel segment is segmented into Hospital pharmacies, online pharmacies, and others. By region, the hearing amplifiers market is analyzed across North America, Europe, Asia-Pacific, and LAMEA.
Hearing Amplifiers Market

---
By Type
Analog Hearing Amplifiers segment held a dominant position in 2020.
Segment review 
By product, the behind-the-ear segment currently dominates the global hearing amplifiers market and is expected to continue during the forecast period owing to advanced features of behind-the-ear hearing amplifiers and the continuous advances in the product.
By type, the analog hearing devices segment dominated the global hearing amplifiers market in 2020. This is attributed to rising awareness, increasing geriatric population, and awareness of the availability of treatment options. 
By distribution channel, the hospital pharmacies segment dominated the global hearing amplifiers market in 2020 and is anticipated to continue this trend during the forecast period owing to favorable healthcare reimbursement for hearing implantation and the increased penetration of hearing amplifiers. 
Hearing Amplifiers Market

---
By Distribution Channel
Hospital Pharmacies segment held a dominant position in 2020.
Region segment review
Region wise, North America dominated the market in 2020, owing to growing geriatric population and increasing cases of deafness occurrence in this region. However, Asia-Pacific is expected to register rising geriatric population, growing number of patients suffering from hearing loss, and rising disposable income of this region.
The key players in the hearing amplifiers market have adopted product launch as one of their key developmental strategies such as collaboration and acquisition. The major companies profiled in this report include Beurer GmbH, Etymotic Research, Inc., Innerscope Hearing Technologies, Inc., IntriCon Corporation, Sound World Solutions, Otofonix Hearing Solutions, MD Hearing Aid, Cochlear Limited, Eargo, Inc., and Starkey Hearing Technologies.
Hearing Amplifiers Market

---
By Region
Asia- Pacific region would exhibit the fastest CAGR of 7.00% during the forecast period.
Key Benefits For Stakeholders:
The study provides an in-depth analysis of the global hearing amplifiers market along with the current trends and future estimations to explain the imminent investment pockets.
A comprehensive analysis of the factors that drive and restrict the hearing amplifiers market growth is provided in the report.
Comprehensive quantitative analysis of the industry from 2020 to 2030 is provided to enable the stakeholders to capitalize on the prevailing hearing amplifiers market opportunities.
Extensive analysis of the key segments of the industry helps to understand the application and products of hearing amplifiers used across the globe.
Key market players and their strategies have been analyzed to understand the competitive outlook of the hearing amplifiers market.
 Hearing Amplifiers Market Report Highlights
Aspects
Details
By Product

Behind-the-ear
In-the-ear

By Type

Analog Hearing Aids
Digital Hearing Aids

By Distribution Channel

Hospital Pharmacies
Online Pharmacies
Others

By Region

North America (U.S., Canada, Mexico)
Europe (Germany, France, UK, Italy, Spain, Rest of Europe)
Asia-Pacific (Japan, China, Australia, India, Rest of Asia-Pacific)
LAMEA (Brazil, Saudi Arabia, South Africa, Rest of LAMEA)

List of key players profiled in the report:

Beurer GmbH
Etymotic Research, Inc.
Innerscope Hearing Technologies, Inc.
IntriCon Corporation, Sound World Solutions
Otofonix Hearing Solutions
MD Hearing Aid
Cochlear Limited
Eargo, Inc.
Starkey Hearing Technologies