A heart transplant is a surgery done to treat most serious cases of heart diseases. It is a treatment option for patients who are on the verge of heart failure and is often needed when lifestyle changes, medications, and less invasive procedures have not succeeded. Heart transplant surgery usually lasts for four hours during which a patient is placed on a heart-lung machine that keeps blood circulating in the body. Surgeon removes patient's heart, leaving back wall of the left atrium and pulmonary vein opening intact. This helps prepare patient to receive donor's heart. Once the donor's heart is stitched into place the heart begins beating in the patient's body.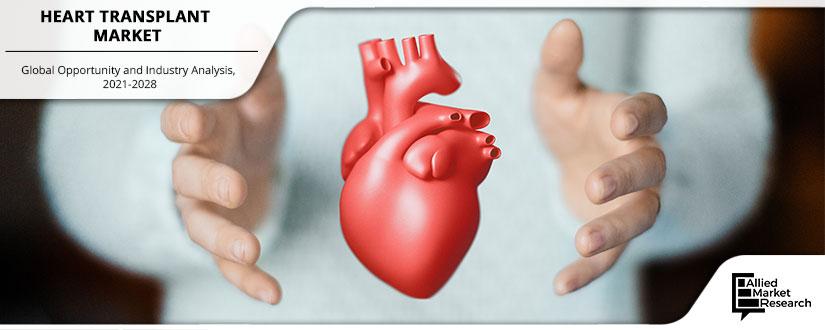 Impact of COVID-19 on the Medical Device Market
COVID-19 is an infectious disease that originated in the Hubei province of the Wuhan city in China in late December. The highly contagious disease, caused by a virus, severe acute respiratory syndrome coronavirus 2 (SARS-CoV-2), is transmitted from human to human. Since the outbreak in December 2019, the disease has spread to almost 213 countries around the globe with the World Health Organization declaring it a public health emergency on March 11, 2020.
There has been an increase in the demand for medical supplies to take care of the infected population. Respiratory support devices such as atomizers, life support machines, oxygen generators, and monitors are among the majorly used medical devices in primary clinical treatment. Moreover, COVID-19 has led to a huge surge in demand for medical supplies such as personal protective equipment, including masks, gloves, and protective eyeglasses. An increase has been witnessed in the need for medical supplies, both from healthcare professionals and the civil population for precautionary measures, owing to the rise in the number of COVID-19 cases worldwide. Manufacturers of these products have a chance to capitalize on this increased demand for medical supplies to ensure an adequate and continuous supply of personal protective equipment in the market.
With COVID-19 the supply chain of the raw material required to manufacture heart transplant devices has been disrupted in many countries. In addition, the market growth for heart transplant devices is also declining as the manufacturers of these devices have slowed down their production owing  to  the pandemic. Therefore, COVID 19 is expected to have a significant impact on the heart transplant market.
Top Impacting Factors
In the last decade, number of cases of coronary artery diseases and heart failures have increased at a significant rate. These cardiovascular diseases often lead to need for a heart transplant. This is hence one of the major factors that positively influence growth of the heart transplant market.
Increase in geriatric population and rise in number of patients with high blood cholesterol levels also act as major drivers for the heart transplant market.
In addition, the mortality rate of patients succumbing to heart failure is on the rise, which has led to rise in demand for heart transplants globally. Changes in lifestyle and food habits are also factors that have increased chances of developing cardiovascular diseases. These factors drive the heart transplant market growth.
However, lack of skilled surgeons to perform successful heart transplant surgeries and lack of heart donors are the major factors that are expected to impede the heart transplant market growth during the forecast period.
Key Market Trends
In May 2019, Pfizer, Inc. received an approval from the Food and Drug Administration (FDA) for Vyndaqel and Vyndamax drugs, which can be used to treat hereditary transthyretin-mediated amyloidosis or cardiomyopathy that can lead to heart failure.
In March 2018, CareDx, Inc. launched Heartcare. It is a comprehensive diagnostic solution that helps in surveillance of heart patients by combining AlloMap and AlloSure-Heart.
North America and South America dominate the global heart transplant market, owing to high healthcare spending, well-developed technology for heart transplants, and increase in support of governments for research and development of better heart transplant technologies.
Europe has the second position in the heart transplant market, owing to rise in government support for funding research and development activities aimed at launching feasible heart transplant devices for surveillance of patients after transplant.
Asia-Pacific is the region with tremendous heart transplant market growth in recent times. The heart transplant cost in countries such as China and India is way less than developed nations, which helps attract a lot of global patients to the region. Furthermore, rise in demand for quality heart transplant devices is also projected to lead to the application of advanced equipment, which is expected to increase growth of the heart transplant market.
Key Benefits of the Report
This study presents the analytical depiction of the heart transplant industry along with the current trends and future estimations to determine the imminent investment pockets.
The report presents information related to key drivers, restraints, and opportunities along with a detailed analysis of the heart transplant market share.
The current market is quantitatively analyzed to highlight the heart transplant market growth scenario.
Porter's five forces analysis illustrates the potency of buyers & suppliers in the market.
The report provides a detailed market analysis depending on competitive intensity and how the competition will take shape in the coming years
Questions Answered in the Global Heart Transplant Report
Which are the leading players active in the aplastic anemia treatment market?
How is each segment of the market expected to grow during the forecast period?
What are the adoption trends for the aplastic anemia treatment market in emerging economies and established economies across the world?
What are the current trends that will influence the market in the next few years?
What are the driving factors, restraints, and opportunities of the market?
What future projections would help in taking further strategic steps in the market?
What are the impacts of COVID-19 on the industry?
What is aplastic anemia?
What are the current and predicted trends of the market?
 Heart Transplant Market Report Highlights
Aspects
Details
By Type

Ventricular Assist Devices
Total Artificial Hearts
Others

By End User

Hospitals
Cardiac Institutes
Others

By Region

North America (U.S., Canada, Mexico)
Europe (France, Germany, Italy, Spain, UK, Rest of Europe)
Asia-Pacific (China, Japan, India, South Korea, Australia, Rest of Asia-Pacific)
LAMEA (Brazil, South Africa, Saudi Arabia, UAE, Rest of LAMEA)

Key Market Players
Apaxis Medical, Inc., CARMAT SA, Thoratec Corporation, HeartWare International, Inc., Calon Cardio, Optum, Inc., SynCardia Systems, LLC, CardiacAssist, Inc.