The global heavy construction equipment market size was valued at $176.2 billion in 2020, and is projected to reach $273.5 billion by 2030, registering a CAGR of 4.4% from 2021 to 2030. Heavy construction equipment or machineries are used for heavy operations tasks such as material handling, excavation, lifting and other heavy operations. Commercial, residential and industrial sectors as well as increased public–private partnerships and global economic growth, are driving the heavy construction equipment market. There are many different types of heavy construction equipment in the market; nevertheless, selecting the appropriate construction equipment is critical. When choosing heavy construction equipment, companies consider factors such as the material, quality, project's complexity, and safety.
The COVID-19 outbreak has affected the growth of the heavy construction equipment industry owing to the lockdown measure in the countries and delay in production and manufacturing of heavy construction equipment which are utilized in infrastructure, construction, oil & gas, and other end user industries.
The heavy construction equipment market is driven by increased private sector investment, real estate sector growth, improving economic situations, and residential and commercial infrastructure set-up in emerging countries. In addition, the expansion of government infrastructure development projects and public–private partnerships for the construction of public infrastructure systems in countries such as the U.S., India and China, has aided market growth. The U.S. government has made significant investments in the construction of roads, railway tracks, airports, and other infrastructure, which necessitates the employment of excavators, loaders, and other heavy equipment. For instance, in March 2021, the U.S. President introduced $2 trillion infrastructure plan, which includes transportation, broadband, electric grid and residential & commercial constructions.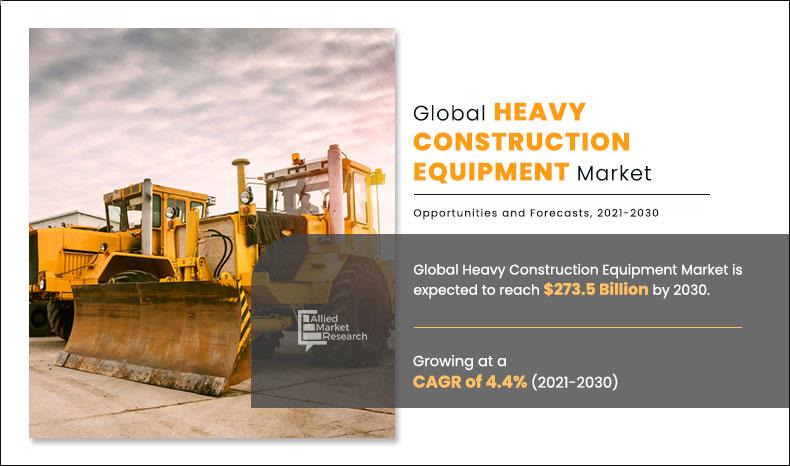 In addition, leading market players are focusing on manufacturing smart, internet-connected, fuel- and energy-efficient construction machinery, resulting in market development potential throughout the projection period. For instance, in March 2021, Doosan Infracore launched super large 100-ton excavator model. It uses smart power control and electronic integrated hydraulic system. It has in-house designed fuel optimization system, to improve fuel efficiency and deliver ideal job performance with loss-free power and speed.
Heavy Construction Equipment Market

---
By Type
Material Handling Equipment segment is projected to grow at a significant CAGR
The novel coronavirus has rapidly spread across various countries and regions, causing an enormous impact on lives of people and the overall community. It began as a human health condition and has now become a significant threat to global trade, economy, and finance. The COVID-19 pandemic has halted production of many products in the heavy construction equipment business, owing the lockdowns. Furthermore, the number of COVID-19 cases are expected to reduce in the future as the vaccine for COVID-19 is introduced in the market. This has led to the reopening of heavy construction equipment companies at their full-scale capacities. This is expected to help the market recover by the start of 2022. After COVID-19 infection cases begin to decline, equipment & machinery producers must focus on protecting their staff, operations, and supply networks to respond to urgent emergencies and establish new methods of working.
Heavy Construction Equipment Market

---
By End User
Construction segment holds dominant position in 2020
The market is segmented on the basis of equipment type, application, end user, and region. By equipment type, the market is classified into earthmoving equipment, material handling equipment, heavy construction vehicles, and others. By application, the market is categorized into excavation & demolition, heavy lifting, tunneling, material handling, and recycling & waste management. By end user, it is classified as infrastructure, construction, mining, oil & gas, manufacturing, and others (forestry and agriculture). Region wise, the global market analysis is conducted across North America (the U.S., Canada, and Mexico), Europe (the UK, France, Germany, Italy, and Rest of Europe), Asia-Pacific (China, Japan, India, South Korea, and Rest of Asia-Pacific), and LAMEA (Latin America, the Middle East, and Africa).
Competition Analysis
The key market players profiled in the heavy construction equipment market report include Caterpillar Inc., CNH Industrial N.V., Deere & Company, Doosan Infracore Co Ltd., Hitachi Construction Machinery Co. Ltd., J C Bamford Excavators Ltd., Komatsu Ltd., Liebherr International AG, Volvo Group and XCMG Group.
Heavy Construction Equipment Market

---
By Region
Asia-Pacific holds a dominant position in 2020 and is expected to grow at a significant rate during the forecast period.
Key Benefits For Stakeholders
The report provides an extensive analysis of the current and emerging heavy construction equipment market trends and dynamics. 
In-depth heavy construction equipment market analysis is conducted by constructing market estimations for key market segments between 2021 and 2030.
Extensive analysis of the heavy construction equipment market is conducted by following key product positioning and monitoring of top competitors within the market framework.
A comprehensive analysis of all the regions is provided to determine the prevailing opportunities.
The global heavy construction equipment market forecast analysis from 2021 to 2030 is included in the report.
The key players within the market are profiled in this report and their strategies are analyzed thoroughly, which help understand the competitive outlook of the heavy construction equipment industry.
 Heavy Construction Equipment Market Report Highlights
Aspects
Details
By EQUIPMENT TYPE

Earthmoving Equipment
Material Handling Equipment
Heavy Construction Vehicles
Others

By END USER

Infrastructure
Construction
Mining
Oil & Gas
Manufacturing
Others

By APPLICATION

Excavation & Demolition
Heavy Lifting
Tunneling
Material Handling
Recycling & Waste Management

By Region

North America (U.S., Canada, Mexico)
Europe (Germany, UK, France, Italy, Rest of Europe)
Asia-Pacific (China, India, Japan, South Korea, Rest of Asia-Pacific)
LAMEA (Latin America, Middle East, Africa)

By KEY PLAYERS

Caterpillar Inc.
CNH Industrial N.V.
Deere & Company
Doosan Infracore Co Ltd.
Hitachi Construction Machinery Co. Ltd.
J C Bamford Excavators Ltd.
Komatsu Ltd.
Liebherr International AG
Volvo Group
XCMG Group