The global helicopters market was valued at $20.36 billion in 2021, and is projected to reach $39.87 billion by 2031, growing at a CAGR of 7.3% from 2022 to 2031.
The COVID-19 impact on the helicopter market is unpredictable, and is expected to remain in force for a few years. The COVID-19 outbreak forced governments across the globe to implement stringent lockdown and ban import–export of raw material and parts for most of 2020 & few months in 2021. This led to sudden fall in the availability of important raw materials for manufacturing helicopter components. Moreover, nationwide lockdown forced helicopter manufacturing facilities to partially or completely shut their operations. Adverse impacts of the COVID-19 pandemic resulted in delays in activities and initiatives regarding development of advanced helicopter systems globally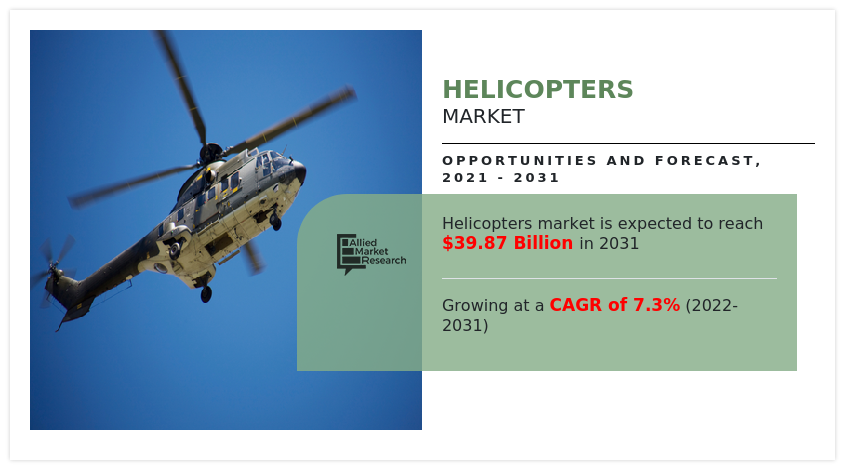 The helicopters market is segmented into Type, Weight, Number of Engine and Application.
A helicopter is a type of aircraft that has one or more power-driven longitudinal blades or rotors that allow it to move in any direction, land & take off vertically, or remain stationary in the air. It is the most appropriate type of flight, as it prevents vast landing grounds situated far from downtown areas and the necessary intervening means of transportation such as automobile, bus, and subway that conventional aircraft normally necessitates. In addition, the helicopter's ability to take off and land vertically, the aircraft's handling properties under low airspeed conditions, and hovering for extended periods of time have proven advantageous for performing tasks that were not possible with other aircraft.
The helicopter market is experiencing exponential growth, which is driven by surge in adoption of advanced helicopters and other rotorcrafts for law enforcement and military applications, increase in demand for aerial imagining, rise in gas & oil excretion and exploration activities, and upsurge in demand for customized & luxurious commercial helicopters in the transportation sector. However, rise in adoption of drones, high operational cost of helicopters, and limited short-range transportation hamper the growth of the market. On the contrary, increase in demand for helicopters in tourism; rise in penetration of helicopters for emergency medical services (EMS), firefighting services, and search & rescue operations; and surge in demand for helicopter fleet up-gradation across the globe are the major factors that are expected to offer lucrative opportunities for the growth of the global helicopter industry during the forecast period.
Helicopters Market

---
By Type
Military is projected as the most lucrative segment
The global helicopter market is segmented into type, weight, number of engines, application, and region. Depending on type, the market is bifurcated into civil & commercial and military. On the basis of weight, it is segregated into a lightweight, medium weight, and heavyweight. By number of the engines, it is fragmented into twin engines and single engine. As per application, it is categorized into emergency medical services, oil & gas, defense, homeland security, and others. Region wise, the market is analyzed across North America, Europe, Asia-Pacific, and LAMEA.
The key players profiled in this helicopter market report include Airbus, Bell Textron Inc, Helicopteres Guimbal, Kaman Corporation, Kawasaki Heavy Industries Ltd, Leonardo SpA, MD Helicopters Inc, Mitsubishi Heavy Industries Ltd, Robinson Helicopter Company, and The Boeing Company.
Rise in demand for customized and luxurious helicopters in the transportation sector
In recent years, helicopter air transportation has gained increased traction, and services have been expanded, updated, and increased. The absence of any physical impediments that could prevent it from reaching any location is the feature that most defines this mode of transportation. Air transportation via helicopter relies heavily on speed; thus, the demand for this mode of transportation has grown dramatically in recent years as a result of its speed, which creates the demand for helicopters in the transportation sector. In addition, helicopters' takeoff and landing operations are simpler than other aircraft as well as helicopter travel stays unaffected by geographical features. Thus, air transportation by helicopter serves as an ideal choice for short-distance travel or transportation. Moreover, the development of luxurious helicopters by market players for public transportation is anticipated to boost the growth of the market. For instance, in September 2020, Airbus launched its new $14 million luxury helicopter, the ACH160 for business or private use that can seat up to 10 people. Such growing demand and developments of customized and luxurious helicopters are expected to propel the growth of the global helicopter market during the forecast period.
Helicopters Market

---
By Weight
Heavy Weight is projected as the most lucrative segment
Increase in adoption of helicopters for military applications   
Military helicopters are most commonly used to transport personnel, but they can also be modified to undertake additional duties, including armed with weaponry to strike ground targets, medical evacuation (MEDEVAC), airborne command post, or even combat search and rescue (CSAR). Governments of developed and developing countries are increasing investment in forces to establish dominance on the battlefield and perform rescue missions with advanced helicopters. For instance, in June 2022, Poland announced to buy several AW149 military helicopters, which are built by the Italian company Leonardo. In December 2021, the French Armament General Directorate (DGA) signed a contract with Airbus Helicopters, a France-based company which is one of the leading manufacturers of helicopters, for the development and procurement of the H160M in the frame of the Light Joint Helicopter Program (HIL). The contract includes the development of several prototypes and the delivery of the first batch of 30 aircraft, including 21 for the army, 8 for the navy, and 1 for the air force. Thus, surge in adoption of helicopters by military forces is expected to drive the growth of the helicopter industry.
Helicopters Market

---
By Number Of Engine
Twin Engine is projected as the most lucrative segment
Rise in usage of drones
Drones, or unmanned aircraft vehicles, are becoming a part of the daily routine. Drones are used for a variety of purposes, including recreation, business, and military applications instead of manned helicopters. For instance, in the military, drone assaults can be carried out by shooting missiles, dropping bombs, or crashing armed unmanned aerial vehicles (UAVs) onto the target and used for surveillance. During law enforcement, drones are employed for a number of purposes, including hostage negotiations, surveillance of large open regions, investigating bomb threats, and pursuing armed criminals. In agriculture, drones are used to optimize fertilizer, seed, and water use; reduce time on crop scouting; respond more quickly to pests, weeds, and fungi; validate treatment performed; improve varying treatments in real-time; and predict yield from a field. In addition, drones can be used to handle critical situations such as rescue operations, investigation operations, and aerial imaging with safety and less noise as compared to helicopters. Moreover, many countries have focused on developing drone helicopters for military and law enforcement missions, which is anticipated to hinder the adoption of helicopters in these sectors. For instance, in December 2020, Russia started developing a helicopter drone to assist anti-aircraft weapon systems in its counter-UAV mission. Thus, rise in use of drones instead of helicopters in various applications acts as a key deterrent factor of the global helicopter market.
Helicopters Market

---
By Application
Oil and Gas is projected as the most lucrative segment
Rise in penetration of helicopters for emergency medical services
Helicopter emergency medical services (HEMS) involves a highly trained team of critical care and emergency medical doctors and paramedics who are flown by helicopter to critically ill patients to save their lives, stabilize them, and then transport them to a major hospital for further treatment. This intervention aids patients in receiving first aid and surviving the journey to the hospital; hence, its penetration has been witnessed to increase considerably. In addition, HEMS is a service that has proven to be the key factor in reducing the rate of avoidable deaths in developed countries during road traffic accidents and catastrophic disasters. Moreover, it is the most advanced type of pre-hospital emergency medicine service, pre-hospital care, and immediate care, and is an essential component of medical care in developed and developing countries due to the increasing number of patients suffering from cardiovascular and other diseases. Many nations started implementing and funding HEMS services. For instance, in March 2022, Airbus signed a Memorandum of Understanding (MoU) with Airlift Global, a company backed by the UK-based AUM Capital to foster HEMS and associated air medical services in India. Thus, increase in use of helicopters in emergency medical services is anticipated to offer remunerative opportunities for the growth of the global helicopter market during the forecast period.
Helicopters Market

---
By Region
Asia-Pacific is projected as the most lucrative segment
Key Benefits For Stakeholders
This report provides a quantitative analysis of the market segments, current trends, estimations, and dynamics of the helicopters market analysis from 2021 to 2031 to identify the prevailing helicopters market opportunities.
The market research is offered along with information related to key drivers, restraints, and opportunities.
Porter's five forces analysis highlights the potency of buyers and suppliers to enable stakeholders make profit-oriented business decisions and strengthen their supplier-buyer network.
In-depth analysis of the helicopters market segmentation assists to determine the prevailing market opportunities.
Major countries in each region are mapped according to their revenue contribution to the global market.
Market player positioning facilitates benchmarking and provides a clear understanding of the present position of the market players.
The report includes the analysis of the regional as well as global helicopters market trends, key players, market segments, application areas, and market growth strategies.
 Helicopters Market Report Highlights
Aspects
Details
Type

Civil and Commercial
Military

Weight

Lightweight
Medium Weight
Heavy Weight

Number of Engine

Twin Engine
Single Engine

Application

Emergency Medical Service
Oil and Gas
Defense
Homeland Security
Others

By Region

North America (U.S., Canada, Mexico)
Europe (U.K., Germany, France, Russia, Rest of Europe)
Asia-Pacific (China, India, Japan, South Korea, Rest of Asia-Pacific)
LAMEA (Latin America, Middle East, Africa)

Key Market Players
Airbus, Bell Textron Inc, Helicopteres Guimbal, Kaman Corporation, Kawasaki Heavy Industries Ltd, Leonardo SpA, MD Helicopters Inc, Mitsubishi Heavy Industries Ltd, Robinson Helicopter Company, The Boeing Company