Hemodialysis Catheter Market Statistics 2030:
The global hemodialysis catheters market size was valued at $736 million in 2020 and expected to reach $1,163 million in 2030, at a CAGR 4.66% from 2021 to 2030. Hemodialysis is a process of blood filtration of a person suffering from kidney failure. It is carried out by connecting a dialysis machine to the patient using a catheter as a connecting point. The catheter includes two types of lumens (flexible tubular passage) for exchange of blood, which are colored in red and blue for clear identification during dialysis process. The red colored lumen (atrial lumen) draws blood from the patient and transfers it to the dialysis machine for filtration, whereas the blue colored lumen (venous lumen) returns the blood to the patient after filtration from dialysis machine.
The Covid-19 pandemic has had a negative impact on the hemodialysis catheters market. As, the surge in lockdown prompted the hospitals and medical centers to be more focused towards the patients suffering from covid-19, therefore creating a delay or postponing of dialysis procedures. Hence, this caused a decline in the hemodialysis catheters market during pandemic.
The catheter is inserted in one of the large veins called superior vena cava or by puncturing the internal jugular vein in the neck to push it inside the chest. Blood flow of a catheter rages between 200 - 500 ml per min. Growth of the hemodialysis catheters market is driven by factors such as increase in prevalence of end-stage renal diseases (ESRD) and surge in number of patients suffering from chronic kidney disorders. In addition, low availability of kidney donors for transplantation and technological improvement in dialysis hardware are expected to fuel the market growth. However, limitations in medical repayment of dialysis methodology in the developing countries and increase in risk of blood infection & thrombosis hinder the growth of the market.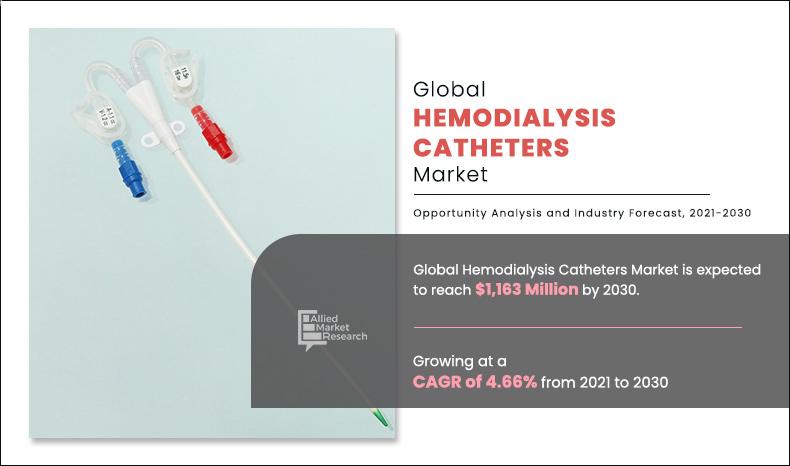 Rise in cases of ESRD and shortage in the availability of kidneys for transplant are expected to support the growth of the hemodialysis catheters market. Chronic kidney disease (CKD) is a disorder that causes decreased kidney function over a long period of time. It can develop over time and lead to end-stage kidney (or renal) disease (ESRD). It has turned into big health issue that continues to rise. For instance, as per a 2019 report by the Centre for Disease Control and Prevention, 15% of the adults in the U.S., which accounts for approximately 37 million individuals, is estimated to have CKD. In addition, as per the same source, CKD is normal among individuals aged 65 years or above thus constituting a major share (38%) than in individuals aged 45-64 years (13%) or 18-44 years (7%). Furthermore, it is more typical in women (15%) than men (12%). 
Moreover, high blood pressure (hypertension) and diabetes are the principal causes of kidney disease and kidney failure. In patients with diabetes, small blood vessels in body are injured and may cause damage to nerves, resulting in improper blood purification by the kidneys and emptying bladder further leading to kidney failure. As per the World Health Organization, in 2019, an estimated 1.13 billion individuals across the globe had hypertension, with most patients (66%) living in low-and center income countries. Moreover, hypertension is one of the major causes of premature death across the globe. In addition, as per the International Diabetes Federation (IDF) Diabetes Atlas Ninth edition 2019, approximately 463 million adults (20-79 years) were living with diabetes, and by 2045, it is expected to reach 700 million across the globe. Subsequently, owing to increase in rate of kidney failures there will be a gigantic demand for hemodialysis equipment resulting in growth of the hemodialysis catheters market
Impact Of Covid-19 On Hemodialysis Catheters Market (Pre And Post Analysis)
The World Health Organization (WHO) on January 30, 2020 declared COVID-19 as pandemic. Coronavirus has impacted around 210 countries across the globe. State-run administrations across the globe declared inescapable lockdowns as well as social distancing measures to forestall breakdown of the healthcare structure because of the COVID-19 pandemic. States have additionally given constraints and preventions on undertakings and elective surgeries. These deterrents continue to influence the growth of various industries, and the speedy impact of the episode changes starting with one industry then onto the following. The scattering, production, and store network has been impacted, owing to the execution of lockdown across the globe.
Hemodialysis Catheters Market

---
By Products
Non-cuffed tunneled catheter segment holds a dominant position in 2020 and would continue to maintain the lead over the forecast period.
Similarly, the hemodialysis catheters market was impacted during the pandemic. The overall impact of COVID-19 on the market was mixed. For instance, in initial half of 2020, the lockdowns led to a fall in number of hemodialysis procedures that were performed in hospitals. However, as the restrictions eased, the market saw a slight boom. This was due to surge in demand for hemodialysis in patients suffering from end -stage renal diseases. For instance, COVID-19 infection in severe forms can lead to acute kidney injury which requires hemodialysis, and hence requires the use of hemodialysis catheters. Hence, the hemodialysis market experienced a slight surge during the COVID-19 pandemic.  Thus, the final impact of COVID-19 on the hemodialysis catheters market was neutral.  
Hemodialysis Catheters Market

---
By Tip Configuration Type
Symmetric Catheters Segment hold the dominant position over the forecast period.
Hemodialysis Catheters Market Segmentation  
The hemodialysis catheters market is segmented on the basis of product, tip configuration, material, end user, and region. Depending on the product, the market is classified into cuffed tunneled catheters, non-cuffed tunneled catheters, and non-tunneled catheters. According to material, the market is divided into silicone and polyurethane. As per the tip configuration, it is categorized into step-tip catheters, split-tip catheters, and symmetric catheters. By end user, it is fragmented into hospitals, home dialysis, and others. Region wise, it is differentiated into North America (the U.S., Canada, and Mexico), Europe (Germany, France, the UK, Italy, Spain, and rest of Europe), Asia-Pacific (Japan, China, Australia, India, South Korea, Taiwan, and rest of Asia-Pacific), and LAMEA (Brazil, Turkey, Saudi Arabia, South Africa, and rest of LAMEA). 
Product type segment review
On the basis of product, the cuffed tunneled catheters segment is expected to account for the largest hemodialysis catheters market share during the forecast period, owing to increase in adoption of tunneled catheters in hemodialysis processes. The in-center hemodialysis segment is anticipated to generate the highest revenue, owing to efficient dialysis services and professional assistance provided for patients during dialysis. 
Hemodialysis Catheters Market

---
By Material Type
Polyurethane segement holds a dominant position in 2020 and continue to maintain lead in the forecast year
End-user segment review
By end user, hospitals segment acquired the highest share of hemodialysis catheters market in the year 2020. This is due to the fact that hemodialysis is a complex process, which requires a high level of medical supervision. Hence, hospitals are equipped with proper medical supervision and equipment required for the process.  Furthermore, the home dialysis segment is expected to register fastest growth rate during the forecast period, owing to factors such as user convenience and cost-effectiveness provided by the home dialysis machines. 
Material segment review
Depending on material, the polyurethane (PU) segment was the major revenue contributor, and is projected to grow with significant rate during the forecast period. This is because polyurethane is a preferred material in manufacturing of hemodialysis catheters. This is due to the advantages of the material over its counterparts. For instance, polyurethane is a thermoplastic which gives it a property to softens when warmed (by the body or blood) and stiffens when cooled. Furthermore, polyurethane is stronger than silicone, catheter walls made with polyurethane are thinner and provide a larger internal diameter than silicone catheter of the same size. This provides better flow and may lessen the chances of clotting-off.  
Hemodialysis Catheters Market

---
By User Type
Home Dialysis region holds the dominant position in 2020 and would exhibit the highest CAGR of 5.1 % during 2021-2030
The major key players operating in hemodialysis catheters market include Becton, Dickinson and Company, Omnicell Inc., Scriptpro LLC, Parata , Lonza, Baxter, Danaher, Capsa Healthcare, Cerner Corporation , RX Safe.
Hemodialysis Catheters Market

---
By Region Type
Asia-pacific region holds the dominant position in 2020 and would exhibit the highest CAGR of 6.7 % during 2021-2030
Key Benefits For Stakeholders
The study provides an in-depth analysis of the hemodialysis catheters market size along with the current trends and future estimations to elucidate the imminent investment pockets.
It offers hemodialysis catheters market analysis from 2020 to 2030, which is expected to enable the stakeholders to capitalize on the prevailing opportunities in the market.
A comprehensive analysis of four regions is provided to determine the prevailing opportunities.
The profiles and growth strategies of the key players are thoroughly analyzed to understand the competitive outlook and global hemodialysis catheters market growth.
 Hemodialysis Catheters Market Report Highlights
Aspects
Details
By Product

Cuffed Tunneled Catheter
Non-cuffed Tunneled Catheters
Non-tunneled Catheters

By Tip Configuration

Step-tip Catheters
Split-tip Catheters
Symmetric Catheters

By Material
By Application

Hospitals
Home Dialysis
Others

By Region

North America (U.S., Canada, Mexico)
Europe (Germany, France, UK, Italy, Spain, Rest of Europe)
Asia-Pacific (Japan, China, Australia, India, South Korea, Taiwan, Rest of Asia-Pacific)
LAMEA (Brazil, Turkey, Saudi Arabia, South Africa, Rest of LAMEA)

By Key Market Players

AST Products, Inc.
Bayer Ag
Biocoat Incorporated
Covalon Technologies Ltd.
Harland Medical Services
Hydromer Inc.
Kisco Ltd.
Precision Coating
Surmodics Inc.
Royal DSM.