Global Hemodialysis Market Overview:
The global hemodialysis market size was valued at $71,501 million in 2017 and is expected to reach $99,747 million by 2025, growing at a CAGR of 4.2% from 2018 to 2025. For patients suffering from kidney failure and other renal impairments, hemodialysis functions similar to an artificial kidney. Hemodialysis filters out toxins and removes excess fluid from blood. This process of filtration and removal is performed by the hemodialyzer.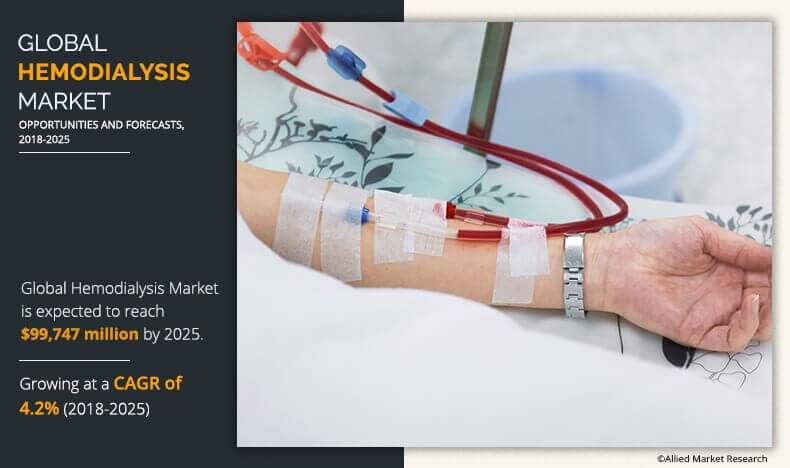 The global hemodialysis market is driven by increase in incidence of hypertension and diabetes. Moreover, rise in number of end stage renal disorder (ESRD) patients and shortage in availability of kidneys for transplants are the key factors that augment the growth of the market. However, numerous product recalls and risks and complications associated with dialysis are some of the factors that hinder the market growth. On the contrary, the presence of untapped markets in the emerging nations is expected to provide new opportunities for the key players.
The hemodialysis market is segmented on the basis of type, product and service, end user, and region. On the basis of type, it is categorized into conventional (3 times per week), daily (6 days a week), and nocturnal (3-6 nights per week). According to product and service, it is categorized into equipment, consumable, drug, and service.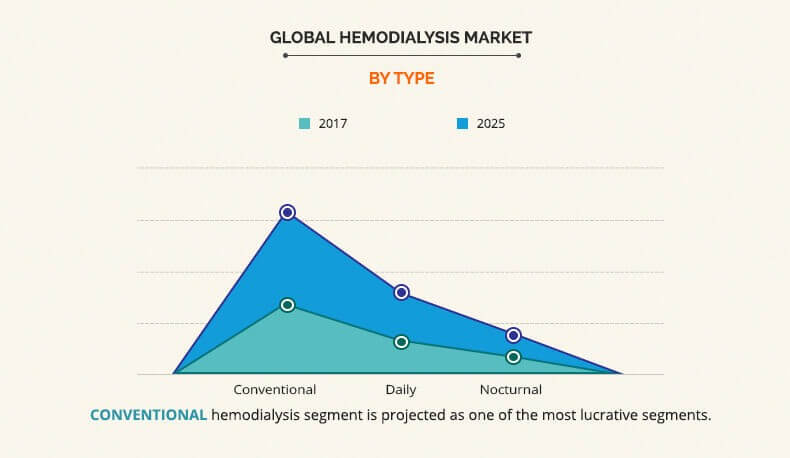 By end user, hemodialysis industry is divided into in-center dialysis and home dialysis. Region-wise, it is analyzed across North America (U.S., Canada, and Mexico), Europe (Germany, UK, France, Spain, Italy, and Rest of Europe), Asia-Pacific (Japan, China, Singapore, India, South Korea, and Rest of Asia-Pacific), and LAMEA (Brazil, Saudi Arabia, South Africa, and Rest of LAMEA).
The service segment dominated the global hemodialysis market in 2017, owing to the frequency of use by patients, which was thrice a week.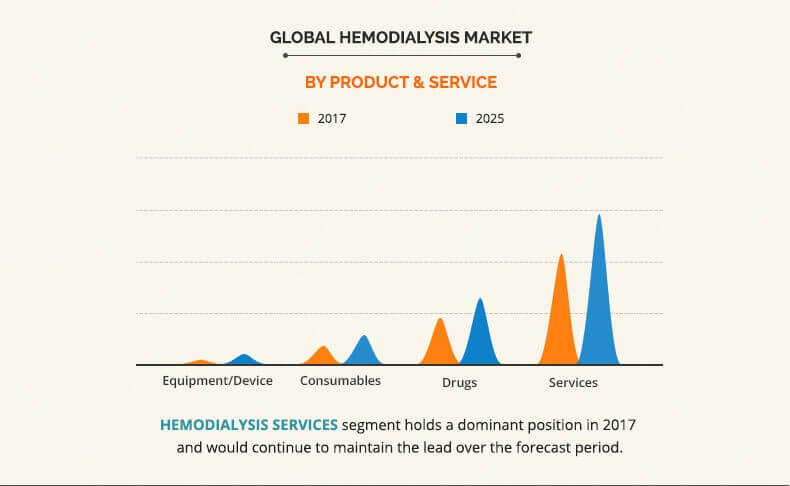 Rise in focus of vendors on the emerging markets, such as Asia-Pacific and LAMEA, is expected to boost the market growth. The Asia-Pacific region is projected to witness significant growth in future, owing to increase in R&D investment and surge in disease diagnosis awareness. Furthermore, this region presents remarkable opportunities for  venture capitalists and investors, because the developed markets are comparatively saturated.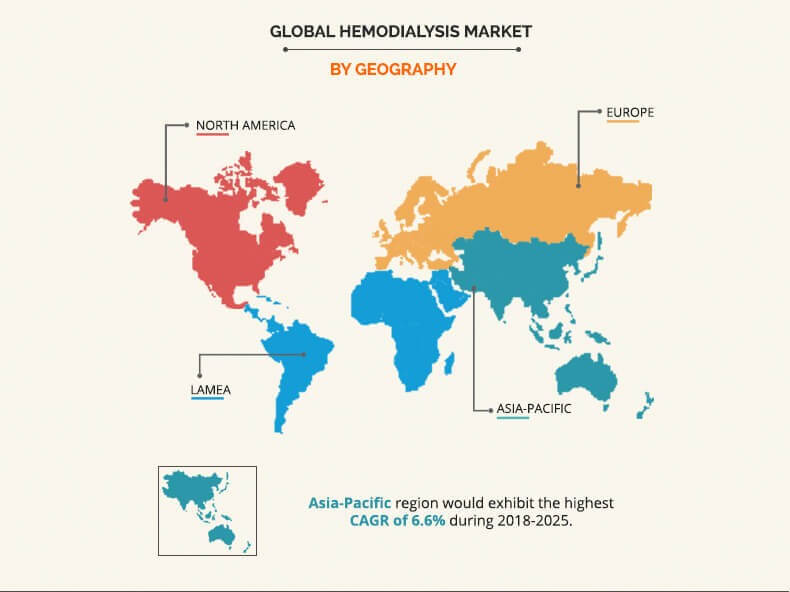 The report provides an extensive competitive analysis and profiles of the key market players, such as Asahi Kasei Corporation, B. Braun Melsungen AG, Baxter International, Inc., Cantel Medical Corp., DaVita, Inc., Diaverum, Fresenius Medical Care AG & Co. KGaA, Nikkiso Co., Ltd., Nipro Corporation, and NxStage Medical, Inc. The other players in the value chain (not included in the report) include Gambro, Satellite Healthcare, Inc., and MEDIVATORS, Inc.
Key Benefits
This report entails a detailed quantitative analysis of the current market trends from 2017 to 2025 to identify the prevailing opportunities along with strategic assessment of the global hemodialysis market.
Hemodialysis market size and estimations are based on comprehensive analysis of the applications and developments in the industry.
A qualitative analysis based on innovative products and devices facilitate the strategic business planning.
The development strategies adopted by the key market players are enlisted to understand the competitive scenario of the global hemodialysis industry.
 Hemodialysis Market Report Highlights
Aspects
Details
BY PRODUCTS AND SERVICES

Equipment

Dialysis Machines
Hemodialysis Water Treatment Systems
Others hemodialysis equipment

Consumables

Dialyzers
Catheters
Other hemodialysis consumables

Drug
Services

BY TYPE

Conventional hemodialysis
Short daily hemodialysis/daily hemodialysis
Nocturnal hemodialysis

BY REGION

North America (U.S, Canada, Mexico)
Europe (Germany, France, UK, Italy, Spain, Rest of Europe)
Asia-Pacific (Japan, China, India, Australia, South Korea, Rest of Asia-Pacific)
LAMEA (Brazil, Saudi Arabia, South Africa, Rest of LAMEA)

Key Market Players
Asahi Kasei Corporation, B. Braun Melsungen AG, Baxter International Inc, Cantel Medical Corp, DaVita Inc, Diaverum, Fresenius Medical Care AG & Co. KGaA, Nikkiso Co., Ltd, Nipro Corporation, NxStage Medical, Inc