Hemp Clothing Market Research, 2031
The global Hemp Clothing Market Size was valued at $2.29 billion in 2021, and is projected to reach $23.02 billion by 2031, growing at a CAGR of 27.1% from 2022 to 2031.
The global coronavirus pandemic has created a number of challenges for exporters in the developing and developed countries. The challenges hemp fabric exporters faced are expected to remain in the future, as different states and governments around the world attempt to tackle COVID-19 with various measures. Import and export restrictions on goods and quarantine and lock down measures imposed by governments are key challenges exporters faced during this pandemic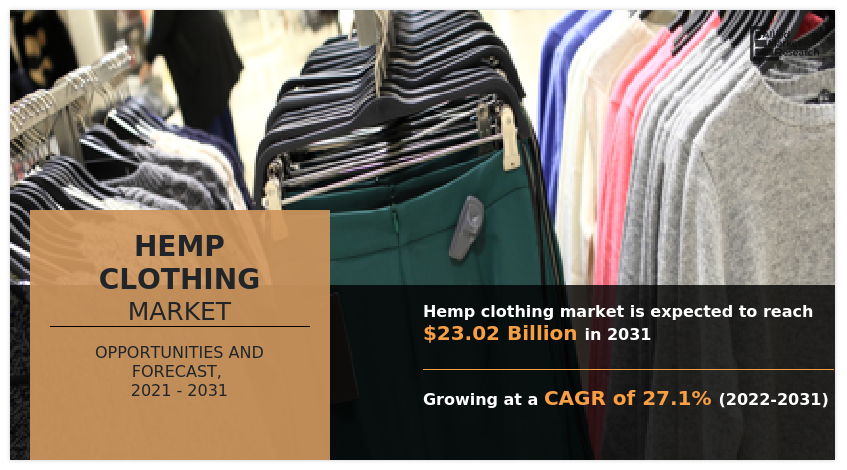 The hemp clothing market is segmented into Type, End User and Distribution Channel.
The Cannabis sativa plant, which is more famous for generating marijuana or hashish, is used to make hemp fibre. However, hemp only has 1% THC, compared to marijuana's 20% THC level, which is what gives users a high when they smoke it. This fibre possesses some amazing qualities, like excellent dyeability, mildew resistance, UV light blocking, and natural antibacterial capabilities. It also transfers heat efficiently. Paper, biodegradable plastic, building, healthy food, chemical cleanups, and fuel are just a few of the businesses that employ it. To improve safety regulations, automakers like BMW employ hemp fibre to reinforce their door panels. Therefore, owing to the growing environmental awareness
Hemp fabric requires less water, chemical fertilisers, pesticides, and herbicides than other fabrics. It has a lower carbon footprint than many other crops because it is effective at removing carbon dioxide from the environment. In a growing season, one acre of hemp will absorb 10 to 15 tonnes of CO2, which is equal to the typical annual CO2 output of one person.
Hemp is up there on the list of eco-friendly textiles and fibres with jute, organic cotton, flax (linen), and bamboo. Animal bedding and insulation can be made out of hemp fibre from the stem and hemp seed, respectively. Hemp is also good for the soil. If hemp was originally planted in a field, the production of maize from that field will be higher. Following the harvest of hemp, it's also a good idea to sow wheat and barley. Some producers are trying to get hemp and cannabis growing certified as organic because of all the potential environmental advantages.
According to studies on consumer behaviour, between 2000 and 2014, the average customer purchased 60% more clothing, yet they only maintained each item for half as long. The sobering facts showing the amount pollution and harm to our rivers, oceans, and atmosphere the fashion industry is responsible for have been in the spotlight. An estimated truckload of used clothing is burned or dumped every second. Many residents are worried, yet the cost and time commitment of the present sustainable fashion solutions are substantial.
Online retail platform is the major driver of the Hemp Clothing Industry. Presently, most of the apparel manufacturing companies have their own web-based retail stores where users can gain excessive information about the organization such as latest news of product and company and financial-related information. The number of consumers shopping online is increasing, owing to availability of varied product options and price comparison on online shopping sites. This is useful for retailers due to zero expenditure on physical outlets. The major reasons why consumers prefer online shopping online are consumers can read reviews provided by other consumers, compare various store & products, and consumers can compare product price by different sellers. According to "Our World in Data," about 1,140 million internet users are present in East Asia-Pacific region, followed by Europe and Central Asia, accounting for of over 650 million internet users. In addition, access to internet and online apparel retail portal has provided consumers a platform where they can easily compare assorted products and prices as well as shop with comfort. Moreover, increase in ease of shopping of apparel from online retail portal is attracting a large consumer base using internet, which is anticipated to fuel the overall Hemp Clothing Market Growth.
The Hemp Clothing Market Share is segmented into type, end user, distribution channel, and region. On the basis of type, the market is categorized into Shirts, Pants, T-shirts, Activewear, Coats and Jackets, Dress, Undergarments and Others. On the basis of End User, the market is categorized into men, women and kids. On the basis of Distribution Channel, it is fragmented into supermarket/hypermarket, independent retail stores, online sales channel and others. Region-wise, it is analyzed across North America (the U.S., Canada, and Mexico), Europe (UK, Germany, France, Italy, Spain, Russia and rest of Europe), Asia-Pacific (China, India, Japan, Australia, South Korea, and rest of Asia-Pacific), and LAMEA (Latin America, Middle East and Africa).
By type, the dress segment was the highest contributor to the market, in 2021, and is estimated to grow at a CAGR of 25.9% during the forecast period. However, the activewear clothing segment is expected to witness higher growth rate during the forecast.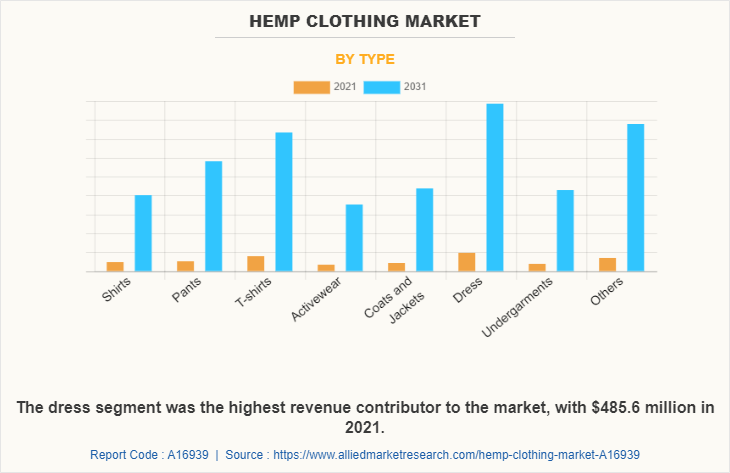 Depending on hemp clothing market forecast by end user, the women segment led the market in 2021, and is estimated to grow at a CAGR of 26.5% during the forecast period. However, the kids segment is expected to witness higher growth rate during the forecast.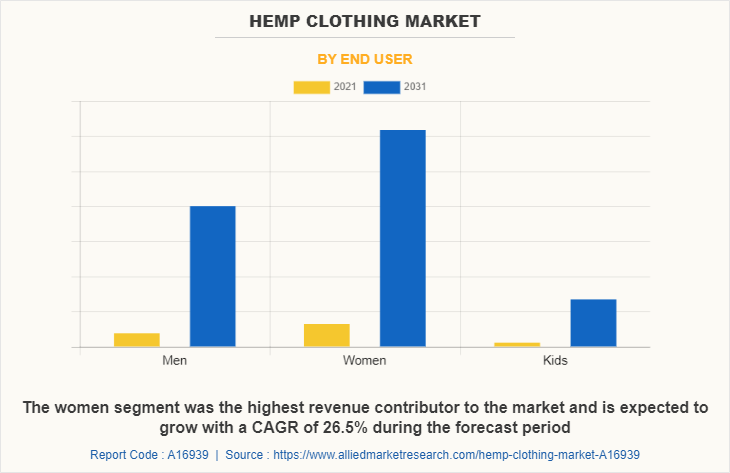 On the basis of hemp clothing market analysis by distribution channel, the independent retail stores segment exhibited the highest growth in 2021, and is estimated to register a CAGR of 26.5% during the forecast period. However, the others segment is expected to witness a high growth rate of 28.4% during the forecast period.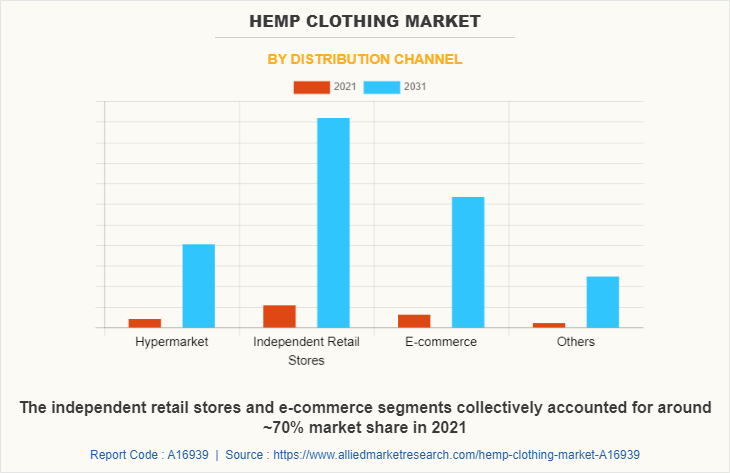 Region wise, North America was the highest contributor to the market in 2021, and is estimated to grow at a CAGR of 24.6% during the forecast period. LAMEA region is expected to witness high growth rate during the forecast period.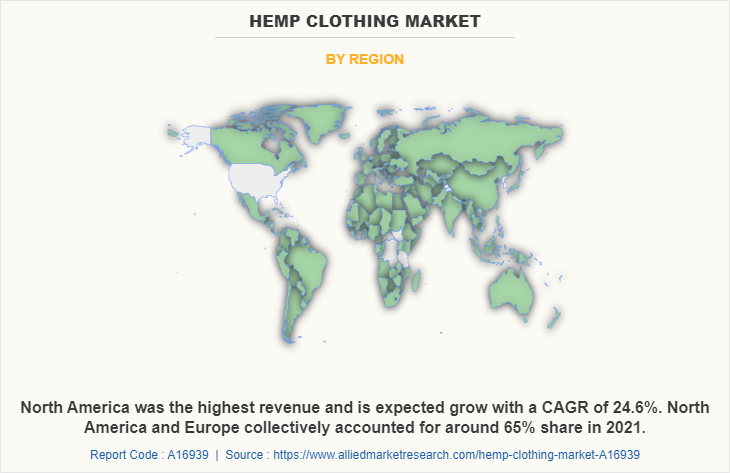 According to the market players, the major obstacle attributed to the pandemic was the disruption of the supply chain. Furthermore, all the Distribution Channel were nearly shut down in the first quarter of the pandemic. However, online channels such as amazon and flipkart were delivering the products. They key players included in the hemp clothing market analysis are Back Beat Co, Ecofibre, Eileen Fisher, Groceries Apparel, Jungmaven, LANIUS GmbH, Levi Strauss &Co, ONNO T-Shirt Company, Outerknown, Patagonia, Inc, Tentree, Thought Clothing, TOAD&CO, United By Blue, and WAMA UNDERWEAR.
Key Benefits For Stakeholders
This report provides a quantitative analysis of the market segments, current trends, estimations, and dynamics of the hemp clothing market analysis from 2021 to 2031 to identify the prevailing Hemp Clothing Market Opportunity.
The market research is offered along with information related to key drivers, restraints, and opportunities.
Porter's five forces analysis highlights the potency of buyers and suppliers to enable stakeholders make profit-oriented business decisions and strengthen their supplier-buyer network.
In-depth analysis of the hemp clothing market segmentation assists to determine the prevailing Hemp Clothing Market Size.
Major countries in each region are mapped according to their revenue contribution to the Hemp Clothing Industry.
Market player positioning facilitates benchmarking and provides a clear understanding of the present position of the market players.
The report includes the analysis of the regional as well as global hemp clothing market trends, key players, market segments, application areas, and market growth strategies.
 Hemp Clothing Market Report Highlights
Aspects
Details
By Type

Shirts
Pants
T-shirts
Activewear
Coats and Jackets
Dress
Undergarments
Others

By End User
By Distribution Channel

Hypermarket
Independent Retail Stores
E-commerce
Others

By Region

North America (U.S., Canada, Mexico)
Europe (U.K., Germany, France, Italy, Spain, Russia, Rest of Europe)
Asia-Pacific (China, Japan, India, Australia, South Korea, Rest of Asia-Pacific)
LAMEA (Latin America, Middle East, Africa)

Key Market Players
Levi Strauss and Co., Outerknown, United By Blue, WAMA UNDERWEAR, Patagonia, Inc., Jungmaven, Eileen Fisher, ToadandCo, ONNO T-Shirt Company, VALANI