Heparin Market Overview:
The global heparin market size was valued at $6,535 million in 2020, and is projected to reach $11,015 million by 2028, registering a CAGR of 6.6% from 2021 to 2028.
Heparin Market is expected witness modest growth during this pandemic period owing to the usage of low molecular weight heparin during COVID-19 treatment.
Heparin, also known as unfractionated heparin (UFH), is a glycosaminoglycan that occurs naturally. It is used as an anticoagulant in medicine (blood thinner). It is particularly useful for the treatment of heart attacks and unstable angina. It is injected into a vein or injected under the skin. It is used to treat a variety of health problems, such as acute coronary syndrome, deep vein thrombosis, pulmonary embolism, and atrial fibrillation, as well as cardiopulmonary bypass and hemofiltration during cardiac surgery. Its use also extends to the administration of major orthopedic procedures such as hip and knee replacements.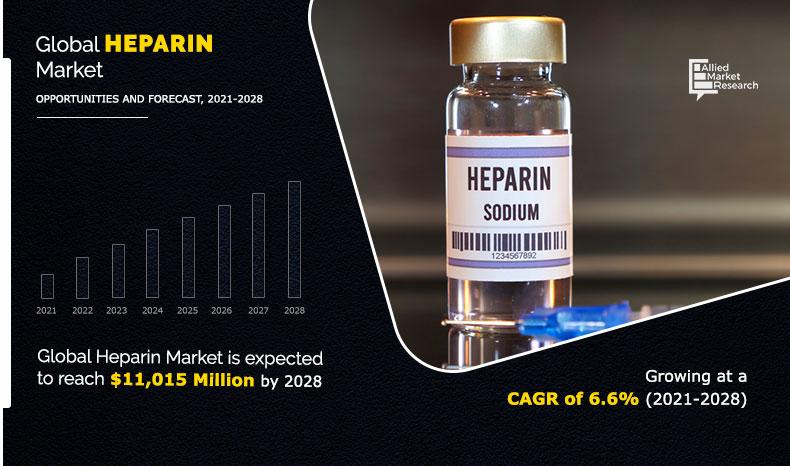 The increase in prevalence of venous thrombosis and cardiovascular diseases is the key factor that drives the growth of the global heparin market. In addition, application of heparin in various surgeries, such as orthopedic and heart surgeries, and rise in number of patients undergoing such surgeries further boost the growth of the heparin market. Moreover, the availability of synthetic and semi-synthetic heparin mimetics that help treat cancer, coagulation, and inflammatory diseases is expected to provide lucrative opportunities for heparin adoption. In addition, increased government support for healthcare infrastructure improvements and comprehensive R&D activities to grow heparin with enhanced therapeutic potential and minimum side effects further drive the growth of the heparin market. However, many adverse side-effects associated with heparin and presence of other anticoagulant in the market may hamper the growth of the heparin market.
The outbreak of COVID-19 has disrupted workflows in the health care sector across the world. The disease has forced a number of industries to shut their doors temporarily, including several sub-domains of health care. However, there has also been a positive effect and surge in demand for various medical services, including heparin. During the COVID-19 pandemic, a large number of patients are suffering from coronavirus, which is linked to respiratory diseases. As a result, the demand for heparin has increased as it helps to control respiratory inflation and thin the blood of those at risk of a blood clot. Low molecular weight heparins are anticoagulant medications that are well tolerated and have few side effects. Regardless of risk ratings, all patients admitted to the hospital with (suspected) COVID-19 are treated with prophylactic-dose low-molecular-weight heparin. A baseline chest CT is performed on patients who have COVID-19 symptoms and are anticipated to be admitted to the hospital. The study of the binding of LMWH with SARS-CoV-2 Spike protein could lead to the development of an effective therapeutic approach to reduce pulmonary embolism and thrombosis complications in SARS-CoV-2 patients. As a result, LMWH used in the treatment of COVID-19 patients and clinical study & development continue in these pandemic times to improve LMWH's efficacy.
Heparin Market Segmentation
The global heparin market is segmented into product, application, distribution channel, and region. On the basis of product, the market is categorized into unfractionated heparin, low molecular weight heparin (LMWH), and ultra-low molecular weight heparin (ULMWH). By application, it is classified into venous thromboembolism, atrial fibrillation, coronary artery disease, and others. By distribution channel, it is divided into hospital pharmacies, drug stores & retail pharmacies, and online pharmacies. Region-wise, the market is analyzed across North America, Europe, Asia-Pacific, and LAMEA.
Segment Review
Based on product, the low molecular weight heparin segment currently dominates the global market and is expected to continue during the forecast period. Longer and more predictable operation than UFH and easy self-administration at home by subcutaneous injection, which decreases or eliminates hospital stays, and no requirement of daily blood monitoring are all important factors that boost the heparin market growth.
Heparin Market

---
By Product
Low molecular weight heparin segment holds a dominant position in 2020 and would continue to maintain the lead over the forecast period.
Based on distribution channel, the hospital pharmacies segment accounted for majority of the market revenue in 2020 and is expected to maintain its dominance during the forecast period as patients' trust in hospitals is based on high-quality services and easy access to medications as well as greater reliance on healthcare professionals for heparin prescriptions.
Heparin Market

---
By Distribution Channel
Hospital Pharmacies segment is projected as one of the most lucrative segment.
Snapshot of the Asia-Pacific Heparin Market  
Asia-Pacific is expected to exhibit the fastest growth rate during the forecast period, owing to constantly expanding healthcare infrastructure, presence of untapped resources, economic development, and increasing initiatives by private & public organizations, which are projected to drive the growth of the heparin market in emerging countries in Asia-Pacific. In addition, larger patient pool for cardiovascular diseases and an increase in the aging population are some factors, which drive the growth of the market. Moreover, increase in focus of leading manufacturers on expanding their geographical presence in emerging Asia-Pacific countries to capture high market share is expected to drive the growth of the heparin market in the region.
Asia-Pacific region would exhibit the highest CAGR of 7.8 % during 2021-2028.
The key market players profiled in the report include Baxter International Inc., B. Braun Holding GmbH & Co. KG, Dr. Reddy's Laboratories Ltd., Fresenius SE & Co KGaA, Hebei Changshan Biochemical Pharmaceutical Co., Ltd., Leo Pharma A/S, Pfizer Inc., Sanofi S.A, Teva Pharmaceuticals, and Viatris Inc.
Key Benefits For Stakeholders
The study provides an in-depth analysis of the global heparin market along with the current trends and future estimations to explain the imminent investment pockets.
A comprehensive analysis of the factors that drive and restrict the heparin market growth is provided in the report.
Comprehensive quantitative analysis of the industry from 2020 to 2028 is provided to enable the stakeholders to capitalize on the prevailing heparin market opportunities.
Extensive analysis of the key segments of the industry helps to understand the application and products of heparin used across the globe.
Key market players and their strategies have been analyzed to understand the competitive outlook of the market.
Key Market Segments
By Product
Unfractionated Heparin
Low Molecular Weight Heparin (LMWH)
Ultra-low Molecular Weight Heparin (ULMWH)
By Application
Venous Thromboembolism
Coronary Artery Disease
Atrial Fibrillation    
Others     
By Distribution Channel
Hospital Pharmacies
Drug Stores & Retail Pharmacies
Online Pharmacies
By Region
North America
Europe

Germany
France
UK
Italy
Spain
Rest of Europe

Asia-Pacific

Japan
China 
Australia
India
Rest of Asia-Pacific

LAMEA

Brazil
Saudi Arabia
South Africa
Rest of LAMEA  
 Heparin Market Report Highlights
Aspects
Details
By PRODUCT

Unfractionated Heparin
.Low Molecular Weight Heparin (LMWH)
Ultra-low Molecular Weight Heparin (ULMWH)

By APPLICATION

Venous Thromboembolism
Coronary Artery Disease
Atrial Fibrillation
Others

By DISTRIBUTION CHANNEL

Hospital Pharmacies
Drug stores and retail pharmacies
Online pharmacies

By Region

North America (U.S., Canada, Mexico)
Europe (France, Germany, Italy, Spain, UK, Russia, Rest of Europe)
Asia-Pacific (China, Japan, India, South Korea, Australia, Thailand, Malaysia, Indonesia, Rest of Asia-Pacific)
LAMEA (Brazil, South Africa, Saudi Arabia, UAE, Argentina, Rest of LAMEA)

Key Market Players
Leo Pharma A/S, Baxter International Inc., Pfizer Inc., Dr. Reddy's Laboratories Ltd., Fresenius SE & Co KGaA, Viatris Inc., Hebei Changshan Biochemical Pharmaceutical Co., Ltd., .Sanofi S.A., Teva Pharmaceuticals, .B. Braun Holding GmbH & Co. KG