High-Brightness LED Market Overview:
HB-LED Market was valued at $15 billion in 2015, and is expected to reach $29 billion by 2022 years; growing at a CAGR of 10% from 2016 - 2022. High-brightness LEDs (HB-LEDs) are semiconductor-based advanced LEDs with higher luminosity than traditional LEDs as they withstand higher current levels and power dissipation.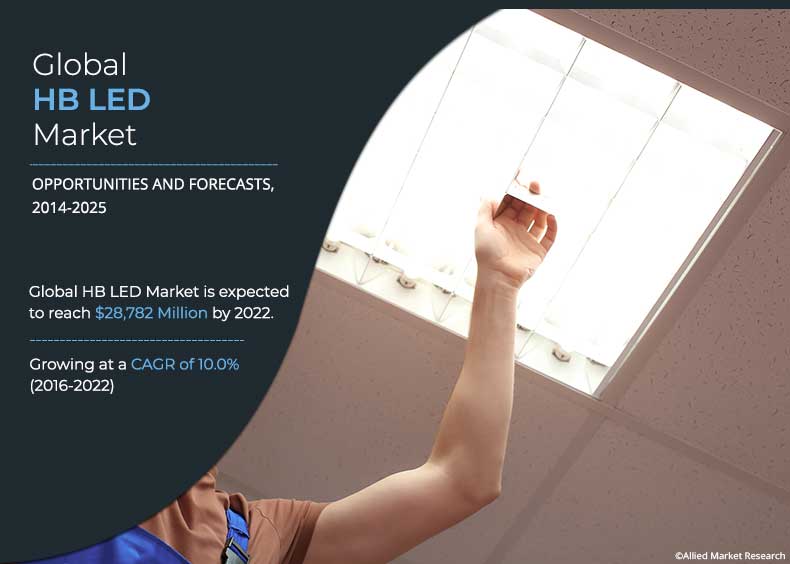 These are largely utilized in sign & signals, TVs, mobiles, and displays as they are available in various sizes and can be mounted in any circuit. Moreover, HB-LEDs held a significant market share of the LED market as it provided much brighter light with lower voltages. It has gained significance in mobile electronics owing to its longer life span, dimmability, and reduced cost of LED components and the rise in display and large screen backlighting market that drive the market growth. However, excessive usage of HB-LED in high temperatures may cause breakdown, as its performance is highly dependent on ambient temperature, which could restrain the market growth. Moreover, rise in regulatory concerns regarding energy-saving and increasing green construction are expected to provide ample growth opportunities.
Segment Overview:
The Global HB-LED market is segmented on the basis of application and geography.
HB-LED Market Segmentation
The application segment is dominated by general lighting segment as there is a change in the consumer preferences from traditional bulbs to advanced HB-LEDs and rise in sales of downlights, replacement lamps, outdoor lights, commercial, and industrial products. However, signals & signage application segment is expected to exhibit fastest growth during the forecast period owing to its ability to produce multiple colors and low power requirements.
Increasing Green Construction 
With the rise in environmental concerns, the adoption of LED is expected to increase in buildings. General lighting industry is also expected to witness tremendous growth in demand for LED lights. In addition, most of the key HB-LED manufacturers have started manufacturing LED lights and certain Chinese manufacturers have entered the market with cheaper LED products. Unlike fluorescent lamps, LEDs do not contain mercury, which is a hazardous element. However, LED contains some poisonous substances such as gallium arsenide, but the quantity of this substance is very less and thus, it can be considered as a greener alternative to fluorescent lamps.
Increasing HB-LED light Applications
HB-LED demand has proliferated in various applications owing to its several benefits such as longer life-span, dimmability, and efficiency. Moreover, the demand for HB-LEDs in mobile appliance, displays, backlighting, and large screen display applications has escalated significantly and is estimated to continue throughout the forecast period.  The life span of LED is expected to have a major impact on the demand. With rising demand for long lasting lights, its impact is expected grow in future. LEDs have a longer lifespan compared to the other light sources.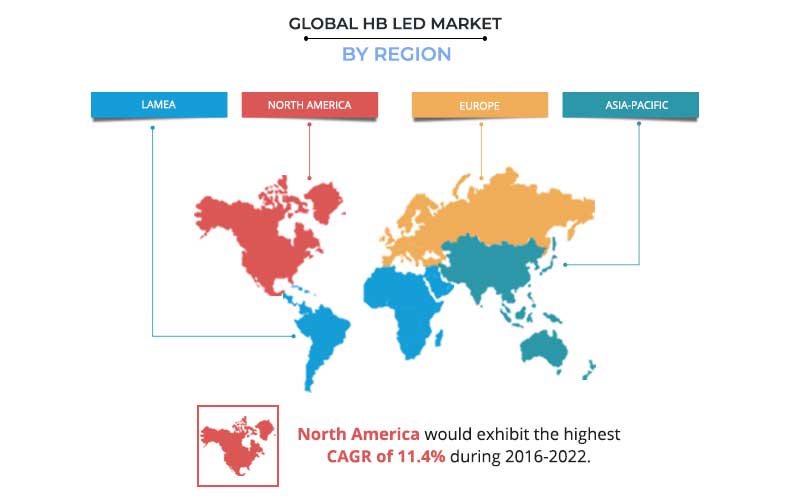 Competitive Landscape
The report provides a comprehensive analysis of major market players that include Epistar Corp, Cree, Inc., Philips Lumileds, Moritex Corporation, Samsung Electronics Co Ltd, Seoul semiconductor, Osram Opto Semiconductor, American Bright Optoelectronics Corps, Nichia Corporation, and Toyoda Gosei to highlight the top winning strategies.
Top Winning Strategies
Currently, growth strategies such as product launch, partnership, agreement, and acquisition are adopted by key market players. HB-LED market is largely driven by product launch and partnership. Cree Inc. and Samsung Electronics Co. Ltd., introduced more advanced and energy efficient LED to enhance their product portfolio and increase their market share.
Key Benefits
The study provides an in-depth analysis of the global HB-LED market to elucidate the prominent investment pockets.
Current trends and future estimations are outlined to determine the overall market scenario and to single out profitable trends to gain a stronger foothold in the market.
The report provides information regarding key drivers, restraints, and opportunities with impact analysis.
Geographically, the market is analyzed based on four regions, namely, North America, Europe, Asia-Pacific, and LAMEA 
Analysis of value chain is conducted for better understanding of the role of intermediaries.
 High-Brightness LED Market Report Highlights
Aspects
Details
By Application

Automotive
General Lighting
Backlighting
Mobile Device
Signals & Signage
Others

By Geography

North America
Europe

UK
Germany
France
Rest of Europe

Asia-Pacific

China
Japan
South Korea
Taiwan
India
Rest of Asia-Pacific

LAMEA

Latin America
Middle East
Africa

Key Market Players
Eaton Corporation, Everlight Electronics Co., Ltd., Intematix Corporation, GE Lighting Solutions, LG Innotek Co Ltd, Broadcom Ltd., Kingbright Electronic Co, Ltd, International Light Technologies, Nichia Corporation, TOYODA GOSEI