The global high speed oven market size was valued at $2.3 billion in 2020, and is projected reach $3.6 billion by 2030, registering a CAGR of 4.8% from 2021 to 2030. The built-in segment led in terms of the high-speed oven market share in 2020, and the countertop segment is expected to have the highest CAGR during the forecast period.
High speed ovens can cook food faster than conventional ovens. These ovens can reduce cooking times for food anywhere from 30% to 50%. Two main types of high speed ovens are built-in high speed ovens, which are built into kitchen walls; and countertop high speed ovens, which can be placed anywhere on kitchen counters. Most high speed ovens are used for commercial use, however, certain smaller high speed ovens can also be used for residential purposes.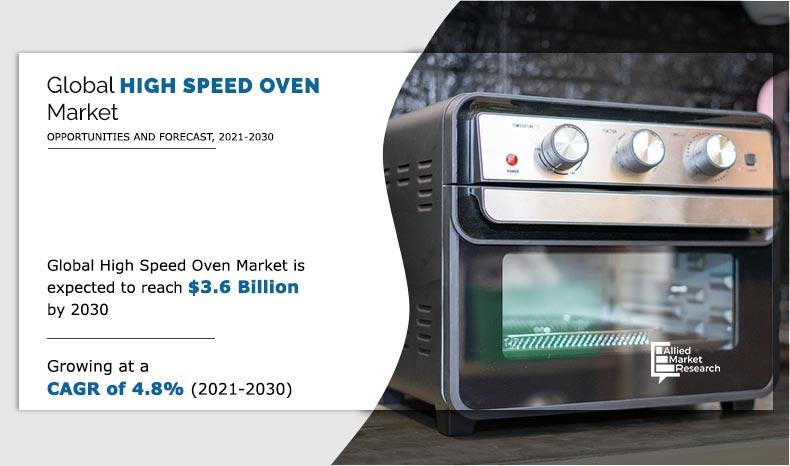 The advent of food delivery apps is leading to a larger exposure for hotels, restaurants and cafes. Furthermore, the quick delivery model of food aggregators have resulted in grater adoption of high speed ovens by food establishments. In developing countries, where the hospitality and food industry is growing very rapidly, high speed ovens are becoming essential to stay ahead of the competition and to maintain a rigid service model. As a result, high demand for high speed oven can be witnessed in food service industry.
Manufacturers of high speed ovens are adding many new features in their products, which improves their functionalities. Addition of new features and functions in products is becoming a common practice to provide customers with additional value and to stand out from competition. Use of IoT in smart ovens to connect them with the internet and mobile applications enables users to remotely set up cooking times, temperatures, mode of heating, and other types of settings that ovens may include. In addition, use of steam cooking technology in several high speed ovens help in maintaining moisture in food, while also preventing food from accidentally burning. In addition, players are incorporating interactive control panel displays supporting multi-languages and connectivity via WiFi. For instance, Midea Group launched built-in scanners, which enable operation by scanning barcode on food packaging to set power levels and cooking time. Furthermore, customization options are now made available to the food establishments by the manufacturers of the high speed ovens. Novel innovations and  customization drives the global market for high speed ovens.
Segment review
The global high speed oven market is segmented on the basis of type, end user, sales channel, and region. By type, the market is bifurcated into built-in and countertop. By end user, it is segmented into residential and commercial. By sales channel, it is studied across hypermarkets/supermarkets, specialty stores, and online channels. Region wise, it is studied across North America, Europe, Asia-Pacific, and LAMEA.
High Speed Oven Market

---
By Type
Countertop segment would exhibit the highest CAGR of 5.6% during 2021-2030.
Depending on type, built-in high speed ovens are larger ovens that are either built into walls or are a part of a kitchen and cannot be moved around easily. Counter top high speed ovens are smaller ovens that can be placed on kitchen counters and are easy to relocate from one part of the kitchen to another.
High Speed Oven Market

---
By End User
Residential segment would exhibit the highest CAGR of 5.5% during 2021-2030.
According to end user, high speed ovens are most widely used commercially as they need to cook large quantities of food quickly to cater to large number of customers visiting for food. Residential use of high speed ovens is comparatively low, but its use is expected to increase in the future.
High Speed Oven Market

---
By Sales Channel
Online Channels segment would exhibit the highest CAGR of 6.5% during 2021-2030.
By sales channel, specialty stores are the most common mode of purchase of high speed ovens. However, online channels segment is witnessing high growth owing to high convenience, deliver to door services along with availability of large number of products from various brands.
High Speed Oven Market

---
By Region
Asia-Pacific region would exhibit the highest CAGR of 6.7% during 2021-2030.
The report focuses on the high speed oven market growth prospects, restraints, and opportunities. The study provides Porter's five forces analysis to understand the impact of various factors such as competitive intensity of competitors, bargaining power of suppliers, threat of substitutes, threat of new entrants, and bargaining power of buyers of the high speed oven market.
Some of the major players profiled for in the high speed oven market analysis include Bosch, Breville Group Limited, Cookkart, Electrolux AB, Kanteen India Equipments Co., Miele & Cie KG, Panasonic, SMEG S.p.A., The High Speed Oven Company, and Whirlpool Corporation. Other prominent players analyzed in the report are GE, Sharp, Siemens, Welbilt, TurboChef Technologies, Viking Range, Alto-Shaam, Ali Group (ACP Solutions), and MIT.
Covid-19 Impact Analysis
High speed oven industry was negatively impacted by the pandemic, owing to closing down of commercial food establishments.
Rapidly increasing commercial food establishments in the post COVID scenario and increasing adoption by the residential segment is expected to lead to a positive growth for the market in the post COVID scenario.
Innovation in products and increased sales via online channels provide new avenues for the market to proliferate.
Key Benefits For Stakeholders
The report provides an extensive analysis of the current and emerging high speed oven market trends and opportunities.
The report provides detailed qualitative and quantitative analysis of the current trends and future estimations that help evaluate the prevailing high speed oven market opportunities in the market.
The high speed oven market forecast is offered along with information related to key drivers, restraints, and opportunities.
The market analysis is conducted by following key product positioning and monitoring the top competitors within the market framework.
The report provides extensive qualitative insights on the potential and niche segments or regions exhibiting favorable growth.
High Speed Oven Market Segments
By Type
By End User
By Sales Channel
Hypermarket/Supermarket
Specialty Stores
Online Channels
By Region
North America
Europe

UK
Germany
France
Italy
Spain
Rest of Europe

Asia-Pacific

China
Japan
India
Australia
South Korea
Rest of Asia-Pacific

LAMEA

Brazil
Argentina
Saudi Arabia
United Arab Emirates
South Africa
Rest of LAMEA
 High Speed Oven Market Report Highlights
Aspects
Details
By TYPE
By END USER
By SALES CHANNEL

Hypermarket/Supermarket
Specialty Stores
Online Channels

By Region

North America (U.S., Canada, Mexico)
Europe (France, Germany, Italy, Spain, UK, Russia, Rest of Europe)
Asia-Pacific (China, Japan, India, South Korea, Australia, Thailand, Malaysia, Indonesia, Rest of Asia-Pacific)
LAMEA (Brazil, South Africa, Saudi Arabia, UAE, Argentina, Rest of LAMEA)

Key Market Players
MIELE & CIE KG, COOKKART, THE HIGH SPEED OVEN COMPANY, BOSCH, PANASONIC CORPORATION, WHIRLPOOL CORPORATION, BREVILLE GROUP LIMITED, KANTEEN INDIA EQUIPMENTS CO., SMEG S.P.A., ELECTROLUX AB