High-Voltage Hybrid Vehicle Market Statistics 2030 -
The global High Voltage Hybrid Vehicles Market was valued at $101.44 billion in 2020, and is projected to reach $484.81 billion by 2030, registering a CAGR of 20.7%. Asia-Pacific was the highest revenue contributor, accounting for $53.01 billion in 2020, and is estimated to reach $216.08 billion by 2030, with a CAGR of 19.1%.    
The COVID-19 health crisis has saviour impact on the overall supply chain of the high voltage hybrid vehicle market owing to the commute restrictions, working capital management issues, slowdown financial performances of the market players, complete or partial shutdown of the manufacturing as well as distributors facilities, and low consumer confidence. The lowering demand in the market along with decreased production activities has been limited the growth of the global market. In FY 2022, changing automotive industry outlook and increasing vehicle electrification activities support the growth and witnessed the recovery of the global market.
High-voltage hybrid vehicle refers to hybrid vehicle that drives through IC engine along with electric drive operating more than 60V DC voltage. As per the automotive industry definition, above 60 V DC refers to the high voltage that creates a requirement for mandatory contact protection to the system. The foundation of the majority hybrid vehicle is based on high voltage operating range as it is fulfilling the voltage requirement of the electric drive system along with electrical as well as electronic automotive components.  High-voltage hybrid vehicles have several benefits over conventional vehicles, including improved vehicle dynamics, reduced fuel consumption, low noise electric drive, and others. Key components of the high voltage hybrid vehicle include traction battery pack, DC-AC inverter, electric motor, DC-DC converter, on-board charger, compressor, PTC heater, and power distribution.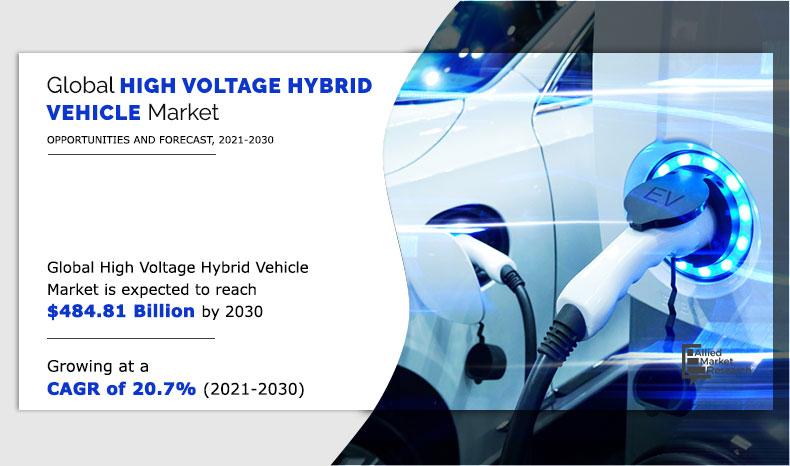 Factors such as decline in price of batteries per KWH and surge in adoption of fuel-efficient mobility solution are expected to drive the growth of the high voltage hybrid vehicle market. However, reduction in production and sale of automotive and increase in requirement for skilled workforce to perform maintenance and repair activities are expected to restrain the market growth. On the contrary, growth in developing nations and government policies, regulations, and subsidies are projected to offer lucrative growth opportunity for the market players.
The global high-voltage hybrid vehicle market is segmented on the basis of vehicle type, propulsion, voltage, and region. Based on the vehicle type, the market is segmented into passenger cars, buses, and trucks. On the basis of propulsion, the market is categorized into hybrid electric vehicle (HEV) and plug-in hybrid electric vehicle (PHEV). In terms of voltage, the high-voltage hybrid vehicle market has been divided into less than 340 volts, 350 to 650 volts, and 650 volts and above. Region wise, the market is analyzed across North America, Europe, Asia-Pacific, and LAMEA.
Leading players and their key business strategies have been analyzed in the report in order to gain a competitive insight into the market. Key players covered in the report include big players such as BMW Group, BYD Company Limited, Daimler AG, Ford Motor Company, Groupe Renault, Honda Motor Co., Ltd., Kia Corporation, Toyota Motor Corporation, Volkswagen AG, and Volvo Car Corporation. 
Surge in adoption of fuel-efficient mobility solution
In the recent years, the automotive industry has witnessed drastic change in terms of technological evolution. To cater to the changing demands of consumers, OEMs are relying on electrical components, owing to their output efficiency and lightweight; thus, making vehicle electrification a fuel economic solution. Furthermore, electrification is the future step as majority of the carmakers are in-lining toward the hybrid-driven vehicles development to cater the changing requirement of the end users and policy makers to cope up with green mobility requirements. In addition, hybrid vehicles are fuel efficient transportation solution as compare to gasoline-driven vehicles. For instance, in 2021, Groupe Renault aims to make 30% of sales for the Renault brand from fully electric cars by 2025, with another 35% from hybrid models. Moreover, emission from vehicles is a crucial factor, as harmful greenhouse gases are released, which increase environmental and health concerns. Thus, governments across the globe are implementing vehicle emission norms to control greenhouse emission and maintain environmental balance. Manufacturers need to comply with these regulations to control the emission level. For instance, from April 2020, the Government of India implemented the BS6 emission standard to control the outflow of air pollutants from vehicles. Thus, all these factors collectively escalate the demand for high-voltage hybrid vehicle in the near future.
Decline in price of batteries per KWH
Batteries are the significant part of the vehicle that supplies the electricity input to various electrical components required for effective functioning. Increase in penetration of electrical components and drive system in the automotive sector is expected to boost the demand for automotive batteries. Furthermore, increase in integration of green technology such as hybrid drive system and all electric drive system in turns to increase the need for automotive batteries. Moreover, the price of automotive battery is declining significantly. For instance, according to a research study published by Bloomberg New Energy Finance (BNEF) on the automotive battery, in 2010, the price for automotive battery was $1,100 per Kwh, whereas it was $137 per Kwh in 2020. Moreover, these prices are expected to fall in a same momentum in the upcoming years. The batteries are the crucial component of the high voltage hybrid vehicle; thereby, augmenting the growth of the high-voltage hybrid vehicle market.
High-Voltage Hybrid Vehicle Market

---
By Vehicle Type
Truks segment is projected as the most lucrative segments
Growth in developing nations
The automotive industry outlook has changed dramatically in the developing regions such as India, Mexico, Brazil, and Morocco as production outlook as well as sales has been changed. Moreover, in these countries, majority of the leading automakers has production facilities as it has good sources of raw material, manufacturing friendly policies, and cost-effective workforce. Furthermore, the end users in these countries are inkling toward high-end technology enabled automotive along with cost-effective and fuel-efficient solution.  In addition, government of developing nations are introducing supporting policies to boost the sales of high-voltage hybrid vehicle, which in turn is anticipated to create an opportunity for market participants to focus on these countries and gain competitive advantage.
High-Voltage Hybrid Vehicle Market

---
By Propulsion
Hybrid Electric Vehicle (HEV) is projected as the most lucrative segments
Decrease in production and sales of automotive
The automotive industry has witnessed decline in the overall growth from the past three years, which results in reduced sales as well as production of automotive. This is majorly attributed to changes in manufacturing standard of the automotive and low consumer confidence for buying the vehicles due to uncertainty in the government regulations regarding emission and safety, which, in turn, increases the prices of automotive. The growth of the high voltage hybrid electric vehicle market movement is completely dependent on the automotive industry outlook. Thus, lowering automotive demand and weaken vehicle sales outlook are expected to hamper the growth of the overall market. According to the OICA (Organisation Internationale des Constructeurs d'Automobiles), the total automotive production was 95.6 Mn units in 2018, and it has reached to 77.6 Mn units in 2020. Moreover, the automotive industry is witnessing slower growth than expected, which is likely to downturn the demand for high-voltage hybrid electric vehicle market in the upcoming years.
High-Voltage Hybrid Vehicle Market

---
By Voltage
Less than 340 Volts is projected as the most lucrative segments
COVID-19 Impact Analysis 
For the high-voltage hybrid vehicle market, 2020 was witnessed as a negative performing year, owing to the negative demand and supply outlook from the COVID-19 crisis restrictions and supply chain disruptions. Market participants of high-voltage hybrid vehicle are following certain approaches to manage the operations by slashed budgets, extended equipment lifecycles, decreased staff sizes, and reduced salaries in the short term to overcome the financial downturn. The demand from end users has reduced at a considerable level as there is low consumer confidence and high vehicle prices. The overall production activities industry players have declined, owing to operations with limited workforce capacity, inadequate health safety measures, and changing consumer sentiments. However, there are most probable chances of sales momentum for the high-voltage hybrid vehicle from 2022, owing to its positive demand outlook and green mobility initiatives.
High-Voltage Hybrid Vehicle Market

---
By Region
North America would exhibit the highest CAGR of 20.7% during 2021-2030.
Key Benefits For Stakeholders
This study presents analytical depiction of the global high-voltage hybrid vehicle market analysis along with the current trends and future estimations to depict imminent investment pockets.
The overall high-voltage hybrid vehicle market opportunity is determined by understanding profitable trends to gain a stronger foothold.
The report presents information related to key drivers, restraints, and opportunities of the global high-voltage hybrid vehicle market with a detailed impact analysis.
The current high-voltage hybrid vehicle market is quantitatively analyzed from 2020 to 2030 to benchmark the financial competency.
Porter's five forces analysis illustrates the potency of the buyers and suppliers in the industry.
Key Market Segments
By Type
Passenger Cars    
Buses    
Trucks    
By Propulsion
Hybrid Electric Vehicle (HEV)
Plug-in Hybrid Electric Vehicle (PHEV)
By Voltage
Less than 340 Volts
350 to 650 Volts
650 Volts and Above
By Region
North America
Europe

UK
Germany
France
The Netherlands
Norway
Rest of Europe

Asia-Pacific

China
Japan
India
South Korea
Rest of Asia Pacific

LATAM

Latin America
Middle East
Africa
Key Players
BMW Group 
BYD Company Limited 
Daimler AG
Ford Motor Company 
Groupe Renault 
Honda Motor Co., Ltd.
Kia Corporation 
Toyota Motor Corporation
Volkswagen AG 
Volvo Car Corporation
 High-Voltage Hybrid Vehicle Market Report Highlights
Aspects
Details
By Type

Passenger Cars
Buses
Trucks

By Propulsion

Hybrid Electric Vehicle (HEV)
Plug-in Hybrid Electric Vehicle (PHEV)

By Voltage

Less than 340 Volts
350 to 650 Volts
650 Volts and Above

By Region

North America (U.S., Canada, Mexico)
Europe (France, Germany, Italy, Spain, UK, Russia, Rest of Europe)
Asia-Pacific (China, Japan, India, South Korea, Australia, Thailand, Malaysia, Indonesia, Rest of Asia-Pacific)
LAMEA (Brazil, South Africa, Saudi Arabia, UAE, Argentina, Rest of LAMEA)

Key Market Players
Volkswagen AG, Honda Motor Co., Ltd., Kia Corporation, BMW Group, Groupe Renault, Volvo Car Corporation, Toyota Motor Corporation, Daimler AG, BYD Company Limited, Ford Motor Company