Home Automation Market Outlook,2030
The home automation market size was valued at $46,607.1 million in 2020, and is expected to reach $239,897.8 million by 2030, registering a CAGR of 17.6% from 2021 to 2030. Home automation is utilization of intelligent terminals to control home appliances and equipment. It includes but is not limited to centralized control of lighting, security checks/locks for home access, HVAC control, and others. Home automation is also known as smart home automation, which is an automation system, which offers access to control appliances and devices such as lights, fan, alarm system, heating & cooling systems, and electrical outlets with a smartphone.
The home automation market was hampered during the outbreak of COVID-19 pandemic owing to regulation on logistic services. However, the demand for smart homes operated with home automation is growing significantly with increase in awareness and adoption of concept of smart homes and home automation.
An automated home provides numerous benefits to end-users, such as reduced energy spending, security from theft, and protection from unauthorized access to the home. The solutions are gaining popularity in the residential and hospitality sectors, to protect their personal and commercial assets such as buildings, hardware infrastructures, personal belongings, and others.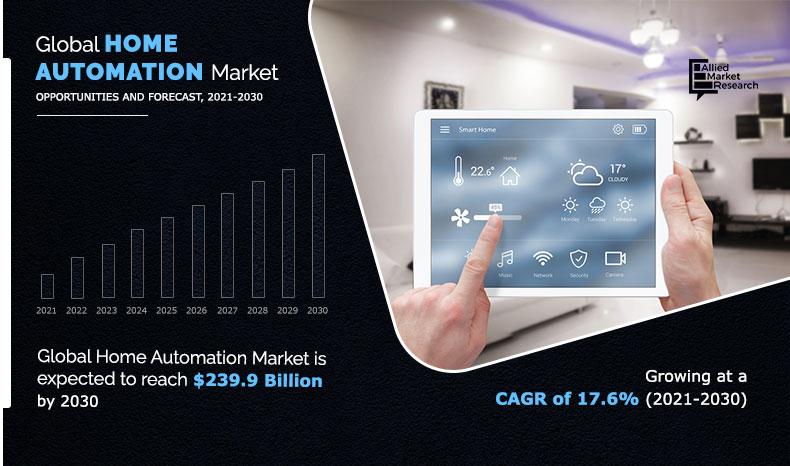 The home automation market is driven by the increase in demand for energy-efficient solutions, substantial growth in the IoT market, convenience & ease of usage, technological advancements, increase in number of smartphone users, and surge in security concerns. The market experiences limitations due to excessive cost of automated homes and lack of awareness in some developing & under-developed regions. Increase in adoption of automated services and government incentives for green initiatives is opportunistic for the home automation market growth. Moreover, the need for energy-efficient solutions and rise in demand for safety & security for homes are the major factors that are expected to boost the demand for home automation market.
Furthermore, during the outbreak of the COVID-19 pandemic, construction, manufacturing, hotel, and tourism industries were majorly affected. Manufacturing activities were halted or restricted. Construction and transportation activities, along with their supply chains, were hampered on a global level. This led to decline in manufacturing of home automation as well as their demand in the market, thereby restraining the growth of the home automation market. Conversely, industries are gradually resuming their regular manufacturing and services. This is expected to lead to re-initiation of home automation companies at their full-scale capacities, which is expected to help the home automation market to recover by mid of 2022.
Home Automation Market

---
By Application
Safety & security segment holds the largest share in home automation market
On the contrary, introduction of various plans and automation modules by key market players to cater to the increase in customer demands is anticipated to provide lucrative opportunities for the market. For example, in March 2019, Johnson Controls developed a new version of the SMART Equipment Control Firmware. Its features include continuous reset single zone control, which offers energy savings and precise control of space comfort.
The home automation market is segmented on the basis of, application, technology end user, and region. By application, the market is segregated into lighting, safety & security, HVAC, entertainment and others. On the basis of technology, the market is divided into wired and wireless. On the basis of end user, the market is divided into residential and commercial. Region wise, it is analyzed across North America (the U.S., Canada, and Mexico), Europe (Germany, France, UK, Italy, and rest of Europe), Asia-Pacific (China, Japan, South Korea, India, and rest of Asia-Pacific), and LAMEA (Latin America, the Middle East, and Africa).
Home Automation Market

---
By Technology
Wireless segment holds dominant position in 2020
On the basis of application, in 2020, the safety & security segment dominated the home automation market, in terms of revenue, whereas the others segment is expected to witness growth at the highest CAGR during the forecast period. On the basis of technology, in 2020, the wireless segment dominated the home automation market and is expected to witness growth at the highest CAGR during the forecast period. Depending on end user, the residential segment led the market in 2020, in terms of revenue. Whereas, the commercial segment is anticipated to exhibit the highest CAGR in the coming years. Region wise, Asia-Pacific garnered the highest revenue in 2020; however, LAMEA is anticipated to register highest CAGR during the forecast period.
Competition analysis
The major players profiled in the home automation market include ABB, ADT, Creston Electronics, Inc., Honeywell International Inc., Ingresoll Rand, Johnson Controls, Larsen & Toubro Ltd., Legrand, Samsung Electronics Co., Ltd. and Schneider Electric. Major companies in the market have adopted product launch, business expansion and acquisition as their key developmental strategies to offer better products and services to customers in the home automation market.
Home Automation Market

---
By Region
Asia-Pacific holds a dominant position in 2020 and LAMEA is expected to grow at a highest rate during the forecast period.
Key Benefits For Stakeholders
The report provides an extensive analysis of the current trends, future estimations, and dynamics of the home automation market. 
In-depth home automation market analysis is conducted by estimations for the key segments between 2021 and 2030. 
Extensive analysis of the market is conducted by following key product positioning and monitoring of top competitors within the market framework.
A comprehensive analysis of four major regions is provided to determine the prevailing opportunities.
The home automation market forecast analysis from 2021 to 2030 is included in the report.
The key market players operating in the market are profiled in this report and their strategies are analyzed thoroughly, which help to understand the competitive outlook of the home automation industry.
 Home Automation Market Report Highlights
Aspects
Details
BY APPLICATION

Lighting
safety & security
HVAC
Entertainment
Others

BY TECHNOLOGY
BY END USER
BY REGION

North America (U.S., Canada, Mexico)
Europe (Germany, France, UK, Italy, Rest of Europe)
Asia-Pacific (China, Japan, South Korea, India, Rest of Asia-Pacific)
LAMEA (Latin America, Middle East, Africa)

Key Market Players
ABB, ADT, Creston Electronics, Inc., Honeywell International Inc., Ingresoll Rand, Johnson Controls, Larsen & Toubro Ltd., Legrand, Samsung Electronics Co., Ltd., Schneider Electric