The Homewares market size was valued at $1,395.73 billion in 2020, and is estimated to reach $2,028.68 billion by 2028, registering a CAGR of 5.20% from 2021 to 2028. 
Homewares products include various items that can be easily replaced and moved such as bed, sofa, air conditioner, refrigerator, microwave oven and other home decoration products. Homewares comprises furniture, home appliances, kitchenware, lighting systems and other accessories used in bathroom. Dynamic changes in lifestyle and tremendous rise in the number of working women have led to increase in household income, and improvement in the living standards. These attributes are majorly influencing the Homewares market growth. Both the family members (husband & wife) are busy with office work, they get less time to complete household chores and for themselves, thereby people are increasing purchasing smart and advanced home appliances for convenience and comfort at home. According to the United Nations, a large part of the world is currently undergoing urbanization. Nearly 54.8% of the world's population presently lives in urban areas. Growth in urbanization has resulted in the increasing demand for residential homes and apartments, which is expected to add more number of households, which in turn, creates a huge demand for various Homewares products including home appliance, furniture, lighting, soft furnishing and home decoration products.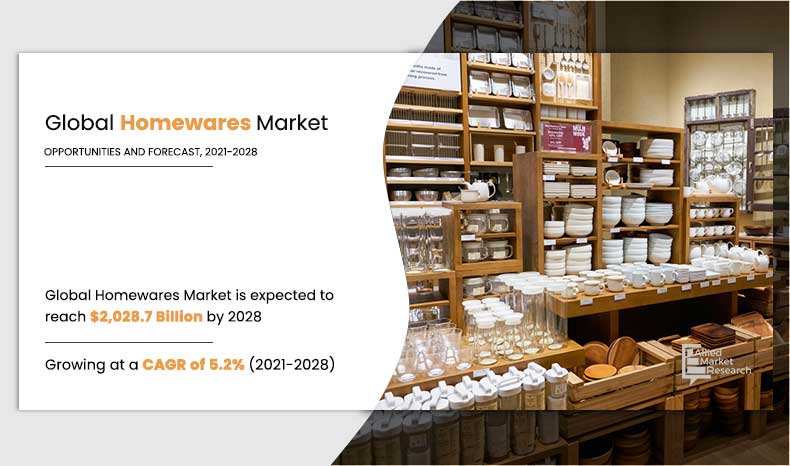 The outbreak of the COVID-19 pandemic has negatively affected the growth of the Homewares market. Sales of Homewares have witnessed significant decrease due to the disturbed distribution channel and adversely affected export and import activities. Furthermore, the pandemic has had the most impact on the manufacturing activates, which adversely affected the growth of the Homewares market. 
According to the Homewares market analysis, the market is segmented into type, distribution channel, and region. On the basis of type, the market is categorized into home decoration, furniture, kitchenware, home appliances, soft furnishings, lighting, bathroom accessories and others. According to distribution channel, it is divided into Homewares stores, franchised stores, departmental stores, online stores and specialty stores. Region wise, it is analyzed across North America (the U.S., Canada, and Mexico), Europe (Germany, France, the UK, Italy, Spain, Russia, and rest of Europe), Asia-Pacific (China, Japan, India, Australia, South Korea and rest of Asia-Pacific), and LAMEA (Latin America, The Middle East and Africa).
Home Appliances segment helds the major share of 34.6% in 2020
On the basis of type, the home appliance segment has gained major share in Homewares market in 2020 and is expected to sustain its share throughout Homewares market forecast period. The anticipated growth in the market can be predominantly attributed to increasing demand for smart and advanced various home appliances such as air conditioner, refrigerator, washing machine, dishwasher and microwave oven. For instance, increasing temperature and humidity levels across the world along with rising acceptance of air conditioners as a utility product rather than a luxury product is expected to contribute to the growth of the home appliances market. Growing technological advancement in air conditioners, such as availability with inverter and air purification technologies, is further anticipated to positively influence the sales of the air conditioners, which in turn, contributes to the growth of market through the home appliances segment.
According to Homewares market trends, depending on distribution channel, the specialty store segment was valued at $287.54 billion in 2020, and is expected to reach $414.45 billion by 2028, with a CAGR of 5.1%. A specialty store is a shops carries a deep assortment of brands, styles, or models within a relatively narrow category of goods. Consumers prefer to analyze and evaluate products before purchase, thereby boosting the retail sales of Homewares products specially home appliances, home décor and furniture through specialty store. In addition, consumers check the quality, durability, and color variants in the stores and the type of accessories compatible with them. Therefore, specialty stores are projected to gain high demand in the near future.
Homewares Market

---
By Distribution Channel
Homewares Stores segment helds the major share of 27.6% in 2020
Region wise, Asia-Pacific is projected to grow at the highest CAGR, owing to constantly expanding infrastructure and real estate sector, where air conditioning is largely demanded. Growing urbanization and high standard of living of the people, especially in developing countries including India and China, are driving the growth of the white goods market in the Asia-Pacific region. Rise in disposable income and high spending on home improvement are some of the major factors positively influencing the product market. People in India are replacing old household appliances with smart and advanced appliances, which is further creating huge demand for white goods during the forecast period 2021-2028. 
The players operating in the global Homewares market have adopted various developmental strategies to expand their Homewares market share, increase profitability, and remain competitive in the market. The key players profiled in this report include Arc International SA, Conair Corporation, Ikea Systems, International Cookware SAS, Lock & Lock Co., Ltd., Pacific Market International, SEB SA, Tempur Sealy International, Inc., The Oneida Group and Tupperware.
Homewares Market

---
By Region
Asia Pacific region helds the major share of 34.7% in 2020
Key Benefits For Stakeholders
The report provides a quantitative analysis of the current market trends, estimations, and dynamics of the market size from 2019 to 2028 to identify the prevailing opportunities.
Porter's five forces analysis highlights the potency of buyers and suppliers to enable stakeholders to make profit-oriented business decisions and strengthen their supplier–buyer network.
In-depth analysis and the market size and segmentation assist to determine the prevailing Homewares market opportunities.
The major countries in each region are mapped according to their revenue contribution to the market. 
The market player positioning segment facilitates benchmarking and provides a clear understanding of the present position of the market players in the Homewares industry.
Key Market Segments
By Type
Home Decoration

Furniture
Kitchenware
Home Appliances
Soft Furnishings
Lighting
Bathroom Accessories

Others
By Distribution Channel
Homewares Stores
Franchised Stores
Departmental Stores
Online Stores
Specialty Stores
By Region
North America
Europe

Germany
France
UK
Italy 
Spain 
Russia
Rest of Europe

Asia-Pacific

China
Japan
India
Australia
South Korea

Rest of Asia-Pacific

LAMEA
Latin America
The Middle East
Africa
 Homewares Market Report Highlights
Aspects
Details
By TYPE

Home decoration
Furniture
Kitchenware
Home appliances
Soft furnishings
Lighting
Bathroom accessories
Others

By DISTRIBUTION CHANNEL

Homewares stores
Franchised stores
Departmental stores
Online stores
Specialty stores

By Region

North America (U.S., Canada, Mexico)
Europe (France, Germany, Italy, Spain, UK, Russia, Rest of Europe)
Asia-Pacific (China, Japan, India, South Korea, Australia, Thailand, Malaysia, Indonesia, Rest of Asia-Pacific)
LAMEA (Brazil, South Africa, Saudi Arabia, UAE, Argentina, Rest of LAMEA)

Key Market Players
CONAIR CORPORATION, IKEA SYSTEMS, THE ONEIDA GROUP, TEMPUR SEALY INTERNATIONAL, INC., PACIFIC MARKET INTERNATIONAL, TUPPERWARE, INTERNATIONAL COOKWARE SAS, ARC INTERNATIONAL SA, SEB SA, LOCK & LOCK CO., LTD.