Horse Insurance Market Research, 2031
The global horse insurance market was valued at $458.7 million in 2021, and is projected to reach $1.6 billion by 2031, growing at a CAGR of 13.7% from 2022 to 2031.
Increase in technological advancements in insurance industry during COVID-19 for automation of underwritings and advancements in various technologies are expected to boost the growth of insurance industry.
The insurance policy known as "equine insurance" is designed specifically for the horse business and offers a range of policies and coverage. It provides insurance against unforeseen costs that can be incurred by the horses, farms, equestrian experts, and other related parties. The equine insurance is used by horse farms, horse industry groups, rodeos, equestrian professionals, clubs, and exhibits related to the horse business.
Increase in demand for horse medical insurance policies owing to rise in ownership of horses, especially among high-net individuals, is fueling the growth of horse insurance market. Moreover, rise in digitization in insurance industry owing to advancement in technologies such as AI and ML, is benefiting the horse insurance market growth. This factor notably promotes the growth of horse insurance market. However, less awareness and higher premiums of horse insurance is limiting industry expansion. On the contrary, increase in integration of automation technologies in insurance market is expected to boost the growth of the market in upcoming years. Moreover, rise in developments & initiatives toward horse riding insurance is anticipated to provide a potential growth opportunity for the market.
The report focuses on growth prospects, restraints, and trends of the horse insurance market forecast. The study provides Porter's five forces analysis to understand the impact of various factors such as bargaining power of suppliers, competitive intensity of competitors, threat of new entrants, threat of substitutes, and bargaining power of buyers on the horse insurance market outlook.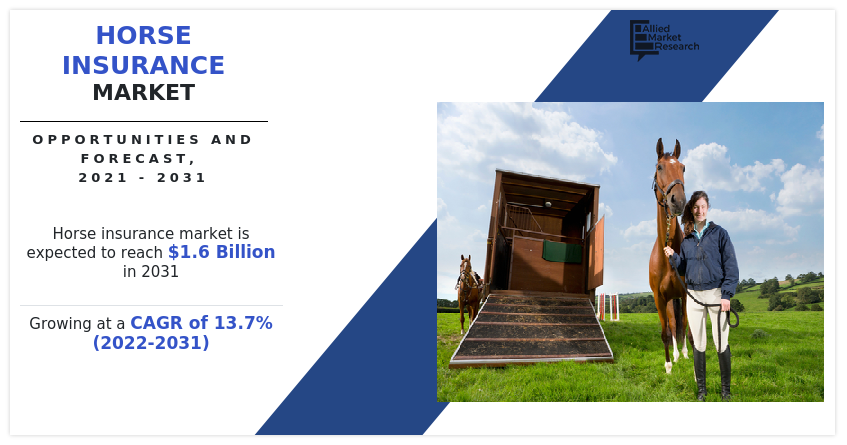 The horse insurance market is segmented into Type, Horse Type, Application and Sales Channel.
Segment review
The horse insurance market is segmented into type, horse type, application, sales channel, and region. By type, the market is differentiated into mortality, major medical & surgical, loss of use, liability and others. Depending on horse type, it is fragmented into American quarter horse, Arabian, thoroughbred, Morgan, appaloosa and others. The application segment is divided into recreational and commercial. The recreational segment is further segregated into riding, racing, grooming/showing and others. The riding segment is further divided into leisure riding and competitive riding. The sales channel is differentiated into broker, agency, direct response and other. Region wise, the market is analyzed across North America, Europe, Asia-Pacific, and LAMEA

.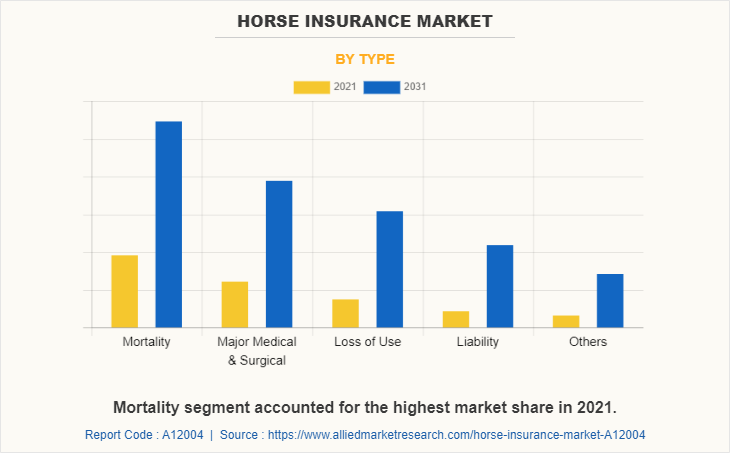 By type, the mortality segment acquired the largest horse insurance market share in the market. The demand for mortality insurance has grown significantly in the recent years with increase in various horse racing competitions around the world. Mortality insurance provides various benefits to its owner such as if the horse dies, needs to be euthanized, or is stolen, the mortality insurance helps cover those costs as specified in the policy.
Region wise, North America dominated the horse insurance market size in 2021. This is attributed to significant increase in adoption of horses by high net-worth individuals (HNWI), which has aided North America in becoming the most extensive market shareholder of the global horse insurance market.
The key players operating in the global horse insurance market include Animal Friends Insurance Services Limited, ASPCA, AXA, Broadstone Equine Insurance Agency, De Wet De Villiers Brokers, Harry Hall International Ltd., Hollard, Markel Corporation, Nationwide Mutual Insurance Company, One Insurance Group, Pet Assure Corp., Pet Plan Limited, Quotezone.co.uk, The Insurance Emporium, Consumer Agent Portal, LLC., Great American Insurance Company, and Edgewood Partners Insurance Center. These players have adopted various strategies to increase their market penetration and strengthen their position in the horse insurance industry.
COVID-19 Impact Analysis
COVID-19 pandemic had a negative impact on the horse insurance industry as majority of the diagnosis and veterinary clinics were closed due to lockdown implemented by various governments. However, horse insurance providing companies were increasingly trying to innovate and modify the policy coverage and policies depending upon incidences of health conditions. Moreover, majority of the horse insurance providers shifted to digital platforms to provide better services to their customers and tackle the negative impact on the industry. Furthermore, increase in government initiatives and rise in digitalization in insurance industry has limited the impact of pandemic on the horse insurance industry.
Top Impacting Factors
Increased demand for horse insurance policies
There is an increase in the demand for horse insurance policies owing to rise in horse ownership. In addition, the idea of pet humanization is becoming more popular, which is driving the need for pet grooming and care goods. In order to provide their pets a good and secure existence, owners, particularly millennia, are ready to spend more money on them.
Moreover, various countries across the globe have observed a significant rise in the adoption of animals, including dogs, cats and horses as companion animals. In addition, horse insurance companies are offering customized policies with the changing customer demand such as multi-pet insurance and many other. They focus on packages as per horse lifetime and per incident. Furthermore, with the rise in number of horse owners many insurers are introducing new horse insurance, which in turn is driving the growth of the market. Moreover, many horse insurance companies are implementing various strategies to expand their businesses in various regions. For instance, in May 2019, U.S.-listed pet insurer Trupanion formed a partnership with Hollard Insurance Company to offer cover in Australia. This has helped the company to expand its business in Australia, thereby benefiting the growth of the market.
Rise in need for financial safety for horses in case of increasing uncertainties
The demand for quality veterinary services is growing with rise in number of horses, which in turn is driving the cost of veterinary services. Thus, the demand for horse insurance is on the rise. Moreover, the policy covers blood tests, urinalysis, x-rays, MRIs, lab work, CT scans and ultrasounds, as well as outpatient, specialty and emergency care procedures, along with hospitalization and surgery. In addition, with the rise in medical costs, horse owners can also get an extended accident and illness package that goes beyond the initial coverage of accidental road accidents and poisonings, and a variety illness.
 Furthermore, majority of the horses are becoming a family for the horse owners, which is making them spend huge amount on their yearly checkup, due to rise in problems arising from cross breed horses. Thus, majority of horse insurance comes with an optional wellness package, as well, which provides savings for routine stuff like an annual physical checkup, heartworm tests, fecal tests, annual parasite evaluation tests, blood work and vaccines. Therefore, horse insurance saves the horse owners from rise in number of medical complications in horses.  
Surge in number of veterinary centers
COVID-19 pandemic has boosted the demand for veterinary centers, owing to surge in number of pet adoptions and complications. Furthermore, increase in trend of adoption of horses as a pet by the high-net individuals around the world has provided an opportunity for the horse insurance to witness growth in recent years.
Thus, surge in number of horses drives the number of new veterinary centers. Moreover, Banfield Pet Hospital, one of the largest national providers of preventive veterinary medicine, had approximately half a million more horse visits in 2020 than in 2019. In addition, its telehealth service doubled in revenue during the same time. Moreover, there is a severe lack of veterinary centers in majority of the developing countries, owing to sudden growth of horse adoptions in the past few years. So, there is a huge demand and supply gap. Thus, all these factors are anticipated to provide lucrative opportunities for the expansion of the market, globally.
KEY BENEFITS FOR STAKEHOLDERS
This report provides a quantitative analysis of the market segments, current trends, estimations, and dynamics of the horse insurance market analysis from 2021 to 2031 to identify the prevailing market opportunities.

    The market research is offered along with information related to key drivers, restraints, and opportunities.

    Porter's five forces analysis highlights the potency of buyers and suppliers to enable stakeholders make profit-oriented business decisions and strengthen their supplier-buyer network.

    In-depth analysis of the horse insurance market segmentation assists to determine the prevailing horse insurance market opportunity.

    Major countries in each region are mapped according to their revenue contribution to the global market.

    Market player positioning facilitates benchmarking and provides a clear understanding of the present position of the market players.

    The report includes analysis of the regional as well as global horse insurance market trends, key players, market segments, application areas, and market growth strategies.
 Horse Insurance Market Report Highlights
Aspects
Details
By Type

Mortality
Major Medical & Surgical
Loss of Use
Liability
Others

By Horse Type

American Quarter Horse
Arabian
Thoroughbred
Morgan
Appaloosa
Others

By Application

Recreational

Recreational

Riding
Racing
Grooming/Showing
Others

Commercial

By Sales Channel

Broker
Agency
Direct Response
Others

By Region

North America (U.S., Canada)
Europe (UK, Germany, France, Italy, Spain, Netherlands, Rest of Europe)
Asia-Pacific (China, Japan, India, Australia, South Korea, Rest of Asia-Pacific)
LAMEA (Latin America, Middle East, Africa)

Key Market Players
The Insurance Emporium Horse Insurance, Quotezone Horse Insurance, ASPCA, Hollard, Pet Assure, AXA, Harry Hall Horse Insurance, Nationwide, ONE Insurance, Markel Corporation, Animal Friends Horse Insurance, Pet Plan, De Wet De Villiers Brokers, Broadstone Equine Insurance Agency, EPIC Insurance Brokers & Consultants, Great American Insurance Group, Trusted Choice