Horse Riding Apparel Market Research, 2031
The global horse riding apparel market size was valued at $2.7 billion in 2021, and is projected to reach $4.1 billion by 2031, growing at a CAGR of 4.5% from 2022 to 2031.
Horse riding apparel, called equestrian gears, are protective clothing used by the horse rider. The horse riding apparel set comprises of riding boots, riding jackets, helmets, gloves, and other necessary gears. Horse riding apparels provide comfort and protection to the rider. Moreover, the equestrian gears provide an iconic look to the rider hence making rider more fashionable and making the sport more appealing.
The COVID-19 has mandatorily made all the factories and manufacturing units to shut down hampering the overall production and sales. Moreover, the horse riding apparel market experienced a steady rise in past years however due to halt on all sports and sporting related activities, the growth of the whole sports equipment and apparel market has come to a halt. The market is expected to grow steadily as the sports and gaming events have started and the stadiums and grounds have opened.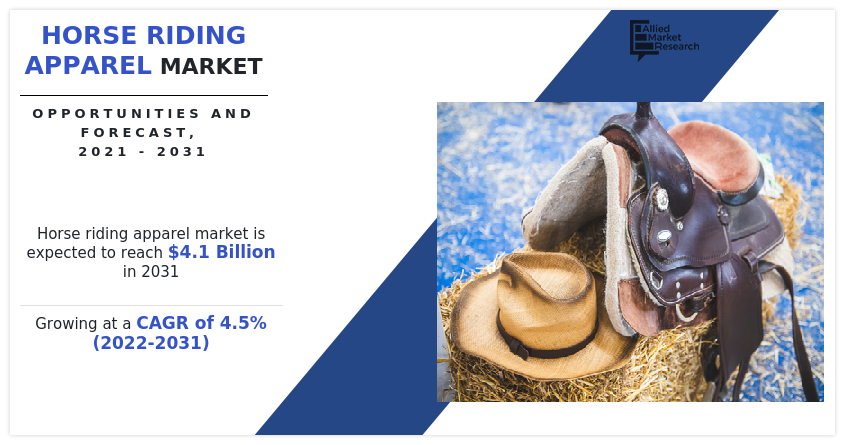 Rise in number of horse riders is recorded by many horse ridings clubs in the UK and British Equestrian Trade Association (BETA) has revealed surge in users in past 5 years with more members added to clubs and increase leisure riders. Investment by people in leisure sports activities, new riding clubs & yards being introduced, schools & colleges including in the curricular as sports, and increased disposable income drive the growth of the global horse riding market. In addition, surge in both men and women in equestrian has led to extra safety by the horse riding association and rise in spine & ribs injury during horse riding has increased awareness in riders for use of protective horse riding apparels.
The availability of counterfeit goods is another important factor limiting the horse riding apparel market growth. The standards established by regulatory organizations around the world are not followed by these products. Owing to their quick delivery and straightforward return procedures, online shops have seen a growth in popularity. The number of websites offering free shipping has also increased, which has boosted online platform sales of products.
The market is analyzed on the basis of type, gender, distribution channel, and region. By type, the market is divided into clothes, boots, gloves, and others. Further, boots are classified into hunt boots, field boots, and dress boots. By gender, it is classified into male and female. By distribution channel, the market is divided into supermarket/hypermarket, independent sports outlet, sports retail chain, and others. Region wise, the market is analyzed across North America, Europe, Asia-Pacific, and LAMEA.
Horse Riding Apparel Market

---

By Type
Clothes is the highest revenue contributor as a horse rider's clothing's primary purpose is to protect the body from sharp wounds like being kicked by a horse and to lessen the shock of landing in the event of an unintentional dismount
The clothes segment dominates the global horse riding apparel market size. The clothes worn by riders when horseback riding is referred to as clothing. The clothing is often wool, and crucial places such as the knees, chest, back, and elbows are padded for increased protection against rough surfaces. Equestrian attire often comes in one of two styles: one-piece dresses or outfits that include a shirt and jacket. Depending on the wearer's desire and the outside temperature, these dresses can be either colored or white.
Horse Riding Apparel Market

---

By Gender
Female is the fastest growing segment women are more active in horse riding activity, as they find it interesting and beneficial to their physical and mental health
The male segment exhibits the fastest growth in the global market. Men prefer riding horses as it enhances their balance, posture, joint mobility, coordination, and blood flow. In addition, this sport calls for riding apparel such as saddles, riding gloves, and other protective clothing. As a result of the rise in riders, the market for horse riding apparel is anticipated to grow.
Horse Riding Apparel Market

---

By Distribution Channel
Sports retail chain is the largest segment as the sports retail chain is one that concentrates on certain product categories, as opposed to merchants who sell a wide range of consumer products
On the basis of distribution channel, sports retail chain was the market segment that contributed the most to the overall market throughout the horse riding apparel market forecast period. Unlike specialty stores that offer a wide variety of consumer goods, a sports retail chain focuses on a few distinct product areas. These retail establishments' specialty is their main benefit for increasing their customer base. Customers who have a keen interest in a certain industry are drawn to stores that specialize in that industry.
Horse Riding Apparel Market

---

By Region
North America
Asia-Pacific
LAMEA
Europe is the highest revenue contributor due to social media's huge impact, and an increasing emphasis on equestrian recreational activities
Region wise, Europe dominated the market with the largest horse riding apparel market share during the forecast period. The horse riding apparel market demand is expected to be highest in the region. Market participants including Decathlon S.A., Georg Kieffer Sattlerwarenfabrik GmbH, and Mountain Horse are influenced by the presence of large businesses in this region. These firms encourage horseback riding in the area, which is anticipated to further fuel market expansion during the forecast period.
Manufacturers have been focusing on producing new products that can fulfill the leisure requirement of recreational riders and prevent the damage due to accidents caused during the sport. Many clubs have mandated the use of protective gears during horse riding and the horse riding schools have started using the protective horse riding apparels right from the training period. This has made an overall surge in horse riding apparels other than the professional riders.
New products that contain improved capabilities have been launched by leading market players. They have taken necessary steps to improve safety, reduce the impact of accidents and comfort of rider. Ariat's "Country Tall Boot Collection" boots compiles "ATS Pro technology" with "Poron XRD" to ensure maximum stability, flexibility and provide high impact on traction launched for both men and women. Kastel Denmark introduced "Charlotte Collection" quarter-zip riding shirt that has breathable mesh strips on arms, UV protective fabric to provide comfortable riding and fashionable looks. This series shirt is available in all colors for both men and women.
The major players analyzed for the horse riding apparel industry are Antares Sellier, Ariat International, Inc., Cavallo GmbH & Co. KG, Charles Owen, Dainese, Decathlon S.A, Georg Kieffer Sattlerwarenfabrik GmbH, HKM Sports Equipment GmbH, Horseware Ireland, Justin Boots, Mountain Horse, Phoenix Performance Products Inc, Professional's Choice, Shanghai Goldtex Clothing & Bags Co., and Whitaker International Ltd.
Key Benefits For Stakeholders
This report provides a quantitative analysis of the market segments, current trends, estimations, and dynamics of the horse riding apparel market analysis from 2021 to 2031 to identify the prevailing horse riding apparel market opportunity.
The market research is offered along with information related to key drivers, restraints, and opportunities.
Porter's five forces analysis highlights the potency of buyers and suppliers to enable stakeholders make profit-oriented business decisions and strengthen their supplier-buyer network.
In-depth analysis of the horse riding apparel market segmentation assists to determine the prevailing market opportunities.
Major countries in each region are mapped according to their revenue contribution to the global market.
Market player positioning facilitates benchmarking and provides a clear understanding of the present position of the market players.
The report includes the analysis of the regional as well as global horse riding apparel market trends, key players, market segments, application areas, and market growth strategies.
 Horse Riding Apparel Market Report Highlights
Aspects
Details
Market Size By 2031
USD 4.1 billion
Growth Rate
CAGR of 4.5%
Forecast period
2021 - 2031
Report Pages
300
By Type

Clothes
Boots

Sub-type

Hunt boots
Field boots
Dress boots

Gloves
Others

By Gender
By Distribution Channel

Supermarkets and hypermarkets
Independent sports outlet
Sports retail chain
Others

By Region

North America (U.S., Canada, Mexico)
Europe (Germany, France, UK, Spain, Italy, Russia, Rest of Europe)
Asia-Pacific (China, Japan, India, Australia, South Korea, Indonesia, Malaysia, Rest of Asia-Pacific)
LAMEA (Brazil, Argentina, United Arab Emirates, Nigeria, Saudi Arabia, South Africa, Rest of LAMEA)

Key Market Players
Decathlon S.A., Justin Boots, HKM Sports Equipment GmbH, Horseware, Antares Sellier, Colonial Saddlery, Cavallo GmbH
Analyst Review
According to the insights of CXOs of leading companies, despite numerous unrests, including global unease and a collapsing global economy, the market for horse riding apparel has continued to expand. Due to the rise in sports consciousness and increased health awareness, the apparel market is expected to experience considerable growth. Additionally, a rise in government and commercial organization sponsorship of sporting events, which increases young people from developing regions' participation, promotes market expansion. The market is also expected to grow as a result of an increase in clothing donations from different groups. Customers can now buy exclusive sports apparel from chains of sporting goods stores and have a chance to test out the products.
CXOs further added that the market for horse riding apparel has experienced rapid expansion in recent years as a result of rising disposable income, population growth, and rising interest in active lifestyles. Increased social media and internet accessibility will also raise public awareness of equestrian sports. Over the course of the forecast, this is anticipated to drive the global horse riding apparel market. An elderly population with more discretionary money who can spend on such indulgences as sporting activities or related gear is another factor that could increase this industry's profitability. Companies have mentioned the availability of branded goods as one rationale for investing in this market, underlining the fact that consumers search for these brands when they want high-quality accessories.