The hospitality robots market size was valued at $295.5 million in 2020, and is estimated to reach $3,083 by 2030, registering a CAGR of 25.5% from 2021 to 2030.         
A robot is any device or system designed to perform a specific set of tasks such as unparalleled efficiency and accuracy. For example, from the hotel's perspective, the main goal of robots is to improve and speed up the overall guest experience. This can be done in many ways such as greeting and welcoming guest, guiding them to their rooms and accurate floor, and offering snacks to customer at late night orders. Robots can automate many services without affecting availability. The entire hospitality industry is quickly adopting robotic automation in there hospitality services. Hotel robots will become popular in the near future.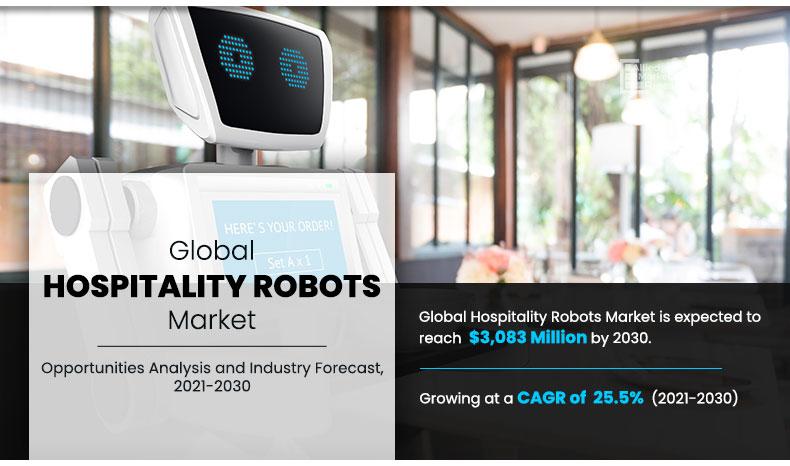 Get more information on this report : Request Sample Pages
Robots have been launched in various industries, but have never received its due value. Japan-based Henn-na Hotel is the first hotel in the world where the entire staff is robotized. Throughout the hotel, robots are deployed to provide various services such as providing information, front desk services, and storage services as well as check in and check out services with technology, including voice and facial recognition.
However, the pandemic created buzz in the hospitality robots market. Attributed to COVID-19, cleaning and disinfecting public areas, such as hotels, hospitals, railways stations, and airports, has been the top priority, which created more demand for disinfection robots. Many countries have opened their borders and welcomed people. The tourism industry has accelerated again, and many hotels have provided isolation time for guests. Attributed to the pandemic situation, most hotels reduced employees for lesser interpersonal communication and minimized the spread of the virus. However, the hotel's work and care of its guests must reach the most satisfactory level. To fill the gap in human services in the hotel industry, robots are now needed to serve guests on time and meet their expectations. During this time, every hotel has faced challenges to satisfy its loyal customers. In such situation, robots play a crucial role by providing touch free, hygienic, and 24/7 services to their guests. Thus, the COVID-19 pandemic accelerated the growth of the hospitality robots market during the pandemic and is expected to sustain hospitality robots market growth after the pandemic.
Decreasing the number of staff members in hotel, quick adoption of robotic automation in hospitality industry, and guest demand for contact free and touch-free services are expected to drive hospitality robots market growth during the forecast period. Furthermore, advancement in functionalities of hospitality robots, such as face and voice recognition, to improve the next conversation with the same guest, remote control and Wi-Fi inability, and growing inclination of the hotel services providers for providing 24/7 services to their guests. Security check is one of the major concerns for the guest. Thus, in most cases, the hotel's security robots are deployed, which are programmed to check the unexpected and objectionable objects found in hotel areas, which further accelerate the demand for hospitality robots in travel, tourism, and hospitality industry.      
Get more information on this report : Request Sample Pages
The report segments the hospitality robots market into type, end user, sales channel, and region. On the basis of type, the market is categorized front desk robots, delivery robots, cleaning robots, and others. On the basis of end user, it is segregated into hotels, restaurants and bars, and travel and tourism industry. According to sales channel, it is bifurcated into online and offline. Region-wise, the market is analyzed across North America (the U.S., Canada, and Mexico), Europe (Germany, France, the UK, Italy, Spain, Russia, the Netherlands, and Rest of Europe), Asia-Pacific (Japan, China, Australia, South Korea, and Rest of Asia-Pacific), and LAMEA (Brazil, Saudi Arabia, United Arab Emirates, South Africa, and Rest of LAMEA).  
According to the hospitality robots market analysis, on the basis of type, front-desk robots are popular as well as handy. These robots are used for smoother-check-ins.. Various companies are adopting robotic automation to deliver their services. For instance, Starwood's Aloft Hotel deployed robot named Boltr helps deliver items to the front desk. Hospitality robots are highly advanced with multi-tasking ability and high work efficiency are expected to increase hospitality robots market share through the front desk robot segment. 
Get more information on this report : Request Sample Pages
Depending on end user, hotels segment has been holding major share in the hospitality robots market and is expected to sustain its share during the forecast period. Hotels are shifting to staff robots rather than people. Global hotel chains, such as Marriott and Hilton, are using robots to increase social distancing. Rosé robot has been gaining significant popularity in the hospitality industry. It is known as the social distancing messenger robot and is a three-foot-tall robot that changed from novelty to necessity during the pandemic. Hotels also employ robots to help deal with more intense cleaning rituals required by the pandemic. Various functions are carried out by hospitality robots, such as housekeeping, cleaning, luggage carrying, and delivery of food & beverages, to the guest rooms. Thus, increasing number hotels and adoption of robotic automation is expected to increase hospitality robots market demand.
Depending on sales channel, the online segment was valued at $169.4 million in 2020 and is expected to increase at $1,639.6 million by 2030, at CAGR of 24.8% during the forecast period. Online sales channel platform is the major driver of the global hospitality robots industry. Presently, most of the hospitality robots manufacturing companies have their own web-based retail stores where users have access to information about products launch, product features, demo, price, and other required information about products. The number of consumers and companies shopping online is increasing, owing to availability of varied product options and price comparison on online shopping sites. This is useful for retailers due to zero expenditure on physical outlets. 
Get more information on this report : Request Sample Pages
According to the hospitality robots market opportunities, region-wise, North America has been holding the highest share in the global hospitality robots market and is expected to sustain its share throughout hospitality robots market forecast period. The growing hotel industry and adoption of Hospitality Robots in North America are majorly surging the demand for Hospitality Robots during the forecast period. Various hotels are adopting robotic automation for quick customer services and to keep their hotel area clean all the time. For instance, Pechanga Resort & Casino in Temecula features California's largest casino. To help protect it, the hotel added two security robots in June 2018 to assist with surveillance. Thus, growing adoption of hospitality robots in the hotel industry and raising funding for the U.S.-based startup are expected to increase North America hospitality robots market share during the forecast period. 
The players in the hospitality robots market have adopted various developmental strategies to expand their market share, increase profitability, and remain competitive in the market. The key players profiled in this report include Savioke, Connected Robotics, BotsAndUs, Travelmate Robotics, Hyundai Robotics Co., Ltd, Knightscope, Inc, Maidbot, Aethon Inc., Softbank Robotics, and Ubtech Robotics, Inc.
Get more information on this report : Request Sample Pages
Key Benefits For Stakeholders
The report provides a quantitative analysis of the current hospitality robots market trends, estimations, and dynamics of the market size from 2020 to 2030 to identify the prevailing opportunities.  
Porter's five forces analysis highlights the potency of buyers and suppliers to enable stakeholders to make profit-oriented business decisions and strengthen their supplier–buyer network.
In-depth analysis and the market size and segmentation assists to determine the prevailing personalized travel and experiences market opportunities.  
The major countries in each region are mapped according to their revenue contribution to the market.   
The market player positioning segment facilitates benchmarking and provides a hospitality robots market size clear understanding of the present position of the market players in the hospitality robots industry.  
Key Market Segments  
By Type
Front Desk Robots
Delivery Robots
Cleaning Robots
Others  
By End user
Hotels
Restaurants and Bars
Travel and Tourism Industry
By sales channel
By Region
North America
Europe

Germany
France
UK
Italy
Spain
Russia
Netherlands
Rest of Europe

Asia-Pacific

Japan
China
Australia
South Korea
Rest of Asia-Pacific

LAMEA

Brazil
Saudi Arabia
United Arab Emirates
South Africa
Rest of LAMEA