Humectants Market Overview:
The global humectants market was valued at $17,800 million in 2016, and is projected to reach $29,500 million by 2023, registering a CAGR of 7.2% from 2017 to 2023. Humectants are hygroscopic ingredients used to retain moisture. They are the major ingredients used in hair care and skincare products to retain moisture. It contains several hydrophilic groups, such as hydroxyl group, amines & carboxyl groups, and ester. Basically, humectant is an ingredient that draws water molecules out of its environment. Thus, moisturizers containing humectant help rehydrate the skin's surface. In several products, humectants control moisture changes caused by humidity fluctuations in processing, transit, and storage.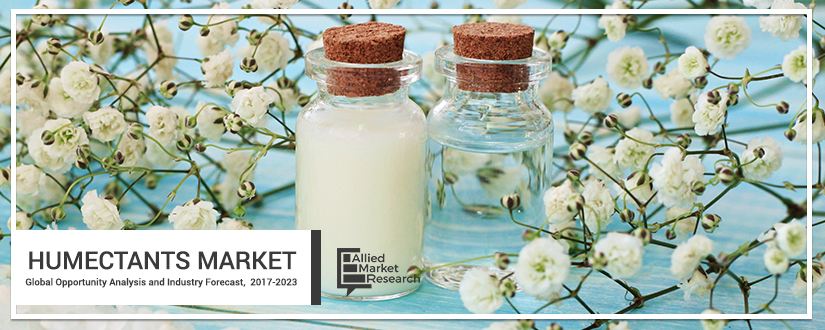 The demand for humectant has increased due to the rise in the use of humectant for extending the shelf life of a product, retaining moisture, and increasing a product's effectiveness. Increase in demand from food & beverages application along with rise in demand & technological changes in cosmetics and change in lifestyle drives the global humectants market. A few of the humectants are the derivatives of petroleum products; thus, volatility in crude oil prices could hamper the global market growth.
The global humectants market is segmented on the basis of type, application, and region. On the basis of type, the market is categorized into, sugar alcohol, alpha hydroxy acid & polysaccharides, glycols, and others. On the basis of application, the market is segmented into food & beverages, oral & personal care, pharmaceuticals, animal feed, and others. Geographically, the market is analyzed across North America, Europe, Asia-Pacific, and LAMEA.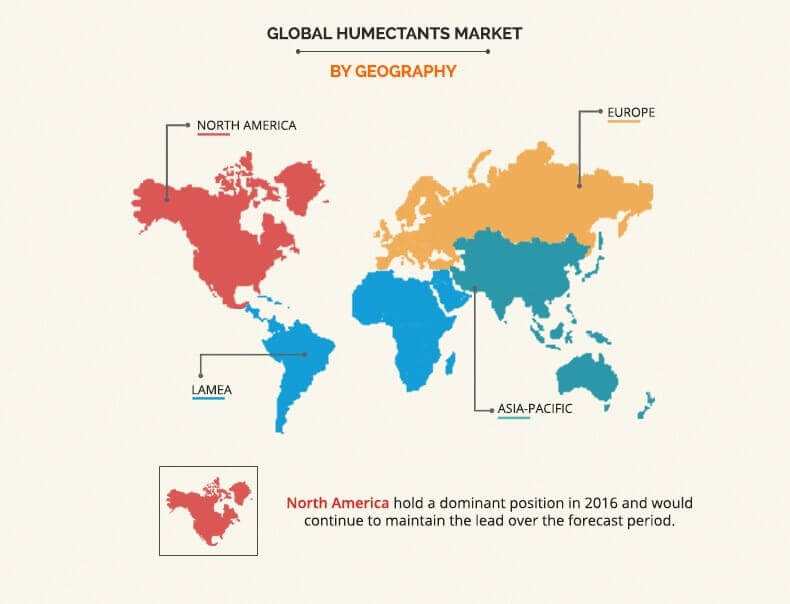 Most of the humectants are commonly used in skin care products are used as a hydrating agent. Humectants are typically used to lower the water activity of a product and increase the shelf life of products by forming hydrogen bonds with water molecules.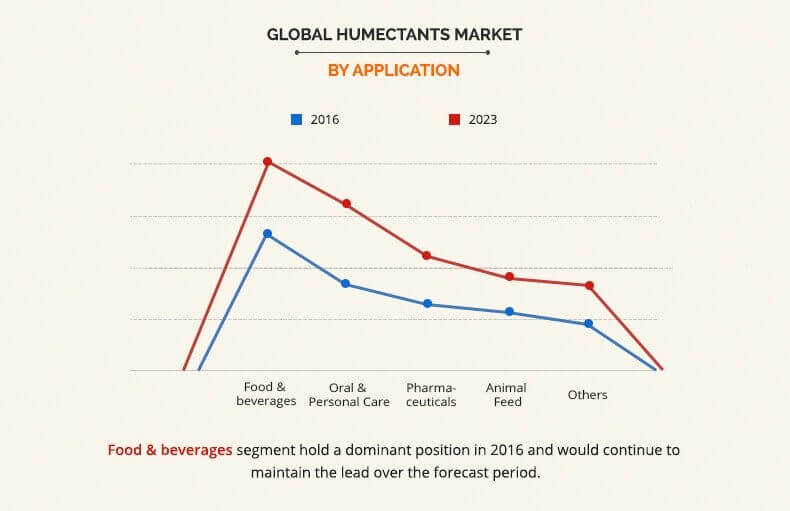 The key players profiled in the report are Archer Daniels Midland Company, Ashland Global Holdings Inc., BASF SE, Barentz, Brenntag AG, Cargill Incorporated, E. I. Du Pont De Nemours and Company, Ingredion Incorporated, Roquette Freres, and The DOW Chemical Company.
Key Benefits for Humectants Market:
Porter's five forces analysis helps to analyze the potential of buyers & suppliers and the competitive scenario of the industry for strategy building.
It outlines the current trends and future scenario of the market from 2017 to 2023 to understand the prevailing opportunities and potential investment pockets.
Major countries in each region have been mapped according to their individual revenue contribution to the global/regional market.
The key drivers, restraints, and opportunities and their detailed impact analyses are elucidated in the study.
The profiles of key players along with their key strategic developments are enlisted in the report.
 Humectants Market Report Highlights
Aspects
Details
By Type

Sugar Alcohol
Alpha Hydroxy Acid & Polysaccharides
Glycols
Others

By Application

Food & Beverages
Oral & Personal Care
Pharmaceuticals
Animal Feed
Others

By Geography

North America
Europe

Germany
France
UK
Italy
Russia
Rest of Europe

Asia-Pacific

China
India
Japan
South Korea
Rest of Asia-Pacific

LAMEA

Brazil
Argentina
South Africa
Rest of LAMEA

Key Market Players
Archer Daniels Midland Company, Ashland Global Holdings Inc., BASF SE, Barentz, Brenntag AG, Cargill, Incorporated, E. I. Du Pont De Nemours and Company, Ingredion Incorporated, Roquette Freres, The DOW Chemical Company