HVAC Control Market Outlook-2030
The global HVAC control market size was valued at $14,252.4 million in 2020, and is projected to reach $24,575.3 million by 2030, registering a CAGR of 5.5% from 2021 to 2030. HVAC control is used to regulate operations of air conditioning and heating systems. It is basically a control system equipped with sensing device, which is used to compare actual state such as temperature with a target state. 
The COVID 19 outbreak has affected the growth of the HVAC control industry owing to the lockdown measure in the countries and delay in production and manufacturing of HVAC control which are utilized in residential, industrial, and commercial spaces.
Increase in industrialization has led to surge in demand for heating and cooling equipment in various industries such as mining and power generation. Increase in energy bills and strict regulations considering environmental norms have enforced various commercial organizations and industries to install HVAC controls in their operating areas. In addition, surge in demand for remote access control systems, which are easy to operate has considerably led growth in investments by commercial, industrial, and residential end users in HVAC systems. This growth in investments of has led to development of advanced HVAC control systems with various sensors. Development in infrastructure of residential, commercial, and industrial buildings have also increase the demand for HVAC controls.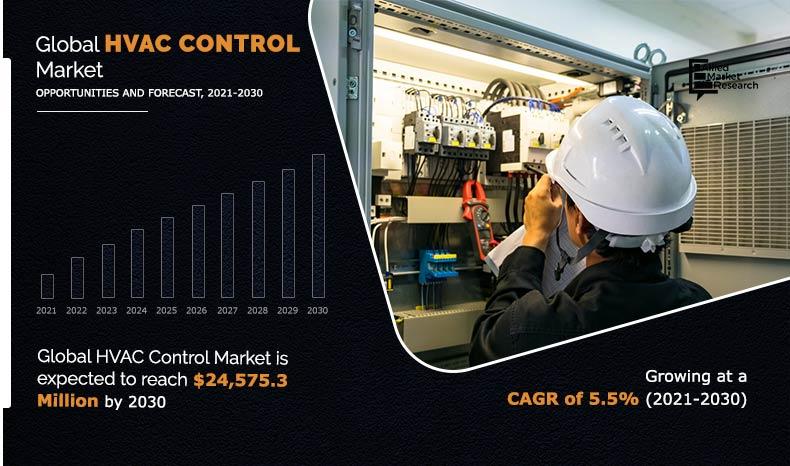 Increase in population in developing economies such as India, China, Mexico, Brazil, and others has resulted in rapid urbanization, which is expected to boost development of the industrial sector, which, in turn, is expected to increase the demand for HAVC control. According to the United Nations (UN), around 68% of the world population is expected to live in urban areas by 2050. This is expected to result in increase of industrial construction activities around the globe and create the need for HVAC controls. Similarly, governments across the globe are helping in development of industrial infrastructure. For instance, in October 2020, the Government of India planned to spend around $1.4 trillion in next five years for infrastructural development. Similarly, in August 2020, Tokyo International Conference on African Development (TICAD) planned to invest $20 billion in Africa in next three years. This is expected to boost growth of the HVAC control market during the forecast period. However, low adoption of HVAC controls, owing to lack in awareness among end users, complexity in upgrading existing HVAC systems, and fluctuations in raw material prices hinder the HVAC control market growth. 
HVAC Control Market

---
By System
Integrated control system segment is projected to grow at a significant CAGR
The novel coronavirus has rapidly spread across various countries and regions, causing an enormous impact on the lives of people and the overall community. It began as a human health condition and has now become a significant threat to global trade, economy, and finance., The COVID-19 pandemic has halted the production of many products in the wooden decking business due to the lockdown. Furthermore, the number of COVID-19 cases are expected to reduce in the near future as the vaccine for COVID-19 is introduced in the market. This has led to the reopening of wooden decking companies at their full-scale capacities. This will help the market to recover by the start of 2022. After COVID-19 infection cases begin to decline, equipment &machinery producers must focus on protecting their staff, operations, and supply networks to respond to urgent emergencies and establish new methods of working.
Furthermore, growth in HVAC industries across the globe and rise in demand for cloud computing in HVAC is anticipated to drive the HVAC control market growth during the forecast period. In addition, to improve performance, manufacturers are continuously introducing new types of HVAC controls for industrial sector. 
HVAC Control Market

---
By End User
Commercial segment holds dominant position in 2020
The global HVAC control market is segmented on the basis of system, implementation type, end user, and region. By system, the market is categorized into new temperature control systems, ventilation control systems, humidity control systems, and integrated control systems. Depending on implementation type, it is fragmented into new construction and retrofit. On the basis of end user, it is categorized into residential, commercial, and industrial. Region wise, the HVAC control market is analyzed across North America, Europe, Asia-Pacific, and LAMEA. Asia-Pacific dominated the market in 2020, accounting for the highest share, and is anticipated to maintain this trend throughout the forecast period. This is attributed to increase in population, urbanization, and industries.
Competition Analysis
Key companies profiled in the HVAC control market report include Carrier Global Corporation, Daikin Industries, Danfoss, Delta Controls, Emerson Electric, Honeywell International Inc, Johnson Controls, LG Electronics,  Schneider Electric, and Siemens. 
HVAC Control Market

---
By Region
Asia-Pacific holds a dominant position in 2020 and is expected to grow at a significant rate during the forecast period.
Key Benefits For Stakeholders
The report provides an extensive analysis of the current and emerging HVAC control market trends and dynamics.  
In-depth HVAC control market analysis is conducted by constructing market estimations for key market segments between 2020 and 2030. 
Extensive analysis of the HVAC control market is conducted by following key product positioning and monitoring of top competitors within the market framework.
A comprehensive analysis of all the regions is provided to determine the prevailing opportunities.
The global HVAC control market forecast analysis from 2021 to 2030 is included in the report.
The key players within HVAC control market are profiled in this report and their strategies are analyzed thoroughly, which help understand the competitive outlook of the HVAC control industry. 
 HVAC Control Market Report Highlights
Aspects
Details
BY SYSTEM

Temperature Control Systems
Ventilation Control Systems
Humidity Control Systems
Integrated Control Systems

BY IMPLEMENTATION TYPE

New Construction
Retrofit

BY END USER

Residential
Commercial
Industrial

BY REGION

North America (U.S., Canada, Mexico)
Europe (Germany, UK, France, Italy, Rest of Europe)
Asia-Pacific (China, India, Japan, South Korea, Rest of Asia-Pacific)
LAMEA (Latin America, Middle East, Africa)

By KEY PLAYERS

Carrier Global Corporation
Daikin Industries
Danfoss
Delta Controls
Emerson Electric
Honeywell International Inc
Johnson Controls
LG Electronics
Schneider Electric
Siemens