HVAC Pump Market Research, 2031
The global HVAC pump market size was valued at $31.6 billion in 2021, and is projected to reach $55.5 billion by 2031, growing at a CAGR of 5.7% from 2022 to 2031.
HVAC pumps, also known as air conditioner pumps, are used to keep the distribution system flowing at proper rate. The HVAC pump industry is experiencing substantial expansion due to rise in demand for HVAC systems. Furthermore, surge in demand for heating and cooling devices as well as importance of pump in HVAC systems for moving water and other fluids through fittings, equipment and piping. As a result, all such factors propel the HVAC pump industry growth.
The demand for HVAC pump has affected in the year 2020 due to low demand from the manufacturing industry and from sports complexes as well due to the lockdown has been imposed by the government of many countries. Installation and servicing operations have been impeded as contact prevention norms reduce the number of orders that can be handled per day by HVAC companies.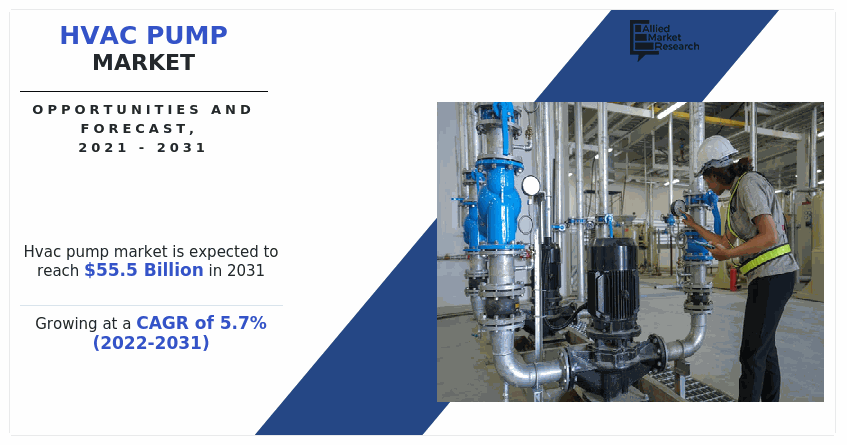 Surge in use of HVAC systems in manufacturing plants, offices, hospitals, sports complexes, central heating/chiller plants, schools, buildings, and data centers is driving demand for HVAC pump market, which is propelling the market growth. Moreover, rapid industrialization and rise in concern about efficient air conditioning systems are expected to propel the growth of the market.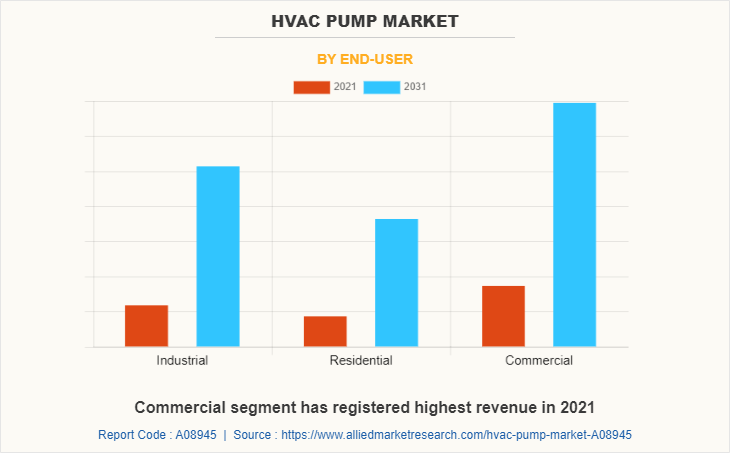 In addition, the utilization of HVAC equipment has increased due to factors such as technology advancements and climatic changes. The need for air conditioning equipment has increased as a result of global warming, which has resulted in shifting and unpredictable weather conditions. Furthermore, companies are implementing strategic moves to boost the production of pumps for HVAC systems. For instance, in February 2020, Honeywell announced one of the first self-driving building sustainability solutions, which offer higher efficiency for HVAC systems. Moreover, rise in investment in industrial and commercial construction such as hospitals and food & beverages factories are creating demand for HVAC systems and its equipment such as HVAC pumps. For instance, in March 2021, the Government of Canada agreed to invest $48.1 million for construction of new Grey Bruce Health Services Hospital. Hence, such construction will require energy-efficient HVAC systems, thus driving the HVAC pump market growth.
HVAC Pump Market

---

By Pump Type
Centrifugal pumps segment has registered highest revenue in 2021
Get more information on this report :
Request Sample Pages
By pump type, the centrifugal pump market registered highest revenue in 2021, owing to its simple design, high efficiency, and its smooth flow. Furthermore, centrifugal pumps have low operating and maintenance cost and are available in wide range of head and capacity.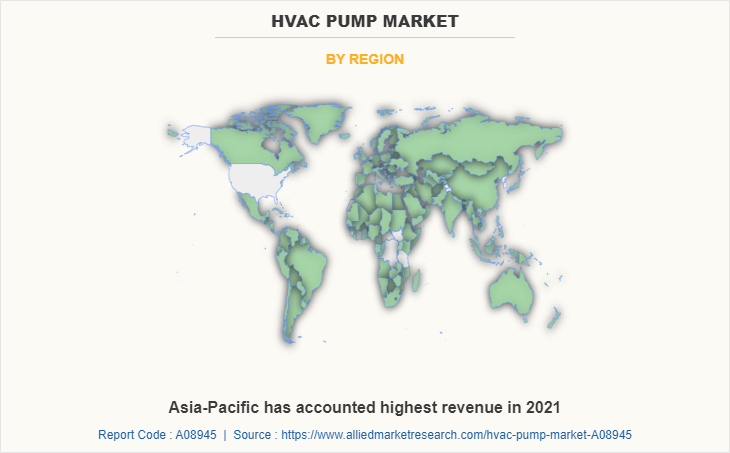 On the basis of region, Asia-Pacific was the largest revenue generator in 2021, owing to increase in use of air conditioners and heat removers. Furthermore, governments in China, India, and Japan are focusing on the development of smart HVAC systems, which is increasing the demand for HVAC pump. Moreover, increase in end user awareness of indoor air quality is projected to propel the HVAC pump market in Asia-Pacific.
The novel coronavirus (COVID-19) has rapidly spread across various countries and regions in 2019, causing an enormous impact on lives of people and the overall community. It began as a human health condition and has now become a significant threat to global trade, economy, and finance. The COVID-19 pandemic halted production of many products in the HVAC pump market, owing to lockdown. Furthermore, the number of COVID-19 cases is expected to reduce in the future with the introduction of the vaccine for COVID-19 in the market. This has led to the reopening of HVAC pump companies at their full-scale capacities. This is expected to help the market recover by the mid of 2022. After COVID-19 infection cases begin to decline, equipment & machinery producers must focus on protecting their staff, operations, and supply networks to respond to urgent emergencies and establish new methods of working.
The global HVAC market is segmented into pump type, product type, end user, and region. On the basis of pump type, the market is segregated into booster pumps, circulating pumps, and centrifugal pumps. Depending on product type, it is divided into multi-stage and single stage. By end user, it is segregated into industrial, residential, and commercial. Region wise, the global market analysis is conducted across North America (the U.S., Canada, and Mexico), Europe (the UK, France, Germany, Italy, and rest of Europe), Asia-Pacific (China, Japan, India, South Korea, and rest of Asia-Pacific), and LAMEA (Latin America, the Middle East, and Africa).
Competition Analysis
The key players that operating in the HVAC pump market are Armstrong Air, Aurora Konrad G. Schulz GMBH & CO.KG, Bard Manufacturing Company Inc., CNP Pump India Pvt. Ltd., CRI Pump Private Ltd., Kirloskar Brother Ltd., KSB SE & CO., Pentair Plc., Torishima Pumps MFG CO. Ltd., and WILO SE
Key Benefits For Stakeholders
The report provides an extensive analysis of the current and emerging HVAC pump market trends

 and dynamics. 

In-depth HVAC pump market analysis

 is conducted by constructing market estimations for key market segments between 2022 and 2031.

Extensive analysis of the HVAC pump market share 

is conducted by following key product positioning and monitoring of top competitors within the market framework.

A comprehensive analysis of all the regions is provided to determine the prevailing HVAC pump market opportunity.

The HVAC pump market forecast

 from 2022 to 2031 is included in the report.

The key players with in HVAC Pump Market are profiled in this report and their strategies are analyzed thoroughly, which help understand the competitive outlook of the HVAC Pump industry.
 HVAC Pump Market Report Highlights
Aspects
Details
By Product Type
By End-User

Industrial
Residential
Commercial

By Pump Type

Booster pumps
Circulating pumps
Centrifugal pumps

By Region

North America (U.S., Canada, Mexico)
Europe (Germany, France, Italy, U.K., Rest of Europe)
Asia-Pacific (China, Japan, India, South Korea, Rest Of Asia Pacific)
LAMEA (Latin America, Middle East, Africa)

Key Market Players
Pentair Plc., Patterson Pump Company, Bard Manufacturing Company Inc., Kirloskar Brothers Limited, Torishima Pump Mfg. Co., Ltd., KSB SE & Co, Armstrong Air, WILO SE CNP Pumps India Pvt. Ltd, C.R.I. Pumps Private Limited, AURORA GmbH & Co. KG