The global hybrid aircraft market size is expected to be valued at $1.9 billion in 2025, and is projected to reach $10.2 billion by 2035, growing at a CAGR of 18.2% from 2025 to 2035.
Key Highlighters:
The hybrid aircraft industry report covers segments such as regional transport aircraft, business jets and light aircrafts, and UAVs and AAM. The report is studied across different regions such as North America, Europe, Asia-Pacific, and LAMEA.

The study integrates high-quality data, professional opinions and analysis, and critical independent perspectives. The research approach is intended to provide a balanced view of global markets and to assist stakeholders in making educated decisions in order to achieve their most ambitious growth objectives.

Over 3,700 product literatures, annual reports, industry statements, and other comparable materials from major industry participants were reviewed to gain a better understanding of the market.
The hybrid aircraft market is a segment of the aerospace industry that focuses on the development and production of hybrid-powered aircraft, which combine both electric and fuel-based propulsion systems to reduce emissions and fuel consumption. These aircrafts are designed to offer improved efficiency, and reduced environmental impact.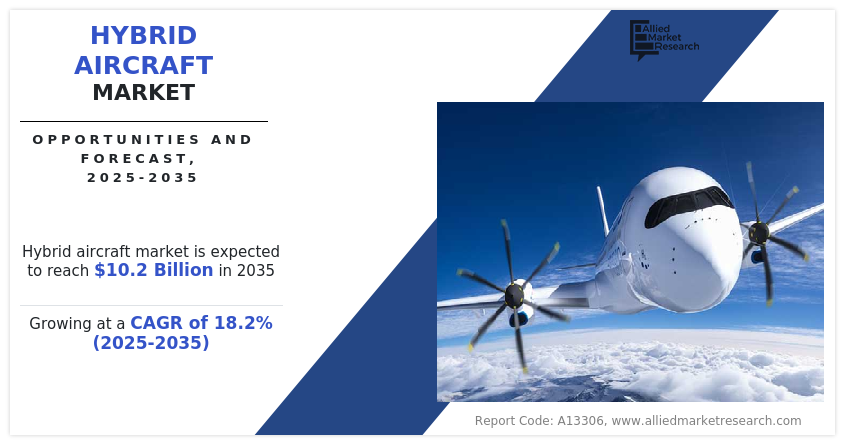 Factors such as improved fuel efficiency compared to conventional aircraft, advancements in electric propulsion technology, and increase in investments by industry stakeholders drive the growth of the hybrid aircraft market. However, high development costs, and lack of airport infrastructure hinder the growth of the market. Furthermore, new use cases in urban air mobility, and surge in adoption of hybrid aircraft for defense applications offer remarkable growth opportunities for the players operating in the market.
The hybrid aircraft market is poised for substantial global growth, driven by a convergence of factors shaping the aviation landscape. The market is witnessing a surge in demand for hybrid aircraft that offer reduced emissions and operational efficiency with increased awareness of environmental impact. This aligns with global initiatives to embrace eco-friendly aviation solutions, positioning hybrid aircraft as instrumental in shaping the future of sustainable air transportation. Collaborative efforts between industry stakeholders and regulatory bodies are deemed essential to create a conducive environment for the hybrid aircraft market demand.
The hybrid aircraft market is segmented on the basis of aircraft type, mode of operation, lift technology, and region. On the basis of aircraft type, the market is divided into regional transport aircraft, business jets and light aircrafts, UAVs, and AAM. On the basis of mode of operation, the market is classified into piloted, and autonomous. On the basis of lift technology, the market is categorized into conventional takeoff and landing, short takeoff and landing, and vertical takeoff and landing. On the basis of region, the market is analyzed across North America, Europe, Asia-Pacific, and LAMEA.
North America includes countries such as the U.S, Canada, and Mexico. North America leads in global hybrid aircraft advancements, with major projects, innovative startups like Electra.aero, and Canadian airlines like Air Canada investing in sustainability with the purchase of electric-hybrid aircraft.
North America is a major region in hybrid aircraft with major testbed projects from NASA, Boeing, and Airbus underway leveraging extensive aerospace expertise. The U.S. accounts for many advancements given availability of VC funding in novel aviation tech and Department of Defense interest in agile hybrid platforms for varied missions. Moreover, early use of hybrid aircraft for intercity mobility, package delivery, air ambulance services appear viable owing to progressive regulations around advanced air mobility vehicles.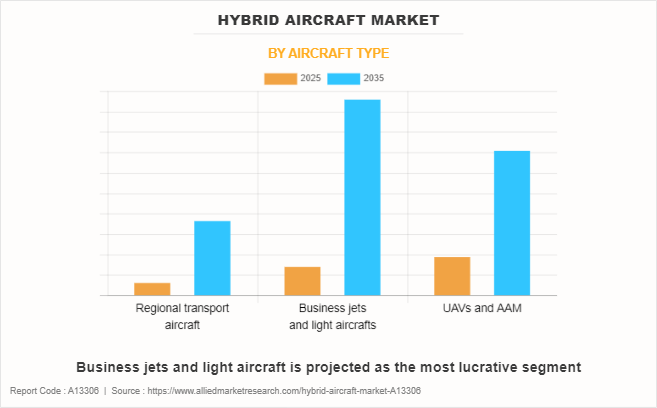 Moreover, startups based in U.S. have developed and tested innovative hybrid aircrafts. For instance, in November 2023, Electra.aero, Inc., aerospace company completed the first flight of its EL-2 Goldfinch, a hybrid-electric, ultra-short takeoff and landing (eSTOL) aircraft. The Goldfinch eSTOL, a two-seat technology demonstrator, uses distributed electric propulsion and a hybrid-electric propulsion system. This design allows for extended ranges without relying on ground-based charging stations. The successful flights mark progress in the development of hybrid-electric aircraft for eSTOL applications.
In addition, in September 2023, Air Canada entered into a purchase agreement for 30 ES-30 electric-hybrid aircraft developed by Heart Aerospace in Sweden. The ES-30, a regional aircraft anticipated to commence service in 2028, operates with zero emissions when flying on battery power, offering operational savings and environmental benefits. In addition to the purchase agreement, Air Canada has acquired a $5 million equity stake in Heart Aerospace. The ES-30 is expected to enhance sustainable connectivity of Air Canada on regional and commuter routes, which contribute to low-emission transportation for local communities.
Asia-Pacific includes countries such as China, Japan, India, South Korea, and the rest of Asia-Pacific. Large drone manufacturing ecosystem in China, battery/motor leadership in Japan and software talent in India are projected to individually spur niche hybrid aircraft advancements leveraging respective strengths. High urban congestion makes a compelling case for hybrid eVTOL air taxis across megapolis. In May 2023, Kawasaki Motors, a Japanese light-engine manufacturer, became a strategic investor in VoltAero, participating in Series B funding aimed at supporting the development, production, and certification of VoltAero's Cassio electric-hybrid aircraft family. The Cassio aircraft incorporates a hybrid design, utilizing an internal combustion engine as a range extender to recharge the batteries during flight. Such developments propel the hybrid aircraft market growth in the region. 
The leading companies profiled in the report include Airbus, Embraer S.A., Safran S.A., General Electric, Raytheon Technologies Corporation, Ampaire Inc., Pipistrel, Rolls-Royce plc, Heart Aerospace, and Faradair Aerospace. These companies are adopting various strategies to increase their hybrid aircraft market share.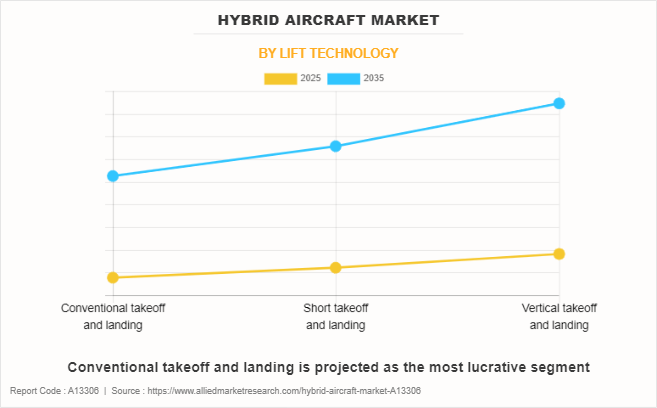 Improved fuel efficiency compared to conventional aircraft
Hybrid electric aircraft configurations offer substantial fuel savings over conventional platforms through synergistic operation of the gas turbine and electric power. During taxi and descent phases, electric motors can power the aircraft completely, avoiding fuel burn. In cruise, the load can be distributed optimally between the fuel engine and electric propulsion based on efficiency. With jet fuel prices volatile, these operational cost savings are a major incentive for airlines to adopt hybrid aircraft as they become available.
The incorporation of electric propulsion systems, often supplemented by advanced energy storage solutions such as high-capacity batteries, facilitates the optimization of power output, and reduces fuel consumption. This efficiency gain is particularly pronounced in short-haul and regional flights, where frequent takeoffs and landings traditionally lead to higher fuel consumption.
Moreover, aerospace component manufacturers have developed advanced electric motors to increase efficiency of hybrid aircraft. For instance, in June 2023, Collins Aerospace's UK division announced development of a 1MW motor designed for use in a hybrid-electric aircraft propulsion system. This system aims to achieve a notable 30% improvement in fuel efficiency and reduction in CO2 emissions compared to current leading regional turboprop aircraft. The 1MW motor is projected to provide four times the power and twice the voltage of Collins' most advanced electric motor generators currently in use, with significantly reduced heat loss and weight. Such developments further support the growth of the hybrid aircraft industry.
Increase in advancements in electric propulsion technology
Rapid progress is being made in energy density of batteries, power output of electric motors and reliability of power electronics enabling hybrid electric architectures.
Moreover, silicon carbide (SiC) based power electronics allow higher voltage systems improving electric component efficiency. High torque-density electric motors ensure redundancy options for aircraft. For instance, in June 2023 Airbus, a global aerospace company and STMicroelectronics, a global semiconductor company, signed a collaboration agreement for research and development in power electronics. The aim is to improve efficiency and reduce the weight of power electronics, crucial for the advancement of future hybrid-powered aircraft and fully electric urban air vehicles. This joint R&D effort will particularly focus on advanced power semiconductors, playing a pivotal role in propelling the aerospace industry's shift towards hybrid and all-electric systems. These semiconductors are anticipated to be key components in powering upcoming hybrid helicopters, aircraft, the ZEROe initiative, and the CityAirbus NextGen.
In addition, the improvement in performance-to-weight ratio of electrical components has expanded the realm of possibilities for distributed hybrid propulsion in aerospace. Significant efficiency gains can be realized by operating independent electric fans or ducted fans using an integrated electric power source.
Advances in digital control technologies also permit sophisticated management of the fuel and electric power usage based on mission segment. These propulsion technology improvements underpin the viability of hybrid aircraft.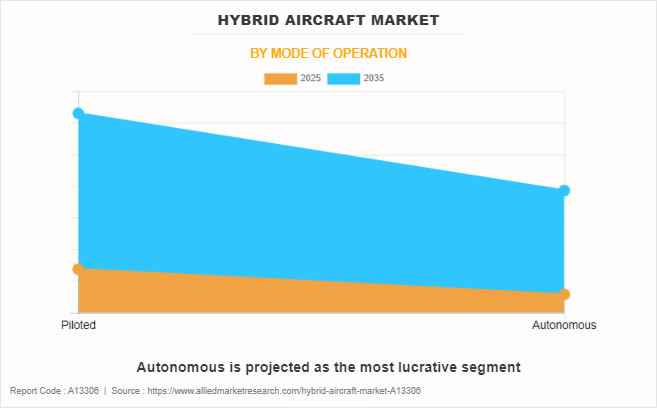 High development costs
The hybrid aircraft market grapples with a significant restraint in the form of high development costs associated with the research, design, and production of hybrid propulsion systems. The intricate nature of hybrid technologies, combining traditional combustion engines with electric or other alternative propulsion systems, necessitates substantial financial investments. These costs encompass research and development endeavors, prototyping, testing, and the eventual production of hybrid aircraft, posing a formidable challenge to industry stakeholders.
Most hybrid aircraft developers today rely on grants, incentives, and strategic investors willing to make high-risk, long-term bets on the electrification trend. But expanding beyond demonstrators would necessitate sizeable investments from major OEMs and suppliers. Mainstream adoption is likely over a decade away until technologies mature, and distinct use cases get proven out through sub-scale prototypes that de-risk further investment.
Lack of airport infrastructure
The adoption challenge for novel VTOL hybrid aircraft designs being targeted for urban air mobility is the lack of dedicated airport infrastructure to support these new vehicles.
An ecosystem of compact vertiports for vertical takeoff/landing integrated with ground transport modes needs development to serve intra-city on-demand routes. Lack of charging stations, maintenance facilities, air traffic management systems for low altitude eVTOL corridors pose infrastructural barriers presently.
Until the ground infrastructure matures in tandem and regulations get firmed up, hybrid aircraft remain restricted to experimental concept vehicles despite their technological promise. Airport authorities need confidence in safety standards and business viability before funding large-scale vertiport networks to enable hybrid VTOL mobility. Therefore, this issue creates a restraint for general aviation hybrid aircraft to enter commercial service and inhibits market growth.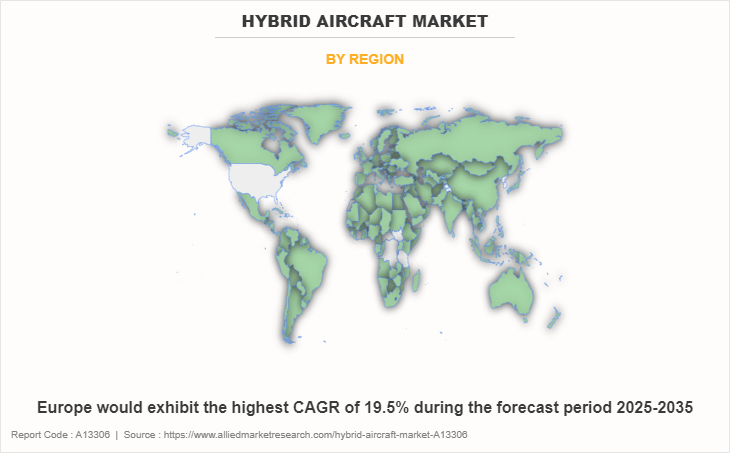 Recent Developments:
In June 2023, Airbus launched Eco Pulse hybrid-electric aircraft, at Paris air show. It is a Daher TBM light aircraft modified with a hybrid-electric powertrain and six electrically driven propellers.
In December 2022, Embraer S.A. launched hybrid electric propulsion Energia Hybrid E19-HE is realistic and economically feasible way to net-zero, get up to 90% CO2 emissions reduction.
In December 2022, Raytheon Technologies Corporation, launched Hybrid-electric flight demonstrator, which fully integrates a 1 MW electric motor to assist the industry to get zero CO2 emissions.
In November 2022, Ampaire Inc. launched Eco Caravan, a hybrid-electric regional aircraft, which reduces fuel consumption and emissions. 
The hybrid aircraft market is segmented into Aircraft Type, Lift Technology and Mode of Operation.
The Russia-Ukraine war has exerted a multifaceted impact on the global hybrid aircraft market, influencing key aspects of production, demand dynamics, and strategic considerations within the industry. The conflict between Russia and Ukraine has created disruptions in the emerging hybrid aviation sector by increasing vulnerabilities in the supply chain, increasing the cost of raw materials, and inciting wider economic volatility.
Key Benefits For Stakeholders
This report provides a quantitative analysis of the market segments, current trends, estimations, and dynamics of the hybrid aircraft market analysis from 2025 to 2035 to identify the prevailing hybrid aircraft market opportunities.
The market research is offered along with information related to key drivers, restraints, and opportunities.
Porter's five forces analysis highlights the potency of buyers and suppliers to enable stakeholders make profit-oriented business decisions and strengthen their supplier-buyer network.
In-depth analysis of the hybrid aircraft market segmentation assists to determine the prevailing market opportunities.
Major countries in each region are mapped according to their revenue contribution to the global market.
Market player positioning facilitates benchmarking and provides a clear understanding of the present position of the market players.
The report includes the analysis of the regional as well as global hybrid aircraft market trends, key players, market segments, application areas, and market growth strategies.
 Hybrid Aircraft Market Report Highlights
Aspects
Details
Market Size By 2035
USD 10.2 billion
Growth Rate
CAGR of 18.2%
Forecast period
2025 - 2035
Report Pages
330
By Aircraft Type

Business jets and light aircrafts
UAVs and AAM
Regional transport aircraft

By Lift Technology

Conventional takeoff and landing
Short takeoff and landing
Vertical takeoff and landing

By Mode of Operation
By Region

North America (U.S., Canada, Mexico)
Europe (Germany, France, UK, Italy, Rest of Europe)
Asia-Pacific (China, India, Japan, South Korea, Rest of Asia-Pacific)
LAMEA (Latin America, Middle East, Africa)

Key Market Players
Embraer S.A., Safran S.A., Faradair Aerospace, General Electric Company, Ampaire Inc., Pipistrel, Heart Aerospace, Raytheon Technologies Corporation, Rolls-Royce Holdings plc., Airbus